I'm writing 100 posts about product development and product management. For this challenge I take random cadence (ruined by war…), so you can expect a new post eventually. This is post #9.
Our customer success specialist super-Polina went on vacation three weeks ago.
I backed her up and spent two weeks in a customer support role.
I had 170 Intercom chats in two weeks.
Here is what I learned.
Friday Fun
I started on Friday.
Friday is a good day to relax, so I announced the "Fun Friday".
A rule was simple — we tried to immediately fix all incoming bugs and implement small improvements.
We fixed a dozen and amazed some customers with the fast reaction time.
It's a nice practice I want to repeat from time to time.


Always dig into details
Intercom chat is a good source of feedback for B2B products.
Chat is less demanding than calls, so you can safely ask deeper questions and dig into details.
Always dig into details.
Generic feedback is almost useless, precise feedback is what you need.
For example, you hear "I tried to use your documents, but I don't like them, you miss many things from Google Docs".
Never stop here, try to find out what was the case, what exactly is missing, what was painful.
Ask more questions, it's risk-free.
In the worst case, you will have no answers.
In the best case, you will have new useful info.

Invite developers into chat
You can't know the answers to all questions.
Usually, you get to specific developers with specific questions and work as a transmitter between a customer and a developer.
Don't.
Get all required details about the problem from a customer and invite a developer into a chat (if the problem is important enough).
Transmitter always loses some information and problem solving will take more time.
A developer should face a customer and experience the problem herself.
And solve it faster.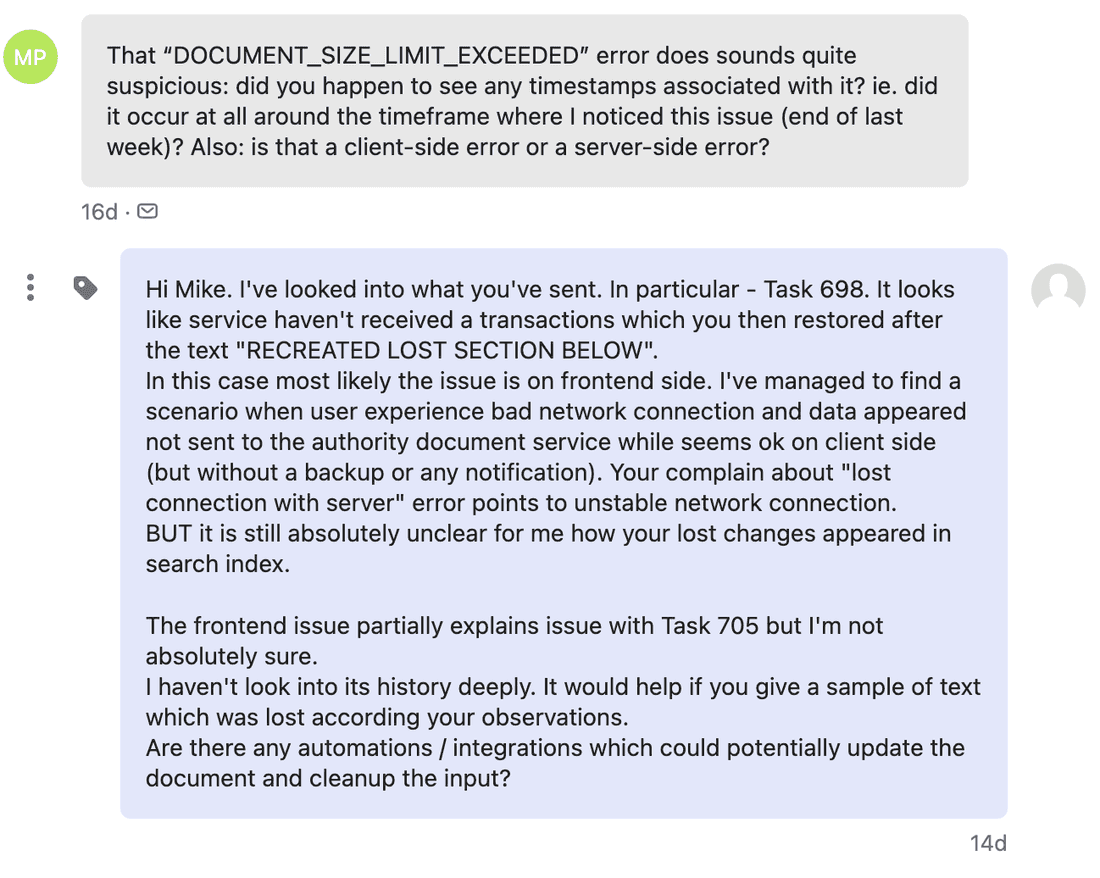 Have live calls (or use Loom)
In some cases, a call is the fastest way to solve the problem.
Suggest a quick call to a customer.
In some situations, calls are building trust and saving time.
If you don't have time, record a video with a solution.
Loom is a perfect tool for that.

Customer success is hard
You want to help everyone.
You want to fix all the problems as soon as possible.
But you can't.
Developers have other priorities, they have to focus to implement features…
Your requests are a distraction for the developers.
It's good when you play a customer success role as a CEO — developers are easier to distract. 😅
P.S. Polina read the article and replied with a single image.