Fibery, the work and knowledge hub for startups, today announced that it has raised $5.2 million in a Series A funding round led by Tal Ventures, with additional funding from Altair Capital. This round brings total investment in the company to $8.3 million, following a $3.1 million seed round led by Altair Capital. With these funds, Fibery plans to grow its marketing and sales operations, speeding up the company's growth with a focus on expansion and new channels.
This is becoming too boring, let's switch to the human mode. Here is an interview with some imaginary media 🥷.
The market is dead, how did you manage to raise the round, Michael?
It was surprisingly easy. One of our customers (a CEO of a cool company) contacted me and asked whether we are going to raise soon. I told him that we do want to start the process in 6 months, but why not talk now if he has good investors? We talked to TAL Ventures and liked each other. Then we shared out metrics, customers' feedback and vision, talked again and liked each other even more. TAL made us an offer and we accepted the offer. Altair joined the round and some of our customers invested as well. End of story 🥳.
Fibery looks like a generic tool, why are you focusing on startups?
Fibery is a generic tool, but it sticks better in startups and product-oriented companies. We just learned that from our customers. Startups use Fibery for everything, Fibery really replaces 5+ tools and provides huge value as a whole company management hub.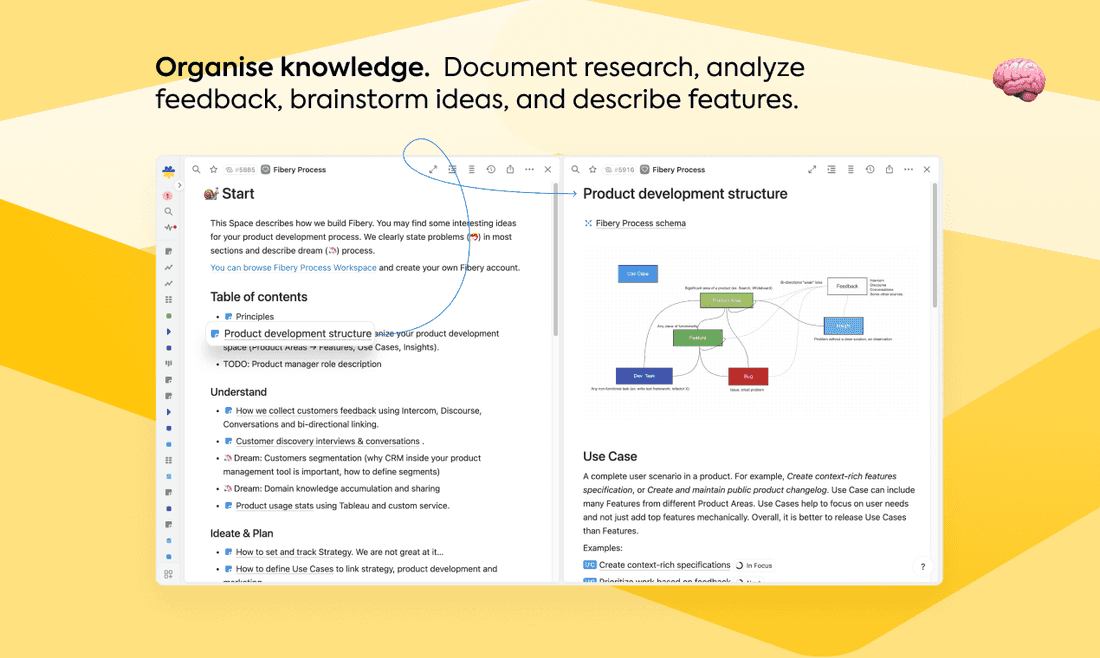 Thus we decided to focus on a segment that works best for us and gets the most value. We also don't want to fight Conway's Law. We love startups and try to support them as we can.
Michael, tell me how do you support startups?
Well, the world is extremely turbulent now. Maybe we will face a recession soon, tech companies laying off people, and Europe has the largest war since WW II… Many startups are struggling. We created a program to support startups of our size (and smaller). Such startups may enjoy 1 year for free in Fibery without any limitations 💁‍♂️.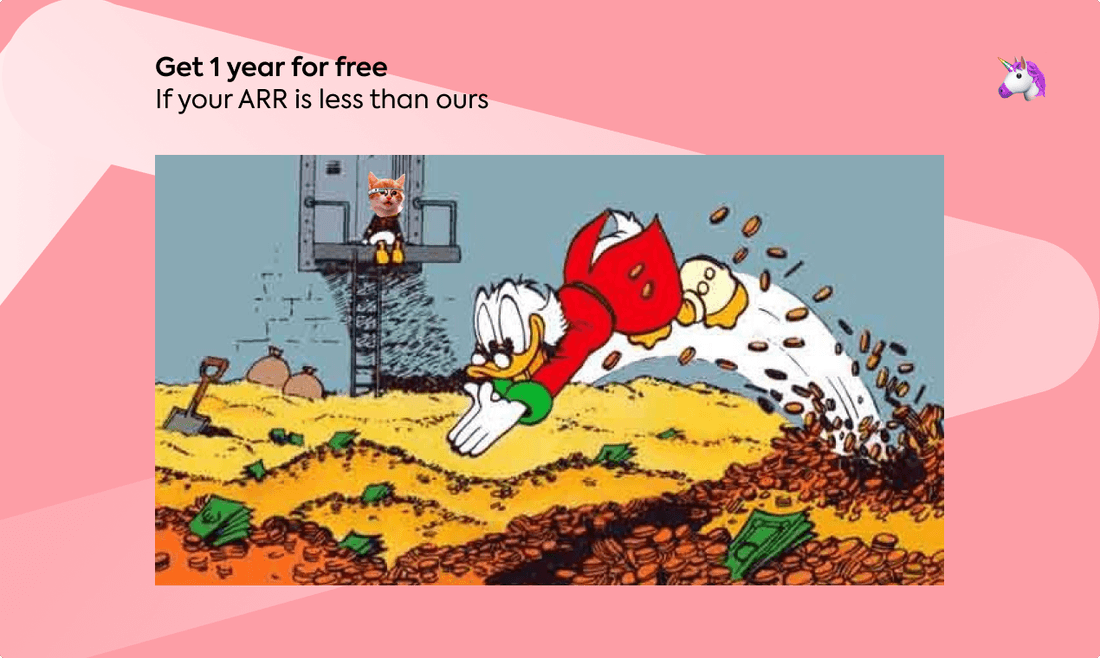 BTW, if you are a startup and your ARR is less than $600K, apply for your 1 free year here.
I see, but can you prove that startups really get value from Fibery?
You know, it is very hard to measure productivity. Time-saving is easy to measure if you are doing some repetitive work, but how to measure the productivity of knowledge workers? Nobody knows. We can just rely on feedback. Our customers are happy and our churn is very low. Here are some real quotes from new customers ♥️:
It's not empty praise - it really is a great product. Fibery is one of the few things out there that maps the chaos before it becomes a problem ie the proverbial butterfly flaps its wings in one database and it has ripple effects across other areas, which most offerings like Notion don't seem to capture due to having information in silos.
Congratulations on the great progress with Fibery! It's definitely the best option out there for new product development use cases.
And our support is top-notch. I am not kidding:
Hi Chris, like I told Polina the other day: "The best support service PERIOD!!!!" Thanks a lot for the details answer
What are your goals for the next year?
They are unusually super-pragmatic.
🧬 We want to double our MRR and finally reach $1M ARR.
🚀 We suck at sales and our marketing team is extremely nimble. Thus we want to build a stronger marketing team to grow faster.
🧱 We want to improve "knowledge" part of Fibery (it means focusing on documents, connections, and whiteboards) and "work" part of Fibery (it means communication and other top things our users request).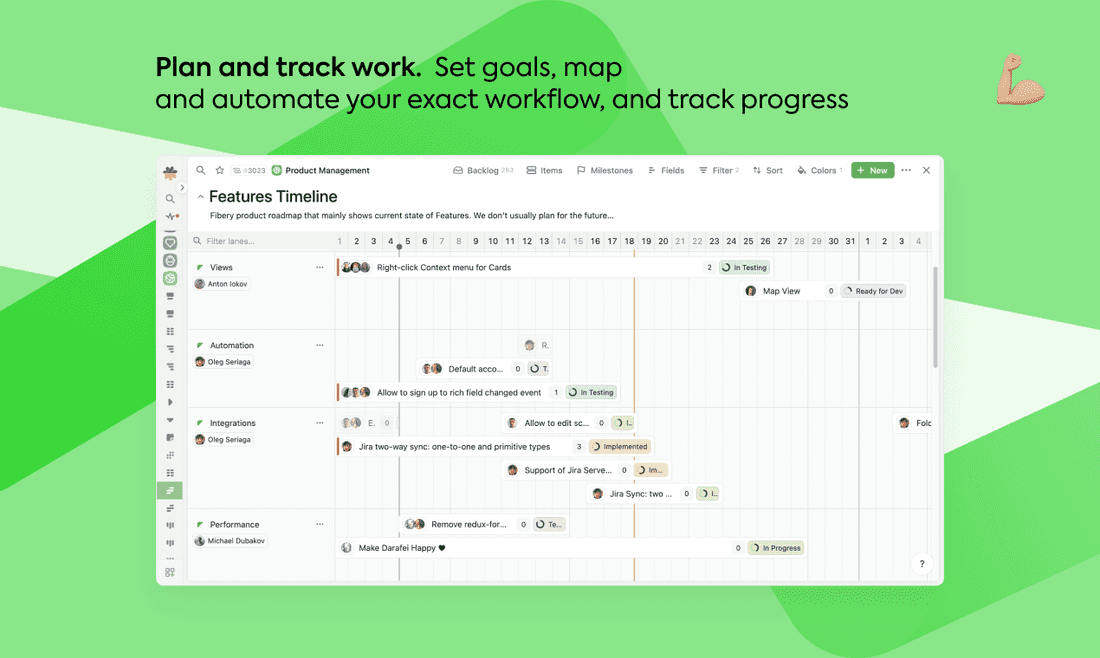 We are very transparent and write about our progress every month, so you can just follow our updates to track the progress.
Wait, but I remember you tried to focus on intelligence augmentation…
You have a very good memory 😅. Indeed we have a bold vision to augment companies' intelligence, and we still follow it. However, it will take us 7 more years to complete the gap between the vision and the current state. We promised to deliver it around 2030 and we will.
Thank you for the interview, Michael, talk to you in 7 years!
Cheers! Please send me a link to the interview when it goes live.
P.S. We are hiring.
P.P.S. Support us on Product Hunt today and leave us your honest feedback! 🍋