Startup backstage is an interesting thing to observe. I'll try to write regular posts about our progress and results. If you read about Fibery for the first time, check this overview:
I think it is better to have some very brief and candid block in all posts to see progress, here is the first try:
Product:           Fibery — SaaS B2B (SMB) work management platform
Stage:             Alpha (no production version)
Launch:            October (silent, invite-only)
Development:       18 months
Cold leads:        520 (subscribed from fibery.io web site)
Hot Leads:         7 (gave feedback)
Customers:         1 (we use it inside our own company, haha)
Team size:         9 people
Burn rate:         ~$50K/month
MRR:               $0
Feel free to add comments if you think something interesting should be added into this block.
First, some context. We are going to launch Fibery in silent mode in October. The goals of the release are:
Finally penetrate market-entrance barrier. In fact this barrier is quite high, you can't release a software without collaboration abilities, good UI and at least few unique features.
Start to receive feedback from real users. All prototypes, preliminary demos and other kind of feedback do not validate the concept. We can do that only with real users in real life environment.
Create a basis for pivoting and experiments.
It is always hard to define the scope of the initial semi-public release. We decided to focus on core idea (flexible domain) and some visualizations to work with data:
Flexible domain (as a core idea).
Board (as UI view for domain).
Wiki (as a document oriented approach).
Collaboration (as a must have thing for any work management software).
Visual reports via Vizydrop (because we can).
Demos and Feedback
We did several demos to potential customers and started to accumulate initial feedback. To track all this information, I've setup basic CRM app inside Fibery. Here is it.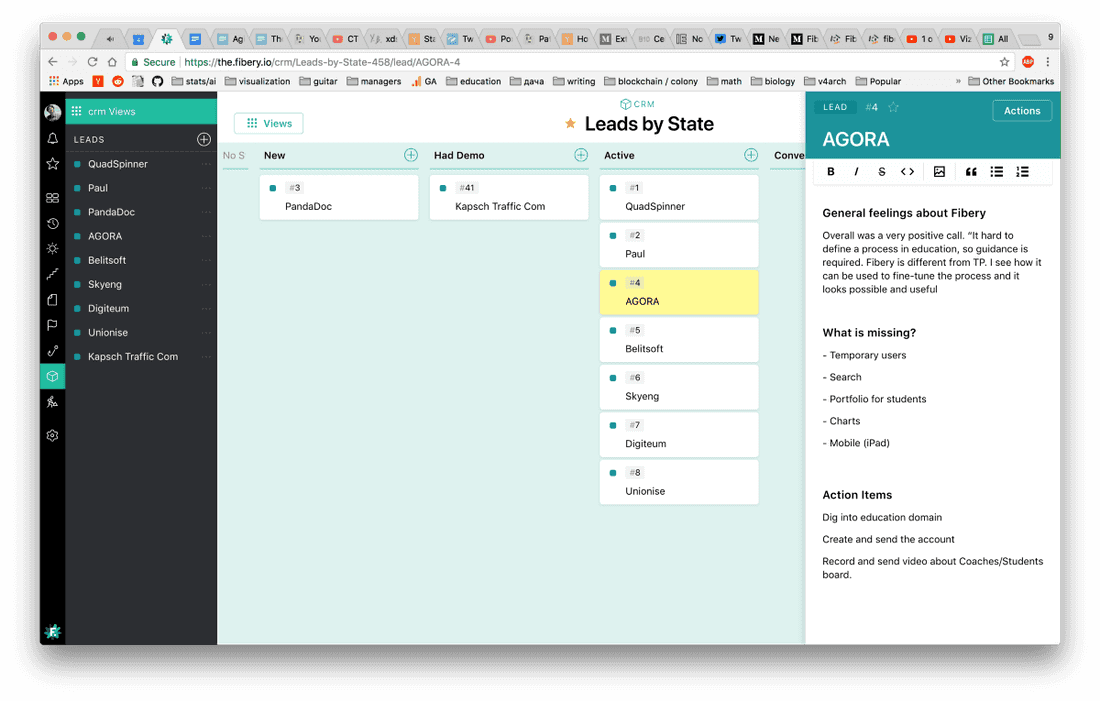 Overall feedback was positive. This one really nails current Fibery stage:
It looks like something fresh on a market. Good design, modern and lightweight. Looks like a product for geeks so far (Templates are important and it is required to HEAVILY invest into getting started). Very good start.
Indeed we paid zero attention to getting started, so it all looks very flexible, but not easy to jump into. We should think deeply about getting started experience with some Templates, Solutions or Bundles.
Visual Reports
Vizydrop is a software we create to build charts and reports. Single developer spent 6 weeks integrating it with Fibery and now it is almost ready. It is possible to build reports for any entities you have in Fibery:
Wiki
We consider Wiki as a very important app in Fibery. People love to start with Documents and later get to work.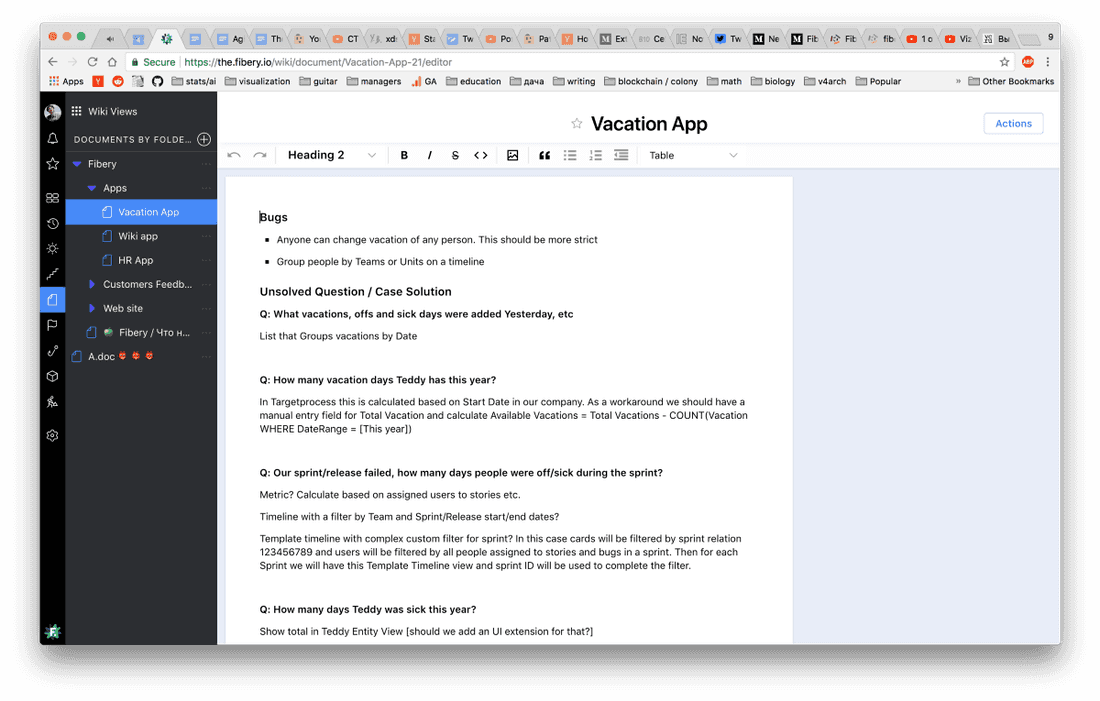 In August we've added a possibility to upload Images and converted Wiki to a Rich Edit field. It means that you can insert collaborative field into ANY entity. Here is an example how we collaborate on Feature specification: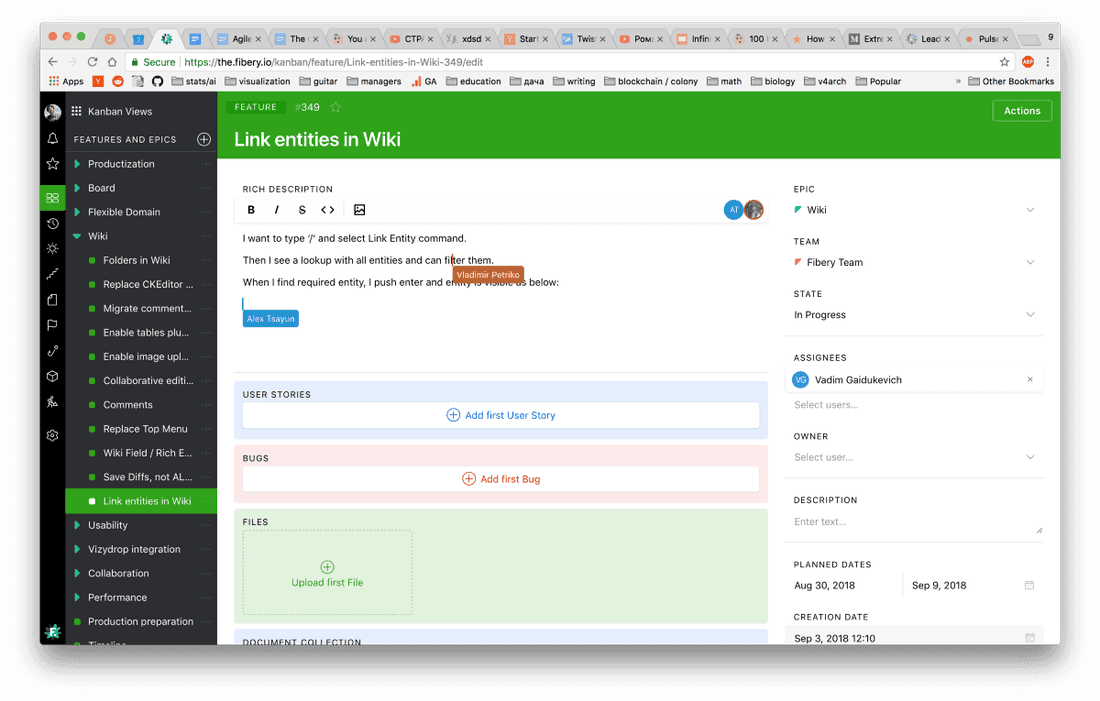 Quite often people write specifications in separate documents since it impossible to collaborate on Feature or User Story. In Fibery there is no need to have this separation. You can have collaborative editing inside every entity.
Board UI Component
In the first release Board will be the only option to work with information, so it should be good. In August we've added drag and drop capabilities:
We are not going to invest heavily into Board UI till the release, since we need real feedback to do that. So far it looks like good enough.
Development overview
We did less than planned (as always). The most risky thing is Collaboration epic (in-app notifications, mentions, sharing views, etc). We did not start this Epic so far, but October is not far away.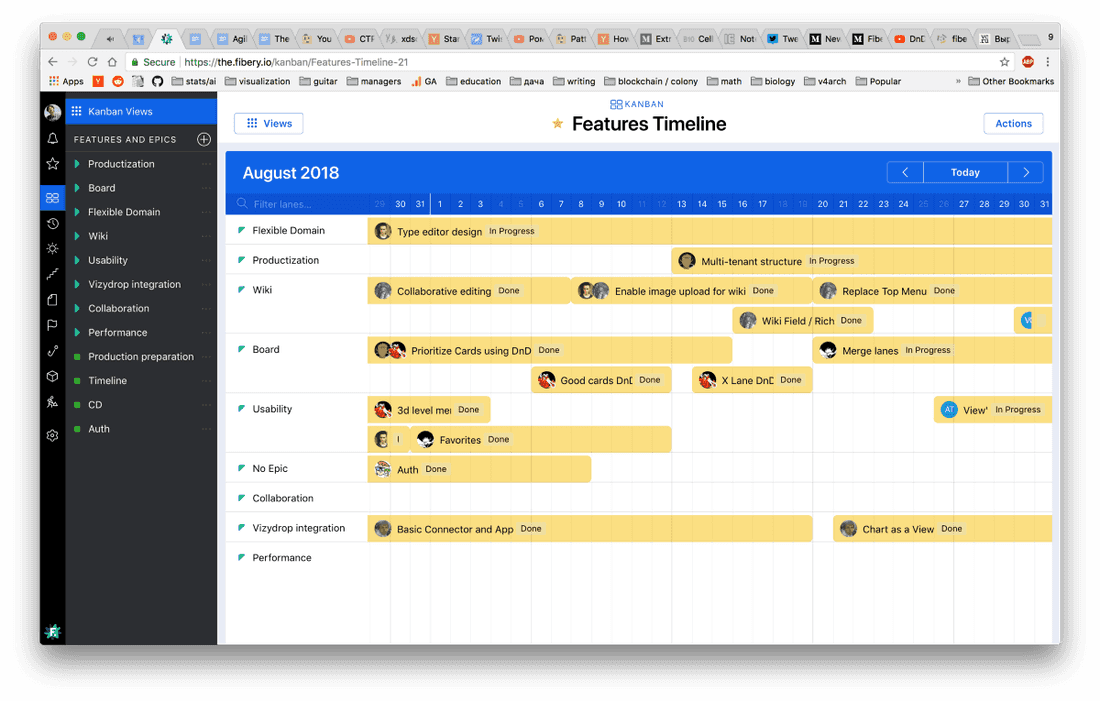 Risks and other thoughts
Product is taking shape and we see more and more opportunities. It can be applied to various domains and people get excited when see the potential.
Main risks I envision right now:
Getting Started might be challenging, so we should go with personal onboarding via live demos (do things that don't scale). If we will be able to explain and onboard people this way, most likely we will find a way to automate this process.
Development pace is OK and team morale is quite good as well. But 18 months without production release are not easy. We have to release in October/November. I know were we could cut 2–3 months, but still I have no idea how to do it much faster. It seems the problem is intrinsically complex, so it is not possible to cut corners here.
Performance is unclear. We are pretty sure that it will be fast for 1–50 people, but will it scale for 100? However, I don't worry too much about performance, since this is a technical problem that can be solved.
---
To be continued → #2. Slow September 2018.