TLDR: Public API and Formulas are completed. Release is closer. Team got crazier.
Flashback: #10. Burn in May 2019.
As usual, main numbers (→ sign shows changes between May and June):
Product:           Fibery — SaaS B2B (SMB) work management platform
Stage:             Private Beta
Launch:            Q3-Q4 2019 (public)
Development:       28 months 
Leads/month:       140 → 65
Total Accounts:    360 → 390
Active Accounts:   15 → 16
Team size:         10
Burn rate:         ~$40K/month
MRR:               $0
Overview
June was quite calm month. We've mostly focused on development and interacted with new leads less. It seems development speed is good and we finally delivered the most complex feature of this year — Public API.
With time we invent more and more ideas. For example, it is interesting to integrate Fibery with some static publishing framework and have CMS based on Fibery as a result. It can be used to create a publish user guides, internal and external documentation, blogs, basic web sites, etc.
Another interesting idea is Canvas View, where you can do pretty anything and move from very fluid data to some exact structures: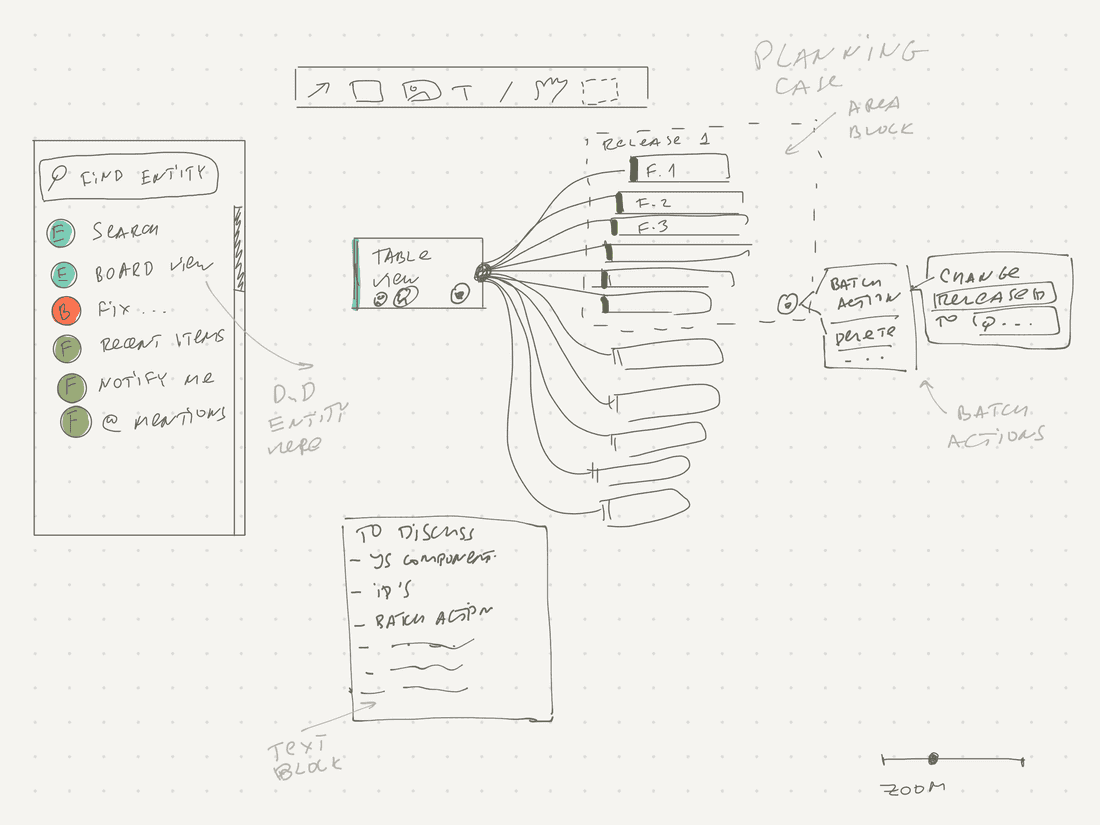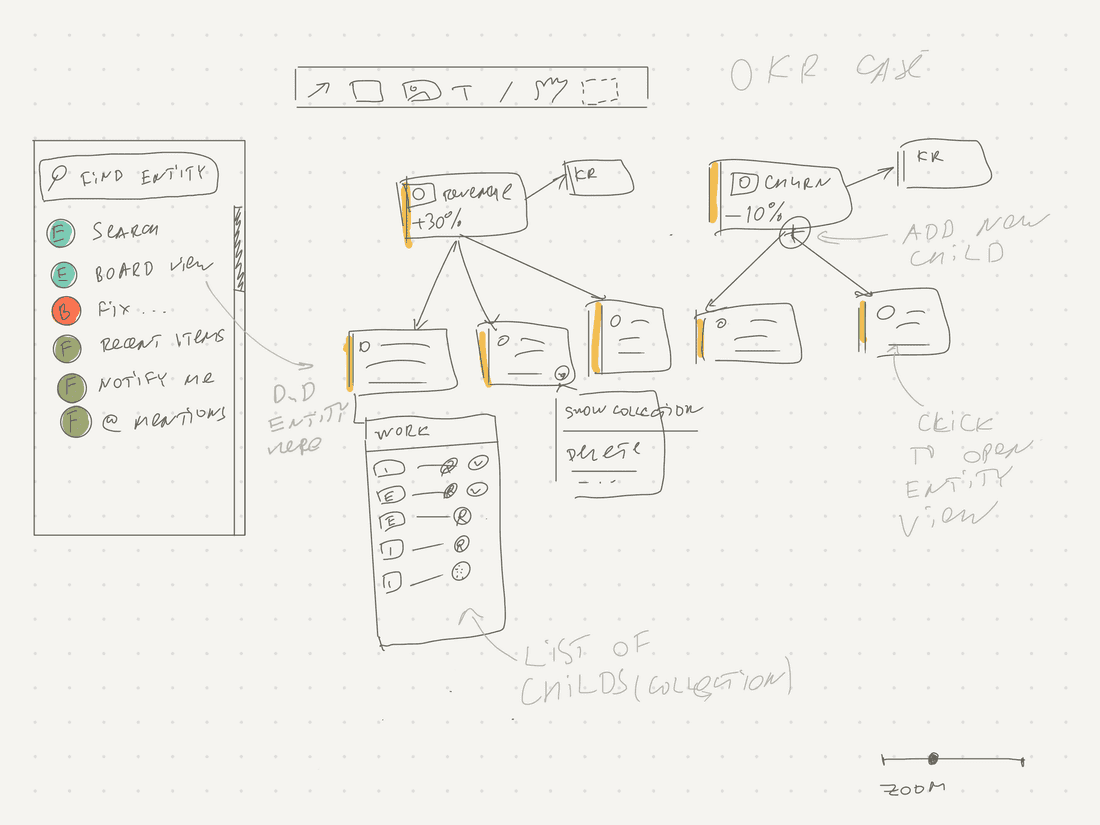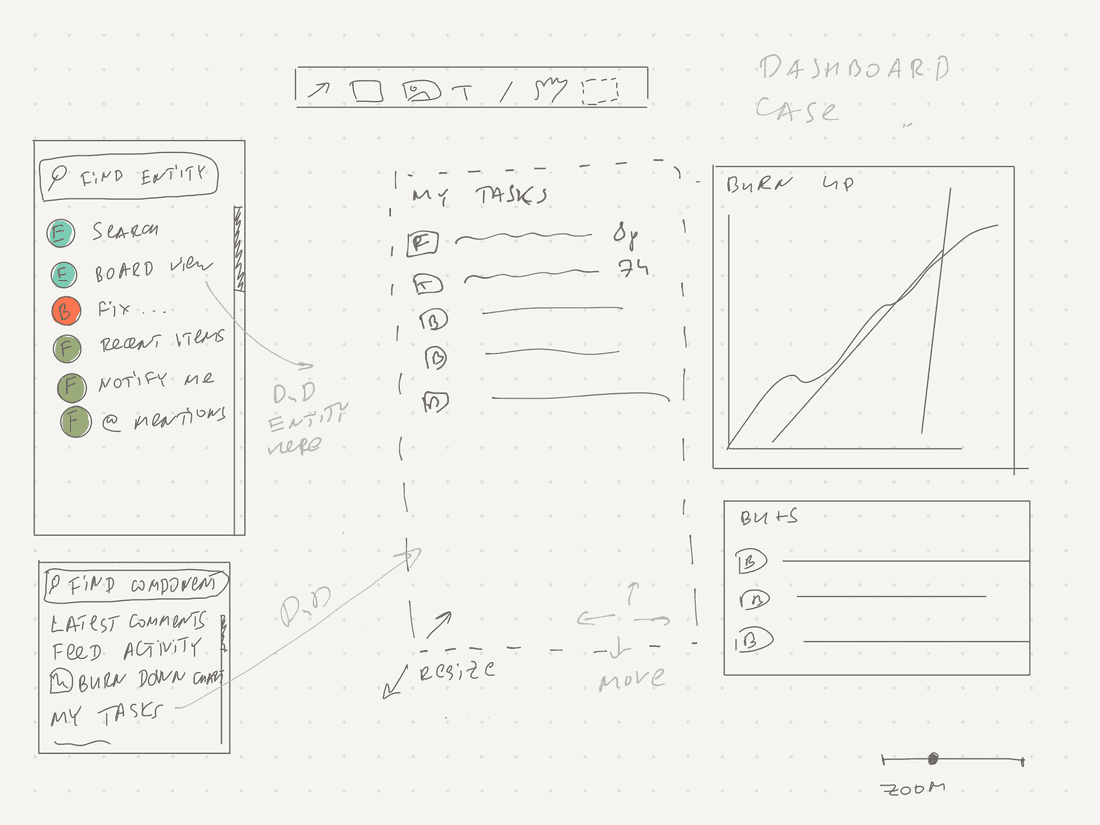 We are not going to pursue these ideas right now, but we expand Fibery vision and see how it can replace more and more tools.
Leads & Feedback
We took a pause with new accounts setup. Mostly due to technical updates and major refactoring. All marketing activities were frozen, so we've got 60 new leads. Also we've made access to Fibery more complicated and it is required to fill in the form with a couple of questions.
In June we've setup less than 30 new accounts.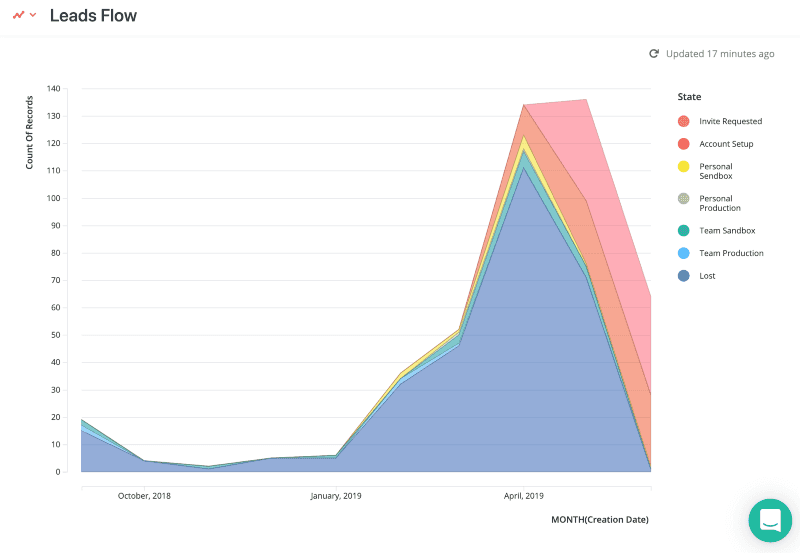 Feedback is still mostly positive for private beta, conversion rate is still low :)
I have been playing around only 15 minutes and my brain is already exploding !!
This is just amazing !
Let me play around a little bit more with it …
Features
DONE: Formulas (Metrics)
We've released first version of Formulas (kudos to Sergey Truhtanov). They lack some features (like operations with dates), but many cases are already covered.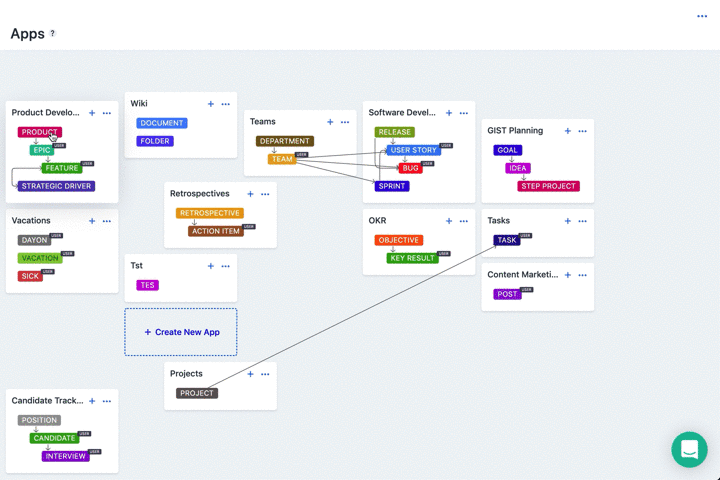 Check the article that describes formulas in more details: Formulas in Fibery
DONE: Public API
This was a really huge feature. It caused major refactorings & unifications and took 4 months to complete (mostly by Andrey Shotkin with help of Victor Zhuk and Anton Iokov). Was it a wise decision to spend so much time on API in private beta? It is hard to say, but I can't imagine doing it, for example, next year. It will be a 1-year feature then. Andrey would die facing this task in future, so at least we've saved his life (but not his mind).

We want to make Fibery platform as open as we can, and early API release is a good leading indicator of our intentions. Anyway, it is there and you can check the docs and play with it: Fibery API
DONE: Recent Items in Search
If you navigate to Search or press Cmd + K, you will see recently opened Views and Entities. It simplifies navigation in some cases: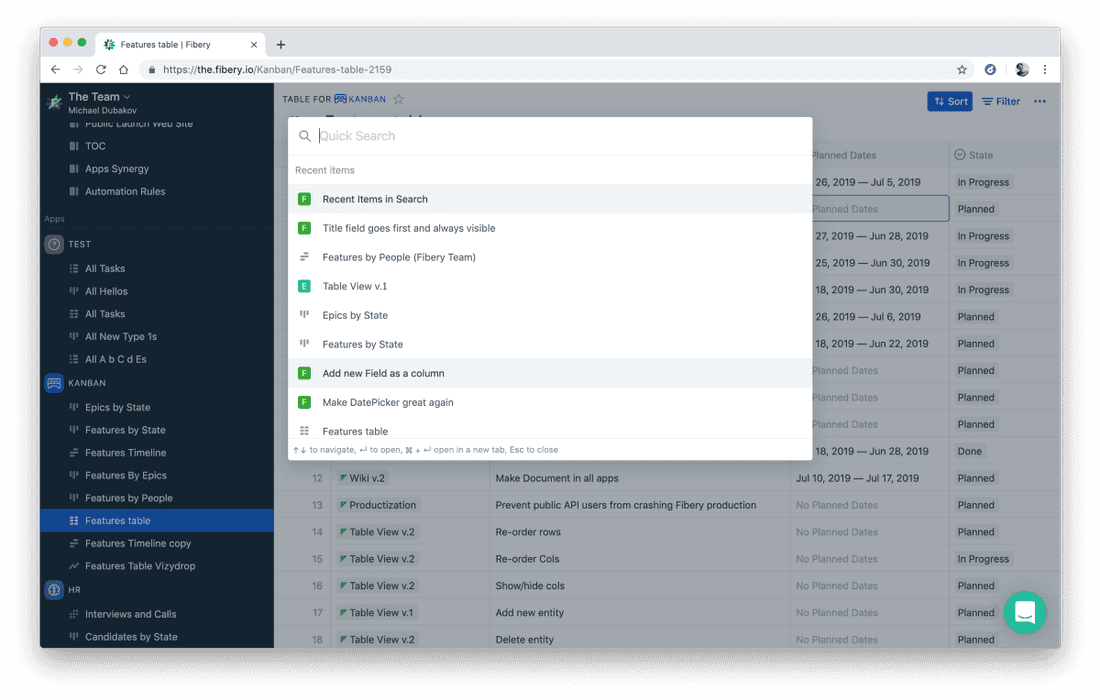 ⇢ In Progress: Table View
A couple of developers and designers focused on Table View and you already can create it in your apps. What you can do with Table View right now:
Create Table View, select visible columns
Filter and Sort data
Inline edit all the fields with keyboard navigation
Open entity using Space key or icon in the left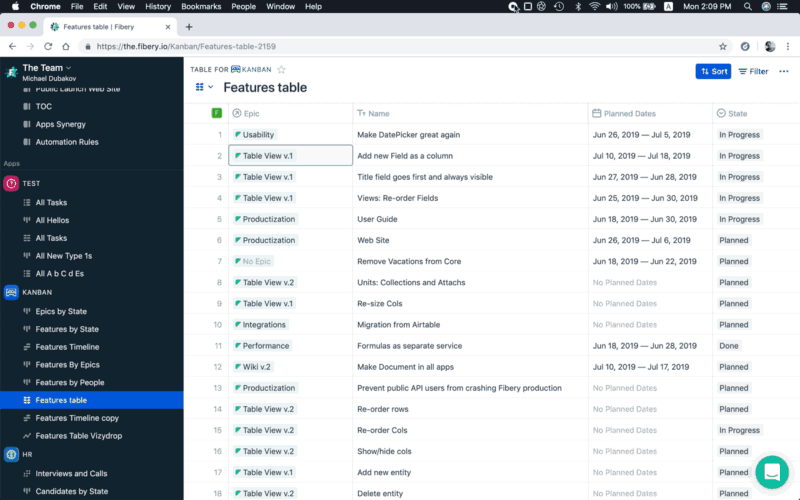 Next features to be delivered:
Re-order fields
Re-size columns
Add new entities
Add new fields as columns quickly
⇢ In Progress: Automation Rules
We are starting Automation Rules implementation this month and working on UI. Here is the idea we have in mind so far: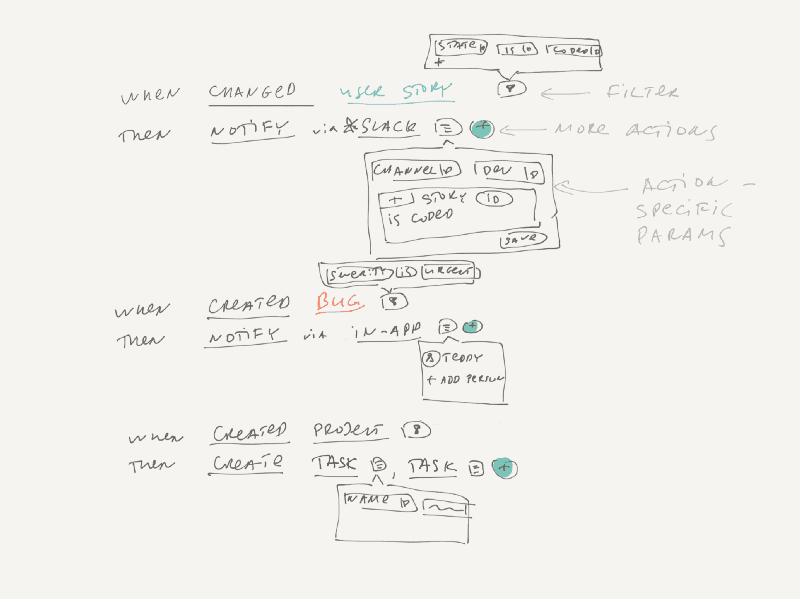 Public Release Roadmap
We did not add new features and completed two in June. October looks like a possible goal for the public release.
✔︎ Search
✔︎ CSV Import
︎︎✔︎ Public API
✔︎ Metrics (Formula Field)
⇢ Table View. We discovered that Boards are not enough for many cases, and we will add Table View (or Spreadsheet View if you like)
Domain evolution: we will finalize renames (Apps, Types, Fields). Now it causes some problems.
⇢ Permissions: Collaborator role (a user that can't change things created by other users), and we will deny Views modification by ordinary users as well
⇢ Automation Rules. It will enable process automation, like internal Zapier.
Notifications (mentions, in-app, activity stream, Slack, Email). We hope Automated Rules will help to implement this feature.
History information and reports (CFD, Burndown Chart, Burnup Chart, Burnout Chart)
Account management and payments
New web site
Polish everything.
Haha 😅
🏦 Random
Random Image from our Slack channel: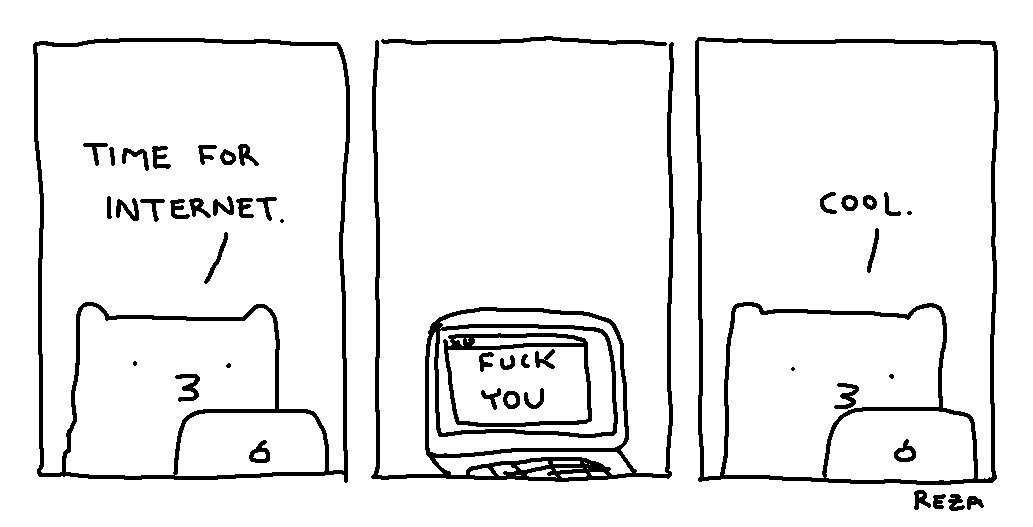 Random video:
Random link from our Slack channel:
Random quote:
This is not to say that skill doesn't matter — merely that in a competition in which all the leaders are highly skilled, randomness may explain the difference between triumph and failure. Good luck plus skill beats bad luck plus skill any time.
---
To be continued → #12. Controlled Panic in July 2019.
P.S. We will deliver! 🍆