TLDR: Table View is done, Notifications are in progress, Automation Rules are postponed. Everybody is 🦄. Serious shit! Summertime 🌤
Flashback: #11. Stealth June
As usual, main numbers (→ sign shows changes between June and July):
Product:           Fibery — SaaS B2B (SMB) work management platform
Stage:             Private Beta
Launch:            Q4 2019 (public)
Development:       29 months 
Leads/month:       65 → 110
Total Accounts:    390 → 460
Active Accounts:   16 → 21
Team size:         10
Burn rate:         ~$40K/month
MRR:               $0
Overview
Fibery performance and stability became unbearable in June and we dedicated some time to these problems. Overall Fibery works much better now, only Entity View is slow as hell. Ilya Tsuryev promised to load everything faster, Victor Zhuk swore his beard to make Fibery stable and fit. We'll see…
We nailed some crazy and fun ideas about product positioning and public release, but so far we are not ready to share them. Maybe next month. Or not. We'll see…
Michael: For the third pivot we can take panic.so, it's free.
Ihar: For the fourth we'll have pzdc.io for sure
The problem is that we have hundreds of cool ideas and have to choose carefully what to focus on. For example, it is relatively easy to create content publishing app for Fibery to generate Blogs, User Guides, etc. Should we do that now? Probably not. Another example is CRM. It feels like startups needs basic CRM and Fibery might be a good fit, but we lack some important features like Email Integration. Should we do that now? Probably yes.
Currently we have 3 main hypothesis to validate before public release:
Fibery for Consultants and Coaches 🦔
Fibery as an Airtable replacement 🍋
All these areas are connected, but we have to choose one to focus product development, marketing effort and overall strategy. This is something we should do in August/September, no later.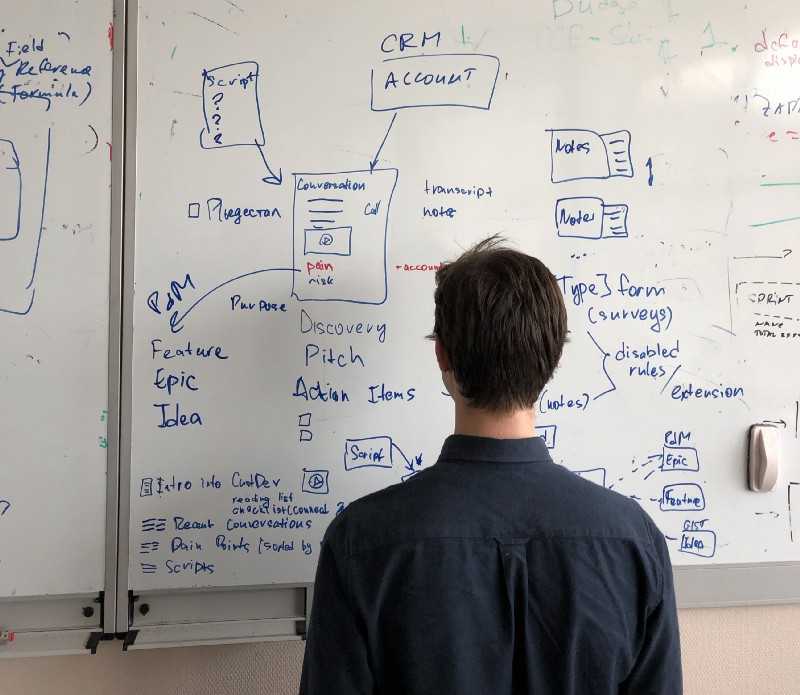 Customer Discovery calls were restarted and we had 10 calls in July. BTW, here is a very good book about calls. It is quite interesting, but problem validation is already there I think. Execution is the hardest part in Fibery. Or not. We'll see!
Our market is fucking hot:
Notion — 🦄, Airtable — 🦄, Monday — 🦄, Coda —?
Features
DONE: Table View
Table View is completed, at least its first iteration. In July we've added some capabilities:
Re-order fields
Re-size columns
Add new entities
Add new fields as columns quickly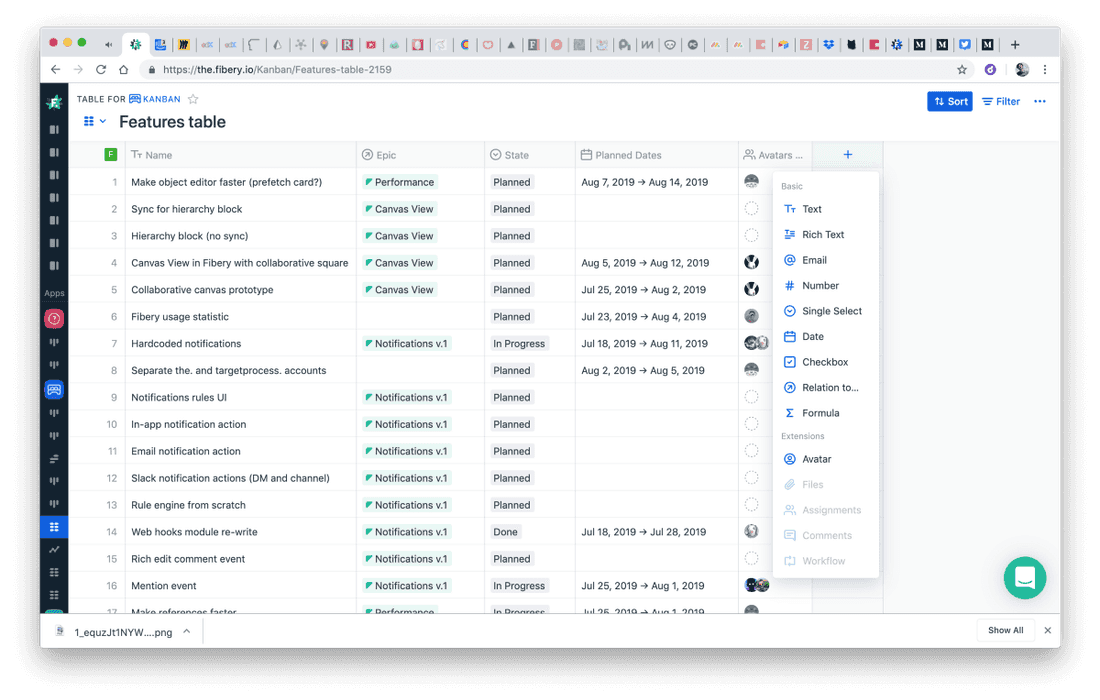 Read more about Table View: Fibery Table View v.0.1
DONE: New Date Picker
We fed up with Date Picker component and decided to re-write it from scratch. Here is it. Sane n' good new Date Picker.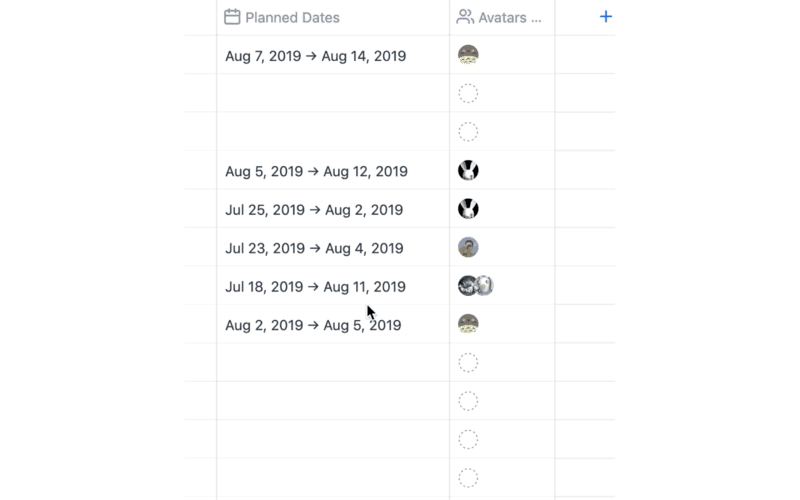 DONE: User Guide
Official User Guide is arrived. Around 30 articles about Fibery principles, areas and tricks. Nothing fancy, user guides are boring.
DONE: Web hooks
Web Hooks were re-implemented as a separate service. You can access web hooks via API only so far.
In Progress: Notifications
We hoped that Notifications will be created with help of Automation Rules, but it appeared that our initial technical vision was too idealistic. We decided to implement basic notifications on important events so far (assignment, mention, new comment) and create in-app, email and Slack notifications.
In July in-app notifications are there under Activity link in left menu. More events will follow soon: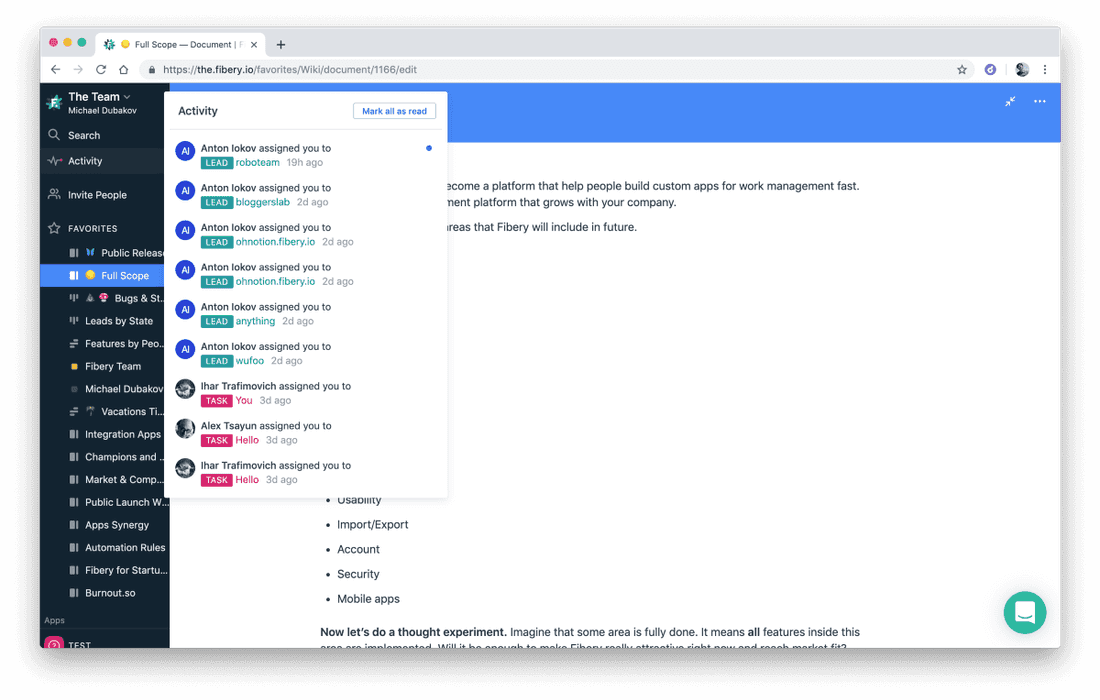 In Progress: New Web Site
Sorry, nothing to show in this area yet. It's a secret.
In Progress: Change Domain Safely (rename everything, etc.)
Apps, Types and Fields rename break views, formulas and reference in documents. It makes Fibery evolution false promise, and we don't like that. So we've started to make domain changes flawless. It is quite major change and will take a couple of weeks to finalize.
Stopped: Automation Rules and Permissions
Unfortunately we had to stop Automation Rules development. We relied on third-party technical solution, but now have to revisit it's fit. Most likely we will re-start Automation Rules development in August, but it seems the first public release will happen without automation rules.
It seems Notion and Airtable can live without decent automations, so maybe Fibery can start without them as well. Still this is a hard decision to make and we are procrastinating…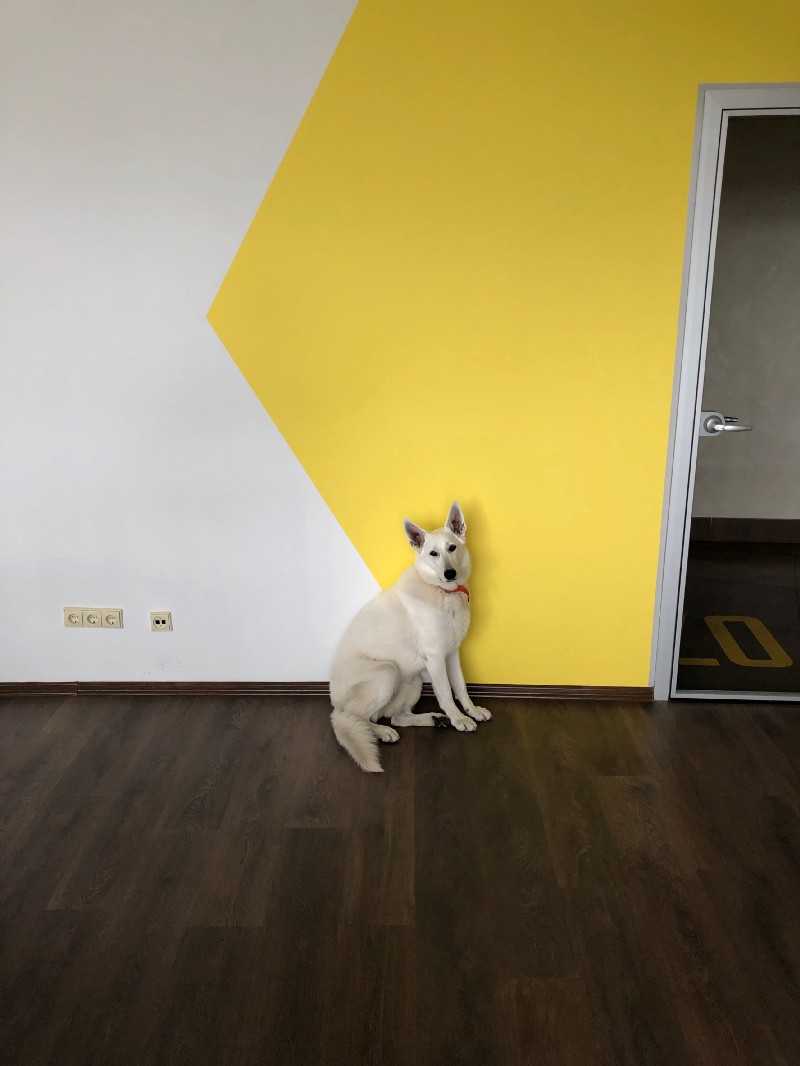 Public Release Roadmap
We did not add new features and completed one in July. October looks like a possible (but hard to achieve) goal for the public release. Most likely we will have to drop Automation Rules and History reports… Polishing is very important to provide a decent user experience and Fibery has many rough edges.
✔︎ Search
✔︎ CSV Import
︎︎✔︎ Public API
✔︎ Metrics (Formula Field)
✔ Table View. We discovered that Boards are not enough for many cases, and we will add Table View (or Spreadsheet View if you like)
⇢ Domain evolution: we will finalize renames (Apps, Types, Fields). Now it causes some problems.
✘ Permissions: Collaborator role (a user that can't change things created by other users), and we will deny Views modification by ordinary users as well
✘ Automation Rules. It will enable process automation, like internal Zapier.
⇢ Notifications (mentions, in-app, activity stream, Slack, Email). We hope Automated Rules will help to implement this feature.
✘ History information and reports (CFD, Burndown Chart, Burnup Chart, Burnout Chart)
Account management and payments
⇢ New web site
Polish everything.
Haha 😅
🌔 Random
Random Image from our Slack channel:

Random video:
Random link from our Slack channel:
Fast Software, the Best Software
Random quote:
To me, speedy software is the difference between an application smoothly integrating into your life, and one called upon with great reluctance. Fastness in software is like great margins in a book — makes you smile without necessarily knowing why.
---
To be continued → #13. Hot August 2019.
P.S. We will ship! 🦞