TLDR: Public announcements moved to January. 🔮 +Lena. Tons of feedback. 💰 First money! 🦚 Hype is over. 🐬 We consider raising a ~$4M seed round.
Flashback: Fibery.io chronicles #16. Crazy November.
As usual, main numbers (→ sign shows changes between November and December):
Fibery. 
No-code platform to build a collaborative workspace for your company

Stage:             Launched (silently)
Launch:            ✔︎ November 2019 (public)
Development:       34 months 
Leads/month:       2700 → 1900
Active Accounts:   30 → 65
Team size:         12 → 13
Burn rate:         ~$45 → $50 K/month
MRR:               $0 → $80
North Star:        ? → 40
Anxiety tail
Fun is still there. We are still getting recognition for our web site. This gives us quite irrelevant traffic from marketing folks. So we are thinking about opening a marketing agency as a side project (our secret plan Z).
All cool, but the funniest part is this [irony!]:
"I actually signed up and gave it a try, but it was like too complicated so I gave it up and I'm continuing to work with Coda"
+Lena!
Lena Dorogenskaya is the creator of our beautiful Fibery web site (read the story of its creation ️💣). We are extremely happy to announce that Lena joined our team in December and brought her creativity and passion.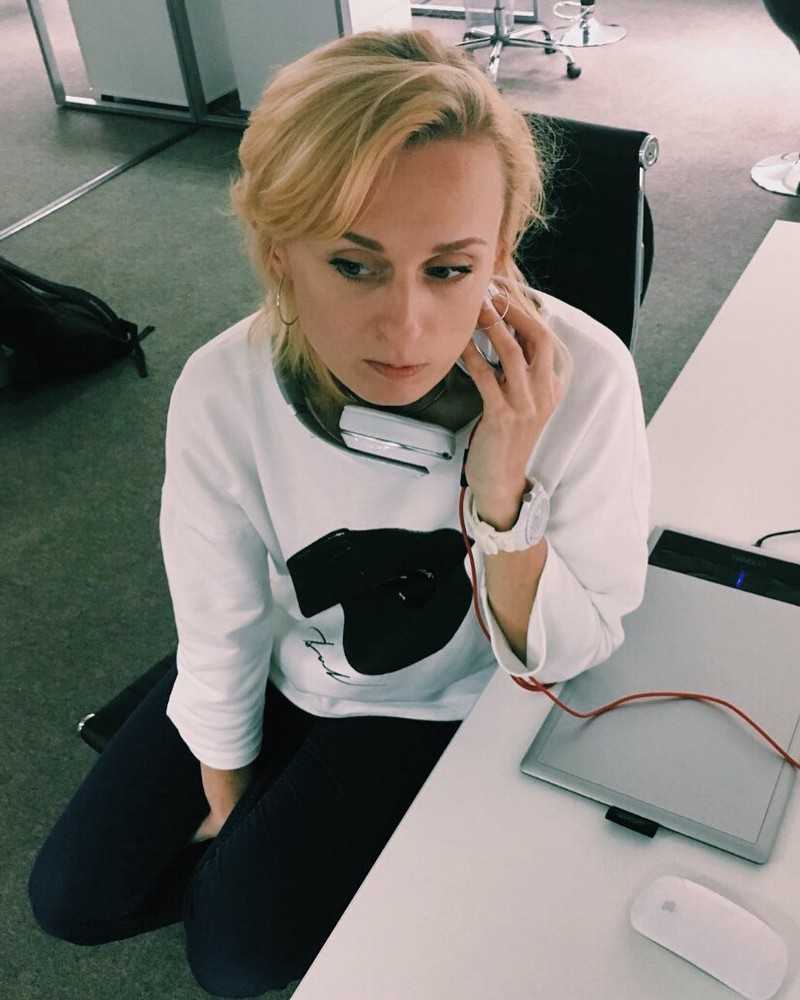 Fibery R&D team is extremely strong now, the next step is to build the cool customer success team. We've had 250 conversations in Intercom in December, and this is hard to handle well with 1–2 persons that are doing that part time.
Metrics
In this section we'll publish all important metrics we have. [🧞‍♂️ BTW, if you want to have something here, just make a wish — we are very transparent and don't want to hide any numbers].
Our main two goals with current numbers:
Active accounts with 2+ people     ~30/100
Paid accounts with 2+ people        2/100
Why 100? I'm in full agreement with Alan Kay here:
One of the most interesting ideas at Parc was: "every invention has to be engineered for 100 users". So if you do a programming language or a DTP word processor, etc, it has to be documented for and usable by 100 people. If you make a personal computer, you have to be able to make 100 of them. If an Ethernet, it has to connect to 100 devices, etc. — Alan Kay, What made Xerox PARC special?
What we've learned in the first month from thousands of registered accounts?
People like to explore Fibery alone for a week or two to understand how it can be useful and only then invite teammates. We thought that invites is a good sign of active account, but in fact it is often delayed for a couple of weeks.
Many people try to use Fibery for individual needs. We designed Fibery for teams and companies, that is our main focus. But we see quite many individual active accounts. That is somewhat surprising, since we thought that Fibery is quite complex for individual usage. We are not sure what to do with it, since we want to focus on B2B, but we'll see how it goes in future…
People are often afraid to trust new startups. Here is a quite often question we have to answer these days :) "I'm thinking of using Fibery for my company — I'm concerned that it'll shut down or otherwise majorly change, after we built our workflows on top of it."
Some feedback:
Hello, the application seems genius, greetings from Mexico; I have been using Asana for 8 years, I have just discovered Notion and I am liking it, however this application seems excellent to join the points of several projects.
One bit of functionality in Fibery I _really_ like is the 'Button' field. Basically you can add a button to an Entity (in Notion's terms, an Entity would be a database row) and execute JavaScript when it's clicked.
I'm looking forward to Notion launching their API, but once that is done, it would be even better to be able to use the API from within Notion itself (rather than only an external service/script).
That is what the Button functionality allows you to do with Fibery. It's great.
I have to tell you that I think Fibery is a huge step forward. I'm a big fan of the whole concept of building the tool up to how you use it and I think it solves the problem of people trying to fight a software into their workflow. Currently I'm using it for personal project tracking in the hopes that I can get buy in at work for adopting it.
Leads
In December we've got around 2000 leads. We learned that most leads from our funny anxiety landing page are not target (surprise!) People were just curious whether it is real or not, etc. So they don't stick and distort our metrics. Our target lead is a company or a team, not individual user, and we don't have a good mechanism to differentiate target leads so far.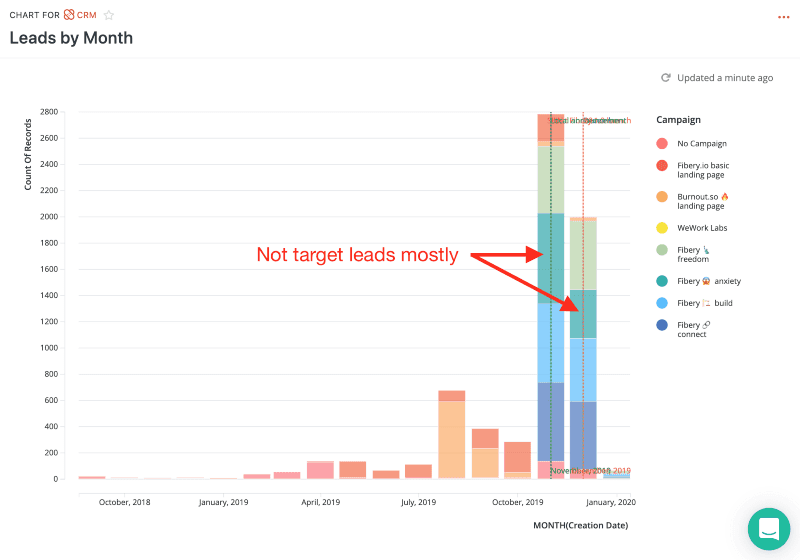 North Star
Our North Star is a total number of collaborative users in all accounts. For example, if account have a single user, it will not affect our NS. If there are two users in a single account and both use different apps, it will not affect our NS. So it is quite strict and pushes us to create apps that people use together.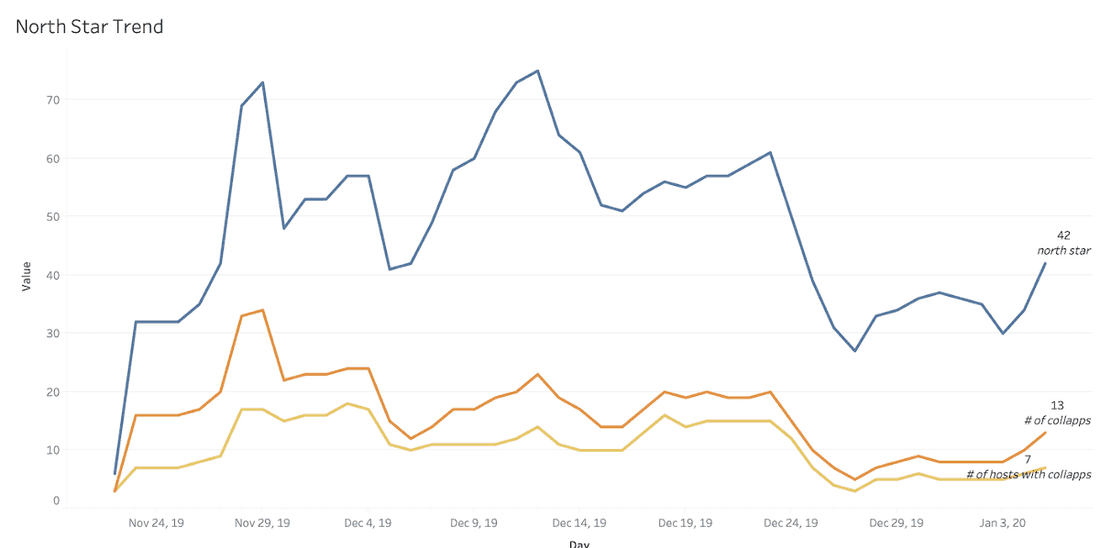 This chart does not look good, but holidays season definitely affected it. I'd say real metrics will be in February. [Note that the chart does not include all beta users that were given a free year].
Active users
We have about 500 weekly active users now (including beta accounts). This chart shows users from late November. You see HN burst and fade away. We'll see how January will change the chart. Largest non-beta account has 21 users.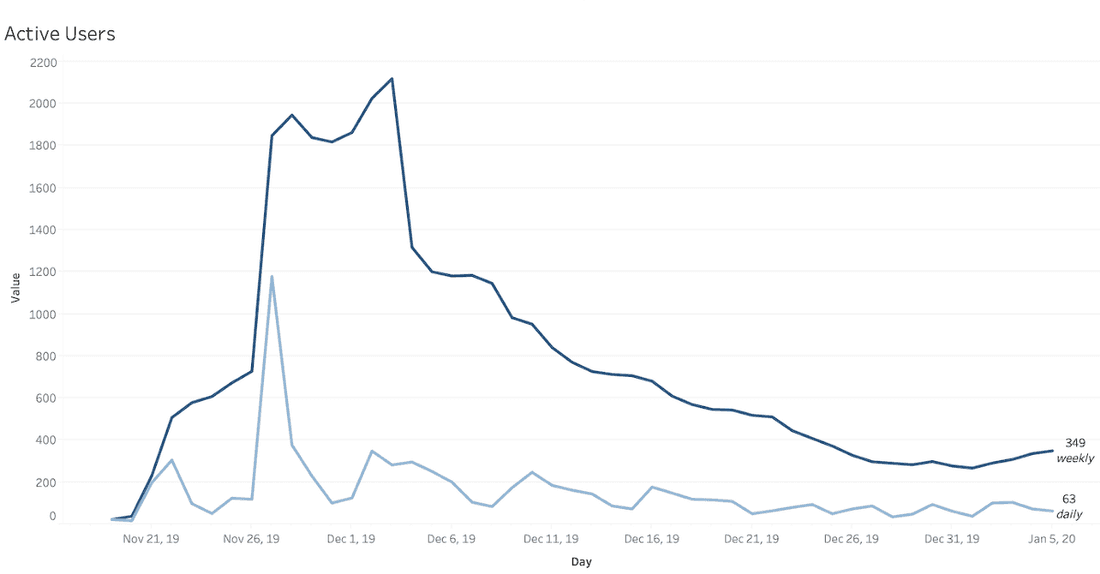 On-boarding
We see that our onboarding sucks 💩. To be honest, we did not spend enough time on it.
What we've learned?
Few people (nobody, who am I kidding?) read large getting started document.
People miss explanatory videos.
We try to show too much from the start. There is no gradual complexity increase, but Everest straight away 🏔.
Still quite many people do penetrate the initial barrier and start building interesting things!
We have many ideas how to improve on-boarding and will try a couple of them in the next several months. We'll start with short documents for different complexity levels and add some videos.
Product updates
December was a reactive month, we fixed many bugs, improved stability, performance and completed some boring account management things.
DONE
Account limitations, payments and other boring things.
Entity creation from drop down.
Export Table into CSV.
Performance and infrastructure improvements.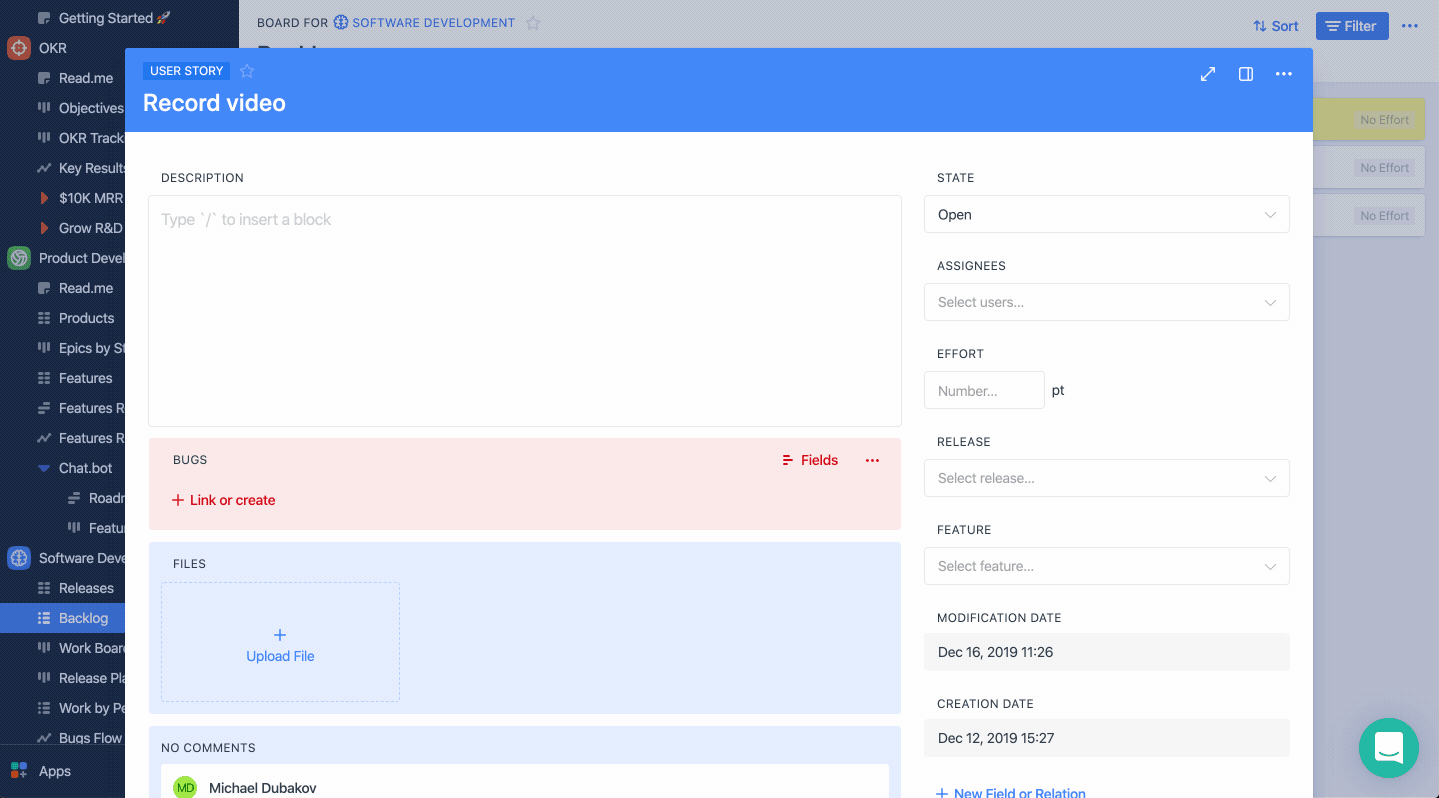 IN PROGRESS
Color entities in Tables, Boards and Timelines.
Log in into any of your accounts from fibery.io
Migration from Trello.
Better CSV import.
Whiteboard v0.2 with boxes, connections, and other tools.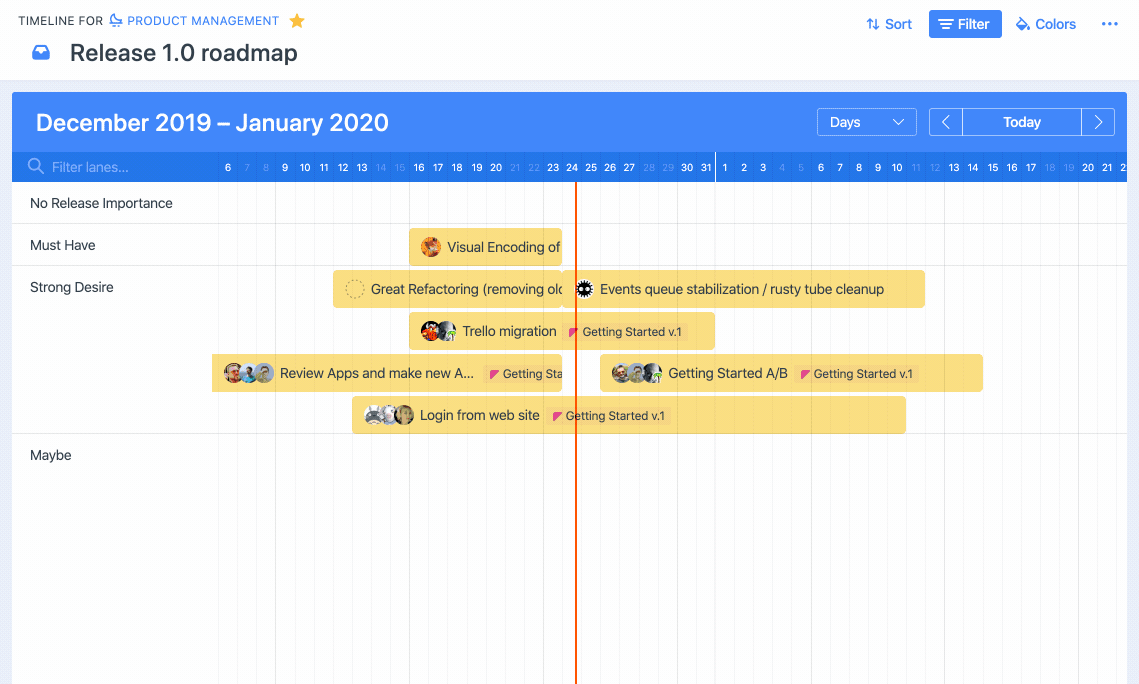 🥑 Seed round?
Fibery is a Targetprocess spin-off and after 3 years of mother-company-funding we have to become a completely independent company. Moreover, we are often thinking like "should we move faster?". The market and timing is perfect, but our vision is quite huge and we might need to have a larger team to build great product and find the market fit.
It is always hard to decide between (1) stay small and burn less or (2) grow faster and burn more. Notion went the first road initially and now it is a famous story how they pulled the product with few people. Coda took $60M right away and had ~50 people on board in pre-launch mode. Fibery is somewhere in between now, but closer to Notion path. Our current burn rate is ~$50K/month and we have enough money to live for 1–2 more years with the current team. But is it enough?
What we have? We have a good MVP, some positive early signs and ~zero revenue. We have a great R&D team. We have a good market opportunity and a vision that might simplify work management for thousands of companies and teams.
What we don't have? We don't have a customer success team & a marketing team. While we can survive without some marketing specialists and just be creative, 2–3 people are must have for customer success. We don't have significant advertising budget. We don't have a market fit yet (at least it is too early to say).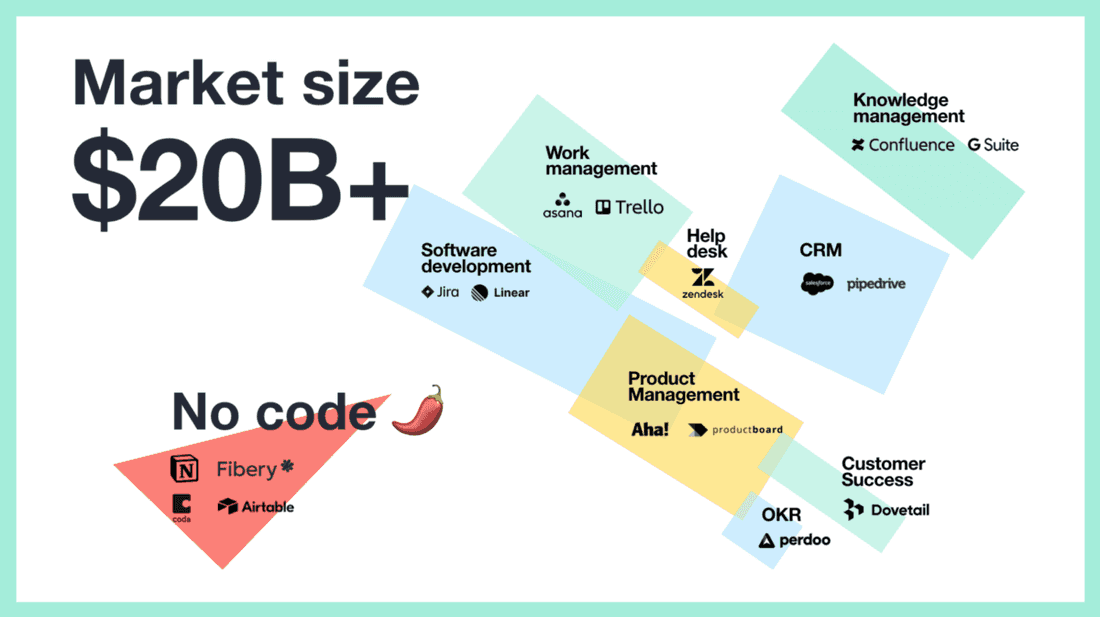 With this in mind, we do consider raising ~$4M seed round in the next several months.
🌶 If you are a VC and are passionate about no-code transformation, shoot us an email to new@fibery.io and we might talk.
Plans for January
In January we want to finally make Fibery release official. It means we are going to launch at Product Hunt, try some marketing channels like Google Ads and be more active in various communities and media.
From product development point of view January will not be very exciting, since we will still invest into infrastructure. However, we are going to deliver some cool features. What bothers us is Automation & Integration initiative, but most likely we will start it in February. It is huge.
👨‍🍳 Random
Random link from our Slack channel:
Don't Learn to Code - Learn to Automate
Random Image from our Slack channel: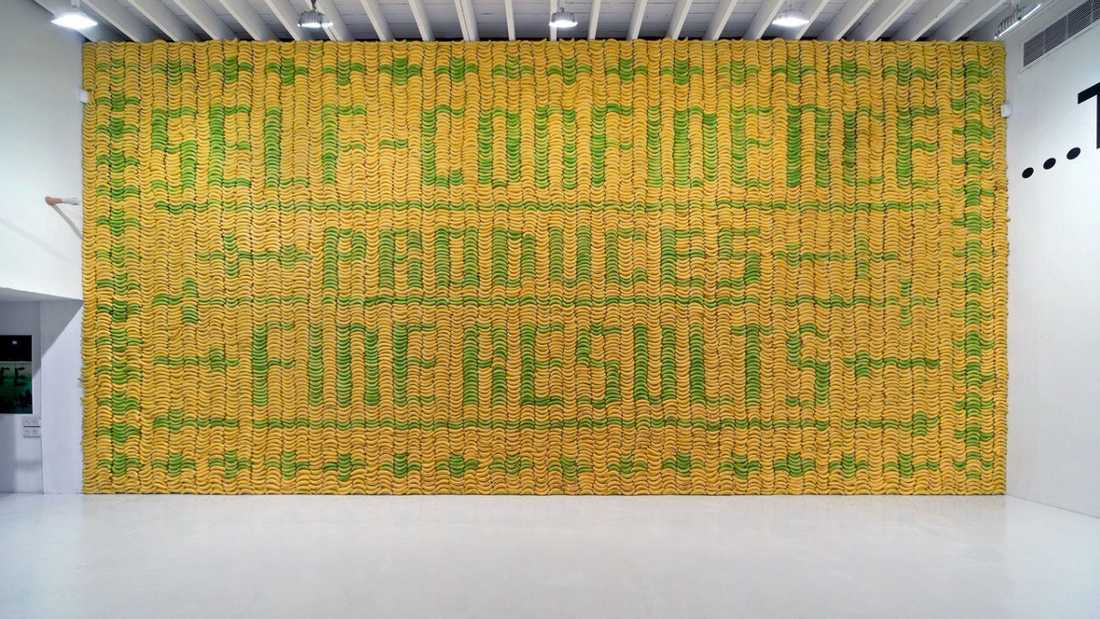 Random quote:
Most startups die not because they can't get their tech to work or because their competition out-executes them. The death of most startups is indifference. Put simply, most companies fail to launch because no one cares: not users, not employees, not investors, and certainly not the media. It's death by a thousand shrugs.
---
To be continued → #18. Enduring January 2020.
🦚 Follow us on Twitter: https://twitter.com/fibery_io
🐬 Register your account https://fibery.io