TLDR: Fibery 2.0 release moved to January 2021 🦐. Not so many new features, but expect a new burst soon 👅. Anna joined our company as the Head of Marketing 💃. Winter (or Summer) came 🥶🏖.
Flashback: #27. Reaching Level X in October 2020.
Main numbers ( → sign shows the changes between August, September, October & November):
Fibery. Connected workspace for teams.
Leads/month: 700 → 650 → 700 → 650 Active Accounts: 155 → 165 → 180 → 170 Team size: 19 → 20 → 21 → 21 Burn rate: $85K → $95K → $100K → $100K/month
MRR: $3.6K → $4K → $5.3K → $6K/month
Overview
October was weird, but November was super weird. It was filled with strange events that I can't comment on yet, but everything looks intriguing. I know it explains nothing, but it's 2020, what can we do… Just wait.
We have to move Fibery 2.0 release to January 2021. The major reason is that we didn't implement one must-have feature — automatic workspace setup. Without it there is no point to create a separate landing for product companies and market Fibery as all-in-one solution for product teams. It will be completed in a week, but we don't want to release it right before Christmas 🤶. Despite 2020, people will have other activities till the new year to focus on. Another reason is the new infrastructure, currently we are working on Softlayer → AWS migration and want to finalize it before the launch.
Separation from Targetprocess is still in progress. There are some final strokes, but it should be over in 2020. What a year it is 🙏. At least we have moved to the brand new Google Suite and Zoom. It was surprisingly hard. Somehow all services are designed to not handle company split gracefully, so we had to contact support in Google and in Zoom to make it happen.
Fibery adoption and metrics are slowly improving, but without new launches and with zero marketing effort there are no stark changes.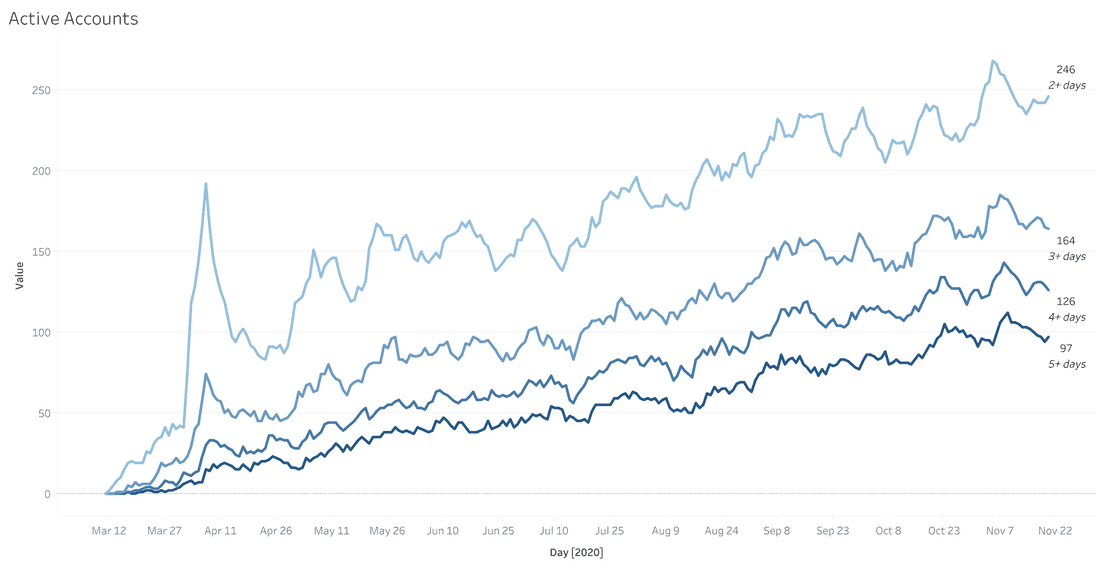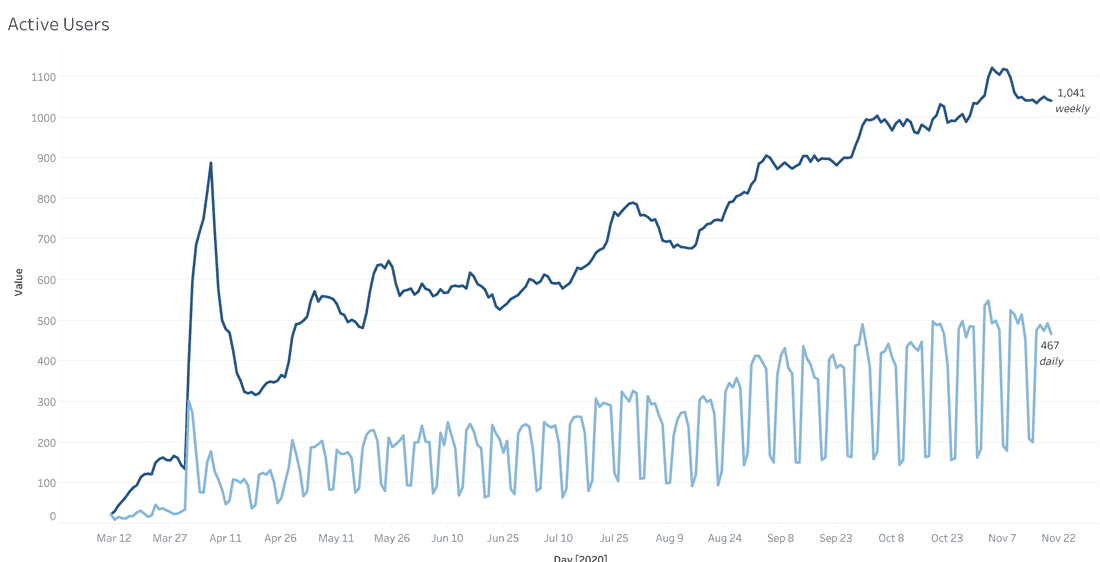 North Star metric got better as well:
Head of Marketing
Our quest is over, Anna Lazitskaya joined our company as a Head of Marketing 🎉. She has great experience and you may expect a new web site, better positioning, and cool marketing campaigns in near future.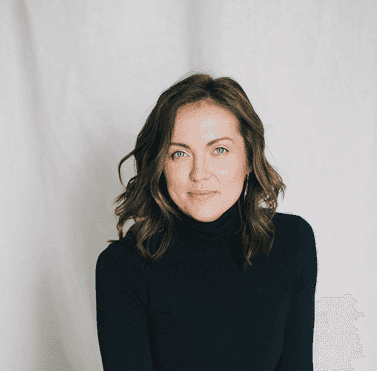 New Pricing
Fibery 2.0 will have new pricing model. All paid accounts will still enjoy old pricing model for 2 years. All current non-paid accounts have about a month to upgrade using the current pricing. Overall, we see that Fibery is replacing a couple of tools in a small company, so $10-12 per user looks reasonable.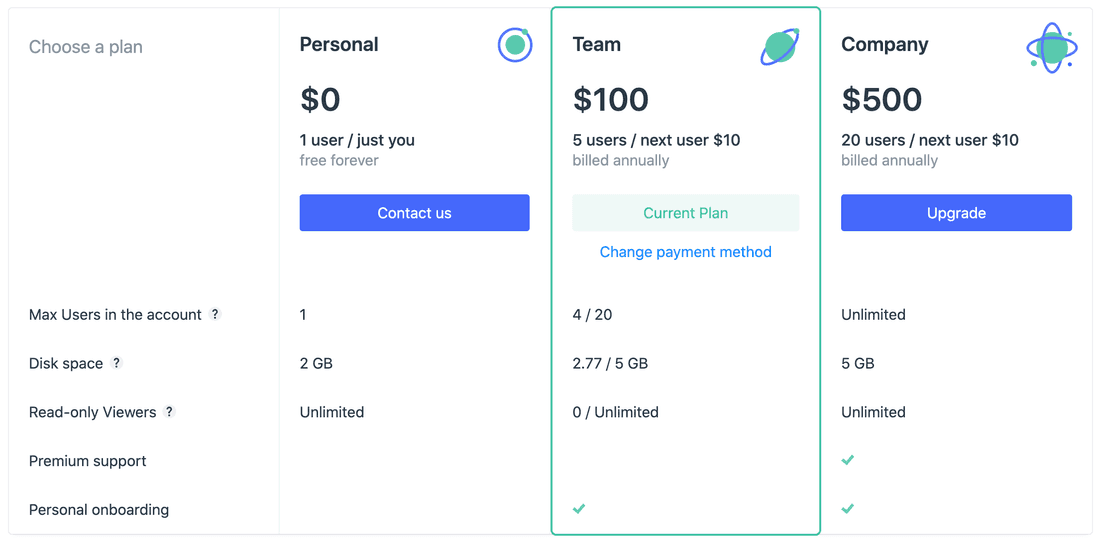 Fibery will be free for individual users, this is not were we want to earn money from.
Direct Sales Experiment
Our Direct Sales Experiment was not very successful for several reasons. First, we did not manage to collect enough contacts, and it resulted in small batches with not enough stats. Second, we tried to use Fibery for contacts accumulation, but it demanded a lot of manual actions and delayed everything.
We contracted one more person to help with contacts collection and now the speed is good. And we switched from Fibery to Snov.io for contacts accumulation and now the speed is good here as well.
After all those fixes, we're trying the new niche "game development companies" and are having a couple of calls this week. So I hope we'll finally nail the process and get some information from this experiment.
Quality
One more QA engineer joined our team. Her name is Anastasia and she returned from parental leave. As a result, we have more bugs to fix. We hope Fibery release quality will be better soon.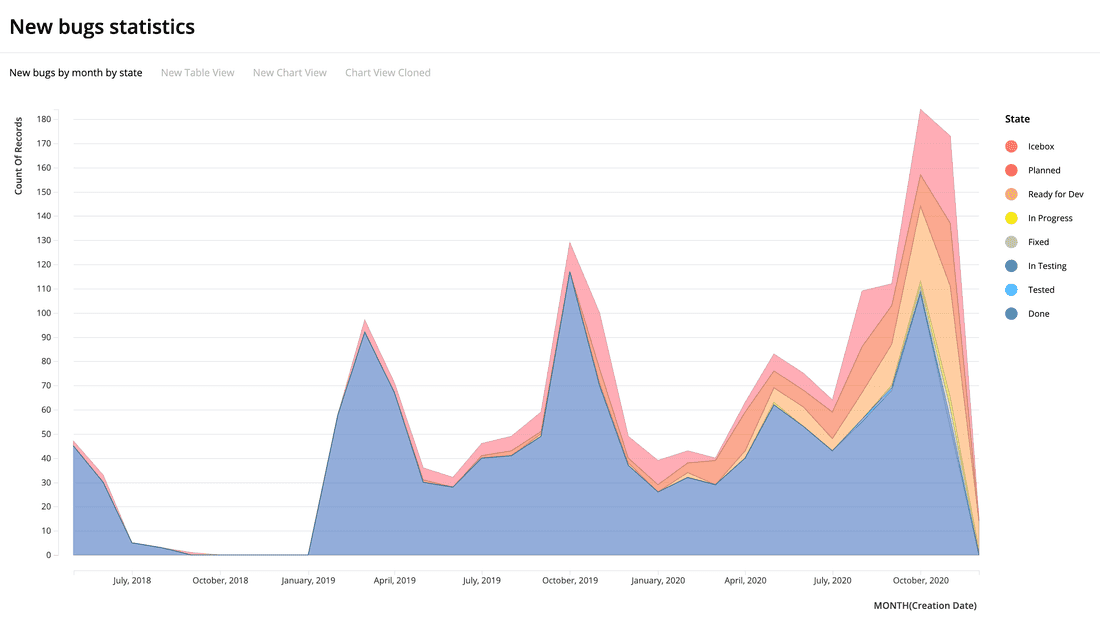 Product Updates
DONE
True "No Access" permissions
In Fibery you can restrict access to Apps. Previously a user with no access to an App saw an awful lot of sensitive data, like names of all entities. Name was a public attribute visible to all people, even without any access. It appeared this decision was not correct and it took us a couple of months to solve it. The only thing that remains visible is entity Id, and it does not contain any information.
For example, a user has access to Employees but has no access to Salaries. Salaries are connected to Employee, but this information will be hidden from a user.
It all means you can safely use Fibery for sensitive data and be sure that restricted entities will not be visible anywhere (UI, Search results, API, etc).
Now we can move to functional permissions improvements, like simplify permissions management, add read-only users, and implement entity-level access.
New Search module
As a side effect, we had to re-write the Search module from scratch. It does not have new features yet, but it should be much more stable and it should not miss newly created items.
GitHub Issues sync
Now you can fetch and sync all Issues from GitHub repository. It may be handy to track tasks in GitHub, but track product development in Fibery and connect Issues to Features/Projects/Products.
Jira Integration
You can gently try Jira integration. Import Projects, Versions, Issues, Statuses and Users. The main use case is to do Product Management in Fibery and link Issues from Jira to Features and Products in Fibery.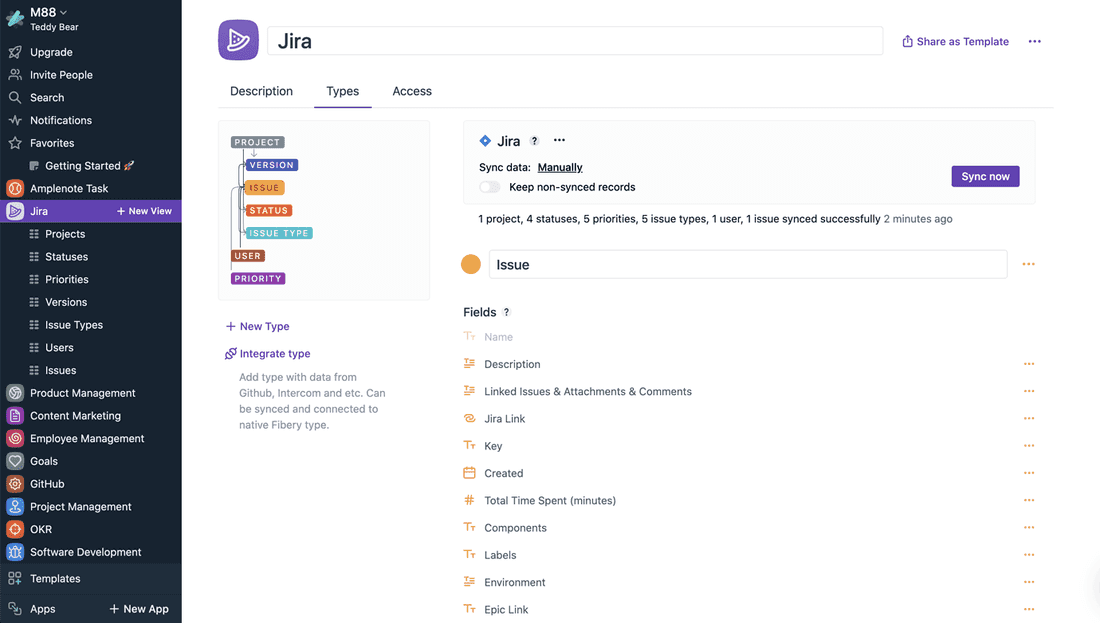 Intercom Integration: OAuth and near-real-time updates
Intercom integration has OAuth now, so it is much easier to connect. Moreover, Intercom integration has near real-time updates on new replies, so you don't have to wait to link feedback to some Ideas and Features.
IN PROGRESS
Share the whole Workspace
Soon, really soon, it will be possible to share the whole workspace, it will include all (or selected) Apps and relations between them. As a side effect, it will allow us to quickly experiment with new niches. The first niche is product companies, but we can assemble new workspaces in a few days and try new niches via marketing campaigns quickly.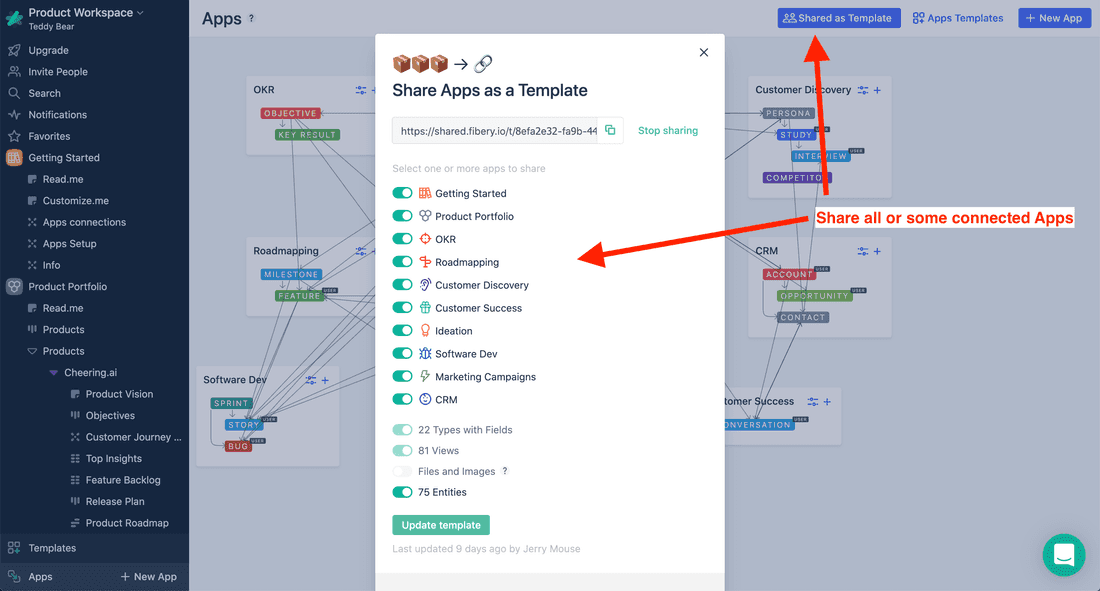 Braintree Integration
Many companies use Braintree for payments handling (we do). We use Fibery as a CRM, so we want to connect all subscriptions and transactions to the Accounts in Fibery. It will help us to spot missing payments, track MRR, and other startup metrics.
Discourse Integration
Discourse integration will allow us to accumulate all feedback from our customers in Fibery and link it to real Ideas, Features, and Bugs.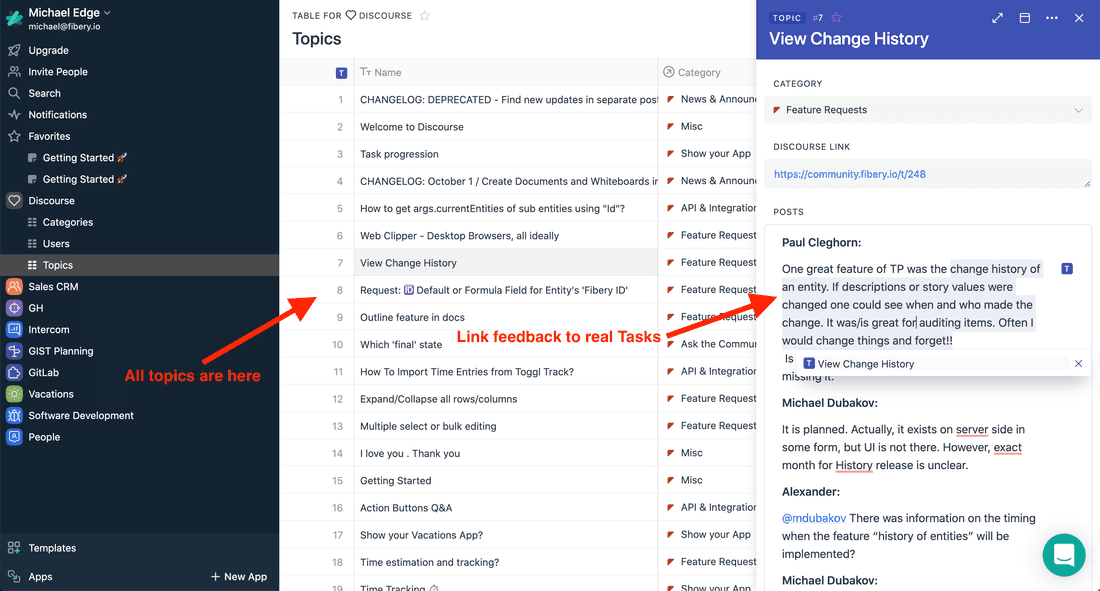 Integromat Integration
Zapier has some limitations, so we decided to add Integromat integration as well. It is almost ready and we are submitting it for approval this week. Hopefully, this will be a fast process and you will enjoy complex workflows.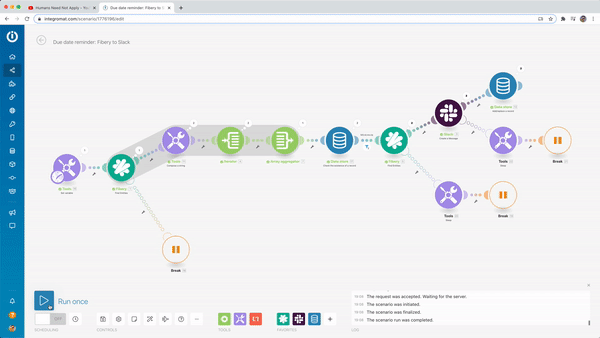 Hierarchical Lists
Finally we're starting to work on Hierarchical Lists. It should take ~2 months, but it will be possible to see hierarchies nicely. It will look something like this: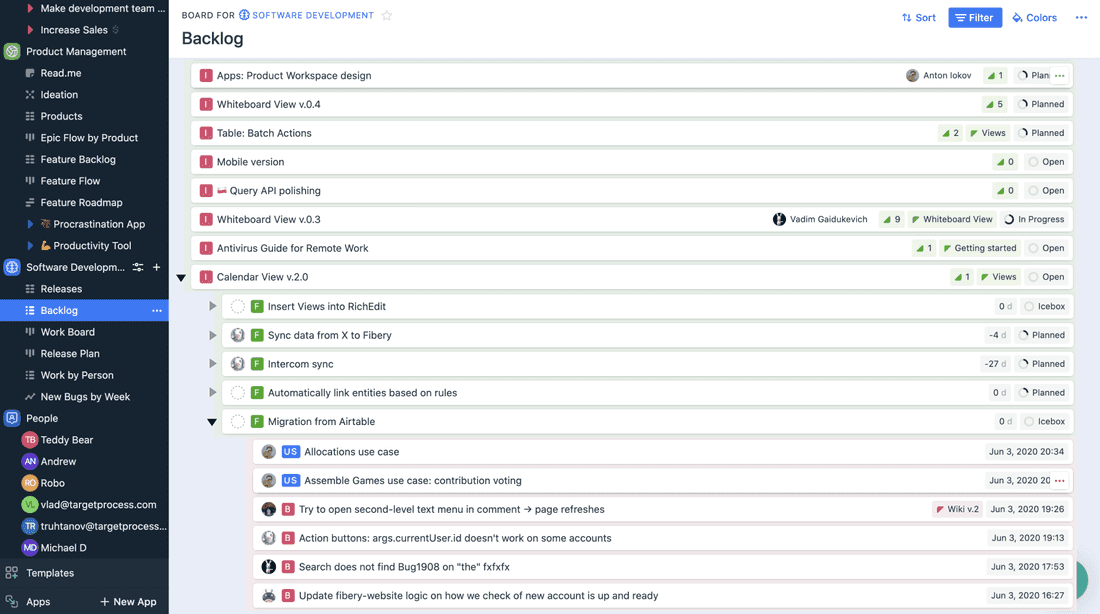 Formulas: Convert Numbers and Dates into Text
So far it is not possible to concatenate numbers, dates, and text. We are working on that and it will be released very soon.
New Infrastructure
We're migrating from Softlayer to AWS. For 3 years we shared Targetprocess infrastructure, now it is time to move on and create our own fully controlled environment. We hope that it will lead to better performance, smoother releases, and quicker bug fixes.
👃 Random
Random photo of our team
Polina froze during the call:

Random image from our Slack channel:
Remote FTW: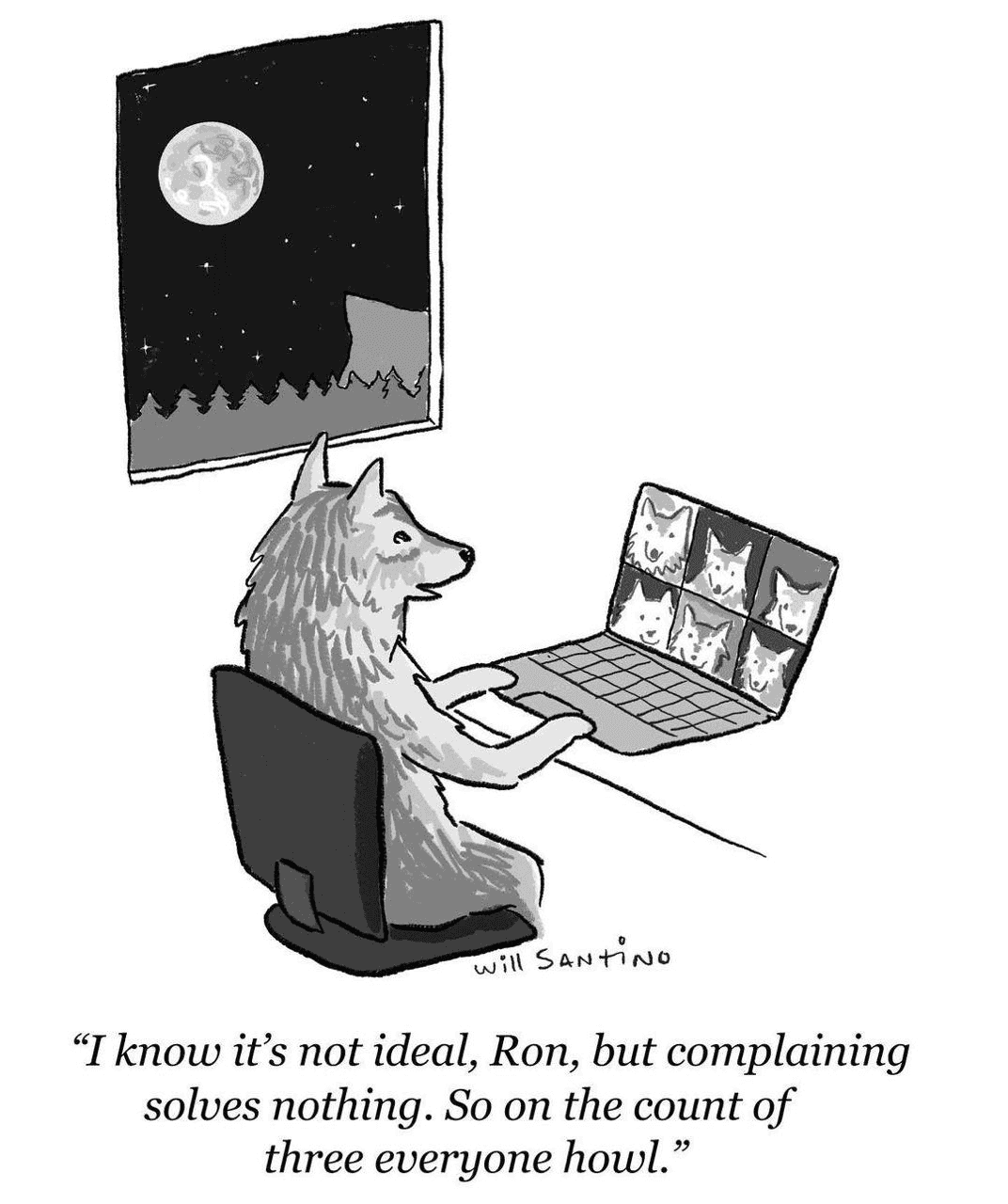 Random link from our Slack channel:
Implementing Zettelkasten in Roam: A practical guide
Random quote:
To reach the quality without a name we must then build a living pattern language as a gate. This quality in buildings and in towns cannot be made, but only generated, indirectly, by the ordinary actions of the people, just as a flower cannot be made, but only generated from the seed. The people can shape buildings for themselves, and have done it for centuries, by using languages I call pattern languages. A pattern language gives each person who uses it the power to create an infinite variety of new and unique buildings, just as his ordinary language gives him the power to create an infinite variety of sentences. — Cristopher Alexander