Flashback: #2. Slow September 2018
As usual, main numbers (→ sign shows changes between September and October):
Product:           Fibery — SaaS B2B (SMB) work management platform
Stage:             Private Alpha (no production version)
Launch:            November → December (silent, invite-only)
Development:       20 months
Cold leads:        580 → 750 (subscribed from fibery.io web site)
Hot Leads:         20 → 25 (gave feedback)
Customers:         1 → 3 more play with Fibery regularly
Team size:         9 people
Burn rate:         ~$50K/month
MRR:               $0
We got enough feedback for the Alpha version and did few demo last month, so in general we know what should be fixed and improved till the public release. It lead to some changes in scope, so release most likely will happen in December. Overall, functionally product is almost ready, but it need to be polished and stabilized in the next month.
We feel that release is close enough and convergence is near!
Left menu redesign is completed (almost)
Now we have to finalize animation and implement drag and drop. It works better than previous menu, but still not perfect when there are 10+ apps installed. Well, it is good enough for private beta, so we will stop here: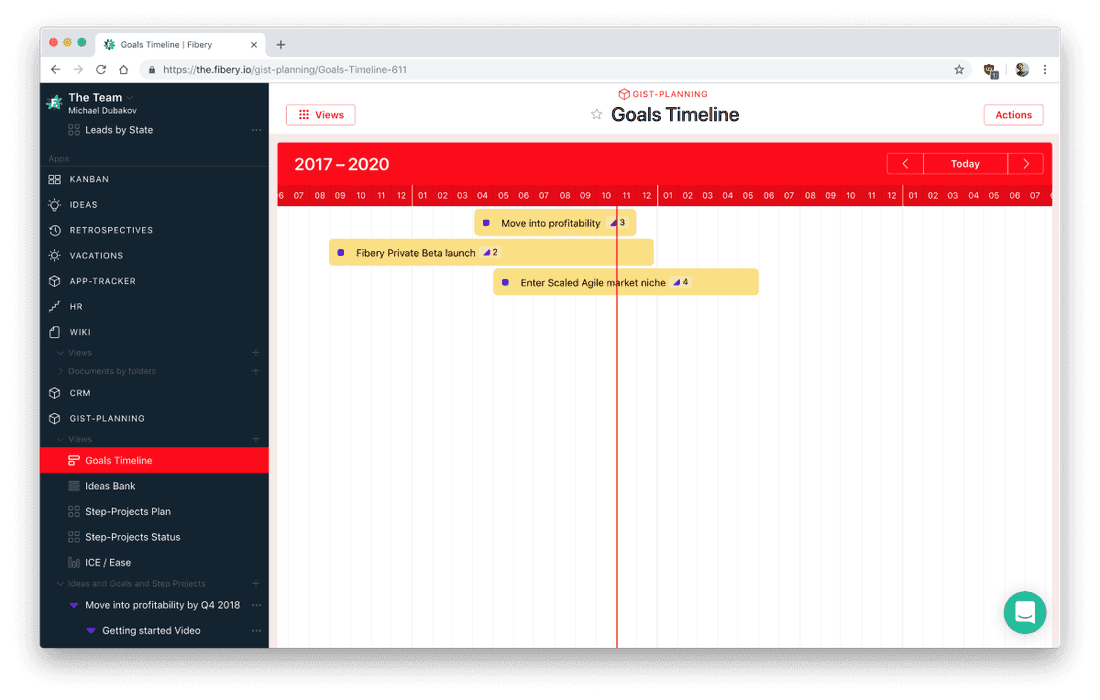 New web site is deployed
Old web site became misleading, so we created a new one with simple look and flexible message:
Community web site was setup
Initially we wanted to use Slack for community, but it was not very good idea. People should have free access to information and Slack is a barrier. We end up with Discourse.org. It works fine for users, but administration area is a nightmare… Join Fibery Community to get latest updates and discuss the product.
October plans vs. reality
It is always interesting to compare plans and real accomplishments! As usual, only 1/2 of all planned items were completed.
✔︎ Finalize accounts deployments.
✘ Implement in-app notifications. / We decided to drop this functionality in private beta.
✘ Re-design Apps Store. Create several new apps and simplify apps creation process. / Design is ready, but implementation is not started yet.
✘ Finalize Wiki (insert entity, create entity from text, fix important bugs) / It appeared wiki polishing is more complex due to collaborative editing and other things. So it will take 2x time and we hope will be completed in November
✔ ︎Implement read-only permissions to apps
✔ Create new web site
New App Catalogue (UI)
October was a productive month for our designer. In Private Beta we are going to update Apps catalogue and list of apps. This is not an App Store yet, since external developers can't create own Apps.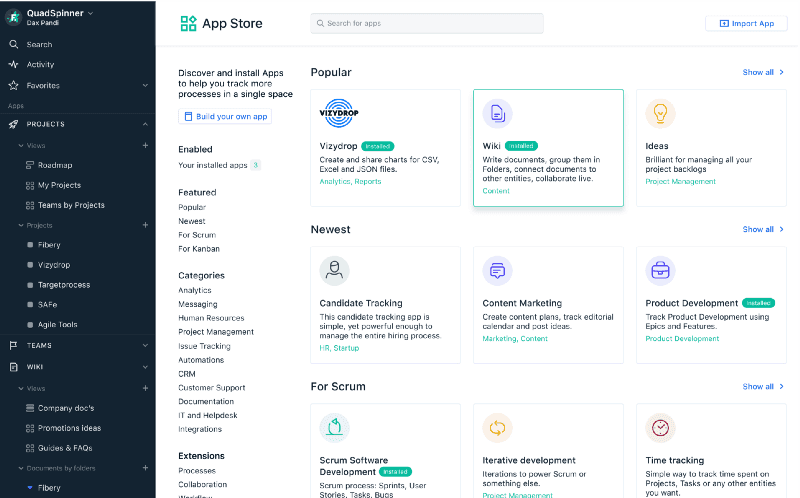 Here is the list of Apps that will be added to Private Beta release:
Slack integration
Vacations tracking
Product development
Teams
Kanban process
Vizydrop integration
Zapier integration
Webhooks
Wiki
Employee directory
Content marketing
Custom App Creation
It will be possible to create custom Apps in Fibery. An App consists of custom entities, fields, metrics and views.
Apps Import and Export
People may exchange Apps peer-2-peer. It is possible to create a custom App, export it into a file and send the file to someone else. This someone else can import an App on his Fibery account. We can't imagine all cases, but it will help us to create Apps (think level design in game development). Other side effects are:
Create an App and share with all users somewhere
Create an App and send it to one customer (good for our customers support)
Backup App data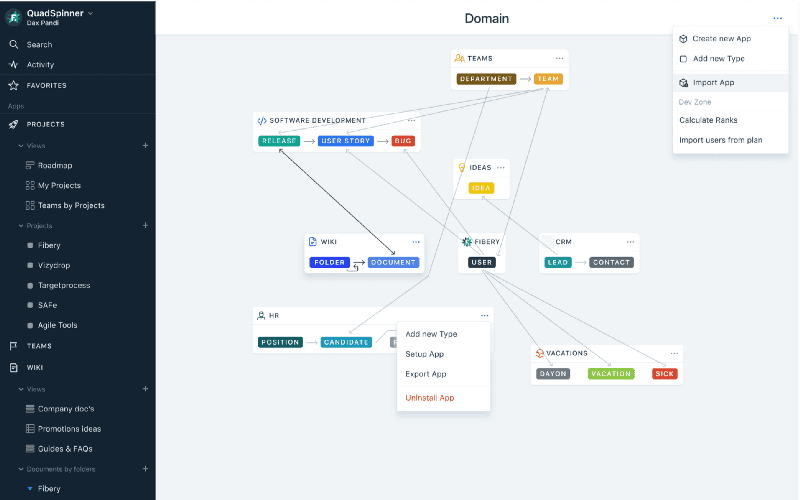 Entity View redesign
We decided to replace right narrow panel with wide popover. In real cases it inconvenient to work with data in right panel: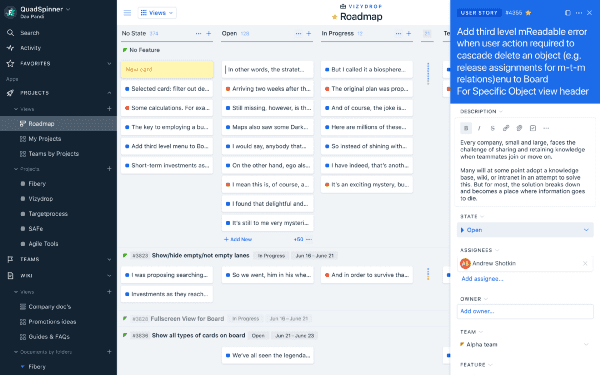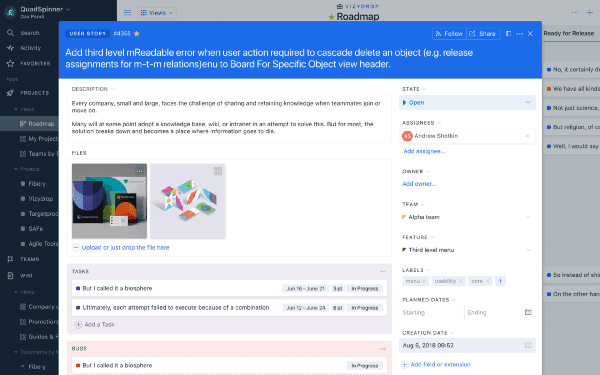 Fibery as a low-code development platform?
I took a look at some low-code platforms on a market: QuickBase, Kintone, Odoo and few others. To be honest, all of them look like outdated ghosts from previous decade. UI decisions are bad and coherence is low. And they are very expensive!
Next year Fibery will provide similar functional for a fraction of price with much better user experience and much faster Apps creation. It will be interesting to touch this market and see how Fibery will behave on it.
GIST Planning
In October I read about GIST planning. Itamar Gilad invented great framework for product development and we are going to support it in Fibery. I created basic GIST Planning App in 2 hours and recorded the video to demonstrate the idea:
November plans (with hope to complete 2/3)
Formula Field. We need it for quite many Apps and decided to increase scope and implement Formulas.
Finalize Wiki (insert entities, floating menu and bug fixing). Volodya will do his best!
New App creation flow
New App Catalogue
Slack integration
10 Apps
˚ Random
Random image from our Slack channel: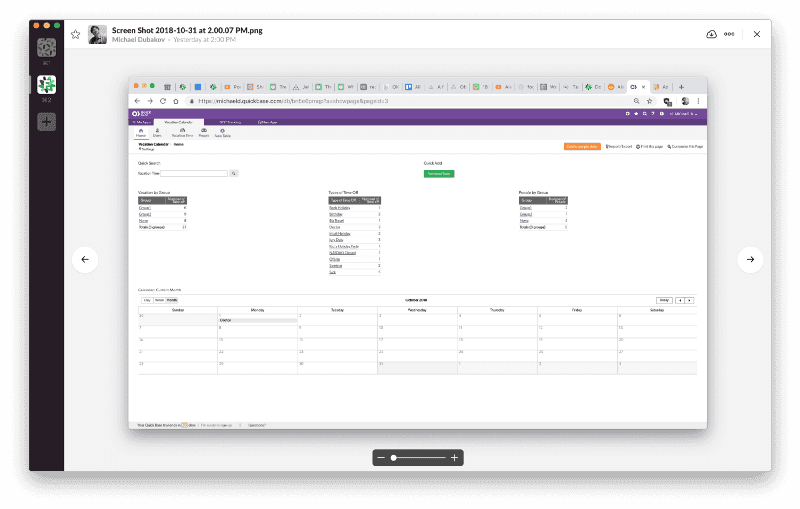 Random link from our Slack channel:
The State of Agile Software in 2018
---
To be continued → #4. Winter is Coming in November 2018.