TLDR: We closed $3.1M seed round 💰💰💰💵. Building a second brain for teams 🏋️‍♀️. Fibery mission 🔮. Building in Public 🤲. Automation rules 🔥. Documents and Rich Text history 🎅.
Flashback: #34. Thinking about the Next Big Thing in Fibery in June 2021.
Overview
It happened! We closed $3.1M seed round led by Altair Capital.
Read the article that explains this milestone in detail and get a feeling of what we will work on. "We believe that a single "good enough" connected tool makes a company more intelligent than many "tailored" but disconnected tools."
I'm super excited (and I'm not a person who can get excited easily). We see many opportunities to help teams solve complex problems, so we'll continue to focus on customers' problems, innovations, and product polishing.
—
Now back to Earth. In July we didn't focus on marketing activities at all but dig deeper into product and future direction. Retention and up-sale are great, while the new accounts metric is not (yet).
Main numbers ( → sign shows the changes between April, May, June, and July):
Fibery. Build your company workspace with no code

Paid accounts:                    → 140   → 145
Active accounts:   280   → 280    → 300   → 310
Active users:      1.5K  → 1.7K   → 1.9K  → 2K 
Team size:         22    → 22     → 22    → 22
Run rate:          $100K → $110K  → $130K → $130K/month  
MRR:               $13K  → $15.5K → $17K  → $18K/month
Active accounts are increasing (slowly).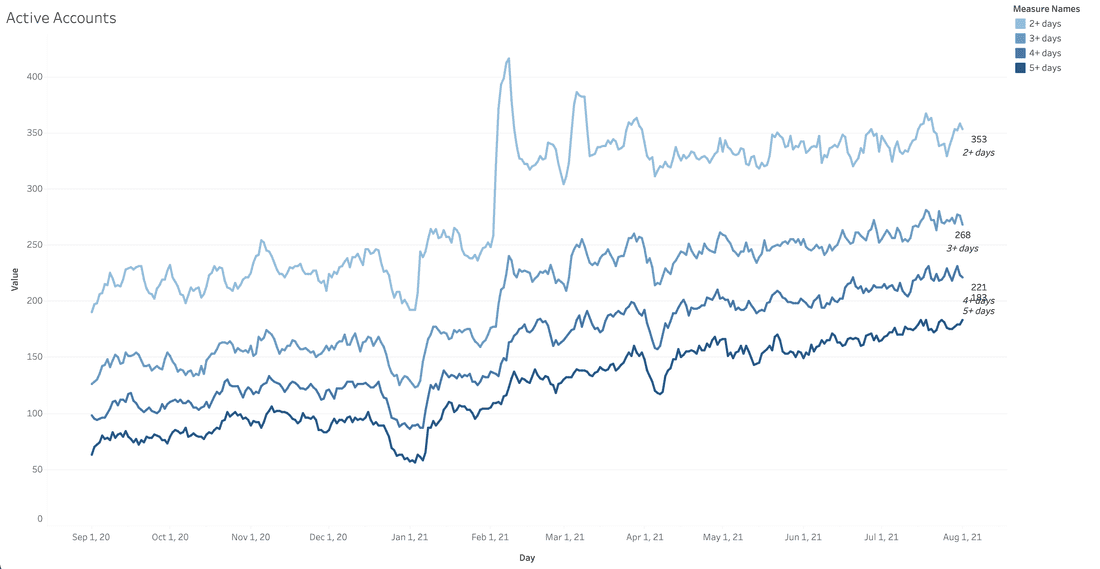 Daily and weekly active users are increasing (slowly).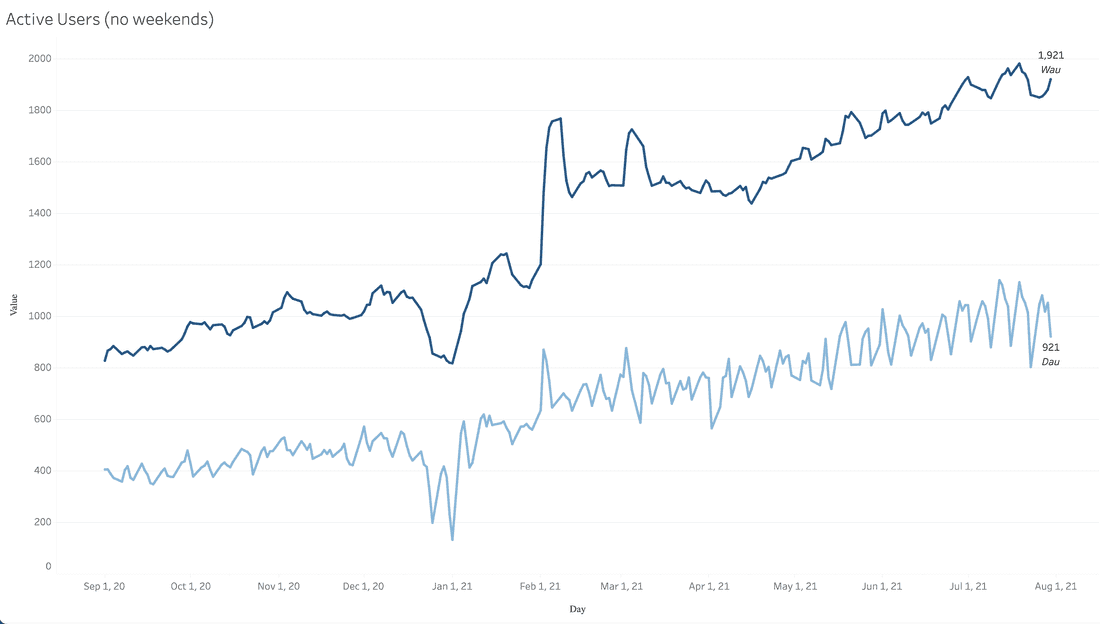 Retention is getting better as well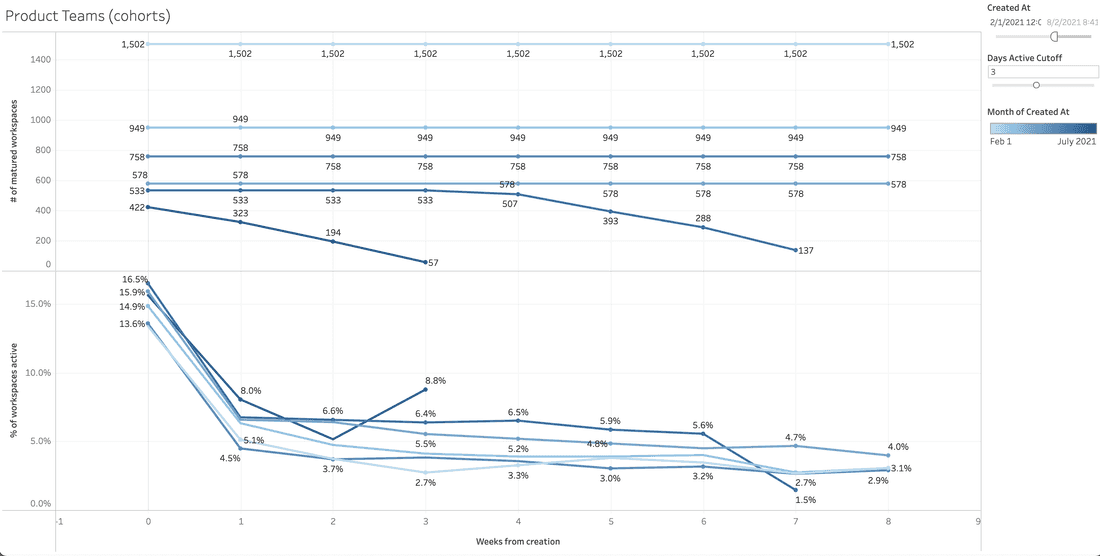 Blocks 🥷
This is the major missing piece in Fibery. Blocks will enable many new scenarios and transform Fibery value and user experience. It will be possible to capture various info better, transform entity view into dashboard, connects content in new ways, and answer new questions.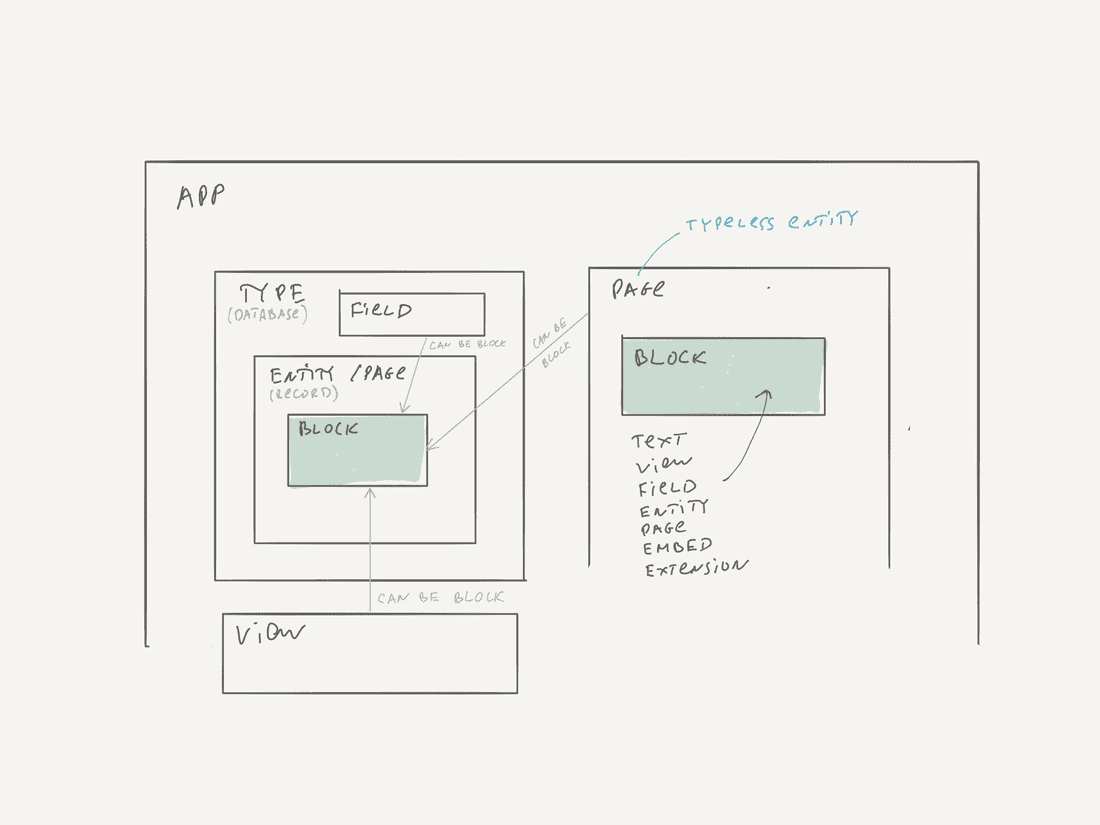 So far we are working on general concepts, what cases we want to solve and how it should work. We've decided to focus on 4 main use cases:
Create context-rich specifications. Connected and explorative narrative. Slice work into chunks while describing it. What and how intermixed: whiteboard + timeline/WBS. Local discussions (react and comment on blocks)
Aggregate feedback from everywhere and connect to work. Sync conversations and customers from Intercom, Discourse, Zendesk, etc. Slice conversations into use cases and pain points. Categorize, generalize use cases. Link use cases to generalized problems and solutions (aka work items).
Prioritize work based on feedback. Capture feedback pain level (1/2/3). Enrich feedback with customer data. Segmentize customers and assign weights to segments. Set more weight to paid customers and prospects. Calculate "feedback priority": Σ pain (feedback) × importance (customer). Discover most requested things (per product area). Have a sorted list of the most important things.
Create changelogs and user guides. Create changelogs with completed features and bug fixes right in Fibery and share them with the world. Build user guides from all released features and make user guides that mimic your product hierarchy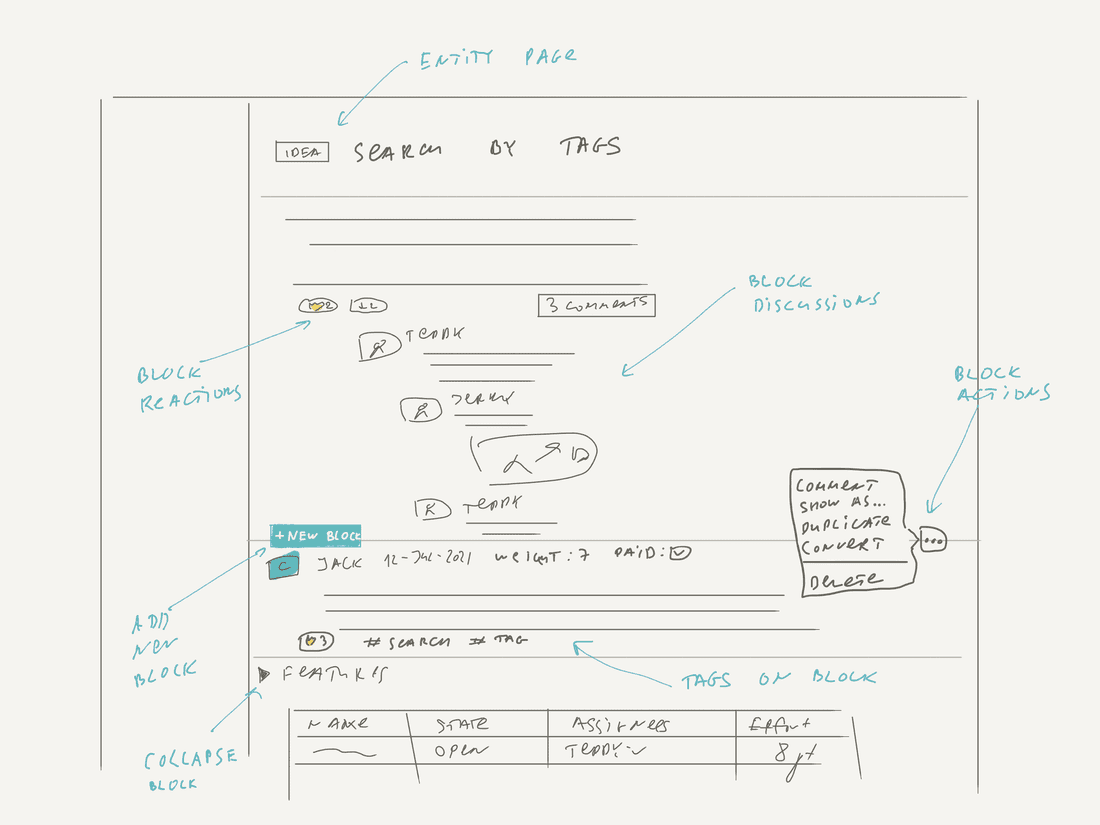 Implementation will start in a week.
Release estimation: 😂
Fibery mission 🔮
In July we decided to nail our mission. Somehow we spent four years on Fibery, but haven't really discussed why we are working on it. It was an interesting exercise. We dig into internal motivation and abstract concepts. There were many variants we trashed, here are just a few of them (some of them are even serious):
Help knowledge organizations to contribute to humanity's progress
Help human beings from knowledge organizations to have fun at work
Help people create things people love
Help ANYBODY to create ANYTHING
Help smart teams to create things people love
Help smart people to create things everyone love
Make complex products to help teams solve complex problems
Make complex products to help a few teams solve some complex problems
Make complex products to help teams solve non-existent problems
Make make make. Then die
Make smart products to help teams solve complex problems
Make complex products to help teams solve very complex problems
What variant is your favorite?
As you can guess, we ended up with no mission. We all agree about the direction, but it's hard to formulate it in a short and meaningful phrase. Maybe we will skip it so far and just focus on something meaningful and real.
Building in Public
Fibery is a somewhat transparent company, but only now we discovered that there is a name for what we do — "Build in Public". We are going to increase our transparency even further. You can expect more internal processes, decision making and rough things revealed from us.
We are going to be more active in Twitter and in our Community. 🤞
Follow Fibery Twitter and join Fibery Community.
Product Updates
This month was quite productive and we delivered several large features that make Fibery much more powerful.
DONE
Automation Rules 🔥
Finally, you can automate some things in Fibery. Automatic Rules in Fibery react to changes of entities (create or update). For example, you closed a Task and want to set a Completion Date to Today.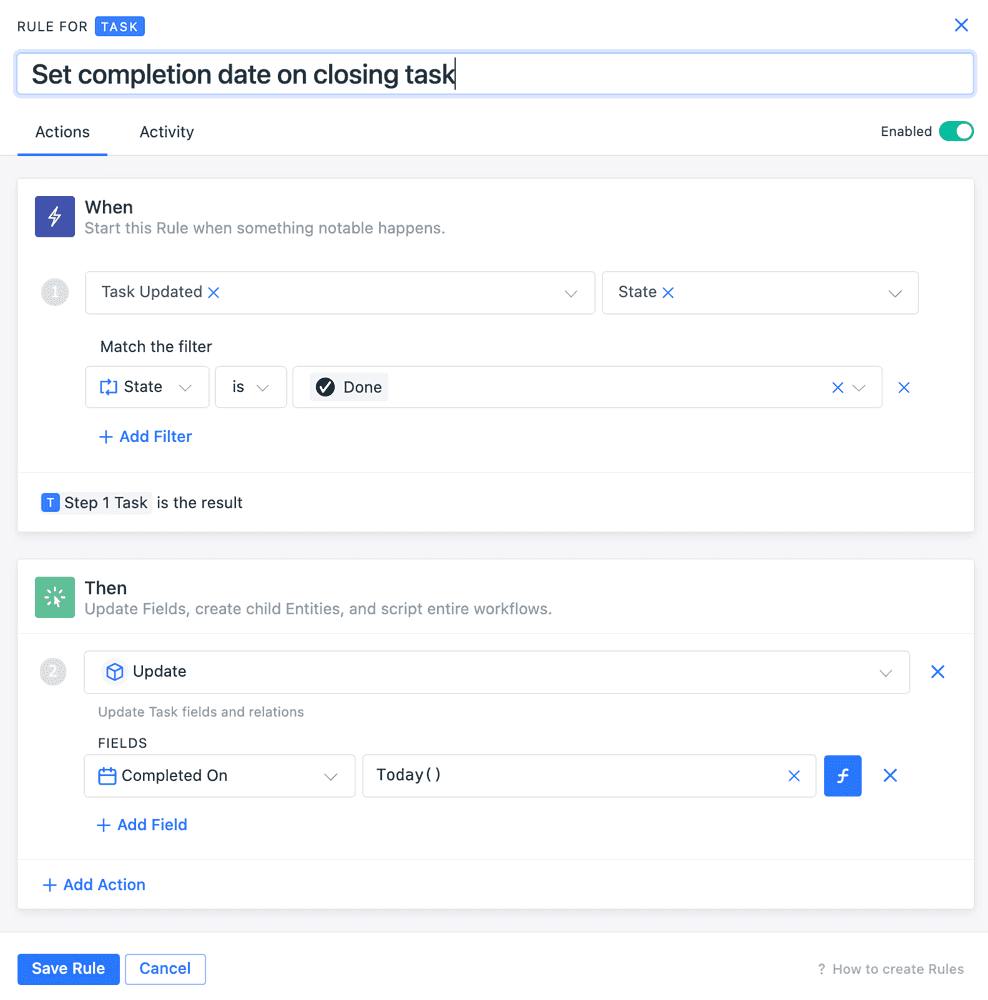 Rules are linked to Types, you can add them in Type Editor. If you need to react to Task change, then the Rule should be defined in Task Type.
Check Automation Rules guide.
Documents and Rich Text history
Rrich-text Fields and Documents have version history.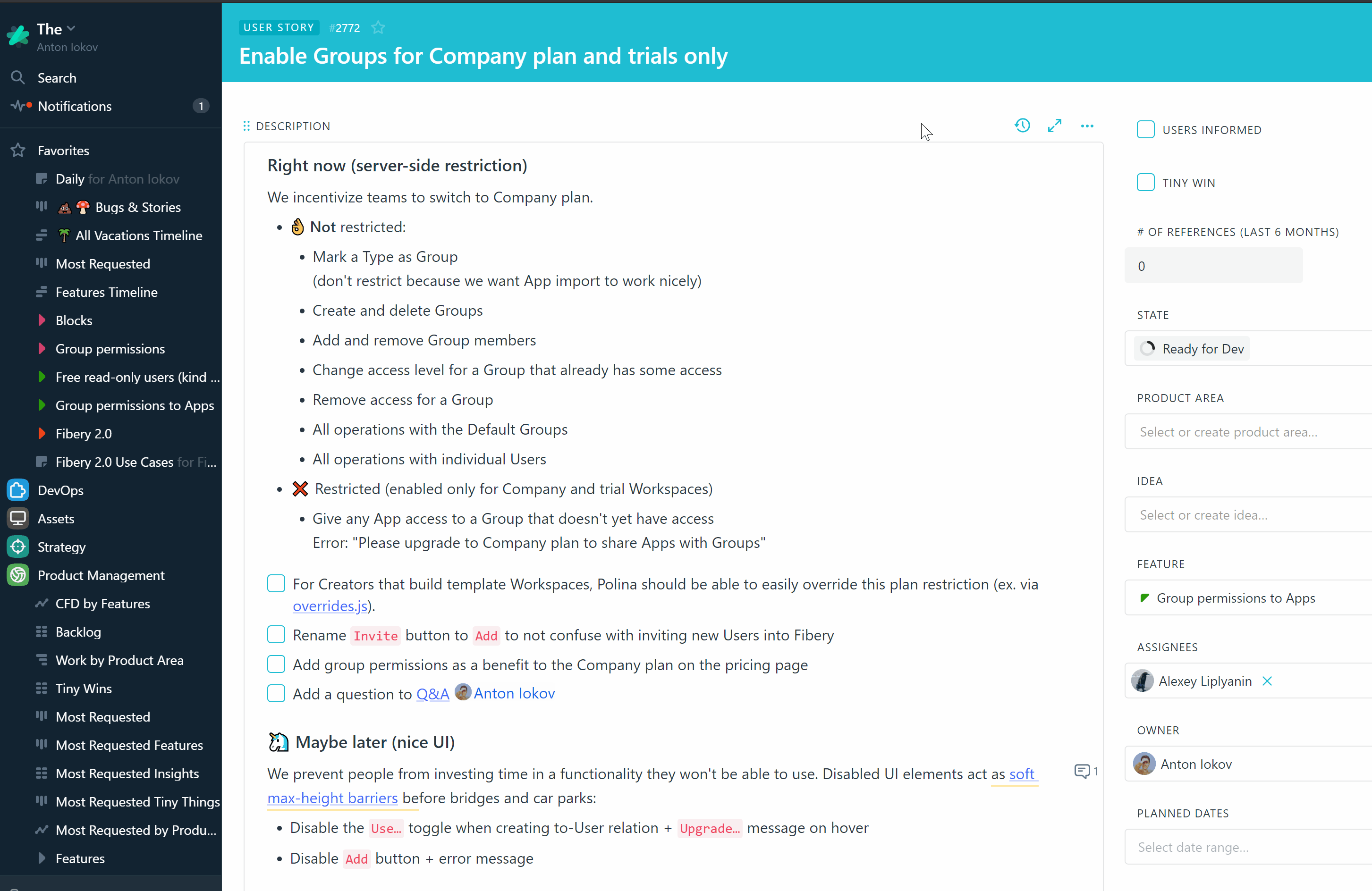 Here are a few scenarios when version history can help (or even save the day):
Somebody (Alex, you again!) has accidentally erased a significant part of your doc and you need to restore it.
There is an unexpected paragraph and you'd like to find out who has added it.
You rewrote a specification during an all-nighter — now you've sobered woken up and realized it's all been a mistake and you should go back to v1.
Currency Exchange Template
This utility template helps you to convert currencies without importing CSV files or coding a custom integration. It includes up-to-date and historical exchange rates for most international currencies.

Connect this App to CRM, Employee Management, and other money-storing Apps to turn $ into € and back.
HubSpot integration
HubSpot integration syncs Companies, Deals, Contacts, Tickets, and Engagements into Fibery. You can use this data to connect work, user research sessions, calls, meetings, and requests to Companies and Contacts. All synced Types are below (11 Types are synced and connected, insane…)
IN PROGRESS
Export Documents and Entities to Markdown
We don't want to lock your data, so data export is an important thing to have. This is just the first step, then our goal is to have a full export of all your data.
Release estimation: 1 week
Undelete App, Type, and Field
You can undelete entities, but can't undelete schema changes. Such operations are rare but very dangerous. In near future, you will be able to undo schema changes easily.
Release estimation: 2 weeks
Action: Send Notifications
We've released Actions just recently, and now making them more powerful. Send Emails was one of the top requests, so we are listening and implementing it.
Release estimation: 1 week
Airtable Sync
Soon it will be possible to sync data from Airtable to Fibery. It will simplify migration, but other cases might be useful when you want to store some data in Airtable and have it in Fibery as well.
Release estimation: 2 weeks
🎙 Random from our Slack
Random (not so) tweet
[thread] How to boost companies' intelligence?
1/ It's not clear how the neocortex appeared. One theory states that it appeared by duplication of the same structure over and over again, forming a quite uniform connected superstructure in a brain.

— Michael Dubakov 🧶 (@mdubakov) July 22, 2021
Random link
How to work Hard by Paul Graham. "The only way to find the limit is by crossing it"
Random image
Random quote
Initially a trilogy, Isaac Asimov's "Foundation," coming to Apple TV+ in September, was considered unfilmable even before he added a further four novels to the series. That's chiefly because Asimov was more interested in ideas than characters, and discards all of them in order to have his "future history" story span a thousand years.

"Apple asked me if I could pitch it in one sentence," producer David S. Goyer told The Hollywood Reporter in an interview about his filmmaking career. "They sort of asked it laughingly."

"I said: 'It's a 1,000-year chess game between Hari Seldon and the Empire, and all the characters in between are the pawns, but some of the pawns over the course of this saga end up becoming kings and queens.'"
Random dopamine feedback
First of all, we finally found the app we are searching for 3 years. We are managing our startup with Google Sheets, on product side we used Notion and Clubhouse but from today, we will migrate our data to Fibery!
Random cortisol channel post
Hi, I need to update the email addresses of the users on my account
Have a nice day!