TLDR: Marketing reflexion 🧐. Support is overloaded 🏋️‍♀️. Dark Theme 🌚. Send Emails and Slack messages from Fibery 🎙. Hide Fields from Entity View 🙈.
Flashback: #44. Relatively happy in June 2022
🧐 Marketing reflexion
Summer. Heat. Reflexion. It's relatively hard to work in Cyprus in July and August. The temperature is always around 33℃. Air conditioners do help, but the heat still gets you when you are walking the dog or heading anywhere. It's a good time to reflect. You slowly roll heavy thoughts in your head, read sporadically, glance at the sunny hills, and write down one idea in several hours.
🥹 Fibery as a product is doing good. Most of our customers are happy and churn is low. We are addressing pain points and our development speed is good. There are still some major areas that we should complete, like entity-level permissions, pages and entity views made of blocks, etc. But we have a solid understanding of what to do and how to make our customers even happier.
🤔 Our marketing is lagging. We have some growth, but we have no fast growth. With the current growth rate, we will do 2x in 2022 (from $24K to $50K MRR). This is relatively slow and far from our plans ($1M ARR in 2022).

One of the main problems for us is leads acquisition. Last month we got around 500 new accounts and this is far from enough.
There are two working channels: word of mouth 😛 and organic search. WoM is good, but it needs a relatively large customer base to become a growth engine. We have ~200 paid accounts and ~500 active accounts. It's not enough to fire the word-of-mouth engine. From what I see, 1000 paid accounts might be enough, but this number is relatively far away.
Our content marketing effort did not pay off as well. I do think we write good content, but somehow search engine traffic growth is slow: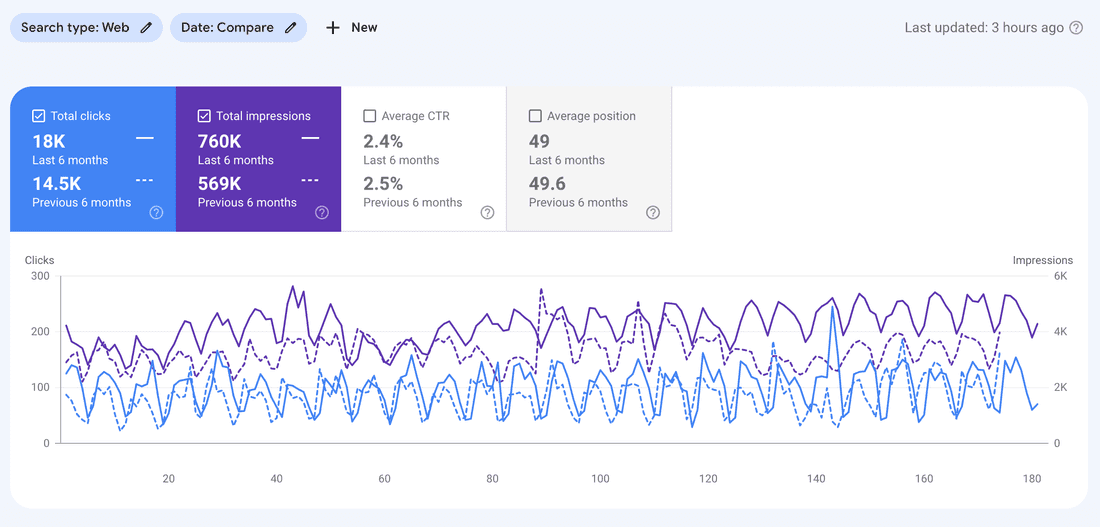 We are ignoring SEO techniques and most likely this is the reason of slow growth. Unfortunately, high-quality content is not enough to penetrate search engines these days. Now we will put SEO on board to see how it changes the metrics.
CPC never really worked as well. We have 4 paid accounts from months of paid ads in Google. Partners program is expanding, but slowly. Now we have 4 paid accounts from our partners. All outreach sales attempts failed miserably and we are not going to try it again.
Now we're thinking about some radical experiments 🤪 and changes in our marketing. We're mostly thinking about content and viral campaigns. August is a good month to brainstorm new ideas. We will persevere!
Tutorials and Guides
We've created several new tutorials and guides.
Fibery getting started tutorial (deep and long)
I wrote and recorded Fibery getting started tutorial. It is a very detailed guide that touches almost all important Fibery areas. So you can learn all the building blocks quickly and start building useful things for yourself.
Fibery development process workspace setup from scratch
This guide shows how to setup Fibery development process that we use ourselves.
GraphQL API v.1.0
We have released Fibery GraphQL API. Our original API is powerful but complex. GraphQL is powerful and… simple. There is great tooling around GraphQL already, with auto-completion and other stuff, so you can integrate Fibery with your systems much faster.
You may find it in your account via this link: https://YOUR_ACCOUNT.fibery.io/api/graphql or click ? in the bottom right corner and then click GraphQL API. Read API docs and do something cool.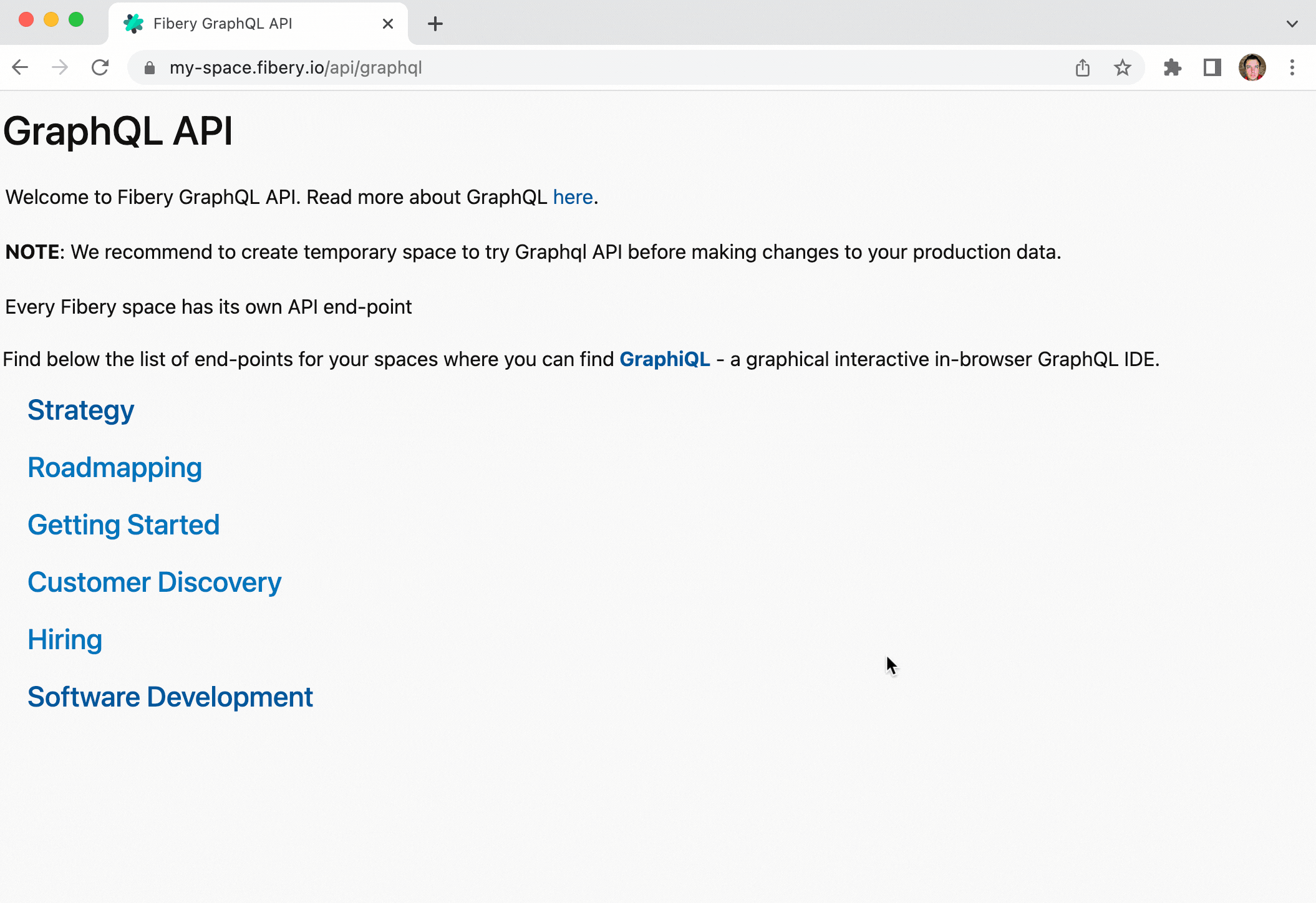 Metrics
Here are the main numbers ( → sign shows the changes between March, April, May, and June):
Paid accounts: 185 → 195 → 205 → 210 Active accounts: 470 → 490 → 520 → 500 Active users: 3.4K → 3.6K → 3.7K → 3.7K Team size: 25 → 25 → 25 → 25 Run rate: $140 → $135K → $135K → $135K/month
MRR: $30K → $31K → $35K → $37K/month
MRR is growing quite slowly, +$2K in July.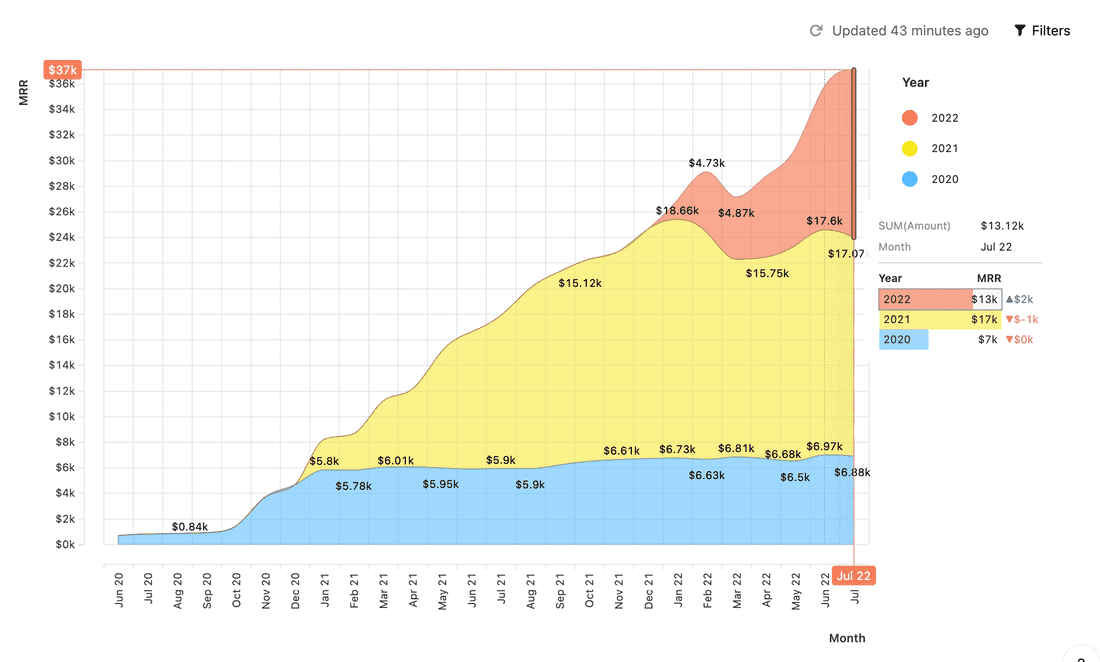 We had more than 550 intercom chats in July. This is an absolute record.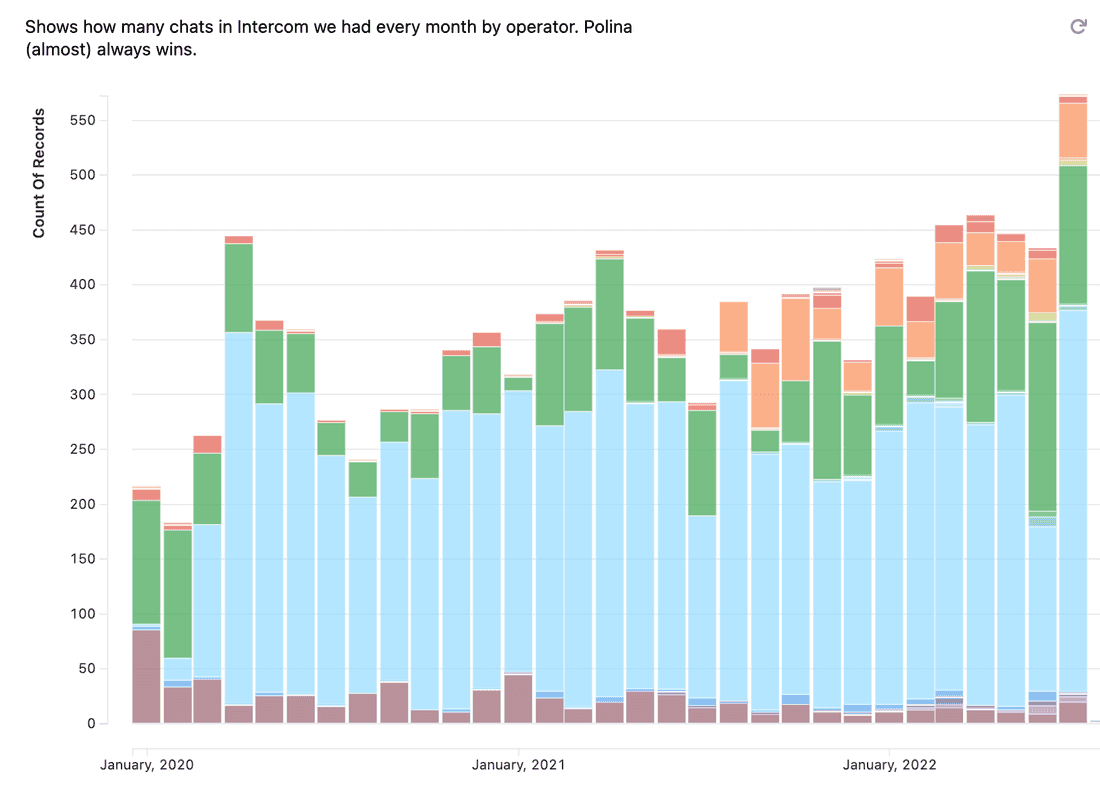 🎁 Product Updates
DONE
In July we had 2 fat releases. Here are the highlights:
🌓 Dark/Light Themes
New Dark Theme is here. Enable it in the left top menu → Theme.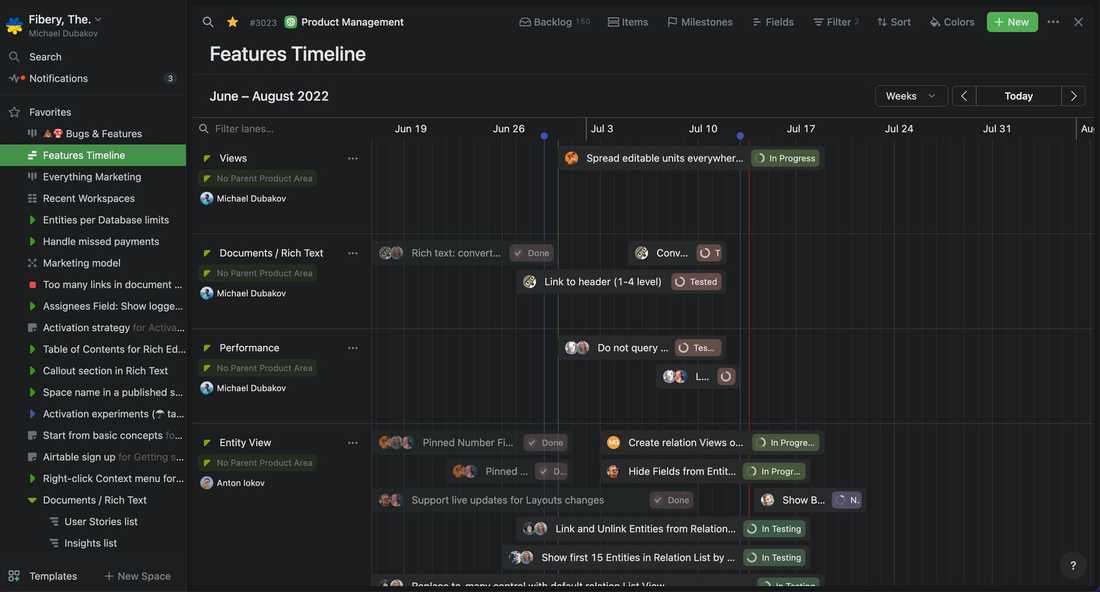 📧 Send Email Action
Send Email action is added to Automation Rules and Action Buttons. You have to connect your Gmail or SMTP account to send emails.
🙈 Hide Fields from Entity View
Now you can hide Fields from Entity View. It can be useful to archive some fields and preserve the data, or to remove some technical fields that you need for formulas and automation, but don't use.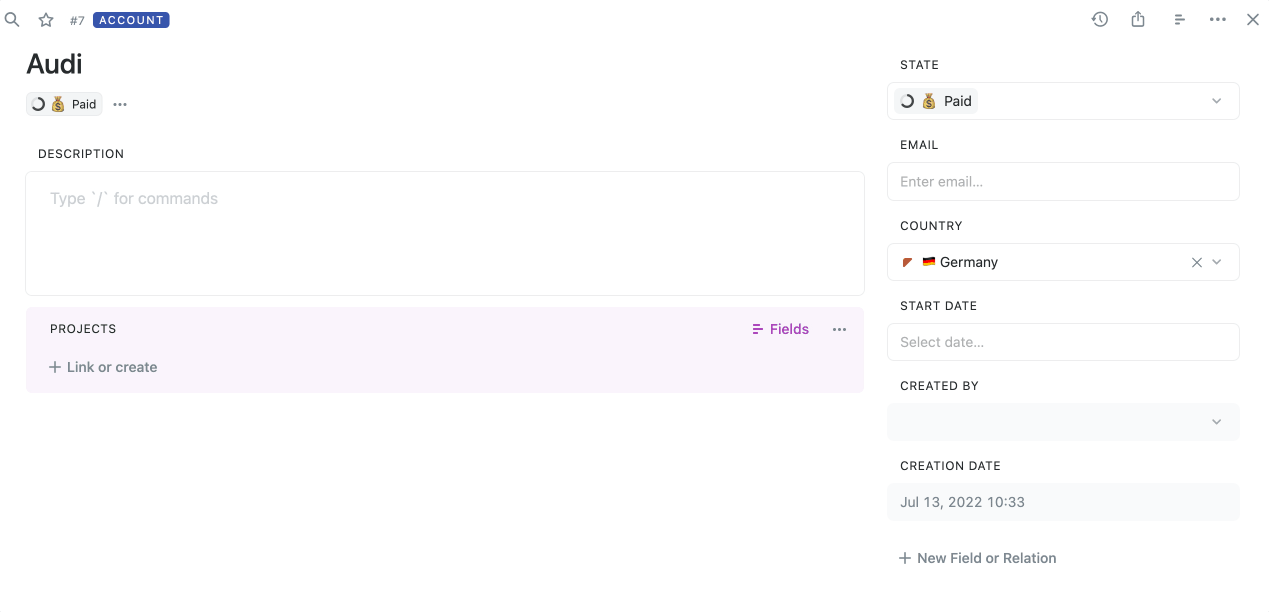 🎙 Slack Actions
You can send messages to Slack channels and create new Channels from Fibery. We use Slack notifications a lot in our company and had all of them configured via Zapier. Now we downgraded our Zapier account and moved all notifications into Fibery.
🔗 Link to a header
Now you can send a link to a header in any document or entity with a rich text field.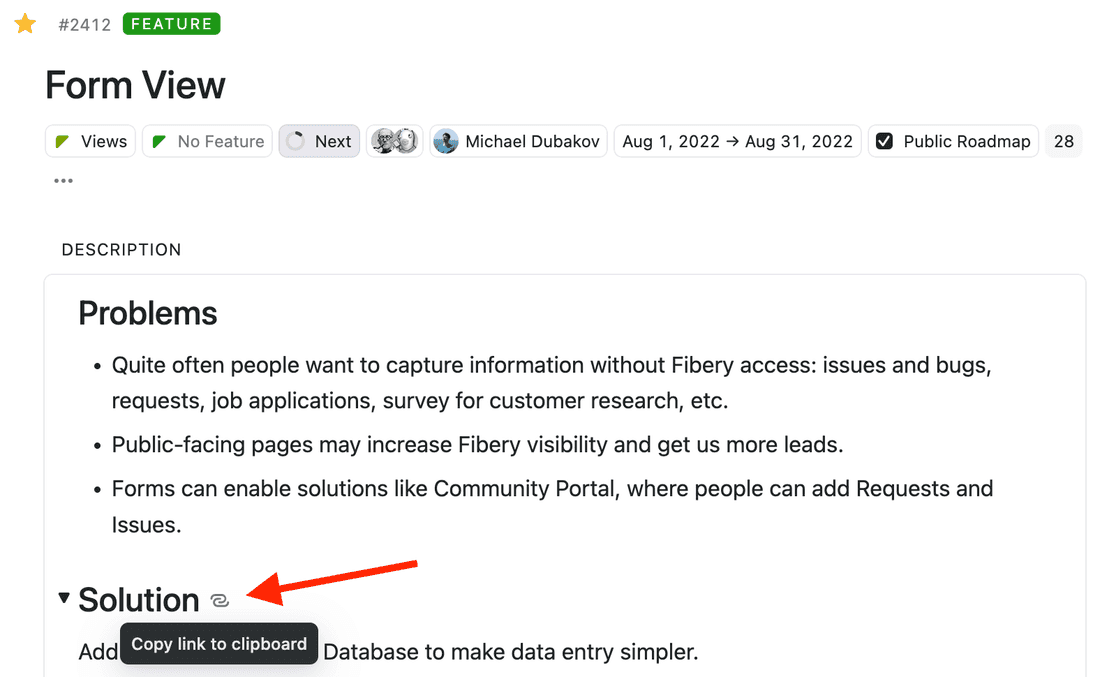 IN PROGRESS
Check Fibery Roadmap to get more details.
Replace Lists in Entity View with real Lists (Sort, Filter, etc.)
(paused) Blocks in Entity View and Page
SOC 2 Certification
Editable units everywhere: Board, Calendar, Timeline, List
Reports: filter data source when creating a report
Discounts & promo-codes
🧈 One-liners
Some new things in July:
🧜 Random
Random quote from our Slack
yak shaving — Any seemingly pointless activity which is actually necessary to solve a problem which solves a problem which, several levels of recursion later, solves the real problem you're working on.
Random image from our Slack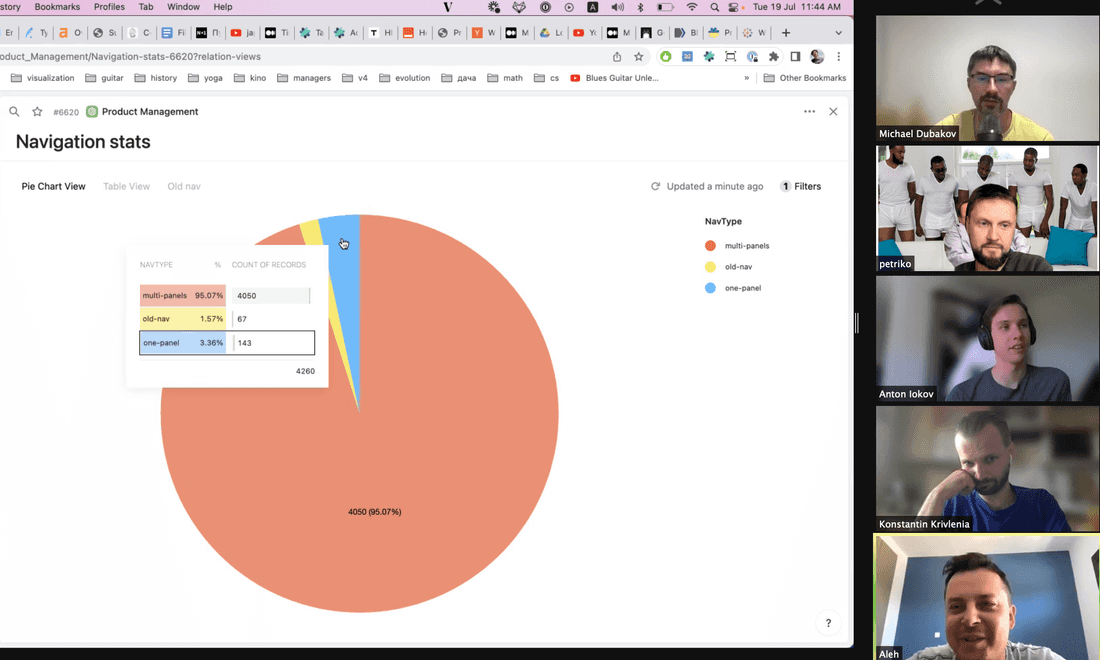 Random tweet from our Slack
All I want when I grow up to have a priority named after me(and not being at the bottom) pic.twitter.com/txmWHNIWHT

— Sriram (@elricL137) July 26, 2022
Random link from our Slack
Alcohol is never good for people under 40, global study finds "For adults of 40 and older without any underlying health conditions, drinking a small amount of alcohol was linked to some health benefits, such as reducing the risk of ischaemic heart disease, stroke, and diabetes."
Random post in #cortisol 🥲 channel
64 bytes from 8.8.8.8: icmp_seq=10 ttl=117 time=39.0 ms
64 bytes from 8.8.8.8: icmp_seq=11 ttl=117 time=46.3 ms
64 bytes from 8.8.8.8: icmp_seq=12 ttl=117 time=38.5 ms
64 bytes from 8.8.8.8: icmp_seq=13 ttl=117 time=39.6 ms
64 bytes from 8.8.8.8: icmp_seq=14 ttl=117 time=392 ms
64 bytes from 8.8.8.8: icmp_seq=15 ttl=117 time=335 ms
64 bytes from 8.8.8.8: icmp_seq=16 ttl=117 time=338 ms
Random post in #dopamine 😍 channel
I stopped even looking for different tools for specific tasks or problems most of the time, as I know I can build it in Fibery and it will live on one ecosystem connected to all my other data. I'm not sure how much money we are saving because of that, probably a lot. I know for sure that it saves a lot of my mental health working with all of our data in one system.
P.S. Support Ukraine 🇺🇦