TLDR: We've released private beta in February. Now we are fixing bugs, setting up accounts, collecting feedback and think about future release.
Flashback: #6: Planning Private Beta in January 2019
As usual, main numbers (→ sign shows changes between January and February):
Product:           Fibery — SaaS B2B (SMB) work management platform
Stage:             Private Alpha → Private Beta!
Launch:            February! (silent, invite-only)
Development:       24 months
Cold leads:        650 → 850
Accounts Setup:    ~50
Customers:         4 → 10 play with Fibery regularly
Team size:         10 people
Burn rate:         ~$40K/month
MRR:               $0
Main event in February is Private Beta release. We finally did it!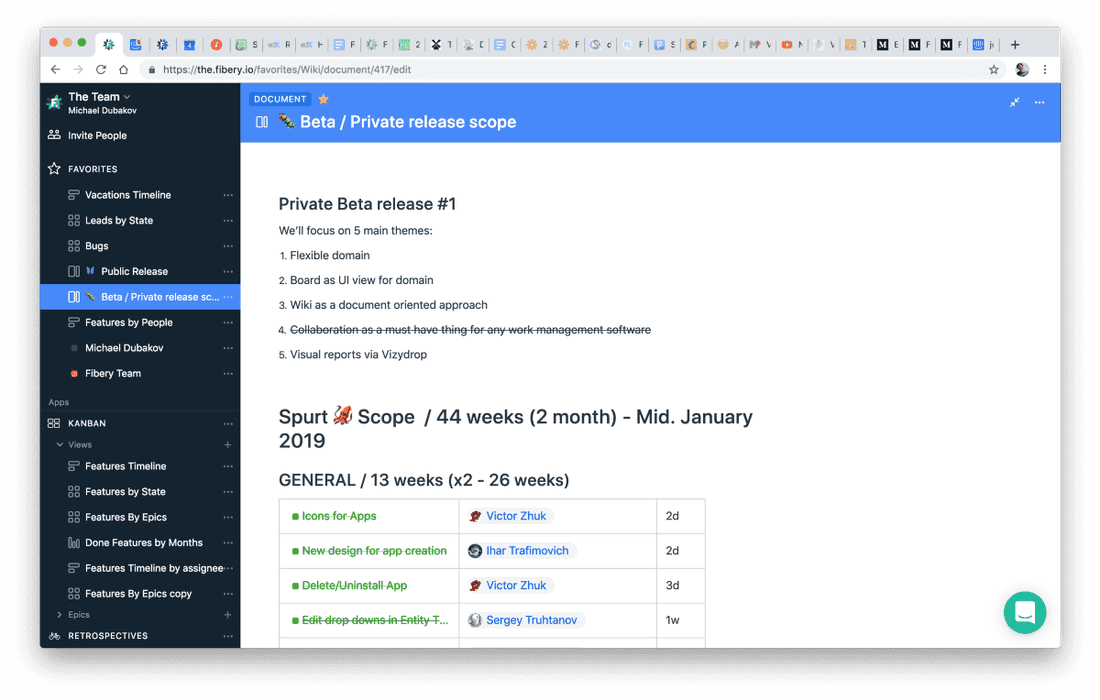 Fibery.io Private Beta Release is here
We slowly setup new accounts and handle feedback. Definitely, first users found unexpected bugs (you always expect dozens of bugs after first release, but you can't predict exact cases). It is fun.
So far we created 50 accounts and will add 30–40 more this week. We have no illusions and expect that in a month we will retain about 5 accounts from this first wave. First release is always rough, buggy and embarrassing. Well, we'll see.
First feedback is mixed, but after several days of usage it is too early to make any conclusions. Still, here are some examples:
WOW! What a system. I am speechless.
I want to thank you for inviting me to the private beta.
We have been big fans of TP for the the past 6 years and was looking forward to the trial.
I had been thinking that we'd try to recreate our TP environment in Fibery.
But after using it for an hour I know that would not make sense.
It is incredible, I know you'd prefer more detailed feedback that that.
But you will have to wait a day or two.
The way everything operates now is focused on viewing or editing one item at a time. Like assembling a ship inside a bottle.

I guess the missing element is the 'table view', ie airtable, where one could select say 30 - 40 contacts and assign them to an experiment at once.
The last version of Fibery looks great! I think I could create a workable environment for education. One question I still have. Is there an option to limit the views for students? That admin can create a board for the students?
Next month we will have quite decent feedback, I believe. Right now our goal is to understand main showstoppers and eliminate them in the next couple of months. This is the only way to get first 100 customers.
From my perception, it will take at least 4–8 months to do a Public release. Maybe even a full year. We have a very decent competitors and Fibery should be polished to have a chance. But real feedback reignites the team!
February plans vs. reality
All important features were completed!
✔︎︎ Complete Apps redesign.
✔︎︎ Users invitation
✔︎︎ OAuth
✔✘︎︎ Zapier integration / It works but by invitation only, we will release beta soon
✔✘︎︎ Slack Bot / Again it works and will be released this week
✔︎︎ Rename Types, Rename Fields, Change App for any Type (it was hard, but Andrew is completing this magic, sacrificing his sanity).
✘︎︎✔ Backlog for Timeline and Calendar Views / Well, some very basic version is implemented. Should be improved.
✔︎︎ Private Beta launch. 😬
March plans
Public API
Slack Bot
Zapier
Fix MANY bugs
Collect feedback, identify showstoppers and plan next release
🎿 Random
Random image from Slack channel.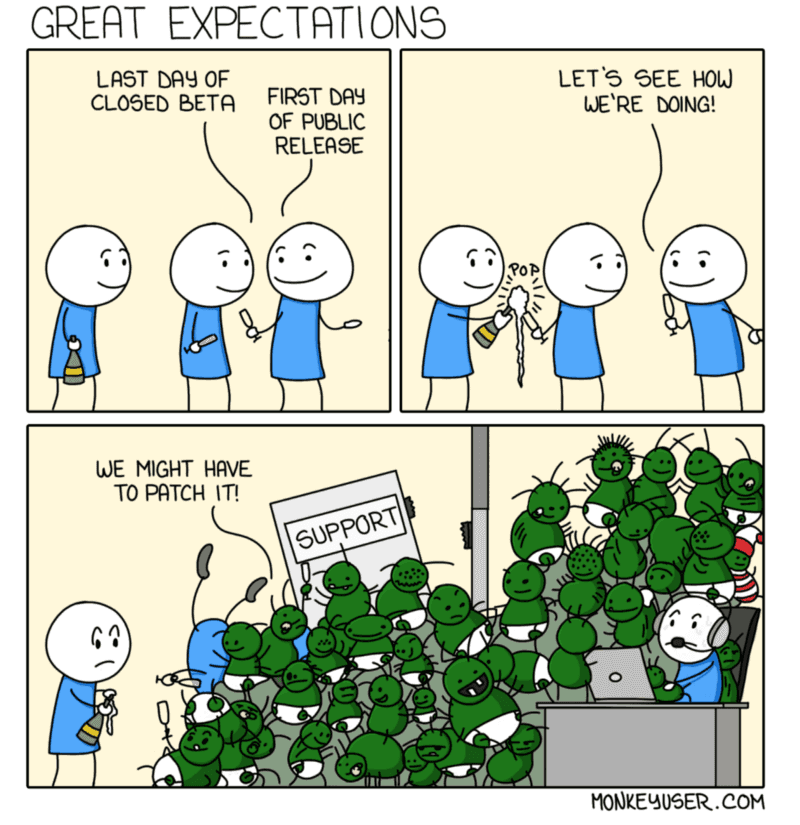 Random quote from our internal Slack channel
I think Martin Luther was one of the earliest great User Interface designers — because he understood that you have to do much more than provide function to get large numbers of people to get fluent. You should always try to start with where the end-users are and then help them grow and change. — Alan Kay
Random link from our Slack channel
---
To be continued → #8. Fixing Private Beta in March 2019.