TLDR: We've provided access to Fibery to 100 accounts and collected some feedback.
Flashback: #7: Pushing Private Beta in February 2019
As usual, main numbers (→ sign shows changes between February and March):
Product:           Fibery — SaaS B2B (SMB) work management platform
Stage:             Private Beta
Launch:            early 2020? (public)
Development:       25 months
Cold leads:        850 → 1350
Accounts Setup:    50 → 100
Customers:         10 → 15 (100 is the first goal)
Team size:         10 people
Burn rate:         ~$40K/month
MRR:               $0
In March we were busy with three things:
Setting up new accounts and collecting feedback.
Fixing bugs (~80 were fixed).
Thinking about future.
Early feedback
We've setup 95 accounts and got decent feedback from 35 accounts. Several of them use Fibery intensively in production. It is hard to generalize based on 35 accounts, but some trends are shaping up.
Two types of leads
We clearly have two types of leads:
People that look for a very flexible tool like Coda, Airtable or Notion.
People that are not thrilled by JIRA and want to find something.
Here are some typical examples (there are quite many similar requests):
Notion-like:
We're interested in a hybrid all-in-one Airtable-Notion solution, and it sounds like you're building Fibery to be just that. We recently started looking into Notion because our company organization, mostly done through Google Drive, was getting out of hand. Unfortunately, we're already finding limitations with Notion! Potential uses are: Keeping track of customers, vendors, and their status, and various internal handbooks.
not-JIRA:
I am highly unsatisfied with current solutions like Jira and Confluence and constantly looking for more versatile, easier to use and sort of "one stop shop" solution to organize my own and my team's work. I have heard positive feedback from your early adopters and would love to take a look at Fibery.
No major insights
While early adopters find many bugs and ask for sane features, there are no major insights so far.
We know that Fibery lacks Import, Tables, Integrations, Notifications and Search. We were quite certain that these features are must have for a public release. And early feedback just confirmed that.
We feel that market opportunity is there. People tired of JIRA and are embracing very flexible tools with passion.
Creators era is coming! 💪
Overall we are on a right track
It seems that majority of early adopters can understand how Fibery work and try to solve their problems with Fibery. We were afraid that the concept might be hard to grasp. Most likely this is not the case.
First feedback is quite positive. Here are some examples:
Yes I'm using it and really enjoying the software up to now!!
... (feature requests)
In general, I can't wait for the software to become "fuller". Don't hesitate to reach out if I can give a hand testing stuff.
I'm trying Fibery for a few days now for project/product/issue/task management and other uses cases and I think the idea and result is already awesome and so powerful.
Can definitely see the potential!!!
We take such feedback with a grain of salt. Only real usage proves that system provides some value.
Public release is at least 6–8 months away
We are still collecting feedback and postponing a decision about future direction, but it seems there are quite many things to do before a public release.
So far we are targeting Jan 2020 for this major event in our company.
New Features
Significant effort was applied to bug fixing. Here is the current picture: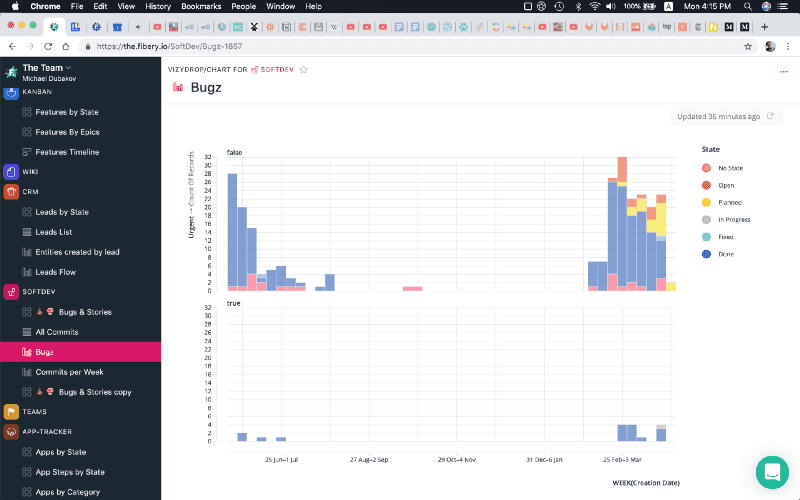 As you see, we have no convergence yet. Every week 20+ bugs are piling up. Quality and stability is improving, but it seems it will take one more month to reach good quality level.
Slack Bot
Fibery Slack Bot was released in March.
It can:
Create Entities from messages
Create Entities using Bot command
Show a list of assigned Entities
Zapier Integration
We don't have in-house automation rules, so Zapier is a natural first step. Check it out:
Sort cards
Sorting is important for many cases and you can sort cards using several fields: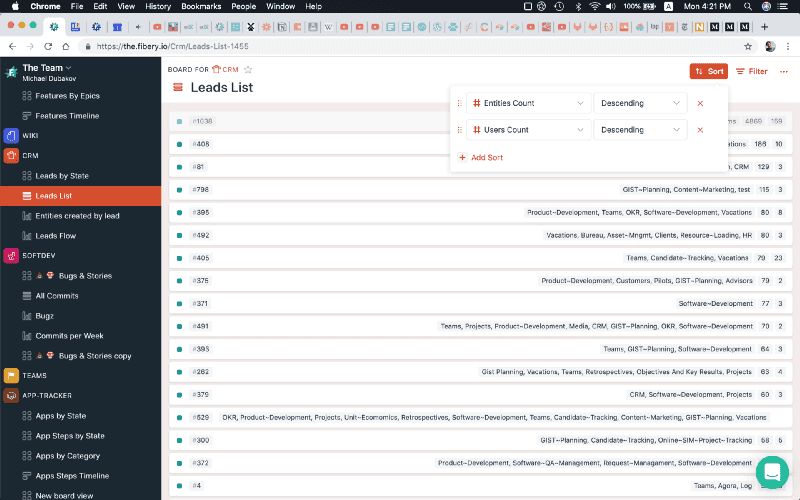 Filter Rows and Columns on Board View
Sometimes you want to create a board with a subset of things in rows or columns. Now you can do it using filters.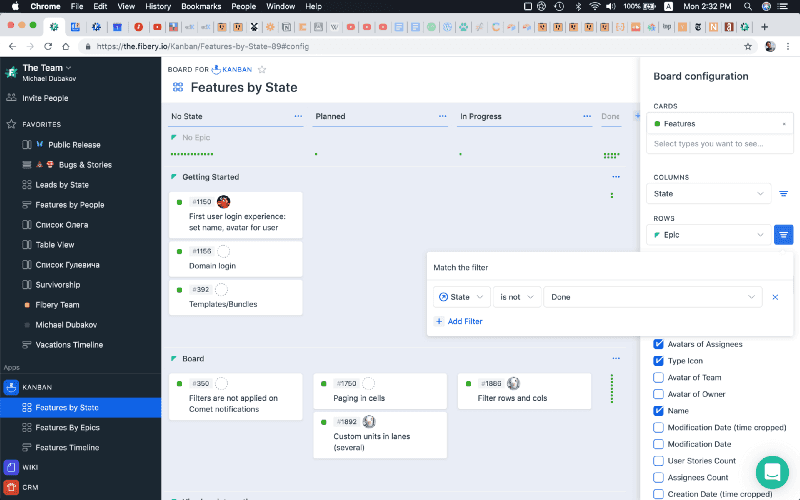 Sort items in left menu
One of the most requested feature after initial release was to change menu items order. Now you can do it.
March plans vs. reality
✘ Public API. It is taking much more time than expected (haha). Most likely it will take 2–3 more weeks.
✔︎ Slack Bot
︎︎✔︎ Zapier
✔︎ Fix MANY bugs
✔︎✘ Collect feedback, identify showstoppers and plan next release. Next release is not planned yet.
Future
We haven't set final plans for the public release yet. Here is our current potential scope (to show you something). Most likely we will focus on Table View, performance improvements and Board View in April.
Public Release scope should be defined in a couple of weeks as well.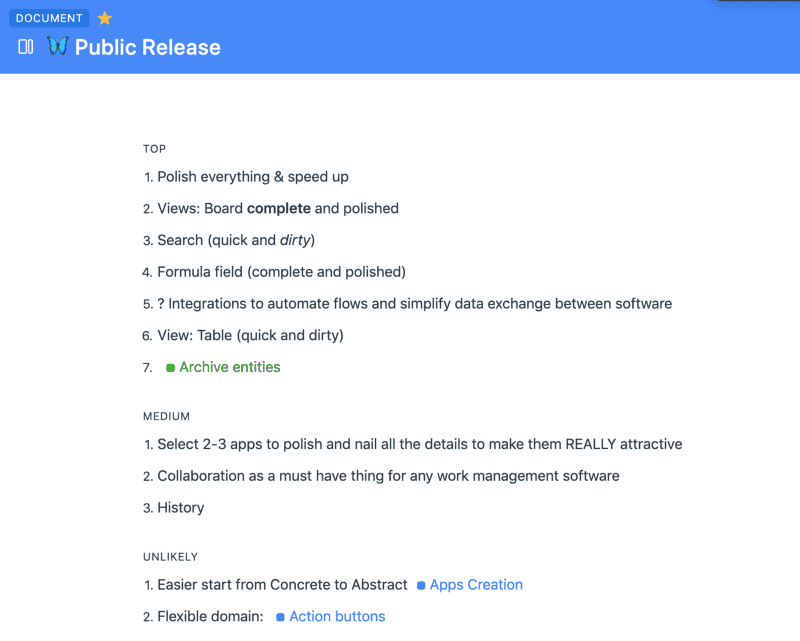 🚋 Random
Random quote from our internal Slack channel
Good Design: A system should be built with a minimum set of unchangeable parts; those parts should be as general as possible; and all parts of the system should be held in a uniform framework.
Random link from our Slack channel
Random image from Slack channel.

---
To be continued → #9. Choosing the Right Road in April 2019.
P.S. No jokes in this post. So boring.