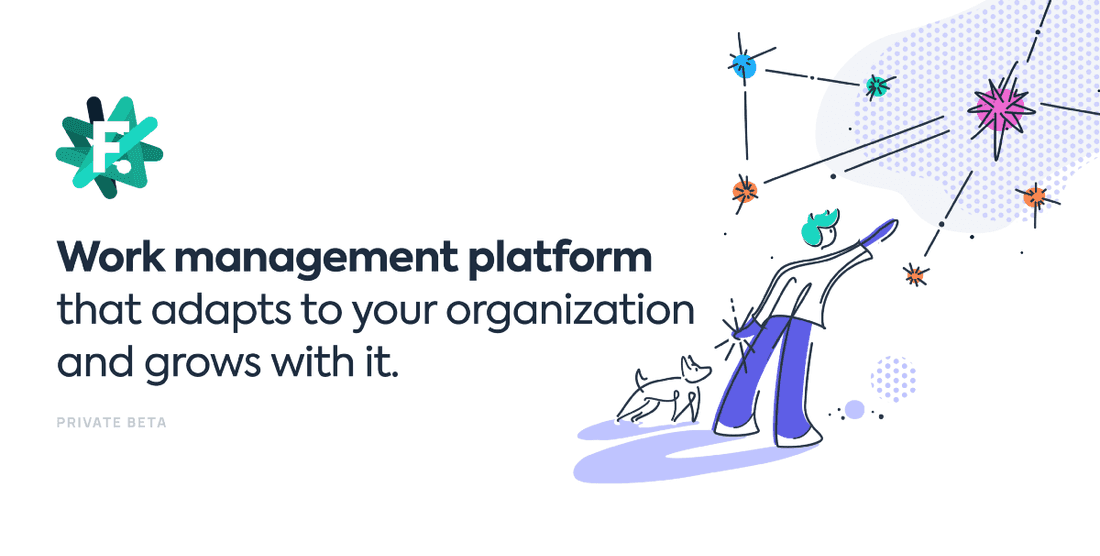 Fibery (work management platform) is two years in development already, and we are finally going to release something. Fibery is relatively stable, moderately fast and has some value (we hope). You can go ahead and try it.
I've described Private Beta goals in details in the previous monthly post. In short, we want to validate Fibery value and get the first 100 customers that use Fibery everyday (for free).
I believe you have a question:
"Why should I give Fibery a try?"
This post is dedicated to current Fibery value. Check it and decide whether Fibery resonates with your company needs and solves some of your problems.
---
We've been using Fibery internally for about a year already to track documentation, software development, vacations, hiring and leads. It works pretty well for us, but we have to eat our own dog food, while you don't. There are dozens of good tools out there and creation of new one should be justified.
Our ultimate goal is to create a flexible and inexpensive platform that replaces many tools in a small company in a natural way, evolves with a company and grows with it. This is the grand idea, but with Private Beta release we focus on slightly more down-to-earth cases:
All-in-one solution for a small software development company (from 2 to 30 people). In Fibery you can write documents, create plans and roadmaps, track work, track vacations, content marketing and basic HR processes.
Product development processes (GIST Planning, OKR, etc.) that demands heavy documents usage and work tracking.
1. All-in-one tool for a small company
This scenario is a desired Fibery hot-spot. We expect Fibery will be used to track software development projects, plan products, track vacations, blog posts, store and write documents. We are curious how inventive you'll be in custom apps creation as well.
Step 1. Apps Installation and Usage
Base scenario is to just install and use Apps. Easy. In the video below I demonstrate how you can install Apps for Software development, Product management and Vacations tracking.
Try to install other Apps and see whether they are helpful (if not, you can easily uninstall Apps).
Content marketing, Candidates tracking, OKR and Wiki Apps: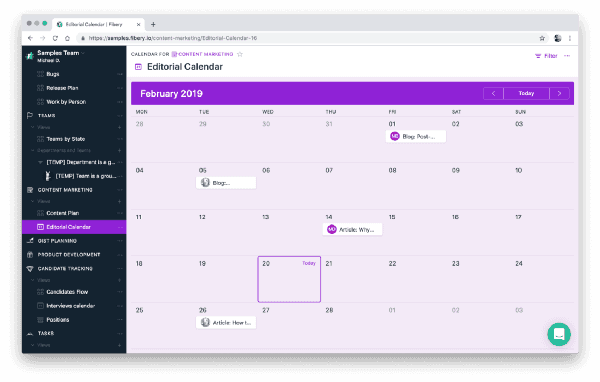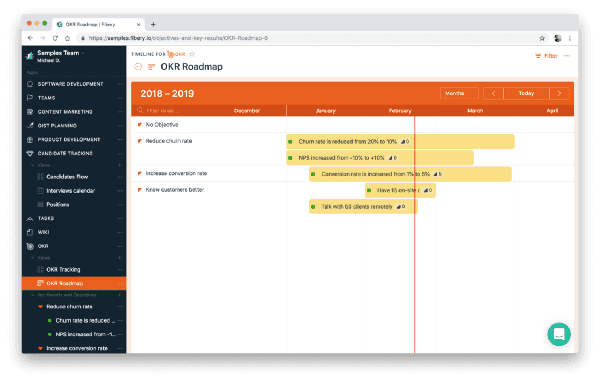 Step 2. Apps Customization
When you have some Apps installed, you can tweak them to fit your needs. Here is what you can do:
Change and create Views (Boards, Timelines, Calendars and Charts)
Change layout of Entity View (re-order fields in Task View, for example)
Add new Types
Add Fields to existing Types
Connect different Types using Relations
Set permissions to Apps
In this video I will show how you can customize Software Development App to support Iterations.
Step 3. Custom Apps Creation
More complex case is to create custom Apps in Fibery to solve your specific problem. You can be very creative and we can't wait to see what you will build!
Here is an example how you can create a simple CRM App from scratch to track Leads and Contacts.
2. Product management with GIST
Another use case is product management. Here I will focus on GIST Planning, since I believe this is one of the best product management process right now. GIST Planning is invented by Itamar Gilad. You should read about it here:
Why you should stop using product roadmaps and try GIST Planning
I will not dig into GIST details, but just show how Fibery supports it:
3. Visual Reports
From day one we have a very powerful Charts (provided by Vizydrop). Here are some reports you can create:
Some chart examples: ICE Score vs. Impact, Vacations and Sick Days, Done Features by Month.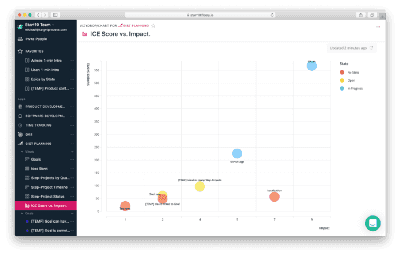 4. Integrations
Integrations are extremely important to connect various flows together and automate scenarios. Unfortunately, in this Private Beta release we can't offer much.
The following options will be available next week:
API
API is there, it will be published next week. You can use it to extract information from Fibery and create entities.
Zapier
Zapier can be used to feed data from external systems into Fibery. For example, you can create Candidates in Fibery from email or Google Calendar events from Fibery.
Slack
We have Slack Bot that can create entities in Fibery from Slack.
---