TLDR: $1M confirmed from angels for the seed round 💰. Deeper negotiation with a VC fund 🐿. Tons of content 📚. Largest customer 🗻. Roadmap for the next 3 months is nailed 🏃‍♀️. Chaos 😈.
Flashback: #21. Public Launch in April 2020.
Main numbers ( → sign shows the changes between February, March, April & May):
🍊Fibery. Connected workspace for teams.
Leads/month: 900 → 600 → 1800 → 1100
Active Accounts: 100 → 70 → 110 → 120
Team size: 12 → 14 → 14 → 14
Burn rate: ~$50 → $60 → $60 → 60K/month
MRR: $470 → $900 → $1K → $1.7K/month
We've got the largest customer (70+ licenses) in May 🤟. This is a significant milestone for us, now we will see how Fibery works for such account, find top problems and fix them.
I've recorded a short and somewhat messy video how we use Fibery inside Fibery Team.
VC
This was a productive month, I talked with many funds and angels. We have confirmed $1M+ from a couple of angels (checks range from $100K to $500K) and started deeper negotiations with one VC fund about $1.5M seed round.
I feel positive that we will close the seed round in the next two months. Even if we will not have a final agreement with a fund, we will have enough angels money to work on Fibery for 18–24 more months. It should be enough to find good traction and be ready for the round A. 🤟
Fibery vs Notion, Coda, Airtable articles
We got tons of questions about Fibery differences vs. Notion, Airtable and Coda. I decided to write deep articles with detailed comparison. Here are all the links:
Fibery vs. Airtable. We connect your bases!
Fibery vs. Coda. The Power of Workarounds.
Anton Iokov wrote an interesting article about features prioritization. Check it out. Maybe one day we will have it in Fibery :)
Enhancing prioritization with networks
Targetprocess separation starts
Targetprocess is a visual platform to help you adopt and scale agile across your enterprise.
Fibery is a Targetprocess spin-off (I'm the Targetprocess founder as well, FYI). In May we started a legal separation procedures and incorporated in USA as Fibery, Inc. 🎉
You can imagine separation is not a super fast process with many legal issues to be nailed, but I hope it will be finalized in July.
3-months roadmap
Our current focus is on product teams. In May we finalized our roadmap for the next 2–3 months (it might change, but major changes are not expected). Main initiatives to complete:
Integrations with Intercom, GitLab, GitHub and Figma
Hierarchical Lists View
Bi-directional links and highlights
Batch actions in Table View
Better permissions management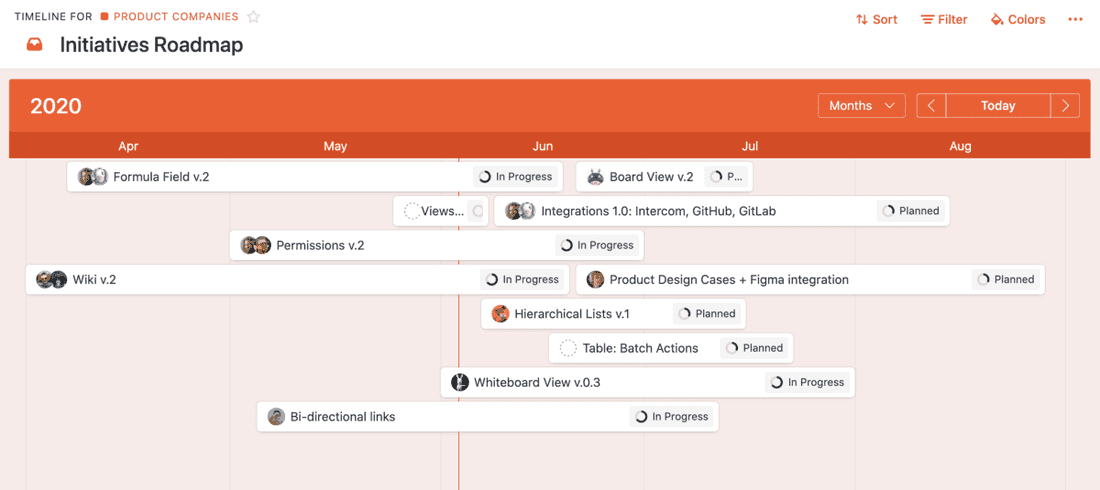 Product Updates
May was a productive month for us.
DONE
Whiteboard: Collaborators List and Cursors, Navigation Shortcuts, Text instrument and Text formatting
Now you can see all collaborators and what they are doing on a whiteboard.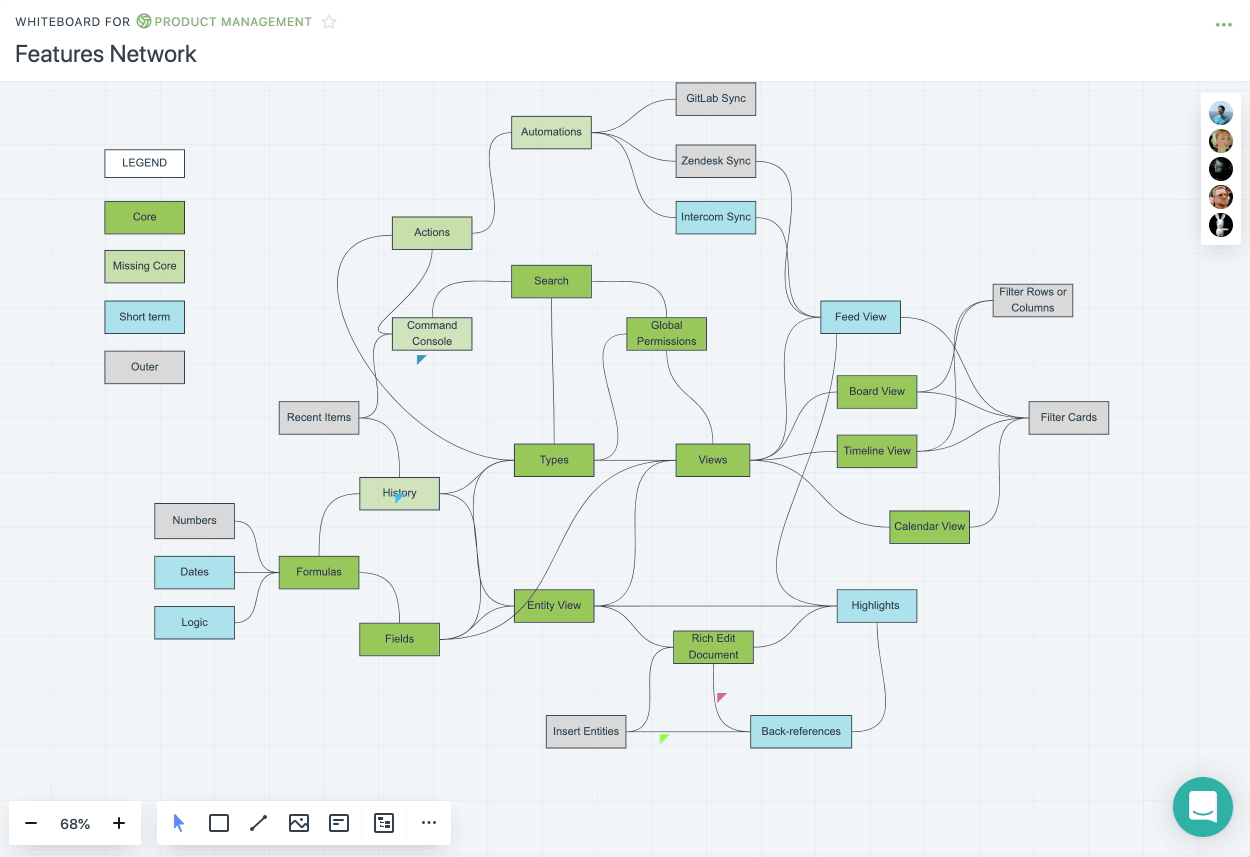 Some shortcuts were added to Whiteboard:
"pan" mode.      : Space + left mouse (change cursor to hand) click
zoom in/out      : Ctrl/Option/Alt/Cmd + mouse scroll
duplicate object : Option/Alt + Drag: 
delete object    : Backspace/Delete:
It was impossible to annotate diagrams with text and select text formatting options: font, size, alignment. Now you can do it all.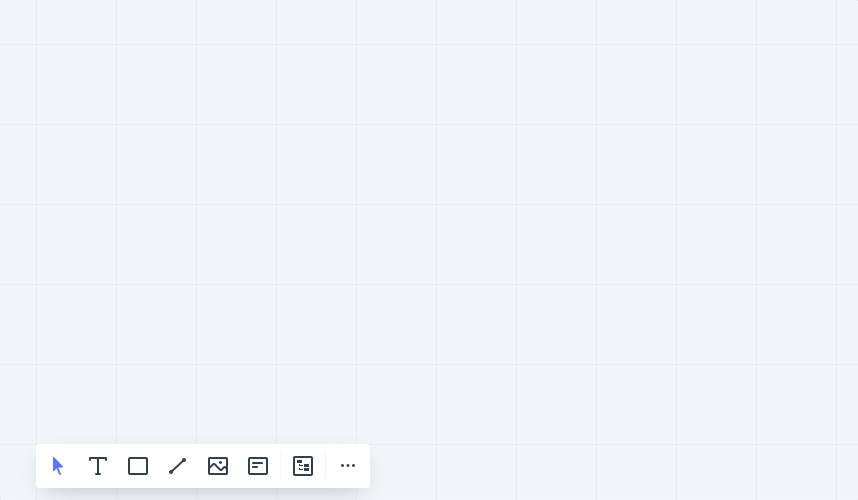 Formulas: Logic and Today in formulas, New formula editor
It was hard to create formulas. Now it is easier. Formula creation becomes a pleasant experience with the new formula editor: large panel, autocomplete, inline help and some examples: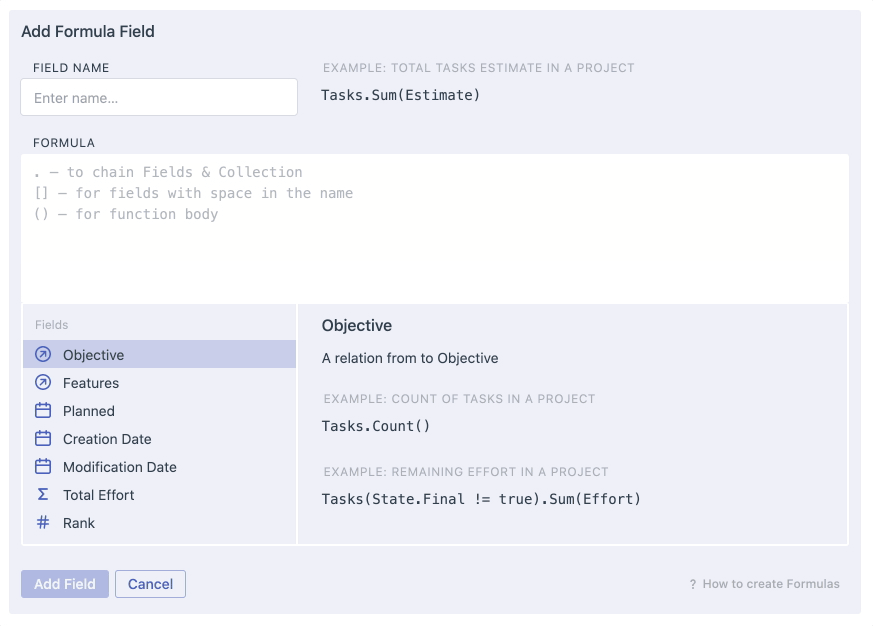 Today operators was added as well.
Cycle Time calculation example:
If([Planned Dates].End > Today(), ToDays(Today() - [Planned Dates].Start), ToDays([Planned Dates].End - [Planned Dates].Start))
Collapsible Headers in Text
Long documents are easier to handle with collapsible headers.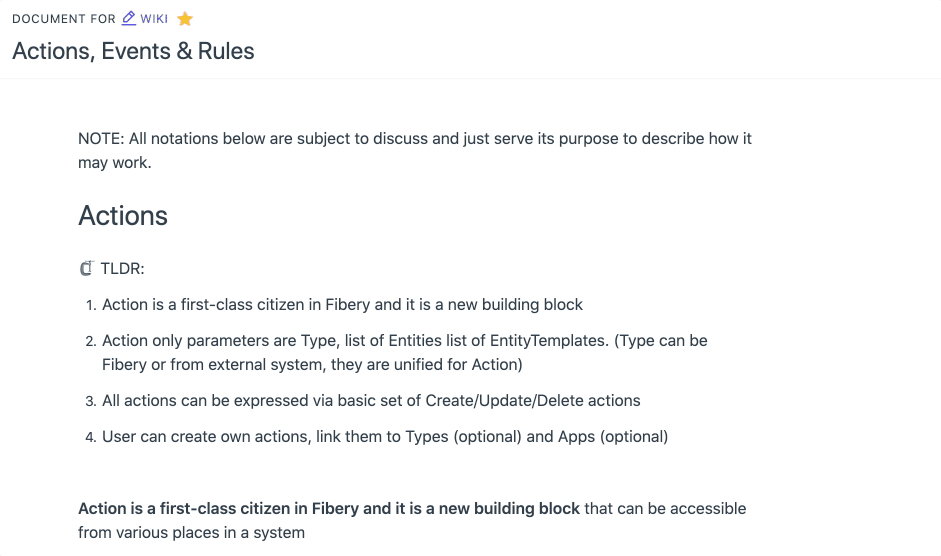 Back navigation
It was hard to get back when you navigate between open entities. Now it is easy. We've introduced Back action inside entities with a short history to quickly return to the desired entity. Duh! Hard to explain, just check the gif below: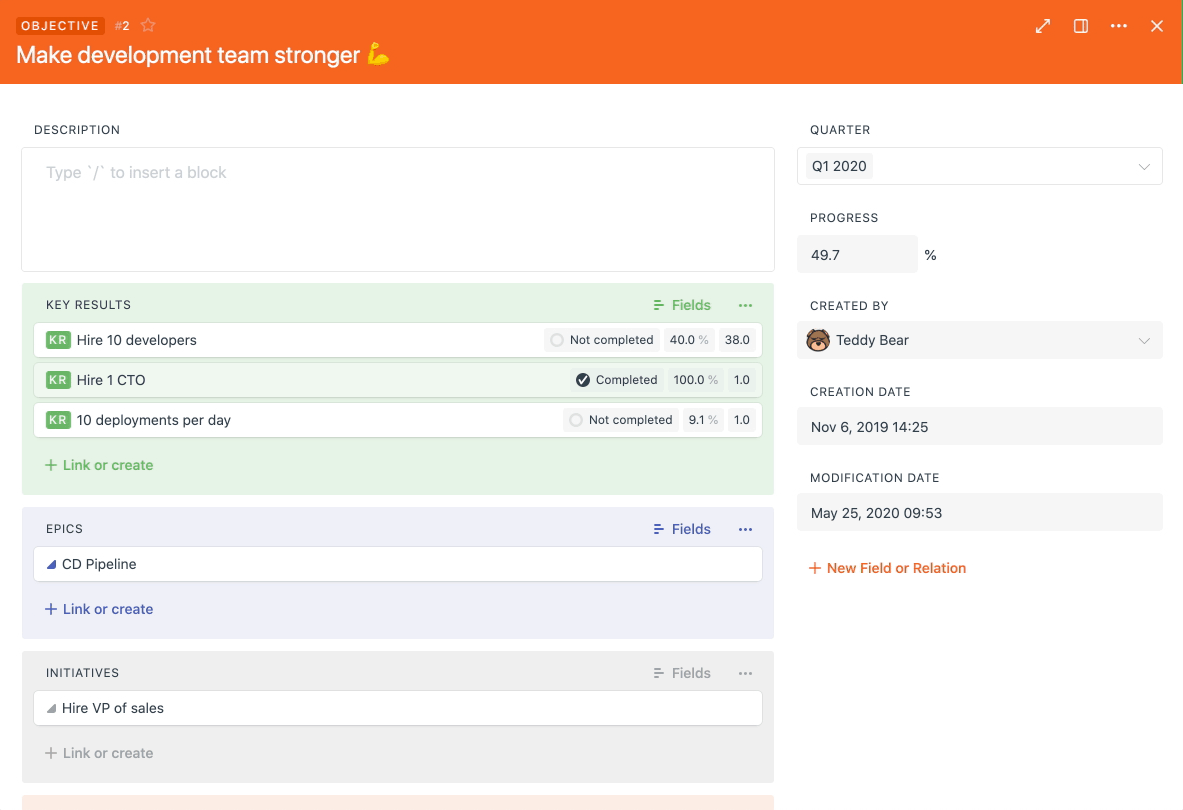 Copy entity URL
It was hard to share a link to the exact entity. Now it is easy. Just hover an entity id and click to copy a clean URL: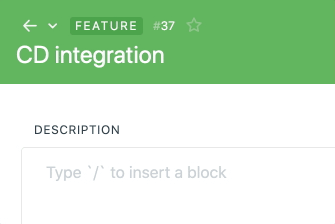 Calendar and Timeline setup
It was hard to setup Calendar or Timeline View. It was not clear what dates to select, what fields have time, what is range and what is not. Now it is easy. Select a single option when it is a range and see all important information on date fields: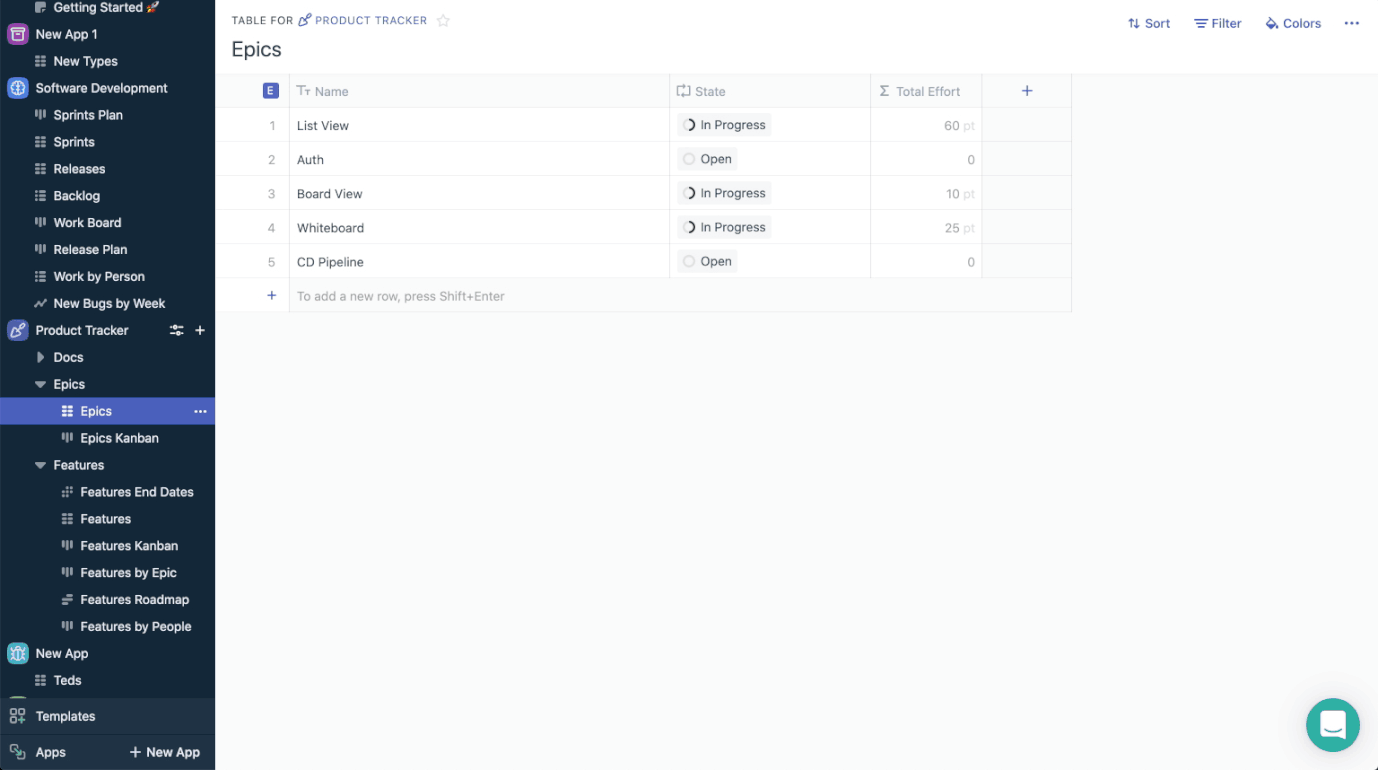 New Getting Started + Survey
We decided to pre-install some apps based on user interests. Lena Dorogenskaya designed a beautiful survey: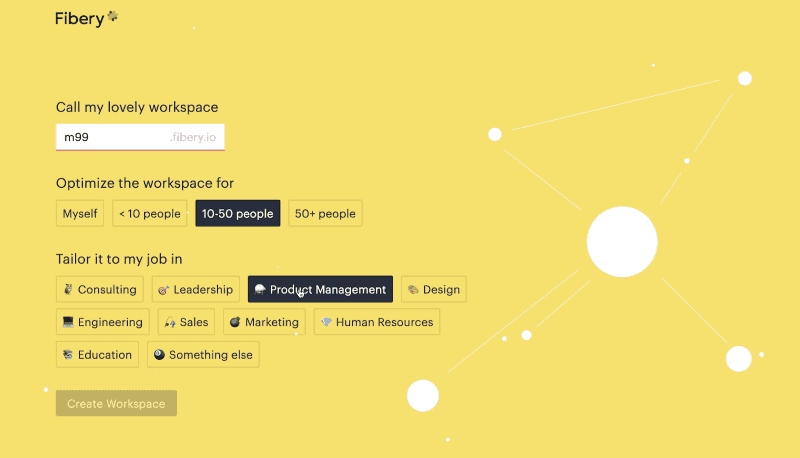 Usability Testing App
Plan and execute usability tests and customer research via brand new Usability Testing App: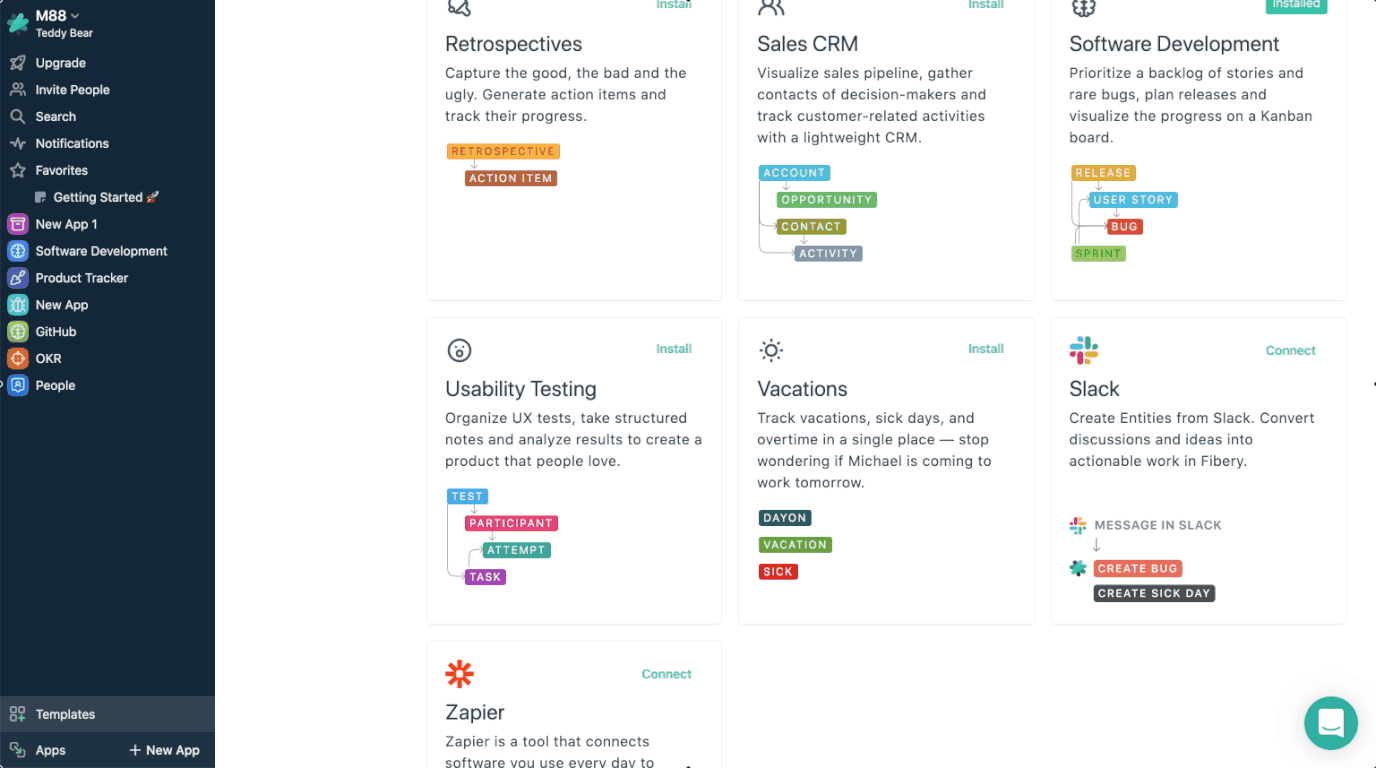 IN PROGRESS
Bi-directional links for all mentioned entities
This feature is still in progress, but close. Hopefully it will be released in June. It will help you to use weak links to connect information. For example, you can mention some feature in a customer feedback document, and inside this feature you will have a back-reference to this document.
Whiteboard: map
Sometimes whiteboards become large and hard to navigate. We also have a funny, but nasty bug, when content scrolls away and you have to scroll ~100 pages to get it back 🤯.
Map component will solve it, since it will be possible to quickly navigate the whole canvas.
Performance improvements
Fibery performance is not great on large data volumes. We are working on several areas:
Board View
Table View
Entity View
Hopefully Fibery will be 30–50% faster in June.
Better import
There are numerous problems with import, like slow load and impossibility to import hierarchical data. New import will solve this.
Better permissions
Initial permissions implementation in Fibery was unrestrictive. For example, we decided to make id and name of all entities visible to all people (to simplify navigation and prevent confusion). However, in many cases it violates access restrictions and name can contain sensitive information. Now we are re-working permissions to hide names and fix quite many bugs.
Blog
We are going to migrate to our own blog. Medium is fine, but at some point we want to write posts in Fibery and publish them into the static blog (we use GatsbyJS for it).
Gallery View
This View is required for Product Teams case to accumulate design ideas, share design system, etc. We've designed it, but implementation is not started yet: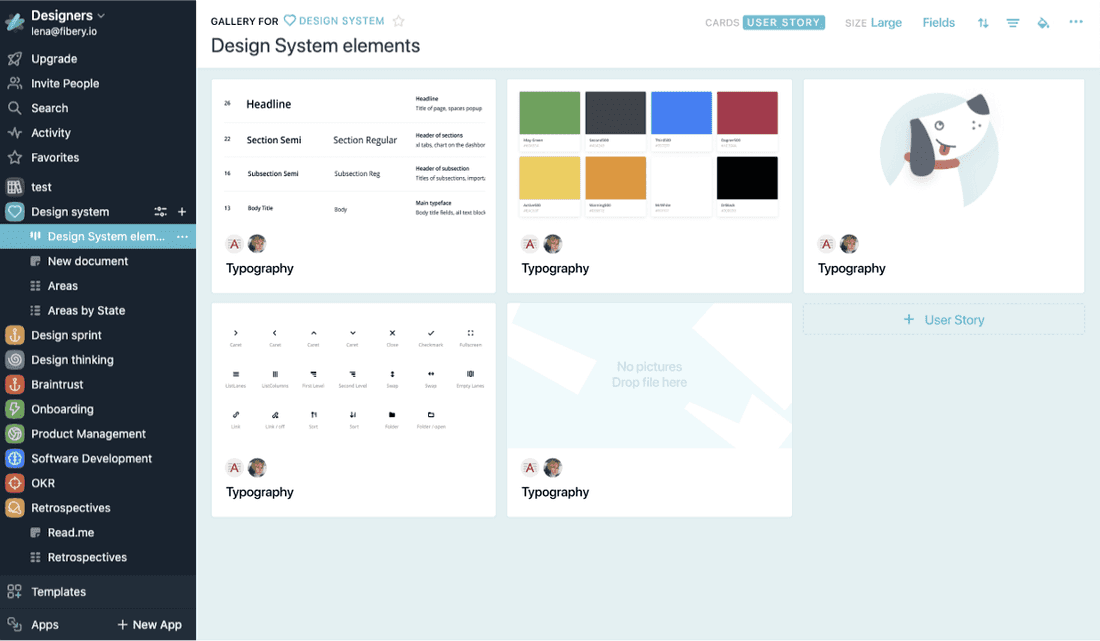 🍳 Random
Random image from our Slack channel: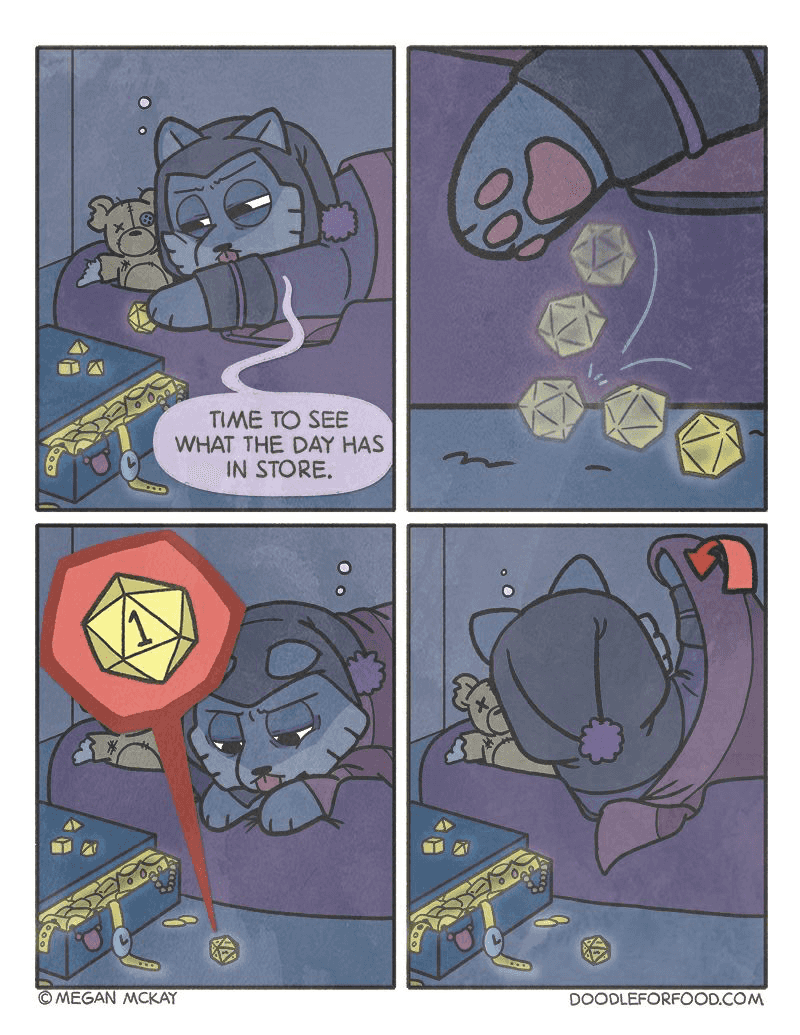 Random link from our Slack channel:
If your product is Great, it doesn't need to be Good. By now, everyone is tired of hearing about the iPad, but the negative responses are so perfectly misguided that it…
Random video:
Random quote:
"It seemed so simple and clear to me then. It still does. But like many beginning computerists, I mistook a clear view for a short distance." — Ted Nelson
---
To be continued…
Fibery.io Chronicles #23. Fighting Stability and Performance in June 2020.
👂 Follow us on Twitter: https://twitter.com/fibery_io
🧙‍♀️ Register your account https://fibery.io