TLDR: 4 new releases 💪. 11 new customers 🤗. Automated actions 🚜. Undelete things 😅. Crazy Thursday aka "Der CollabdocDenburg" 😅😅😅. Webby Awards Nominee 🌻. Fibery for User research 🧅.
---
Flashback: #31. Slow acceleration in March 2021.
Main numbers ( → sign shows the changes between January, February, March, and April):
Fibery. Connected workspace for teams.

Leads/month:       700   → 1300  → 950    → 530
New customers:     18    → 12    → 13     → 11
Active Accounts:   200   → 260   → 280    → 280
Team size:         22    → 22    → 22     → 22
Burn rate:         $100K → $100K → $100K  → $100K/month  
MRR:               $8.5K → $9.5K → $11.5K → $13K/month
Overview
April was a very productive month for our development team. We've had 4 releases and maintained the weekly release cadence. Some significant things have been released, like Automated Action Buttons and Undelete.
Catholic Easter is a time of mini-vacations, and it's interesting to see how it affected active accounts and active users' metrics. There is a significant drop in active accounts and it takes time to recover.
Active accounts are increasing (slowly).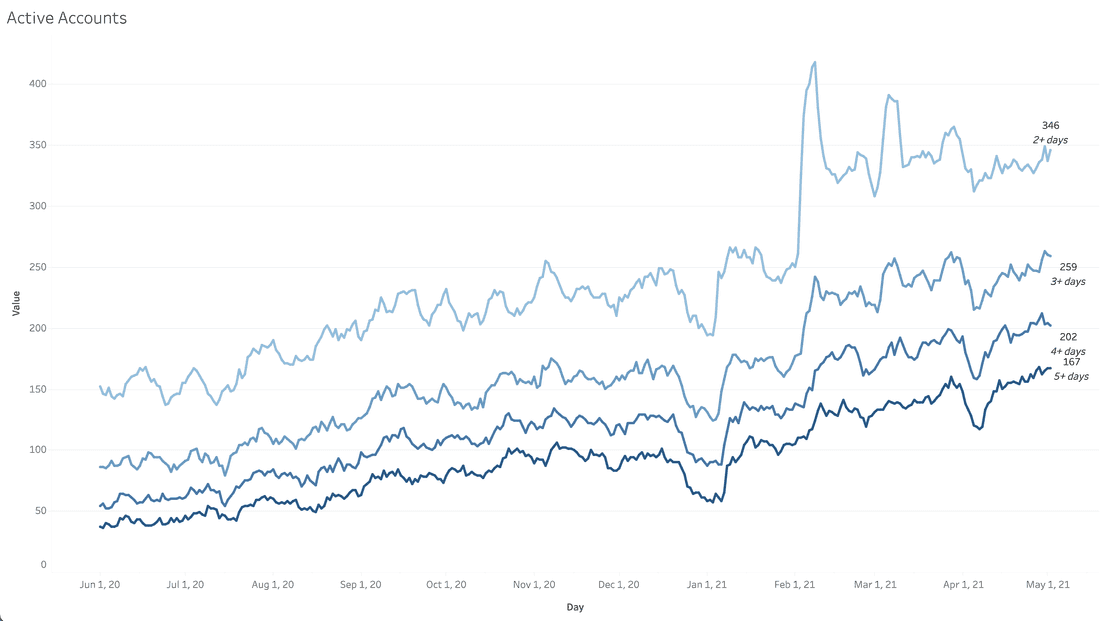 Daily and weekly active users are increasing (slowly).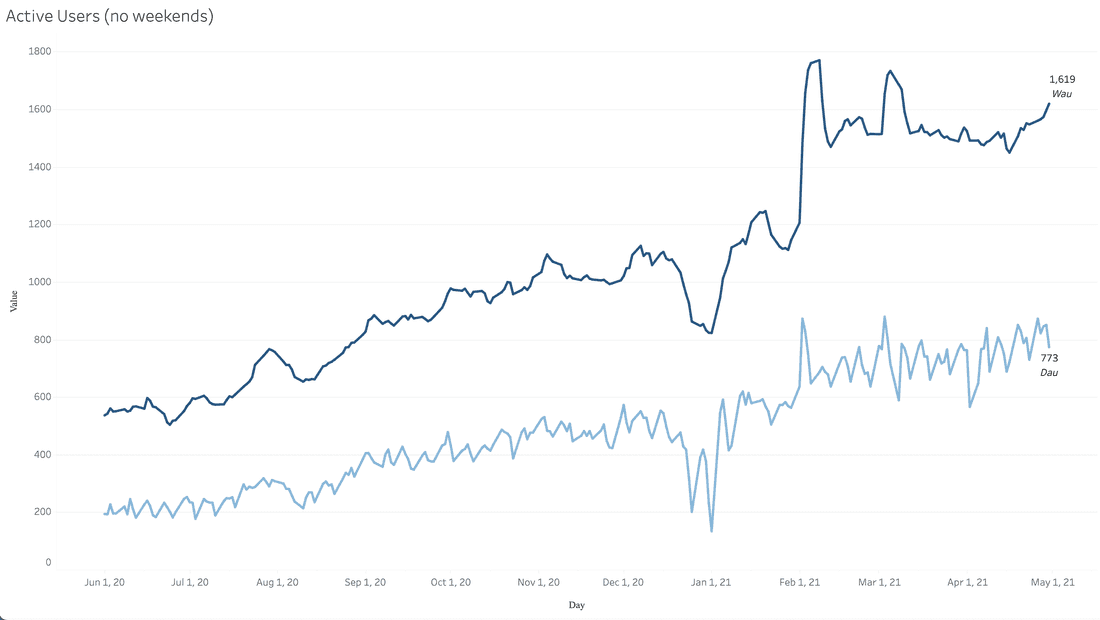 Retention is getting better for fresh leads, but we have fewer leads so maybe this is just a natural trend when you have less, but more qualified leads.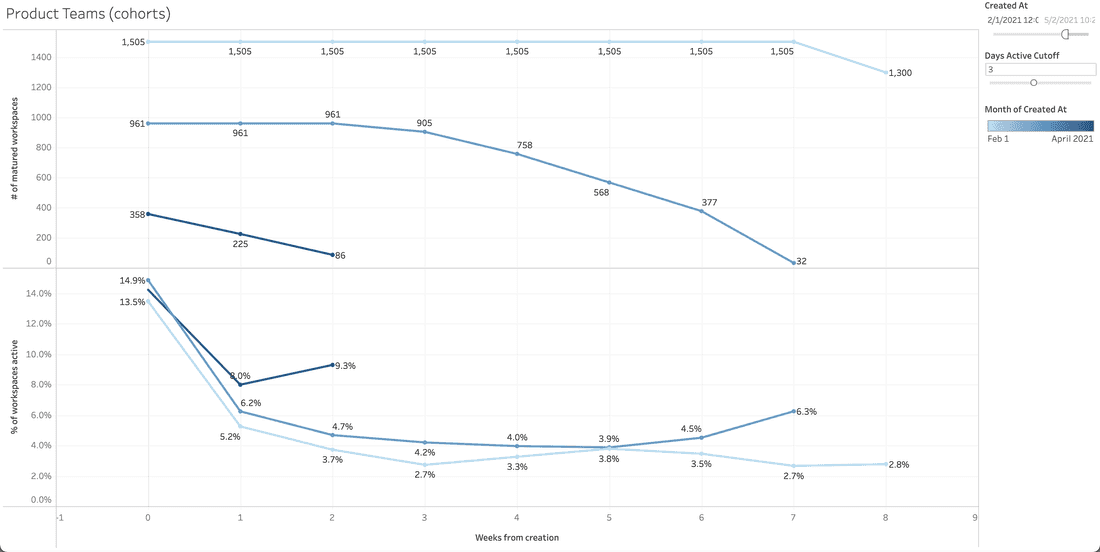 Lead quantity drop was quite significant, we've got only 530. Not sure about the reason, since there were no major changes in channels. Our churn is quite low, in the last three months we've lost just 3 smallest customers.
Overall we are feeling positive about Fibery future since more and more companies start to "get it", especially when they see real usage cases.
Some fresh posts from our blog:
Fibery for User Research
We've launched Fibery for User Research. Fibery is a flexible and usable tool to plan and execute user research activities. We use it ourselves and like it :)
Polina ran our second webinar and it was dedicated (surprisingly) to user research activities. 170 people registered, 70 were online. Here is the recording.
The webinar went great and we received feedback like this:
Your last webinar was perfect - but it has shown me, that I have to restructure nearly everything.
It means we should put more effort into the value explanation. When people see what they can do with the Fibery, they often get extremely enthusiastic 😛.
Fibery in less than 10 mins (explainer)
Polina is doing great Fibery demos, but I always thought that it's possible to explain Fibery faster than in 20 minutes. So she challenged me to do exactly that and here is the result:
I'm curious to know whether it works or not.
Crazy Thursday aka "Der CollabdocDenburg"
Last Thursday we had a serious problem with duplicating notifications, duplicating back-references, and unstable collaborative documents. Quite many accounts were affected, and the root of the problem was a coincidence of several things: more strict JSON validation by PostgreSQL than by Node.js, one problem in a load balancer, and one account that caused the avalanche in one service. It took us two days to fix all the problems and clean up duplicates. This event was called "Der CollabdocDenburg" by our team: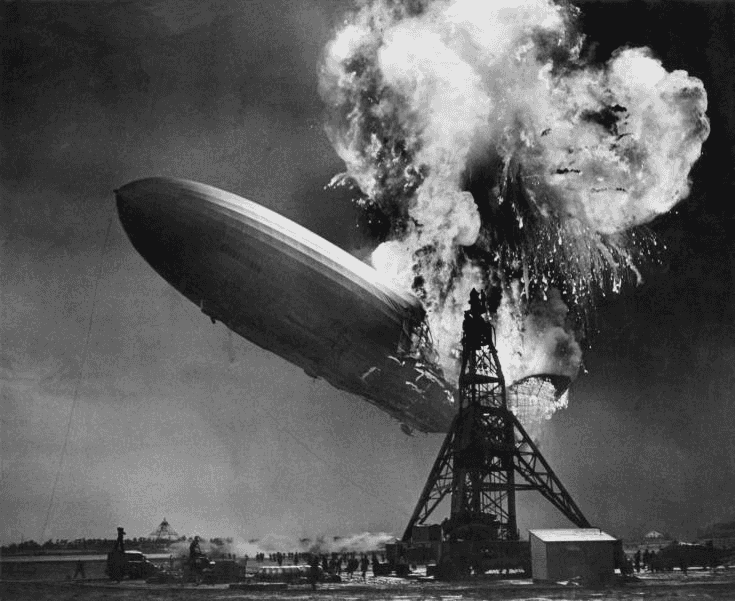 Webby Awards Nominee
Our Fibery Anxiety page was nominated to Webby Award in the Humor category. It's unexpected but fun! Go vote for us (or not).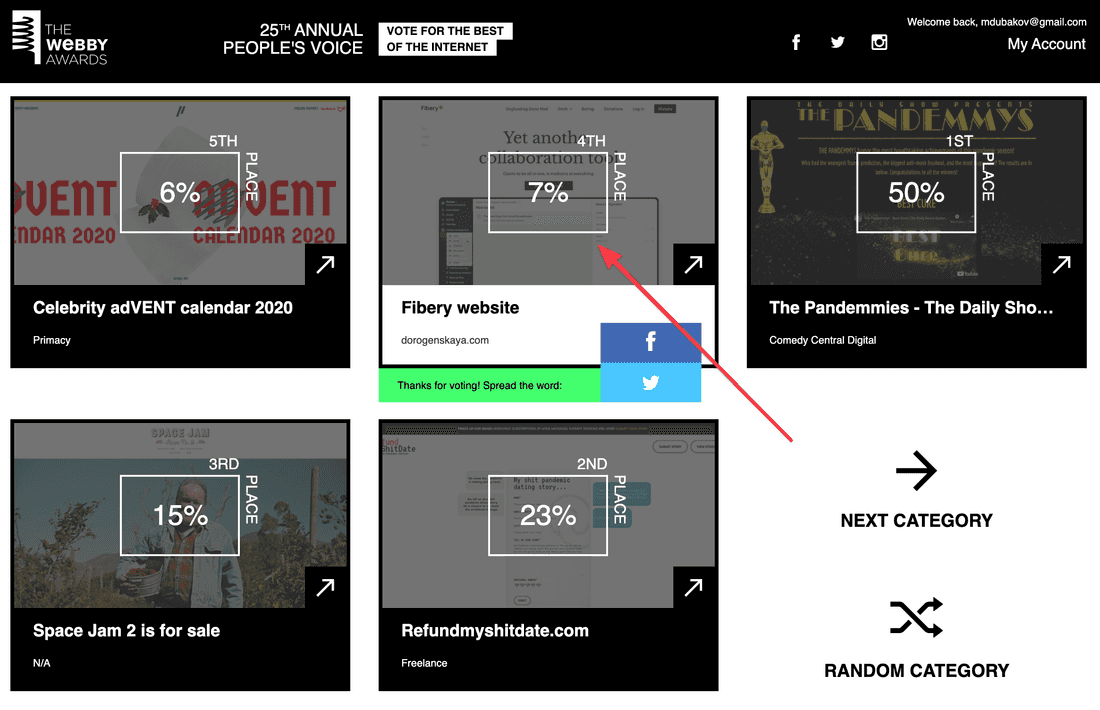 Product roadmap
We're continuing to focus on Product Companies and pay more attention to their feedback. Overall, there are three major themes in progress now:
Better user management and access management: SSO, permission groups, read-only users, entity-level permissions.
Integrations and automations: HubSpot, Email, Google Calendar, Automated Action Buttons, Automated Rules.
Polishing and fear management: Undelete, Audit log, Full-text search, Backup all the data.
We feel that Fibery will be quite feature-complete in 1-2 months and we are slowly starting to cut rough edges and polish existing things. So you can expect slick design, faster performance, streamlined usage patterns, and attention to detail (bullshit bingo! 🥳).
Product Updates
Join Fibery Community to track all updates. Here are the most important things we've released in April:
DONE
Undelete entities
Fear no more, all deleted entities can be recovered (we hope). Navigate to Audit Log and find deleted entities using a clever filter.

Then check entities you want to recover and click Undelete action: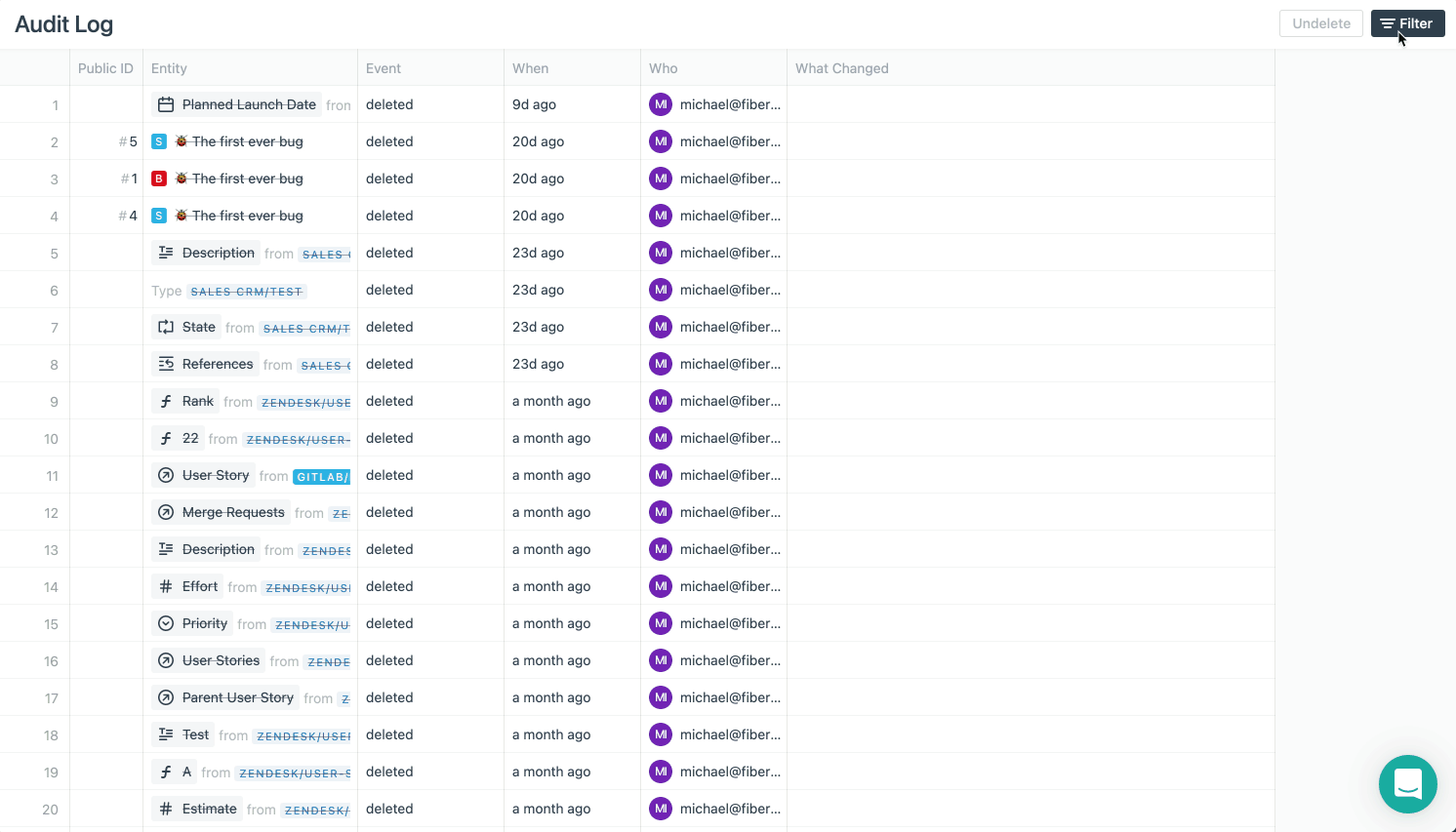 Automation Actions
This is the first release of Fibery Automations 🤘. Now you can create Action Buttons and configure many actions that will be executed with a single click. Actions can be setup by Admin or Creator.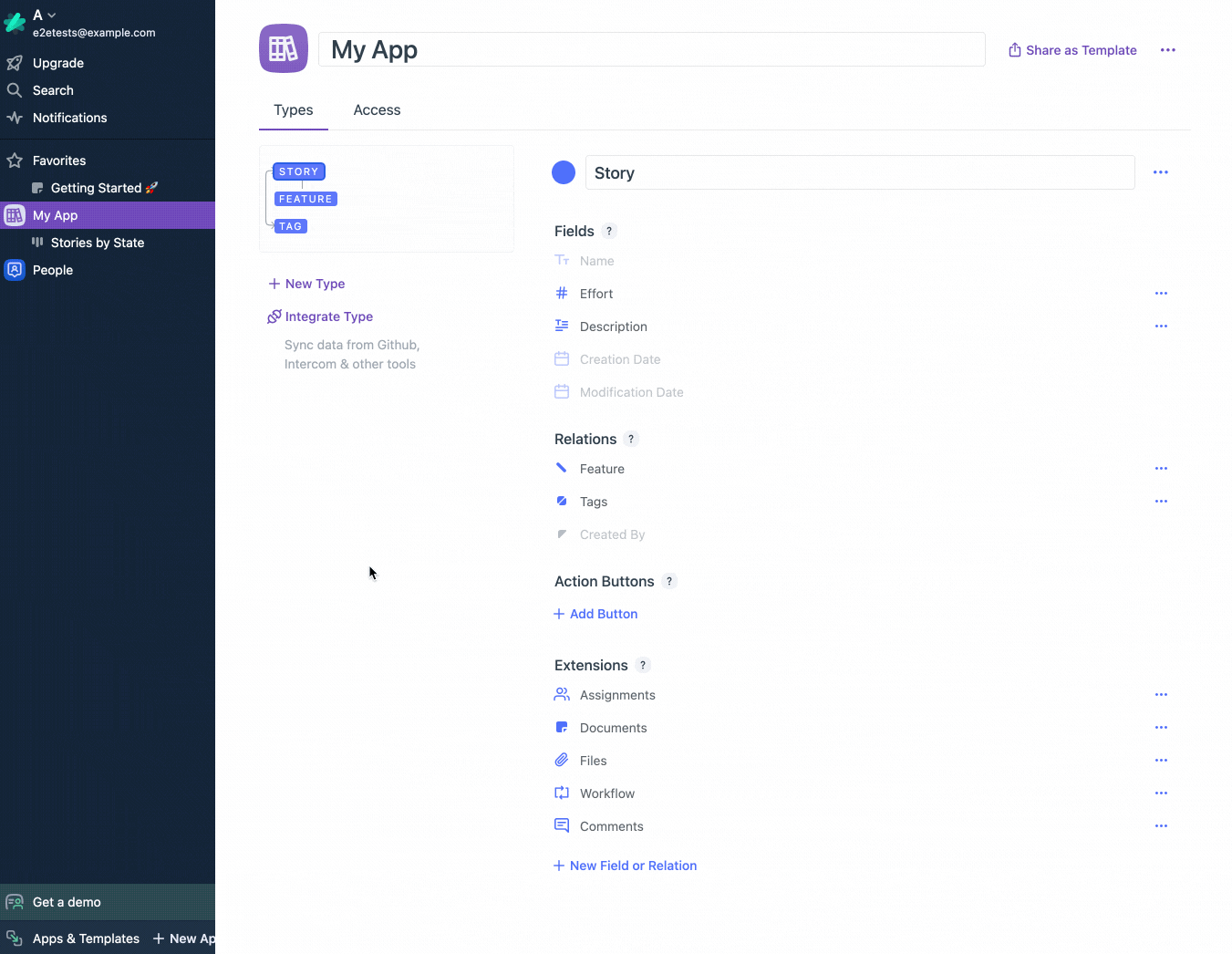 Read Action Buttons guide. Try to create some Action Buttons and let us know about any problems or new ideas. We're really excited to hear your feedback!
Convert Entity
Sometimes you need to convert Bug to User Story, User Story to Feature, Issue to Task, etc. Finally, you can do it via Convert action. Here is the video that explains Convert action in some details.
Duplicate Entity, Document, and Chart
Finally, you can duplicate almost anything in Fibery. Duplicate actions are added to the Entity, Document, and Chart.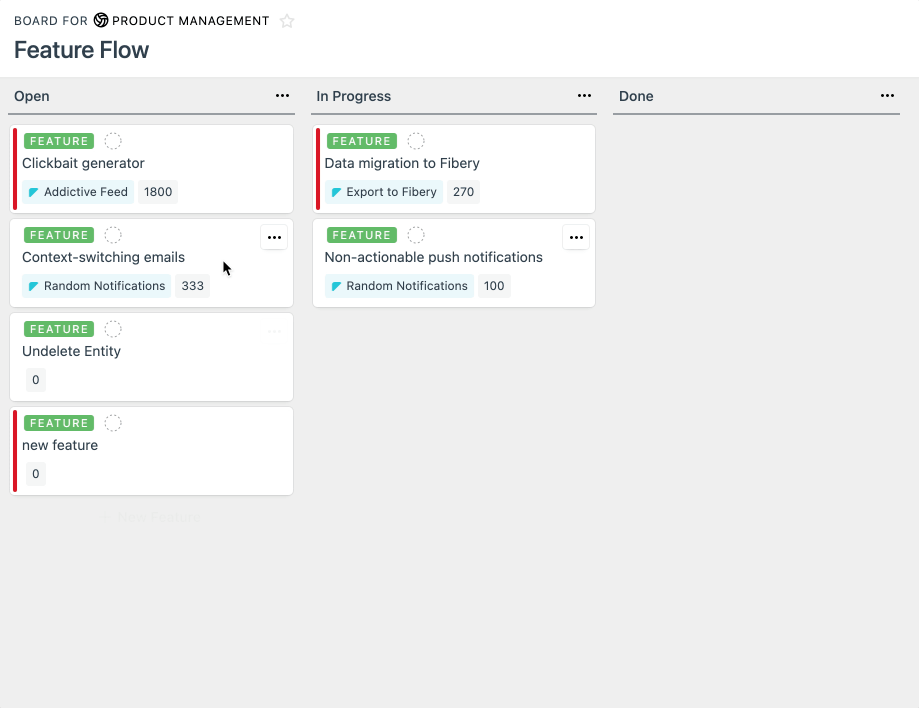 Zendesk integration
Now you can sync Zendesk Tickets, Groups, and Organizations to Fibery. Find Zendesk template in Integrations section and configure the sync. The main use case is to link customer quotes from Tickets to product insights, features, and bugs to spot recurring needs. Check Zendesk-to-Fibery explanatory video.
Toolbar in all Views
The Boards, Timelines, Calendars, and Tables setup was outdated and ugly. In this release, we are introducing Views Toolbar that streamlines setup experience. Now you can changes views faster, set visible fields, filters, sorting, and colors per Type, and see context filters better.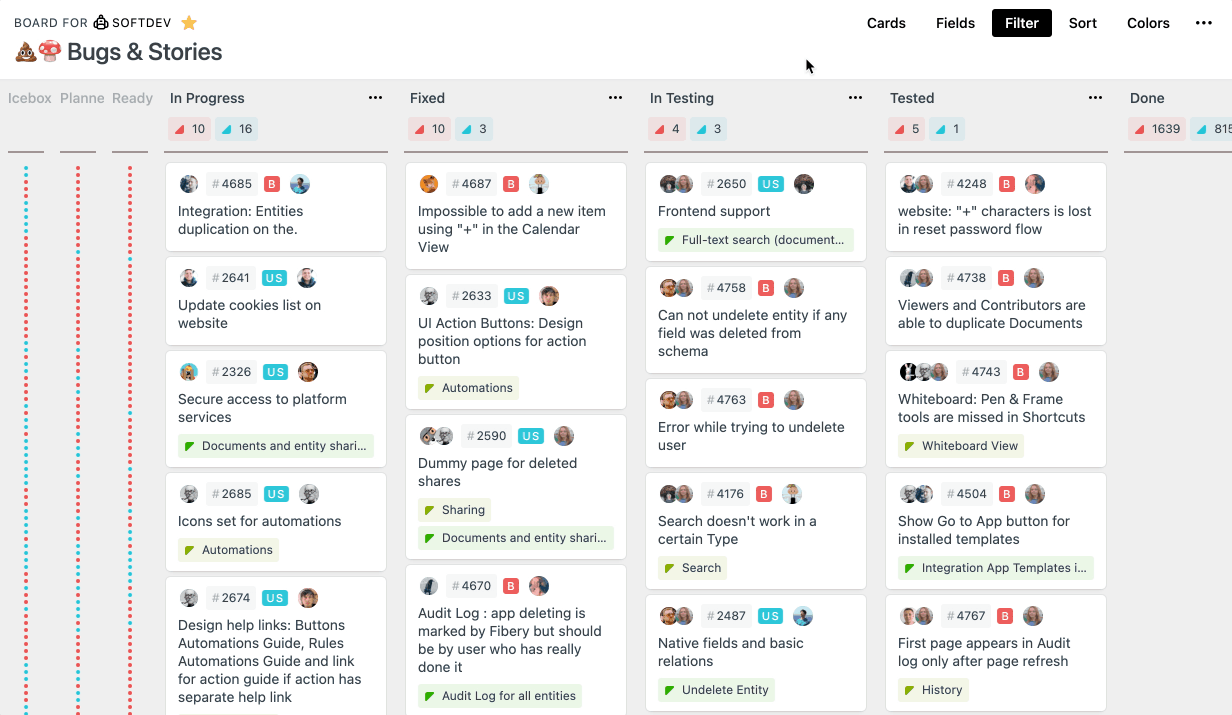 IN PROGRESS
Burn Up/Down charts, Cumulative Flow diagram
Cumulative charts are helpful to track process dynamics. For example, CFD may help to spot bottleneckes, and burn down chart is a decent forecast tool for release/iteration progress. Release estimation: ~1 week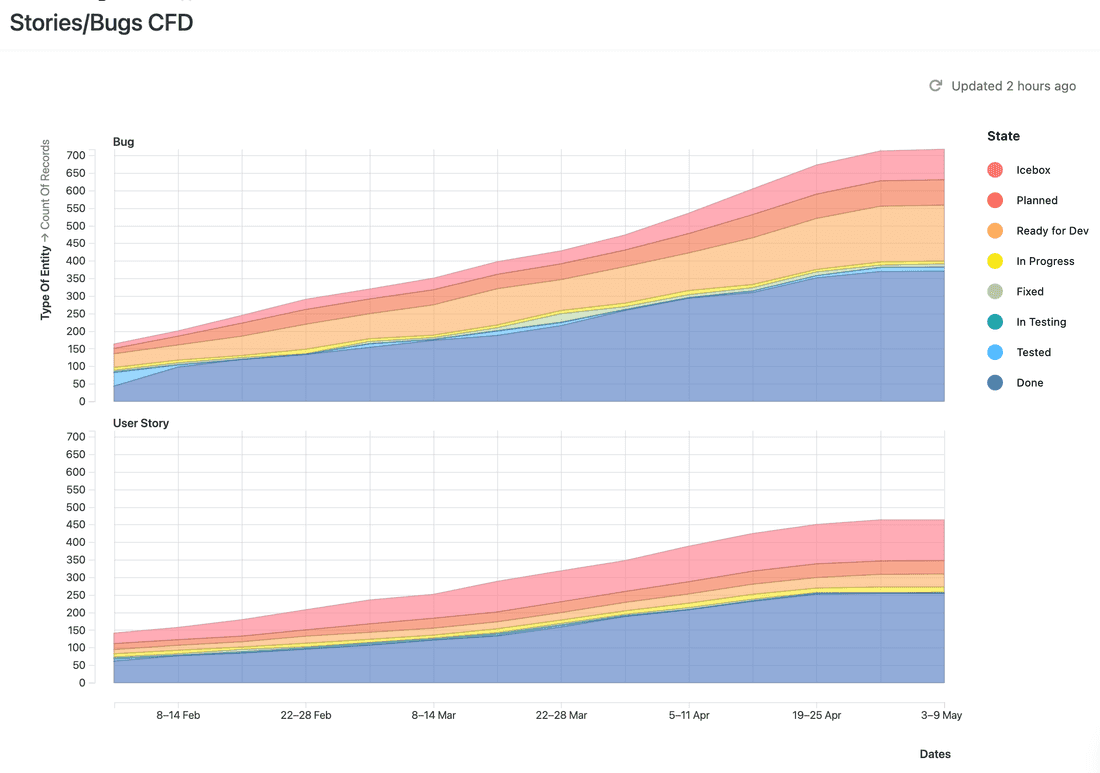 Full-text search
Seach already works on our test environment, now we are fixing bugs and it is close to completion. Release estimation: ~1 week
Share entities and documents
It appeared that permissions and access issues were more complex than we thought initially. Now two people are working on them and the end is coming. We hope to release this feature soon. Release estimation: ~2 weeks
Use Formulas in Actions
While the first Action Buttons release is a decent one, there is no way to put formulas into actions. We are working on that already and it will unfold many shiny cases.
For example, it will be possible to set the correct hierarchy. Let's say you have Product - Feature - Story. Sometimes Story does not have a Feature, in this case, you want to set Product directly. In other cases, you want to inherit Product from the Feature. It will be possible to set up an action that will do that (the next step is to add actual automatic rules). Release estimation: ~3 weeks
Okta SSO
Users and permissions management is a real pain in Fibery for any medium company. We are working on this theme and Otka integration will help admins to add/remove people from Fibery via Okta. Release estimation: ~1 week
Permission Groups
It's extremely hard to control access via individual user-to-app settings. We will introduce Groups and it will be possible to define groups, assign users to the groups and then give groups access to apps.
This is the first step into better Fibery permissions. Release estimation: ~3 weeks
🦷 Random
Random Twitter storm from our Slack channel
How user interface evolved for the past 40 years ✨

Visual Thread 🧵

— Victor (@vponamariov) April 23, 2021
Random link from our Slack channel
The Kool-Aid Factory — a series of online zines about the ways organizations coordinate.
Random image from our Slack channel
Use Fibery as a psychotherapeutic tool!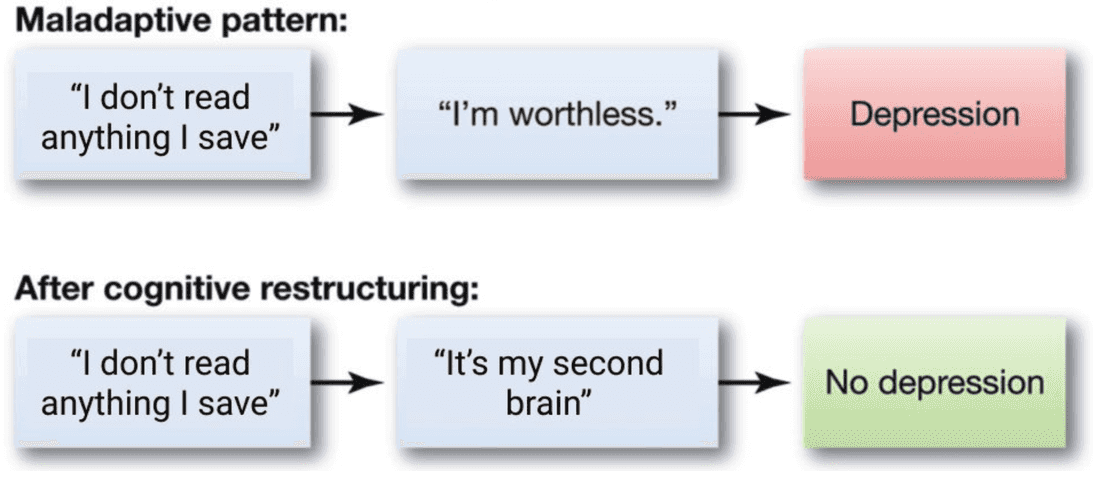 Random quote:
"Alan Kay: Computing is terrible. People think—falsely—that there's been something like Darwinian processes generating the present. So therefore what we have now must be better than anything that had been done before. And they don't realize that Darwinian processes, as any biologist will tell you, have nothing to do with optimization. They have to do with fitness. If you have a stupid environment you are going to get a stupid fit." ― Adam Fisher, Valley of Genius: The Uncensored History of Silicon Valley