TLDR: $5.2M round A 💰. The tattoos bet 🔥. Fibery for Startups launch on Product Hunt 🍤. +1 Product Manager 🇫🇮. Co-working space in Warsaw 🇵🇱. Product Roadmap till May 2023 🔮. Fibery AI Assistant (experimental) 😅. SOC 2 Type II 🔓. Digest number 50 👴.
Flashback: #49. Forming the flows in November 2022
This is digest number 50. It means I wrote 50 digests about Fibery progress already. What makes a good founder? Only two things: optimism and persistence. We will keep the optimism and we will persevere 💪.
$5.2M round A
Last year we got $5.2 round A and announced it in January. We got a round from TAL Ventures and Altair to boost the growth. Now we are expanding the marketing team with the goal to double ARR and reach $1M by the end of 2023.
BTW, we already found our future Head of Marketing! He will join our team in April 2023.
Tattoos bet
Several years ago my teammate Volodya argued with me that we'll never reach $1M. I told him that we will. So we made a bet to make a burning flame with hugs tattoos (both of us) if when it will happen.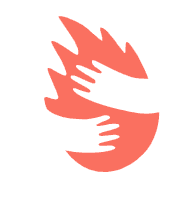 Will Volodya and Michael get this tattoo in 2023? Make your bets! Or just help them!
Several years ago my teammate Vova argued with me that @fibery_io will never reach $1M ARR. I told him that we will. So we made a bet to make a "burning flame with hugs tattoo" (both of us) when it will happen. Will Vova and me get this tattoo in 2023? Make your bets!

— Michael Dubakov (@mdubakov) March 1, 2023
New motto
We've changed our motto to Work and knowledge hub for your startup.
Here are the main reasons:
Fibery unites works and knowledge and we wanted to highlight that.
Startups and product companies are our main focus, but it was hard to include product companies in a motto, so we decided to keep the startup theme only.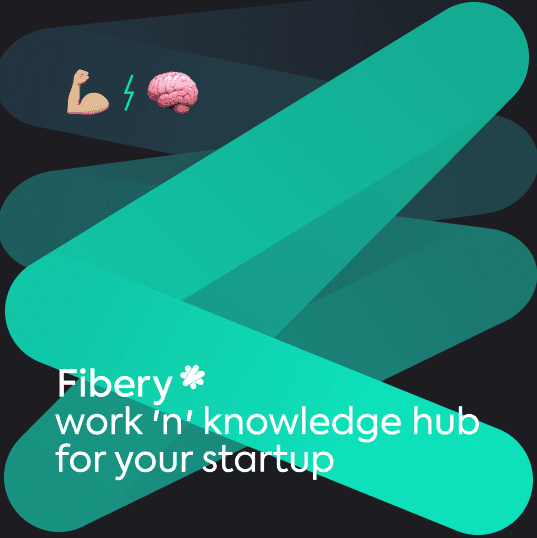 Fibery for Startups launch on Product Hunt
We've launched Fibery for Startups on Product Hunt at the end of January. We got 800 upvotes, many incredible comments from our users and #6 day rank.
Not a great success, but we had a cool cat on our home page for several days. Check it out!
+1 Product Manager 🇫🇮
Kálmán Kéménczy joined our product team in January! Some facts about Kálmán.
He lives in Finland.
He is smart.
He likes to use 🎈 emoji.
He has "productmonkey" title in his Slack profile.
He is focusing on getting started and activations improvements now.
Product Roadmap till May 2023
We created a public roadmap that nails our priorities till May 2023 🔮. In short, we are focusing on:
Permissions (entity-level)
Documents (nested docs, more blocks, more polishing)
Table View + Hierarchical List View (most likely full re-write)
AI Assistant (experiments)
Getting Started
Co-working space in Warsaw 🇵🇱
We have 15 people in Warsaw and rented a co-working space to help them work together from time to time. Remote is cool, but after two years you start to miss people (from time to time).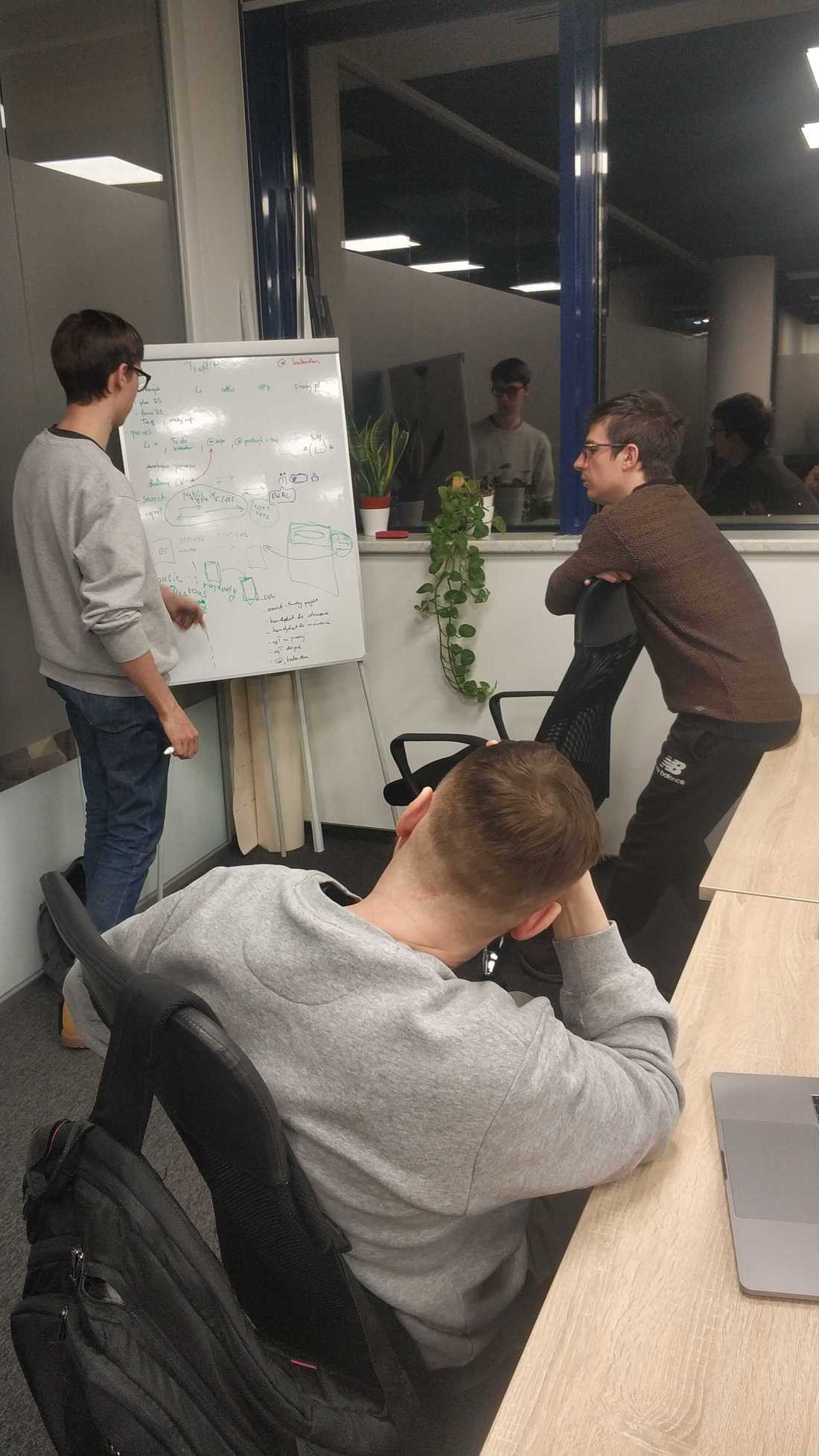 Fibery + AI reflections
We are on the edge of revolutionary changes in machine-human interaction.
We are starting to grasp the new level of abstraction between humans and machine → real natural language interface. We had NL toys years ago, now we have real tools we can use to build helpful solutions.
Maybe GPT is not super-smart and it can't even count words in a document, but it can generate text with impressive accuracy based on human prompts. And in a nutshell that is all we need to help humans build tools and operate tools much easier and faster, thus dramatically increasing productivity in some areas (and hopefully helping them to generate more insights).
Now we are exploring how Fibery can use GPT to augment your productivity and intelligence. Here are some themes:
Language interface will not replace complex UI but can simplify learning and hard concepts. For example, Space creation, formulas, rules creation, etc.
Context-aware AI Assistant can help connect information, find duplicates, and answer questions about your information.
Structure-aware AI Assistant can transform information from unstructured to structured form (like extracting data from text and putting it into fields).
Fibery AI Assistant (experimental)
Last week we released an experimental Fibery AI Assistant. It works in text and automation, so you can do some clever things with it. We tested it internally for some cases, but now need your input to discover more use cases and improve it based on your feedback. This thread shows what you can do with it:
1/ 🧵 Fibery AI Assistant in texts and automations released today(as an experimental feature) 🦊. Here are some use cases we found relatively useful.

— Fibery (@fibery_io) February 23, 2023
Here is the video that demonstrates some use cases in texts:
SOC 2 Type II
Fibery received SOC 2 Type II certification. It took us 8 months and serious effort from some developers and security experts to complete this task. Now Fibery is more secure, more stable, and no less fun to use.
🎁 Product Updates
DONE
In January and February, we had 7 releases with many cool features. Here are the highlights:
Full Add via Forms
Now you can add entities inside Fibery via Forms. Create a Form for some database and it will be visible in all Views with this database via the additional ˅ arrow menu near the New button.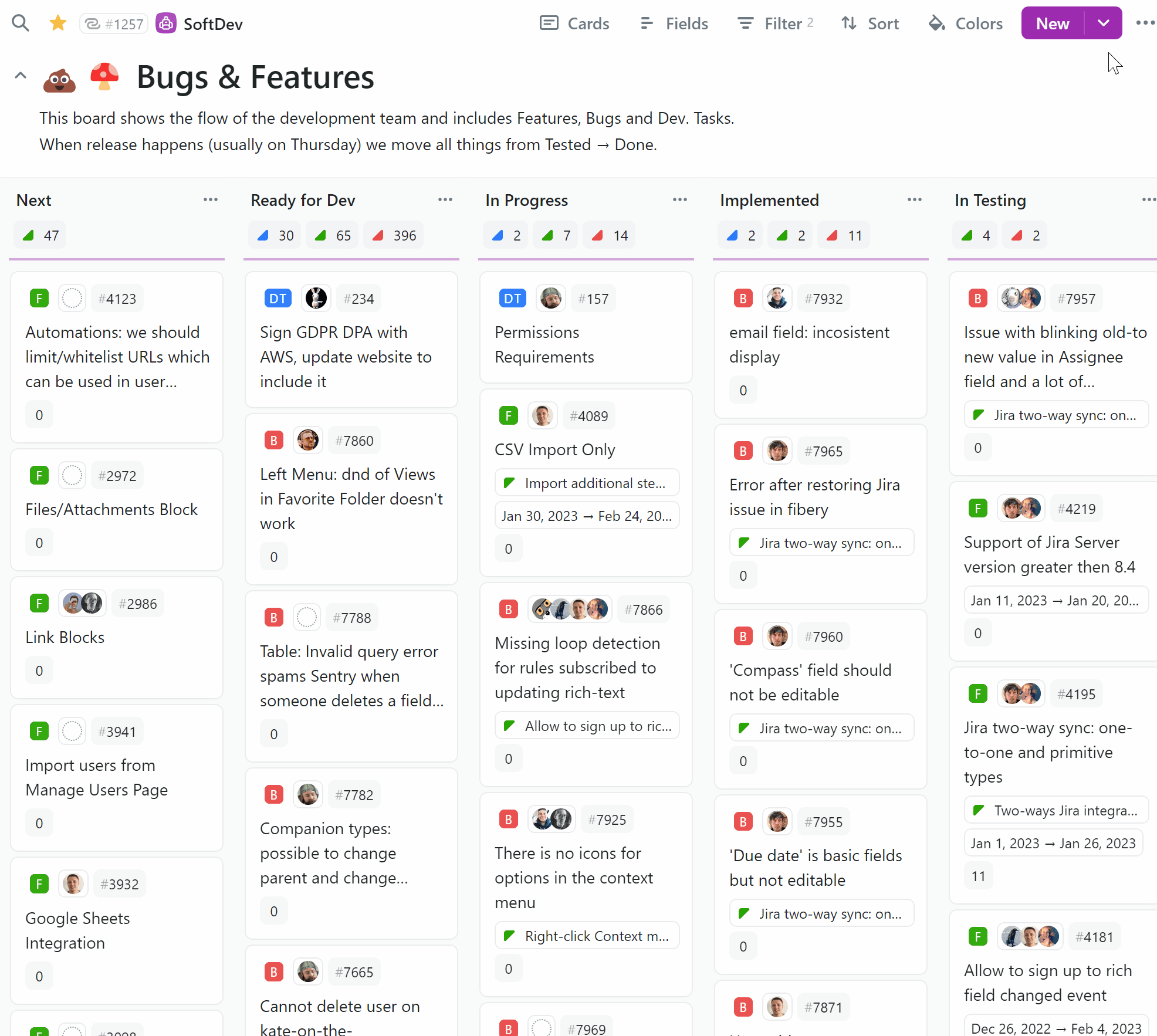 Table of Contents
It's easy to get lost in a long doc without an overview. From now on, as soon as you have at least two headers in any rich text, we suggest a table of contents: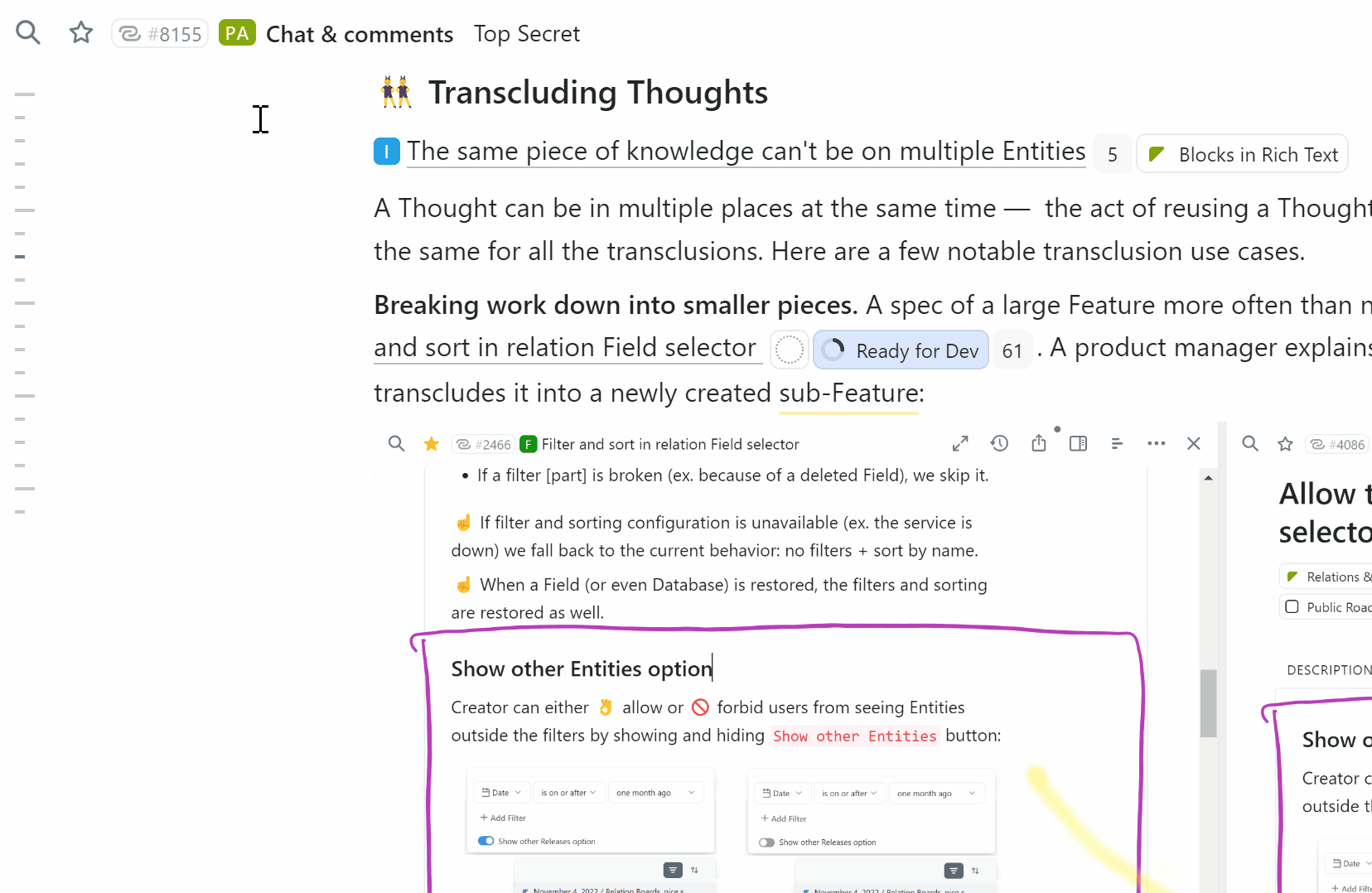 Performance improvements
We've improved Fibery performance in the most critical areas, including Entity View and Hierarchical List. Expect ~2x improvement for large Lists and ~20% improvement for Entity View.
⚡ New in Fibery!

This week we are all about performance.
Before vs. after: pic.twitter.com/RNvJBT3JKj

— Fibery (@fibery_io) February 9, 2023
Jira two-way sync
Two-way sync was added to Jira app. Now it is possible to sync some issue fields from Fibery to Jira. Fibery syncs build-in issue fields: Name, Priority, Status, Assignee, and custom fields with the following types: Single Text, Date, and Number.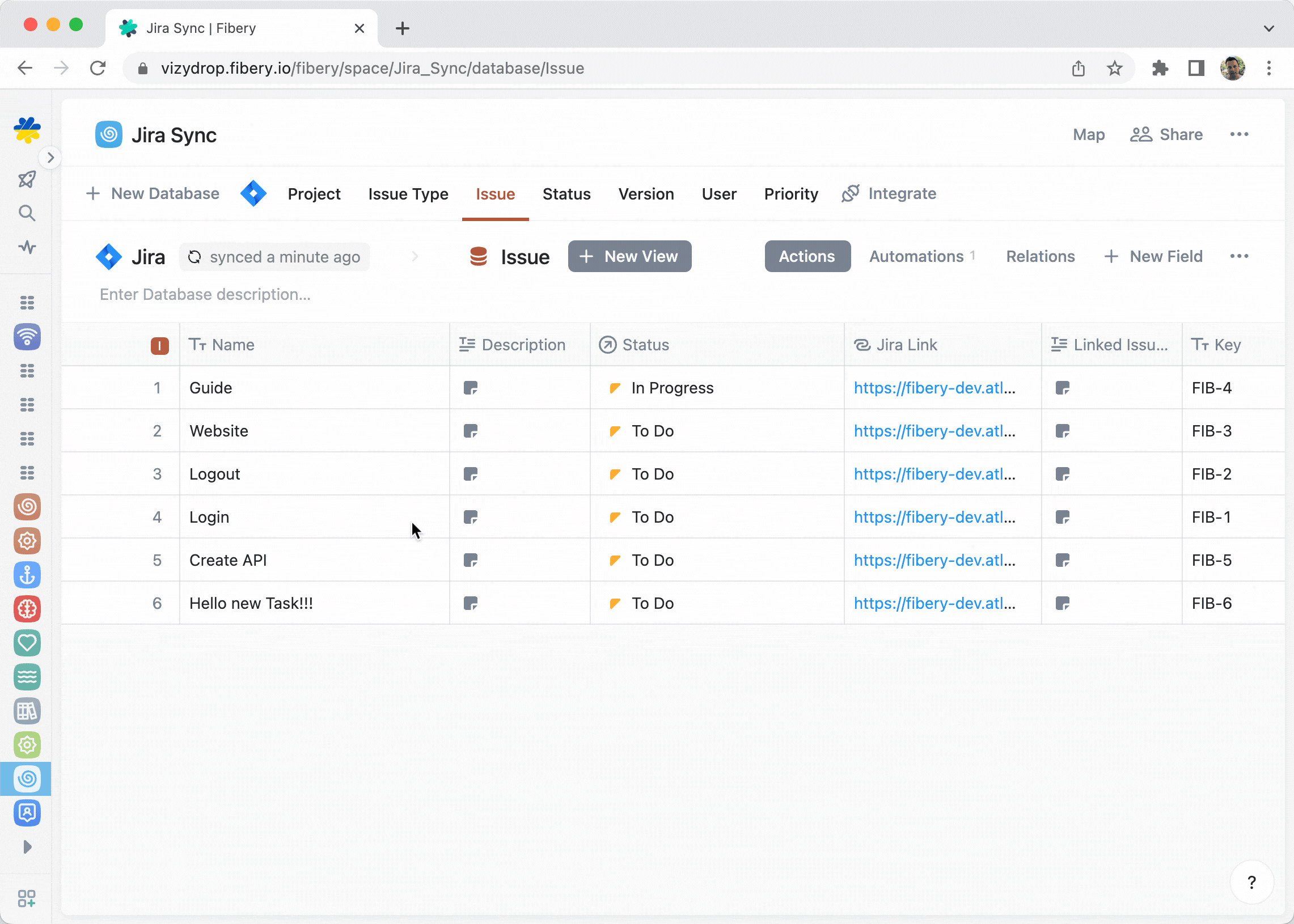 Workspace Map 2.0
New Workspace Map solves most of the problems of the old map. You can zoom in and zoom out the workspace structure, move spaces around and organize them in a sane way, and even add connections between databases right here.
IN PROGRESS
Check Fibery Roadmap to get more details.
📍 Location field
🗺 Map View
🪺 Nested Documents
🤯 Per-entity permissions
🤞 New Table View prototype
🧈 One-liners
🚁 Random
Random image from our Slack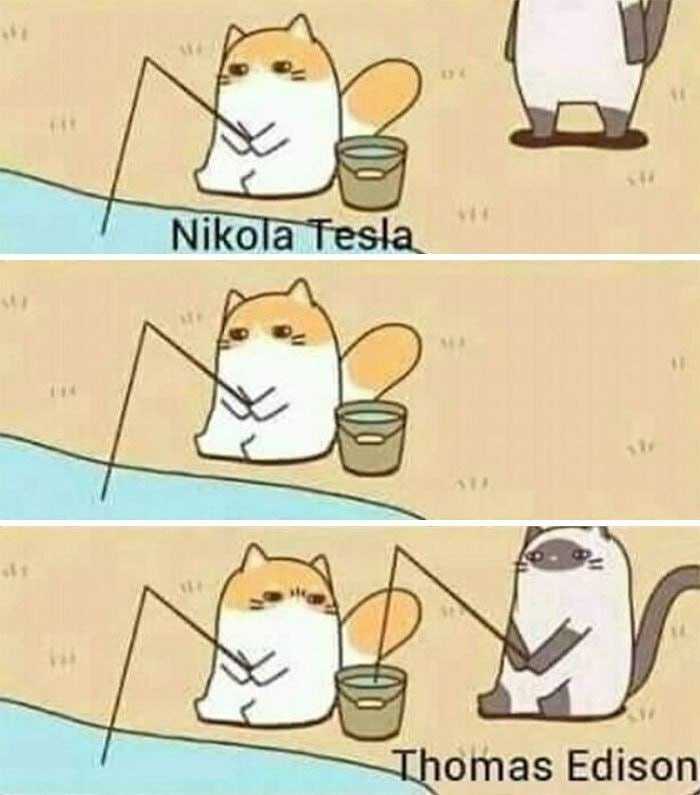 Random link from our Slack
Something about the future of AI and user interfaces. LLM Powered Assistants for Complex Interfaces
Random tweet from our Slack
The results of the world's largest trial of a 4-day week (with no loss of pay) are out:

▪️ No drop in revenue

▪️ 65% fewer sick days

▪️ 71% less burnout

▪️ 92% of companies decide to keep the policy after the trial

The conclusion is clear: we need a shorter working week.

— Nadia Whittome MP (@NadiaWhittomeMP) February 21, 2023
Random post in #cortisol 🥲 channel
Unfortunately the person we had in the company who was managing the fibery set up decided to leave and then the people who joined wanted to use more industry standard tools like Jira. not because the like them, buy mainly because they knew them.
Random posts in #dopamine 😍 channel
#1 Hi Polina! I did say that quite a lot in that past, but i never encounter in my 20 years of work a support team as good as the one of Fibery! A million thanks you just made my day!
#2 I previously used Airtable, Notion and Coda before I switched my two businesses entirely to Fibery. For me it is the only tool on the market right now with which we can build a single source of truth for all our info. It's flexible enough to do almost anything. And I really like the team's way of communication. They are open and honest (I think) and the support is blazing-fast 🔥
P.S. This post was written by a human without any AI assistance. 😅
P.P.S. Join Fibery Community! 🦊