We are sacrificing our old pricing model to the year 2020 and adopting this one instead:
We don't play that $99.99 game, you are welcome.
Free (gratis/бесплатно) for individuals.
$100 per month for a team of 5 (each additional user is $10 per month).
$500 per month for a company of 20 (each additional user is $10 per month).
Early-stage startups enjoy 1 year for free — see the details below.
Why?
Here is our thought process, simplified:
💪 Power users leveraging flexible domain, bi-directional linking, and other unique features get significant value out of Fibery and should pay more. Thus, the plans start at $20-25 per user.
🎢 When a new collaborator joins, they bring value to all current users thanks to the network effect. So we encourage inviting people outside of the "core" team by making it cheap — only $10 per extra user.
🏋️‍ By imposing no feature restrictions and no user segregation, we challenge everyone to become a power user and to get $25 of value for $10.
In the upcoming major release, we are positioning Fibery as an all-in-one solution for product companies. Here's what product managers pay for their primary tools today:


$25 per user per month with no feature restrictions doesn't sound that bad, right?
Software development, marketing, user research, and customer success teams are welcome in Fibery — not as guests, but as true collaborators. Do you really need to pay extra for siloed Jira + Confluence, Asana, and Dovetail?
And don't even start us on "why don't we just use Trello and Google Sheets?".
Old ➡ new
If you are a paying customer, your current plan will be valid at least until January 2023. Feel free to switch to a new plan at any time though.
If you consider adopting Fibery and prefer the current pricing, pay until December 31 to get an old plan: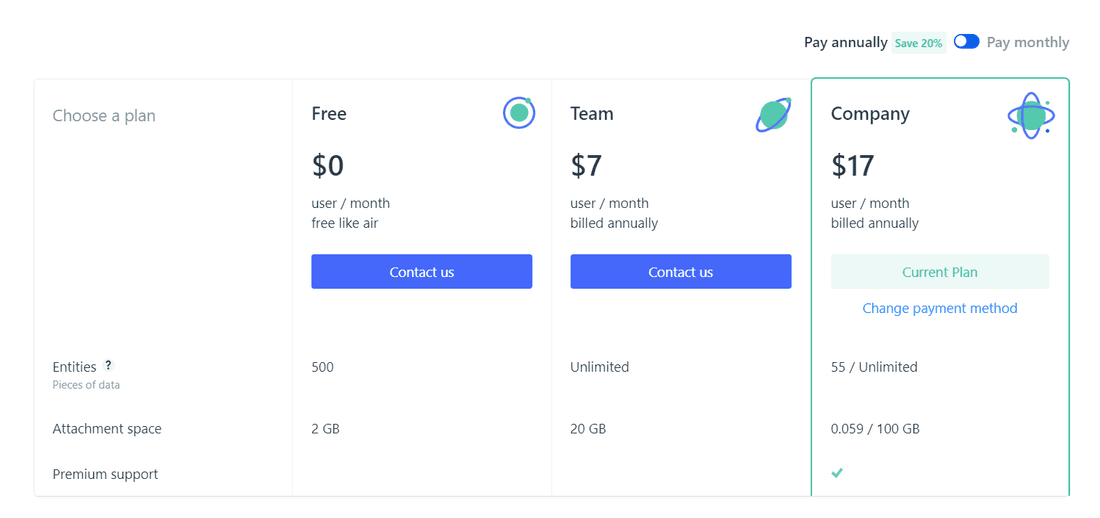 Not sure, which pricing works best for your company? Here's a quick summary:
Pricing: old → new

1 user:     $7 → $0
5 users:    $35 → $100
10 users:   $70 → $150
20 users:   $340 → $500  
50 users:   $850 → $800
100 users:  $1,700 → $1,300 
150 users:  $2,550 → $1,800 
200 users:  $3,400 → $2,300
The new pricing benefits individuals and companies with 40+ people. But what about early-stage startups? 😿
Fibery 🤜🤛 startups
Young startups are an important part of our customer base. No wonder: Fibery works really well when processes are a bit chaotic, and the team is really cross-functional.
As a startup ourselves, we understand that $100-$200 per month is no joke for an early-stage business. So here's the deal:
If your startup's annual revenue is less than Fibery's, enjoy 12 months of Fibery for free.
Currently, the figure is $150K a year — we'll update it monthly. Please apply here if you qualify.
It's always nice to have that extra runway, we know 😉
Q&A
If you have any questions regarding the new pricing, here is a discussion in our Community.