⤴ Our designer went to vacations, so I have to add my photo as a title image.
TLDR: Thinking about the Next Big Thing ⛰. Fibery for startups webinar 🚀. Fibery vs. ClickUp 🧶. Minsk office is closed 🤫. Share Documents and Entities 🔥. Group permissions 💪.
Flashback: #33. On Fire in May 2021.
Overview
While we're continuing Fibery improvements and releasing significant updates, we're also accumulating major problems and opportunities that we want to focus on in the nearest future (starting July 2021).
Insights are new Productivity
What is productivity? How to measure it? Is time-saving the only possible productivity improvement?
I think the productivity of knowledge workers is quantity and quality of insights. Indeed knowledge workers produce knowledge, and knowledge is powered by insights.
For example, how to decide what features are more important for your product? How to make a feature specification as easy to understand as possible? Misunderstandings are very expensive, they can lead to wrong technical and functional decisions. How to collect feedback from customers and process it to form new knowledge? Most companies just accumulate some feedback without proper segmentation. It leads to the wrong strategies and missed opportunities.
All knowledge-related problems are much more important than mechanistic productivity. Surprisingly, productivity vendors tend to ignore them and focus on easy things, like task tracking and notifications.
Pragmatically, we are thinking about the information connections. This is where Fibery is quite strong already since it has a relational database that connects structured information and bi-directional links that connect unstructured info. We may do even better here, improve connections and information mixing, and transform Fibery into a second brain for teams. Feature-wise it will lead to Entity View / Documents re-design with Blocks, new navigation patterns to explore connections quickly, and new collaboration patterns, like Chat in Fibery.
It sounds exciting 🔥, but nothing is decided yet, but we are thinking about it deeply and have many internal discussions.
Getting started improvements?
Another area that needs total re-work is getting started. We feel that Fibery is a powerful, but complex product. Quite many concepts should be grasped to understand Fibery and create something interesting in it.
Our previous idea was to hide Fibery complexity behind ready-to-use Workspaces. We created several workspaces for: Product Management, User Research, Startup, etc. It did not work as we expected and activation numbers did not increase. Well, Startup workspace is quite nice with 9% retention after 2 months, but Product Management is around 3%.
We understood that it was not a very good idea to hide complexity, since we hide Fibery power and flexibility as well. And when you don't see it, Fibery just becomes "yet another tool" that provides unclear benefits in comparison with other tools.
Fibery should not pretend to be easy, but encourage people to tinker and learn the major building blocks to build their own tools. Overall, it's built for creators and we should emphasize this fact, not hide.
—
Now back to Earth. In June we had a solid increase of active users, but a number of active accounts remains stagnant. It all reinforces our core problem in product marketing: activation of new accounts. Retention and up-sale is great, while activation is not.
Main numbers ( → sign shows the changes between March, April, May, and June):
Fibery. Build your company workspace with no code
Paid accounts: → 140 Active accounts: 280 → 280 → 280 → 300 Active users: 1.5K → 1.5K → 1.7K → 1.9K Team size: 22 → 22 → 22 → 22 Burn rate: $100K → $100K → $100K → $105K/month
MRR: $11.5K → $13K → $15.5K → $17K/month
Active accounts are increasing (slowly).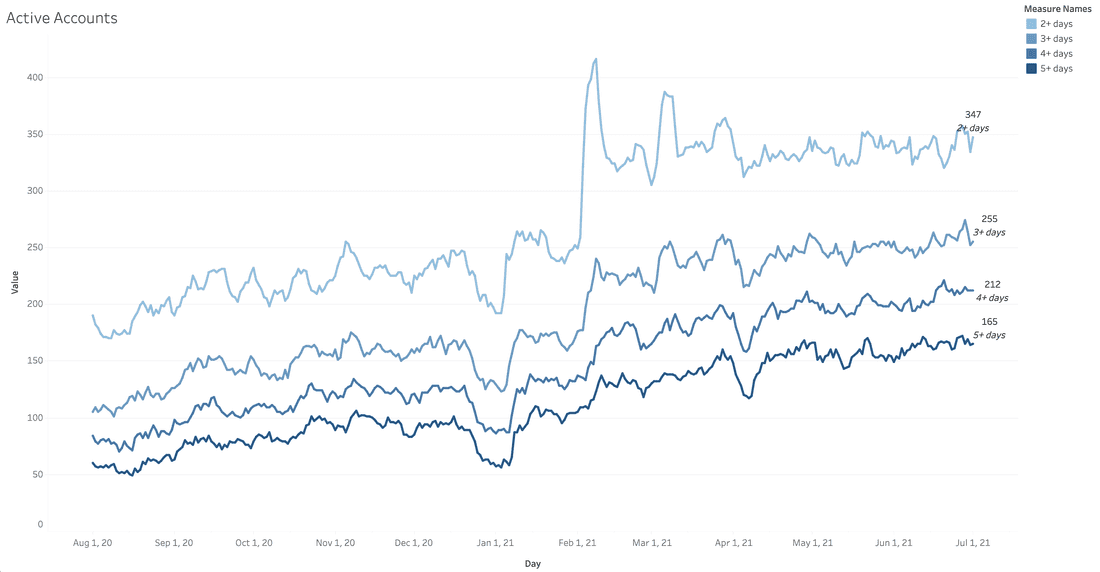 Daily and weekly active users are increasing (slowly).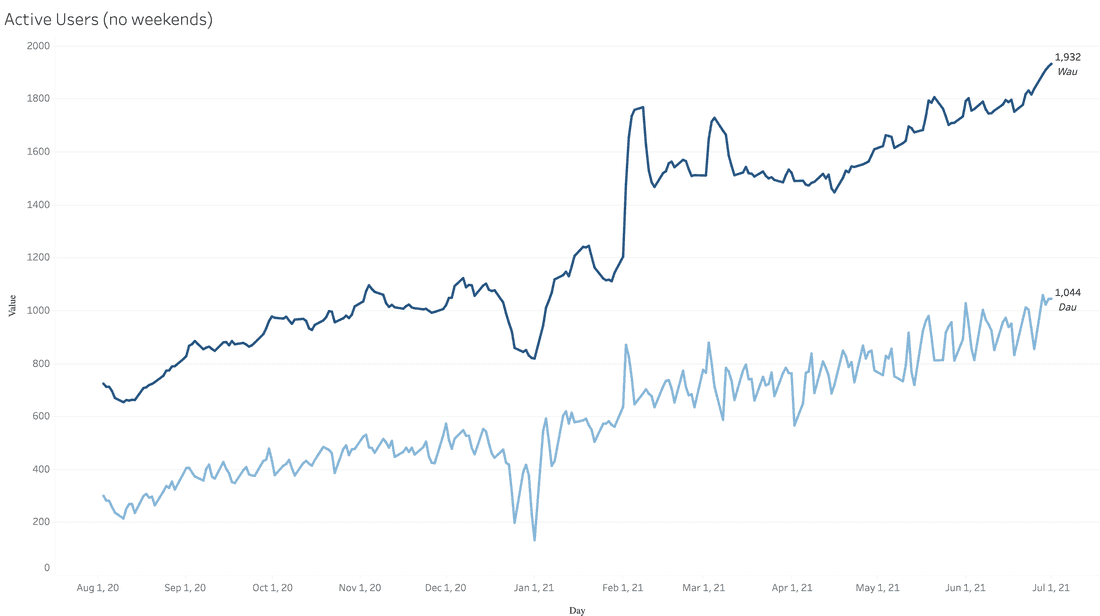 North Star is increasing (slowly):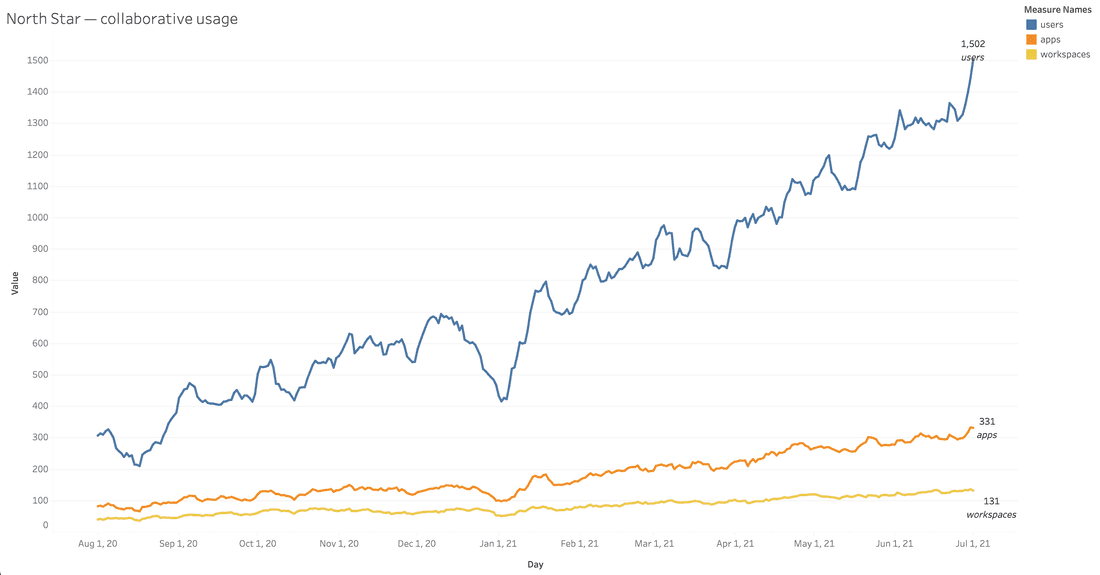 First 8 weeks retention is somewhere around 3%. Could be better.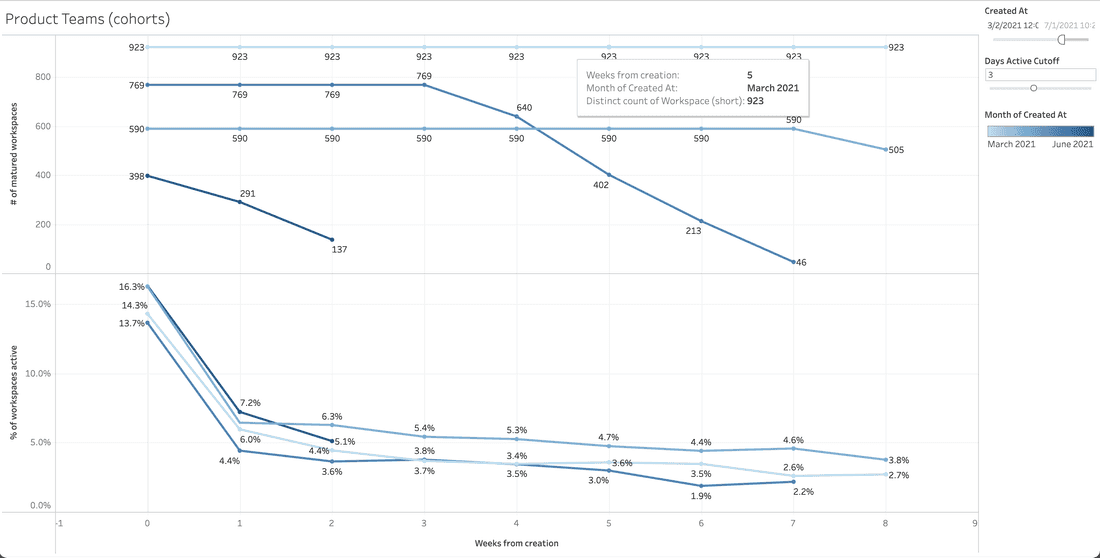 Website updates
Our experiment with the new Home page was not very good. The previous home page focused on no-code solutions, but we decided to change that and try to redirect users into specific landing pages for Startups, Product Teams, etc.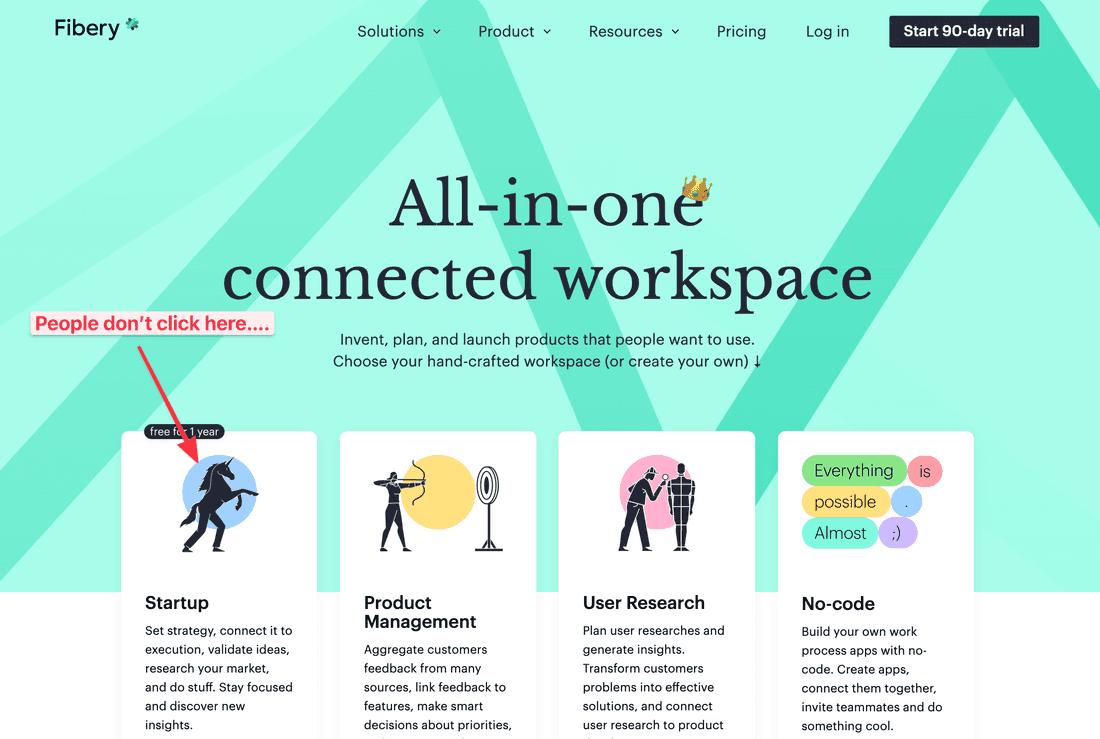 As a result, Leads conversion dropped by 30%. It appeared that people didn't visit these landing pages and just sign up from Home. The problem is that Home explains nothing and people don't understand what they will see after registration.
Now we are re-designing it again to focus on no-code solutions for teams (again).
Fibery for Startups Webinar
Our awesome Polina ran the new webinar about how to use Fibery inside a startup (and get the most value from it).
Fibery vs. ClickUp
I've written a detailed Fibery vs. Clickup article. Read it if you want to go into details — in my opinion, it's one of the best Fibery vs. X articles I wrote. If you don't have 18 mins to read it, here is the summary:
Fibery
---
🦐 Not so easy to start. Fibery demands patience.
💪 Flexible information organization
💪 Hierarchies are deep and easy
💪 Relations are powerful
🦐 Not so flexible permissions
🦐 Lack of some productivity features
💪 Whiteboard View
💪 Hierarchical List
💪 Powerful charts
💪 Custom Actions
💪 Powerful integrations that fetch all data
🦐 Integrations are one-way
🦐 No mobile apps
💪 Fibery is designed for complex problem


ClickUp
---
💪 Easy to start. Tasks and Lists are easy to grasp.
🦐 Limited information organization capabilities
🦐 Hierarchies are impossible to create
🦐 Relations are very basic and incomplete 
💪 Flexible permissions
💪 Many small productivity features
🦐 Limited formulas power
💪 Rich Edit is feature-rich 
💪 Form View
💪 Gantt View
💪 Map View
💪 Dashboards
💪 Flexible sharing
💪 Mobile apps
🦐 ClickUp is designed for complicated problem
Minsk office is closed
Few more people relocated from Minsk to Warsaw in June. Since we're becoming a fully remote company, we've decided to shut down the office in Minsk. Overall, when you have a bunch of people working together in an office, and a bunch of people working remotely, it creates bad unbalanced situations. Many decisions can be made in private conversations in the office and the remote part of the team can feel isolated.
Now we equalized all the people (and slightly reduced our expenses).
Product Updates
This month was quite productive and we delivered several large features that make Fibery much more powerful.
DONE
Share Documents and Entities
Finally, you can share documents and entities with people outside Fibery. Just find the Share icon in the top right corner.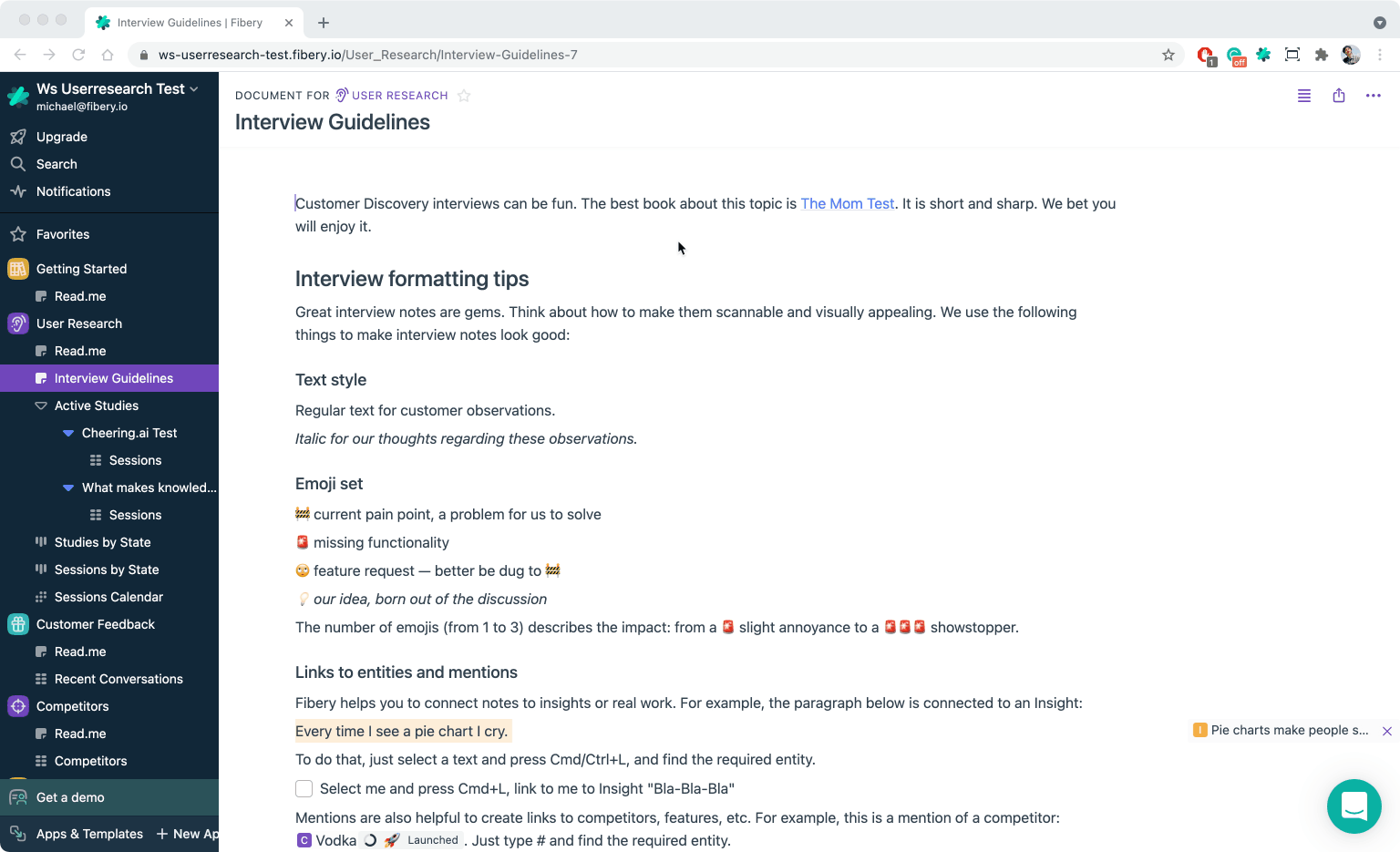 Group permissions
Thus far you had to give users access to Fibery Apps one by one, and it was a nightmare for any serious company. Now you can create Groups and assign people to Apps via Groups. Here is the post that describes our vision about permissions.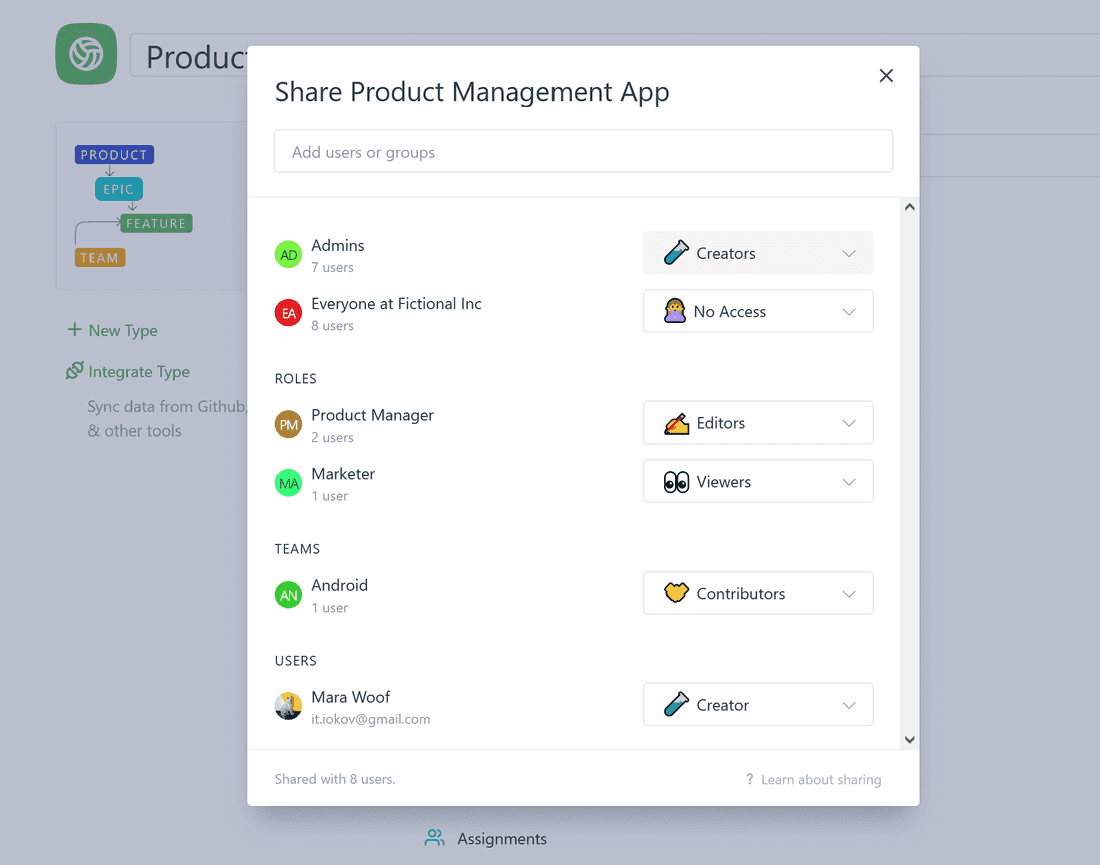 Formulas in Action Buttons
Actions Buttons are becoming powerful. In this release, you can use Formulas to set values in all fields. Just click the formula icon near the field and write your formula.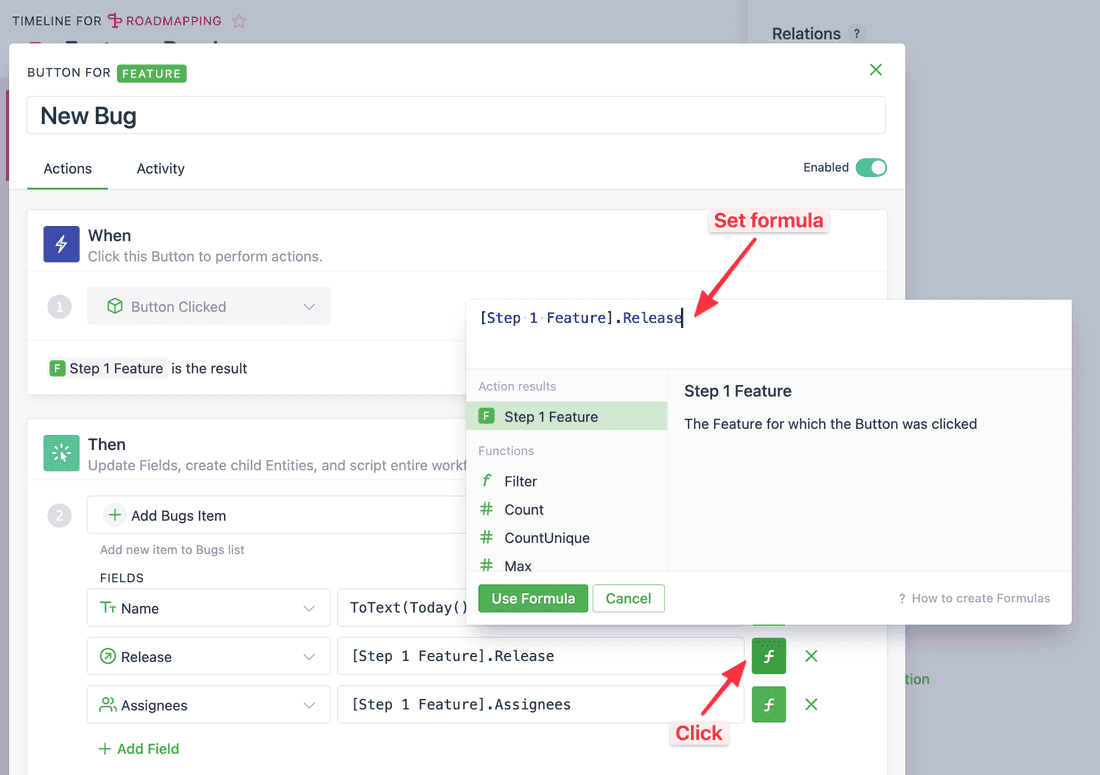 Money/Currency formatting for Number field
Format any Number field to display Money. For example, here we change an existing Number field to Money formatting.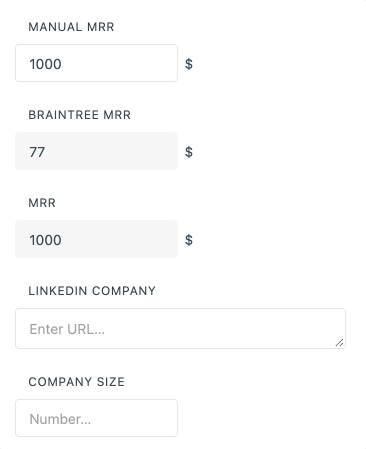 New Sync Template: World
We've created an App that contains all the countries in the world grouped by regions. It was a repetitive pattern for many customers, they had to create a countries list manually and populate it with pain. Now you can just install the World app and connect your data to Country Type.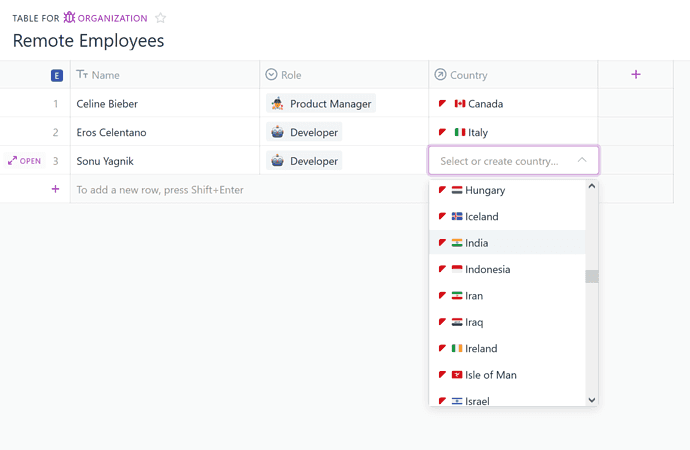 New Templates: Event Planning, Digital Video Production, Product Competitor Analysis
Three more templates were added. Enjoy them in Fibery:
IN PROGRESS
Documents / Rich Edit fields change history
It's almost ready, but there is no diff between versions. We hope to release it soon.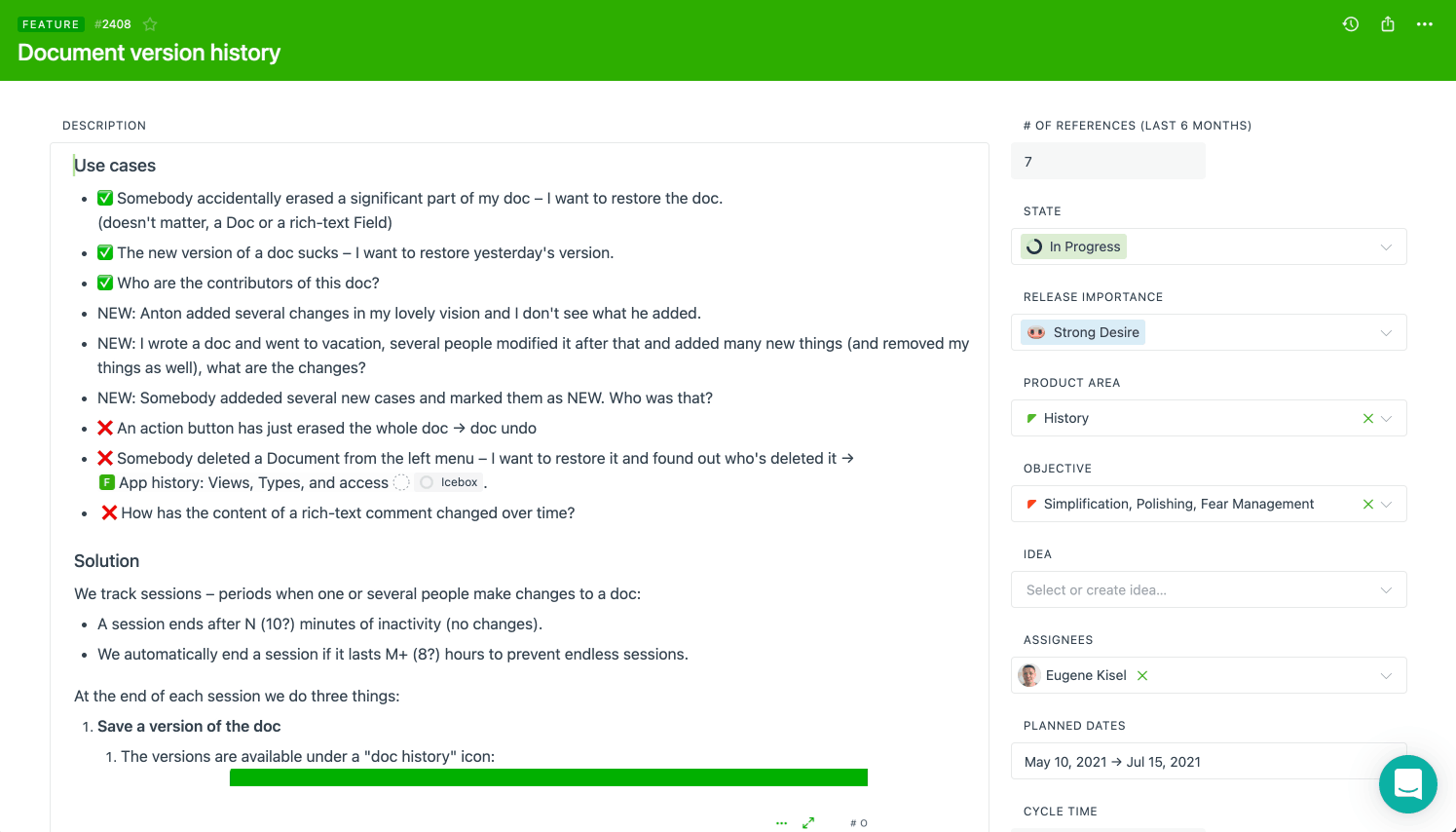 Release estimation: 1 week
HubSpot Integration
Fetch various data from HubSpot and link it to Fibery entities.
Release estimation: 2 weeks
Undelete App, Type, and Field
You can undelete entities, but can't undelete schema changes. Such operations are rare but very dangerous. In near future, you will be able to undo schema changes easily.
Release estimation: 3 weeks
Action: Send Email Notifications
We've released Actions just recently, and now making them more powerful. Send Emails was one of the top requests, so we are listening and implementing it.
Release estimation: 1 week
🥭 Random from our Slack
Random (not so) tweet
1/ Insights are new Productivity.

Most modern work management tools focus on productivity. Make things faster, collaborate faster, save time. It sounds good, but what is productivity of knowledge workers?

— Michael Dubakov (@mdubakov) June 9, 2021
Random link
The Internet Is Rotting. Too much has been lost already. The glue that holds humanity's knowledge together is coming undone.
Random image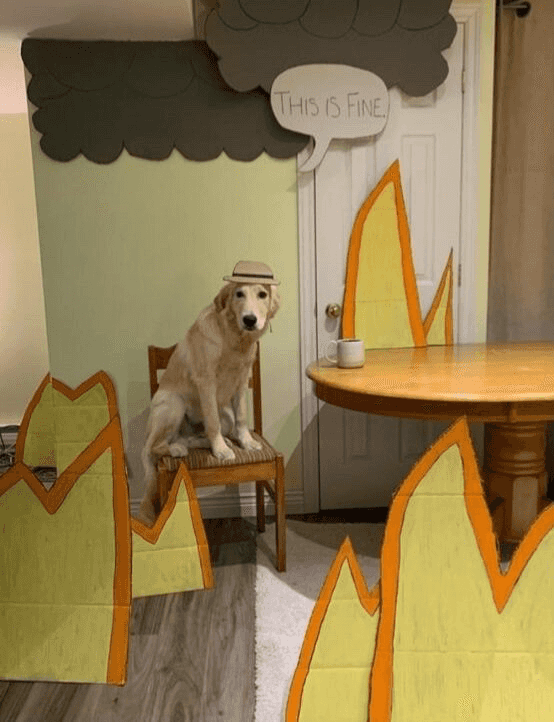 .
Random quote
"What's the right approach to new products? Pick three key attributes or features, get those things very, very right, and then forget about everything else"
Random dopamine feedback
Hey, first of all I absolutely LOVE fibery. Thank you and your team on my behalf please for creating this app! I have tried everything: airtable, asana, getgrist, retool, ragic… so many more and this is the best!
Random cortisol channel post
UnitComponent.type === "id"
              ? typeObject.publicIdFieldObject
              : UnitComponent.type === "title"
              ? typeObject.titleFieldObject
              : getFieldObjectByFieldExpression({typeObject, expression})
Few fresh posts from our blog