Usually posts X vs. Y are shallow. This post is not. As the Fibery CEO, I have to switch off the bias. Take this post with a grain of salt.
The major goal is to explain how Fibery is different and what strengths and weaknesses it has. ClickUp is an insanely feature-rich product. However, it's quite complicated. Let's dig something interesting together.
Productivity Rant
I have to start with a weird promise by ClickUp, since this promise pops up all the time: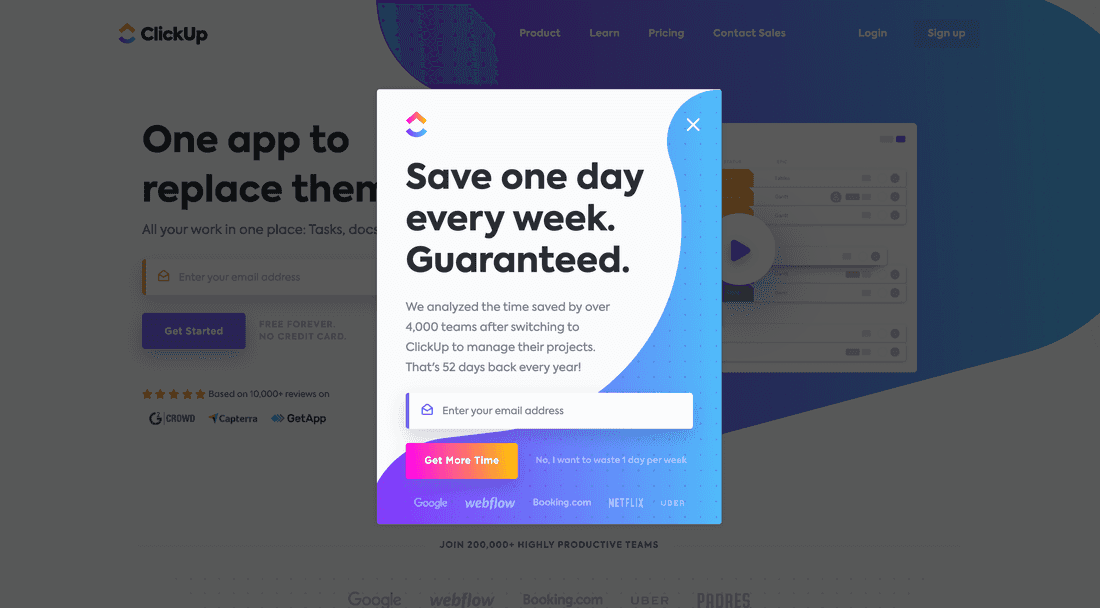 Unfortunately, this promise has no links to check, no research to verify. And my experience with productivity is very different. I know that productivity is extremely hard to measure. What is knowledge worker productivity? Time spent changing states of tasks? Time spent on time tracking? Time spent on creating new tasks? Nope.
Real knowledge worker productivity is quality and quantity of insights.
You can't measure a programmer's productivity using lines of code. You can't measure lawyer productivity by the number of won cases. You can't measure product manager productivity by a number of feature specifications. A programmer can spend a day figuring out a complex problem and fixing it with 8 lines of code. A lawyer can spend weeks on a complex case, digging into history and precedents, and then wrap it up in hours enlightened by a sudden aha moment. A product manager can throw out 80% of features and find a genius solution that makes the product fly. All these cases are powered by insights, not mechanical productivity.
Let's be honest. ClickUp and almost all modern similar tools (including Fibery, so far) pay little attention to insights generation and discovery. I think this "Save one day every week" is a false promise and moves our industry in the wrong direction.
[The rant is over]
General feelings
ClickUp most likely is the most feature-rich system I've seen. It has everything you can imagine: tasks, chats, email integration, forms, dashboards, integrations, automations, and 100s bells and whistles. Yes, it looks like a task tracking tool on a surface, but it's a complete one.
Another immediate thought is that everything is gray. There are so many low-contrast labels. I don't like it, since not all people have sharp eyes and a gray scheme makes a tool harder to use. Font sizes are also too small in many places.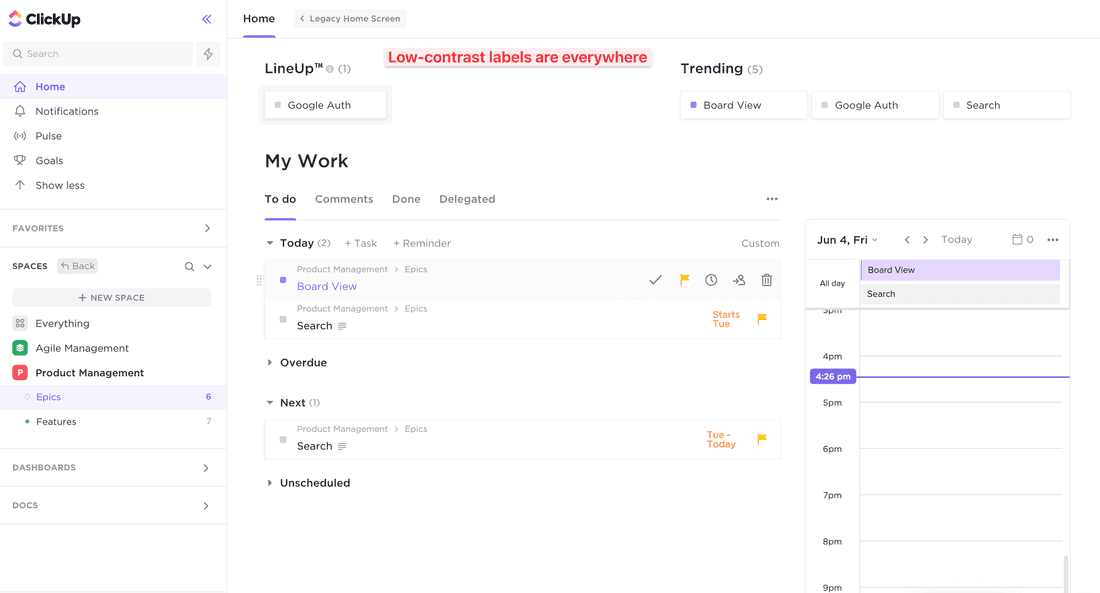 💪 ClickUp is fast and everything works pretty well. Getting started is awesome, if you check the first three videos, you will have a good understanding of how to get going.
Philosophy
ClickUp = Tasks
In ClickUp everything is a Task. You have higher-level structures to organize Tasks (Spaces & Folders), but in a nutshell, every work item is a Task.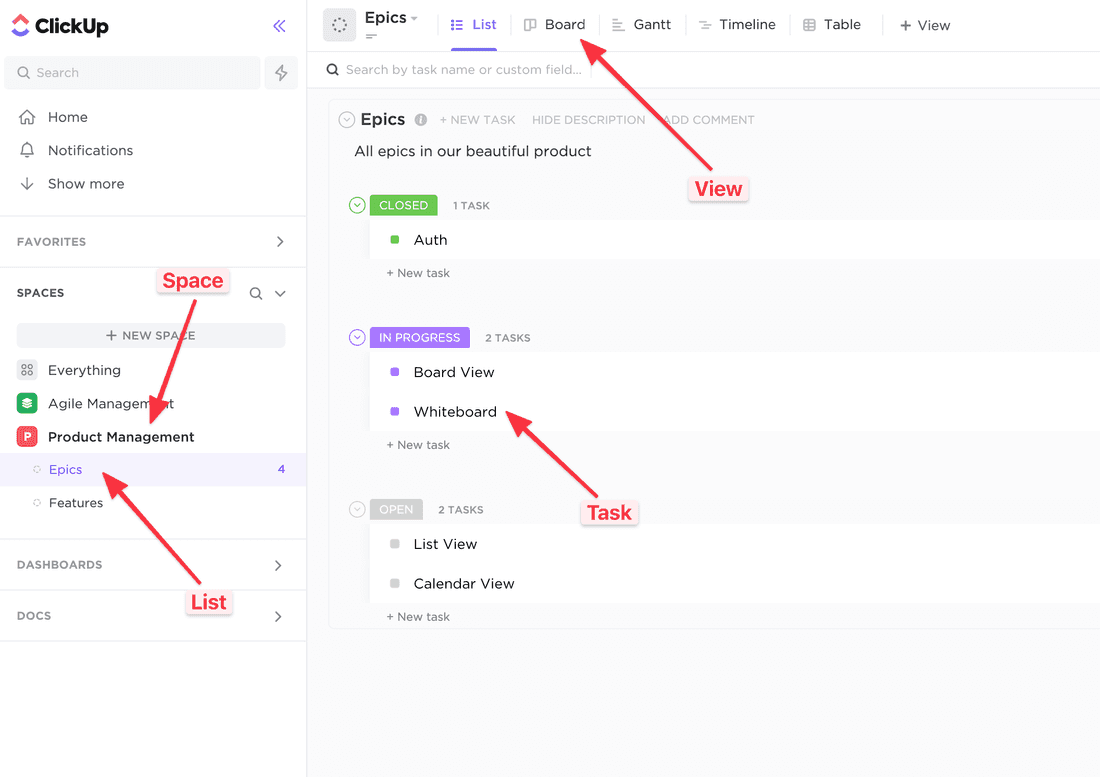 Here is an example. I've created a new List that contains product Epics. However, everywhere in UI, I see Tasks. You can get used to it, but it makes interactions less streamlined. Adding a new Epic? Add a Task. Adding a new Candidate? Add a Task. Adding a new Project? Add a Task.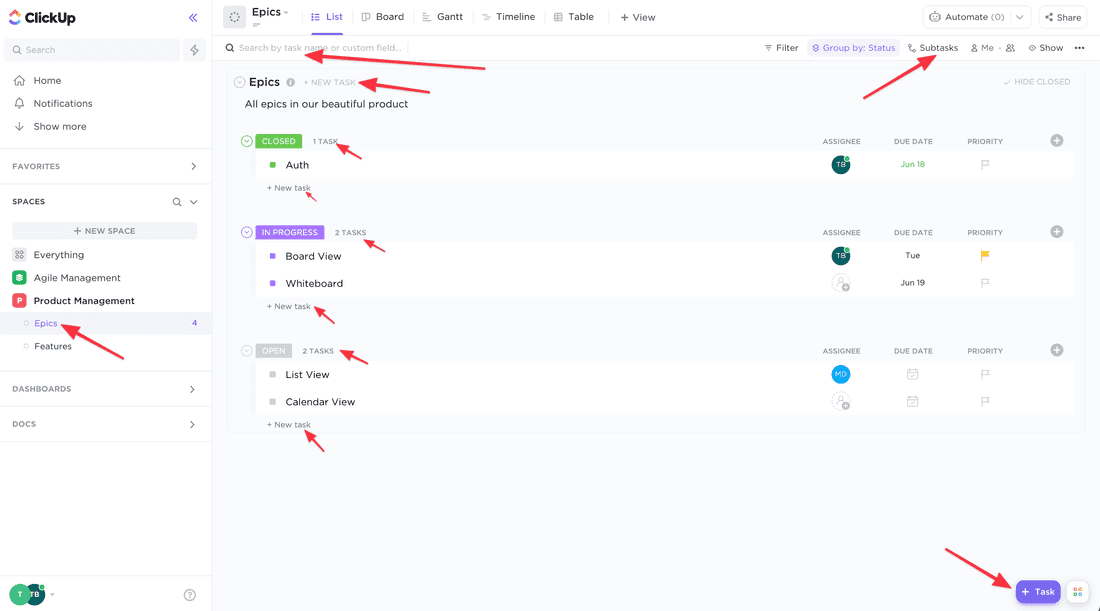 On the one side, you have a very simple basic model. OK, everything is a Task, but I can create Lists and inside these Lists all Tasks may have a different set of Fields, so my Epics will be different from Features. Then I can visualize Tasks using different Views, so I can have Epics Roadmap, or Epics Kanban Board. Pretty easy!
🦐 On the other side, you can't model hierarchies and processes in a nice way. It's not possible to have a tree view that shows Epics and Features. It's not possible to have a board that shows Features by Epics, etc. Connections and relations are not a strong part of ClickUp. For complex processes, you will have to live with many workarounds and suffer from a lack of good abstractions.
Fibery = Set of connected apps
In Fibery everything is connected. The main building blocks are App, Type, Relation, and View. Here is an example of a connected workspace for product development.
Note that Types can represent hierarchy (Epic → Feature) and such structures are more natural to work with than just Tasks. Adding a new Epic? Add an Epic. Adding a new Candidate? Add a Candidate. Fibery represents your team terminology and adapts to your process.
Translation sheet (as close as it can get)
ClickUp   —   Fibery

Workspace —   Workspace
Space     -   App
List      —   Type
Task      —   Entity
Field     —   Field
View      —   View
Let's create a space/app
We'll try to create a basic process in both tools. Let's take a simple Product Management process with Epics and Features. Epics are huge requirements that break down into smaller requirements (Features).
Our main cases here are:
Create hierarchical product backlog
Write features specifications
Create product roadmap
Split features to user stories and track execution
In ClickUp I created a Product Management Space and two Lists for Epics and Features. Epics and Features are connected via a relation, so you can link several Features to an Epic.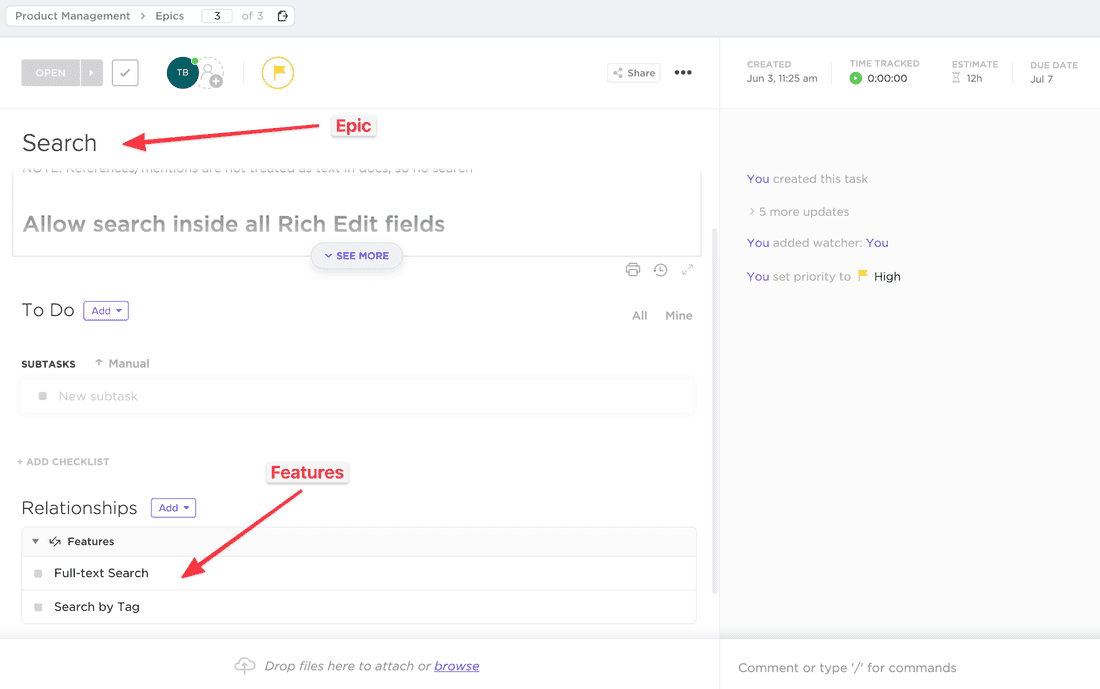 🦐 Unfortunately, relations in ClickUp are very basic (so far?). You just can add them and see them in a Task. You can't use them as lanes on boards, as groups in lists, access in filters and formulas. Relations are always many-to-many and all that leads to poor product hierarchies. It's not possible to have a hierarchical backlog and you will have to manage Epics and Features from different Views.
Views in ClickUp are very good. Board, Table, Timeline, List — all views are there and they are feature-rich: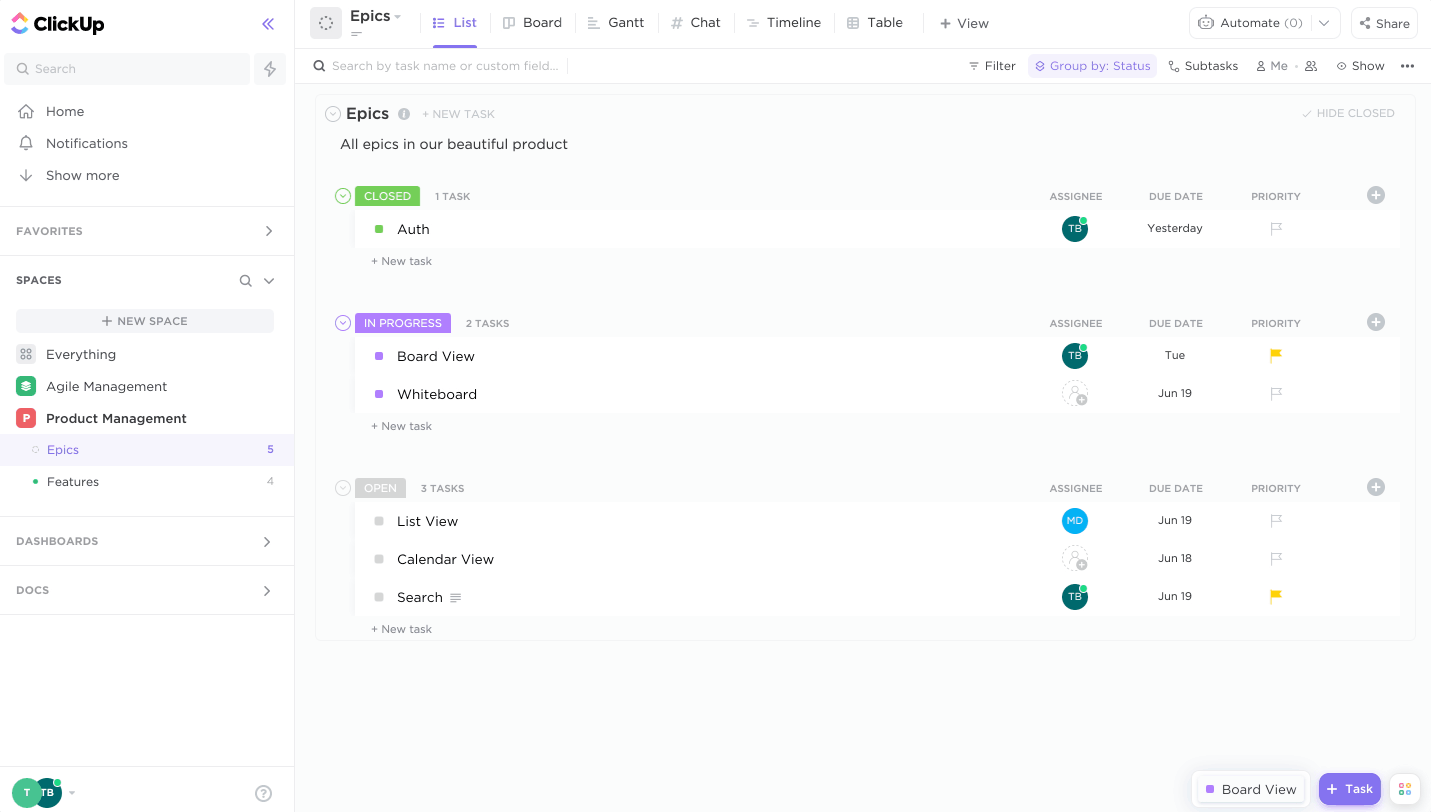 In Fibery setup is as easy as in ClickUp. You just add new Types, connect them via relation and create several Views to see all relevant information:
Note that in Fibery there are no restrictions with relations, so you can create a hierarchical backlog, group features by epics when required, and connect things better.
Create hierarchical product backlog
🦐 In ClickUp hierarchies are hard. You can't quickly create Epic and its Features. You have to add an Epic, open the Epic and add Features from there. It is quite slow: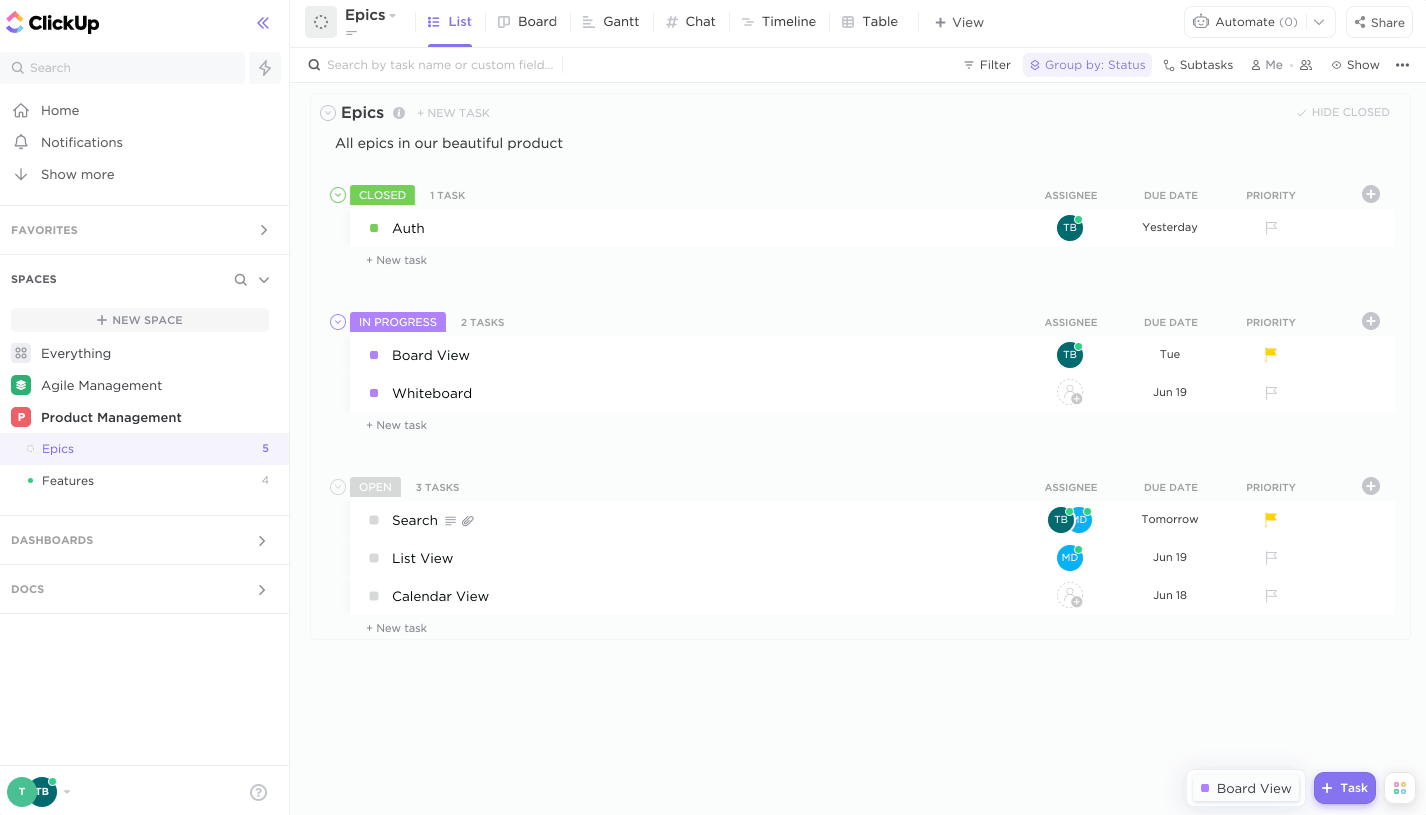 💪 In Fibery hierarchies are easy. You can add Epics and Features from a single View:
Epics/Features specification
Now I want to create a specification for an Epic. Usually, it's just a document with some images.
💪 ClickUp has a very rich text editor where you can do many things. And you can do this right inside a Task. This is good, many tools miss this opportunity to unite specification and work item.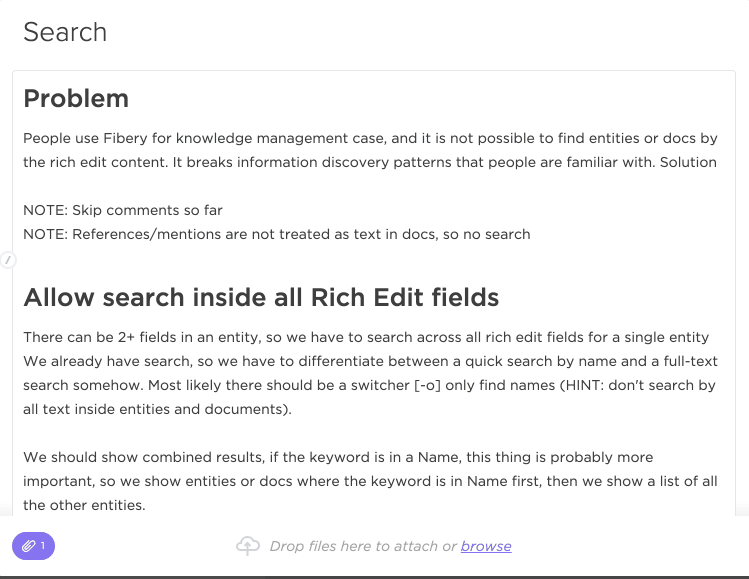 The only missing piece is inline comments. It's hard to discuss specifications with a single comments thread since you lose context.
In Fibery there are fewer formatting options and fewer embeds, but you can write decent specifications as well, all important things are there.
Create product roadmap
In ClickUp Timeline View is decent and you can create features roadmap, drag and drop features from the backlog, color code features, and filter them.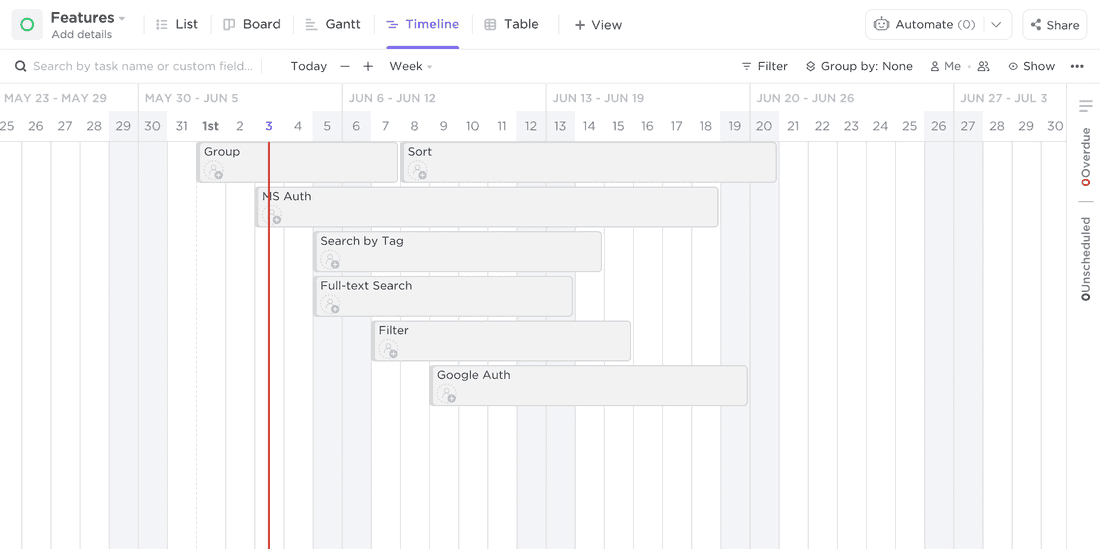 In Fibery Timeline View can be grouped by Epics, so it is easier to see what is going on.
I'd say ClickUp provides a very good experience for app creation and usage, but a lack of relations makes everything less intuitive and harder to use.
Building Blocks
ClickUp is a platform, let's review all building blocks.
Information organization
In ClickUp you have Spaces, Folders, and Lists to organize information (Space → Folder → List). Space can be a department, Folder can be a team, List can be a type of tasks or a specific phase of tasks. This structure is generic and quite flexible since you can assign permissions to Spaces, Folders, and Lists, thus controlling visibility and access level.
💪 In Fibery you have just Apps and Types. Types can form hierarchies, so you may have Department → Team → Features structure just from Types. The good point here is that you have a natural terminology. You are not adding a Space, you actually adding a Department.
Also, there is no depth restriction and cross-reference restriction. Let's say, you have two hierarchies: Department → Team and Portfolio → Project. You can assign a Tasks to a Team and a Project and see these Tasks in both hierarchies. In ClickUp this is not possible.
🦐 However, permissions in Fibery are per-App only, so it's harder to hide some information from other people. ClickUp is much better here.
Fields
ClickUp has all possible (it seems) types of fields: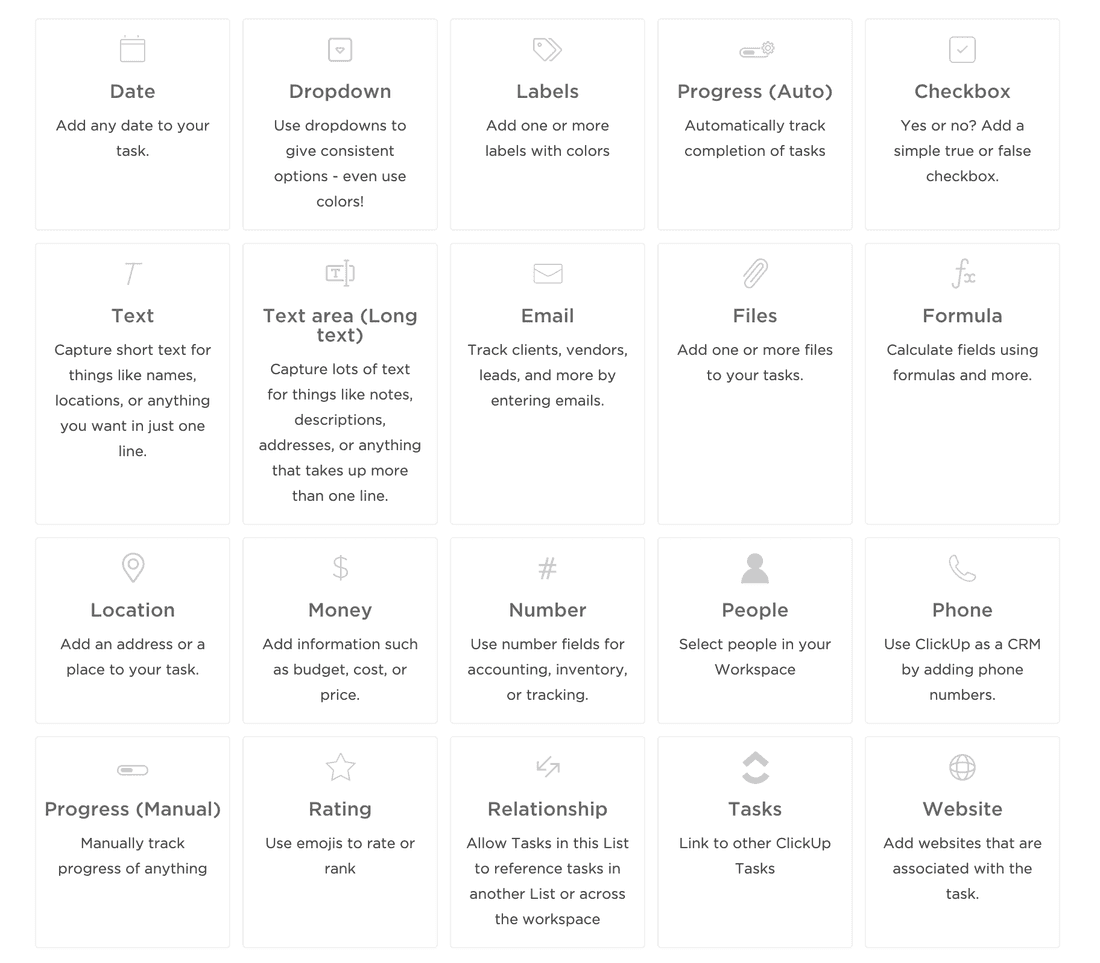 Fibery has no Location, Phone, and Rating fields.
Relations
Relations are the most underestimated thing in almost all productivity tools. I wonder why. Connections in our brain are super-important, all our knowledge lives in these connections. Why information should be different? I have no idea.
No vendors get relations right. Relations are weak in ClickUp, Notion, Coda, Asana, Monday, and Airtable. Airtable is close, but there are no relations between bases.
🦐 As you can guess, Relations are very basic in ClickUp, so you can't build hierarchies, cross-processes Views, and naturally reflect company structure.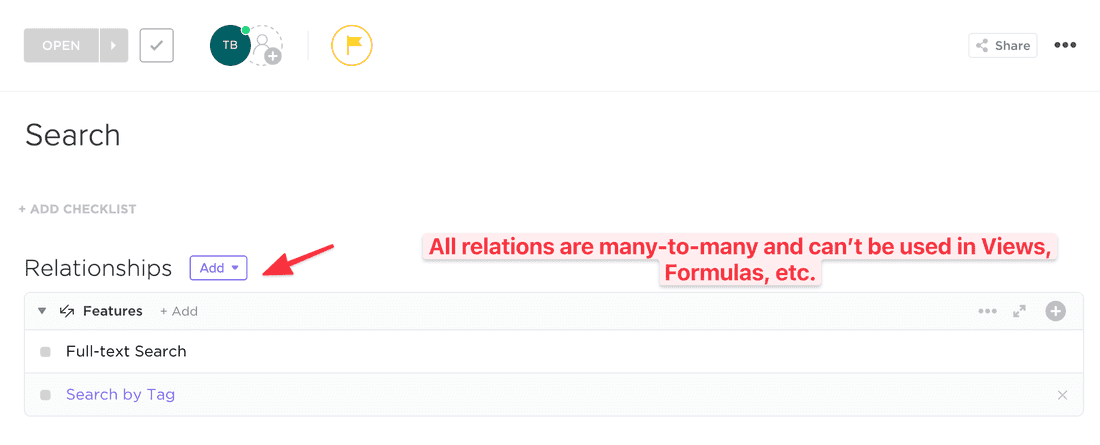 Bi-directional links are also there, but they are just links without any context. When you mention some task, a backlink is added to the Relations section.
💪 In Fibery relations are first-class citizens. You can create complex structures and use relations to visualize information, calculate formulas, build charts, etc.
Bi-directional links are more powerful as well. You can highlight any text and link it to any entity, thus adding a context to the link and helping generate insights:
Formulas
In ClickUp formulas are quite powerful, but you can only use fields from a single Task. It's understandable since there are no true relations. As a result, the usefulness of formulas is somewhat limited. However, you can calculate something on a Dashboard, which is very helpful.
💪 In Fibery formulas work across the whole hierarchy, so you can access fields of related entities, calculate values of collections, etc. For example, you can calculate the sum of Effort of all not completed Features:
Features.Filter(State.Final != true).Sum(Effort)
Views
💪 ClickUp has many views. I think in terms of Views it's the richest tool on the market. Here is the full list: List, Board, Calendar, Box, Timeline, Gantt, Workload, Mindmap, Table, Map, Form.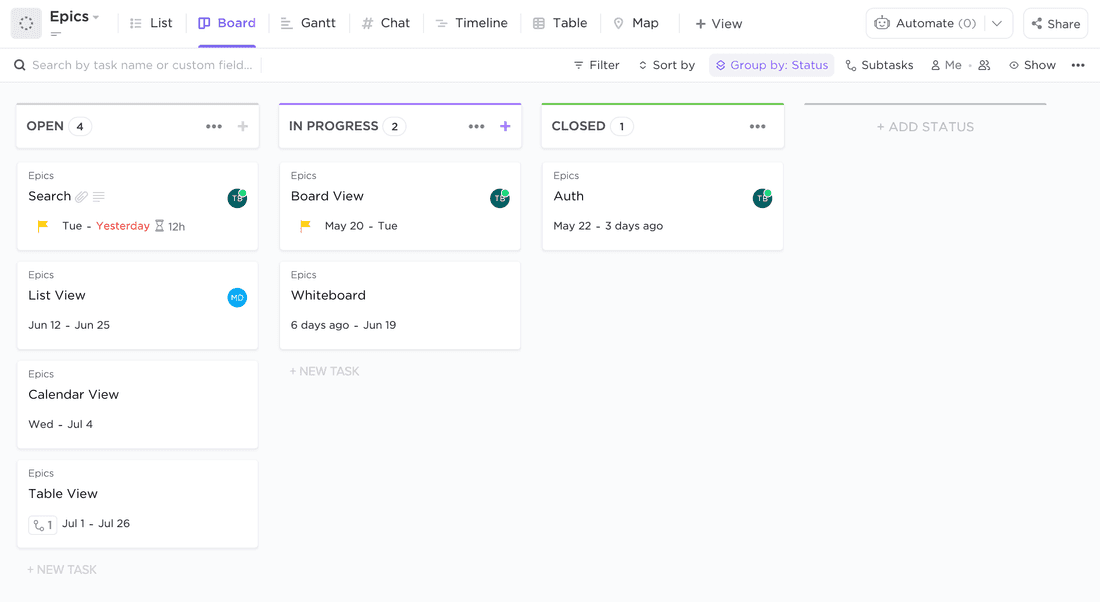 Fibery has slightly fewer views: List, Board, Calendar, Timeline, Whiteboard, Table, Form. Some views are more powerful. For example, List can represent deep hierarchies, Board can have horizontal lanes, Whiteboard is much more flexible and feature-rich.
ClickUp unique Views
Gantt Chart in ClickUp is pretty nice. You can visualize tasks and sub-tasks, create dependencies on the fly and control the critical path.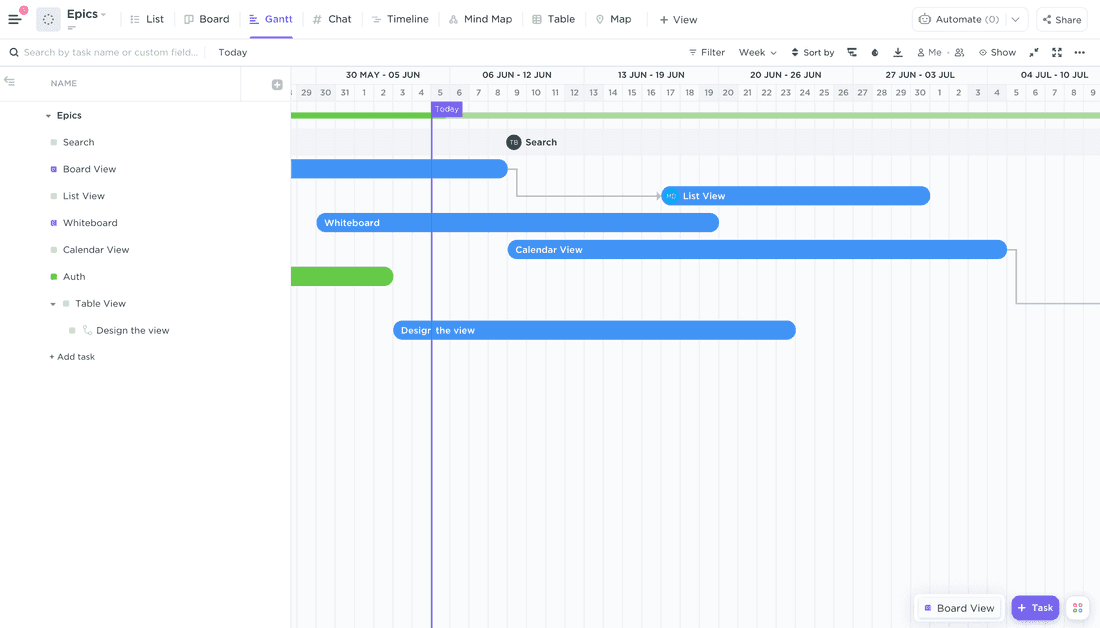 Map is super helpful to Geo visualizations. For example, you can show your customers on a map, or dealers locations.
Fibery unique Views
Whiteboard in Fibery is a flexible view to create various diagrams and mind maps (in ClickUp you can just create mind maps).
Hierarchical List visualizes unlimited levels of hierarchy. For example, here we can see a Product Area with all its Features, User Stories, and Bugs.
Reports & Charts
💪 ClickUp has decent Dashboards to visualize various information. There are many widgets, including charts, metrics, tables, etc. It is quite extensive, but the approach is complicated — there is no unified mechanism to create a chart, so you have to learn where to find all the charts and customize them for your needs.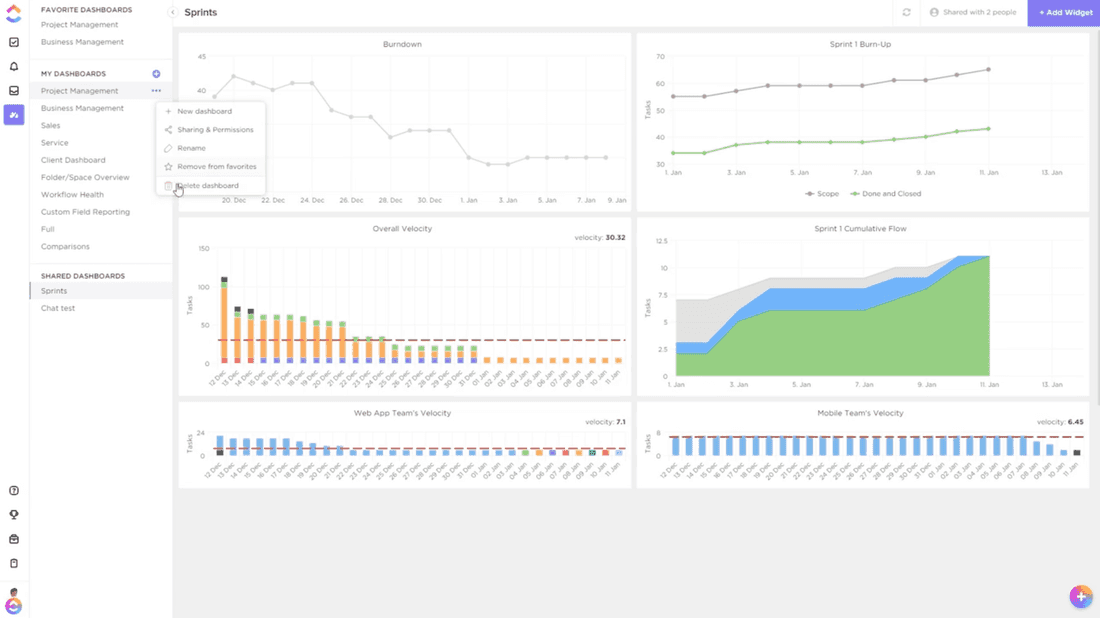 💪 Fibery has very powerful charts with a Tableau-like experience. You can visualize almost anything.
🦐 However, there are no Dashboards in Fibery, and you have to browse charts one by one, and this is not very convenient.
Automations
In ClickUp you can automate things via Automations in a List. It's nice and easy. You can also execute actions in external systems, like create an Issue in GitHub or send an Email.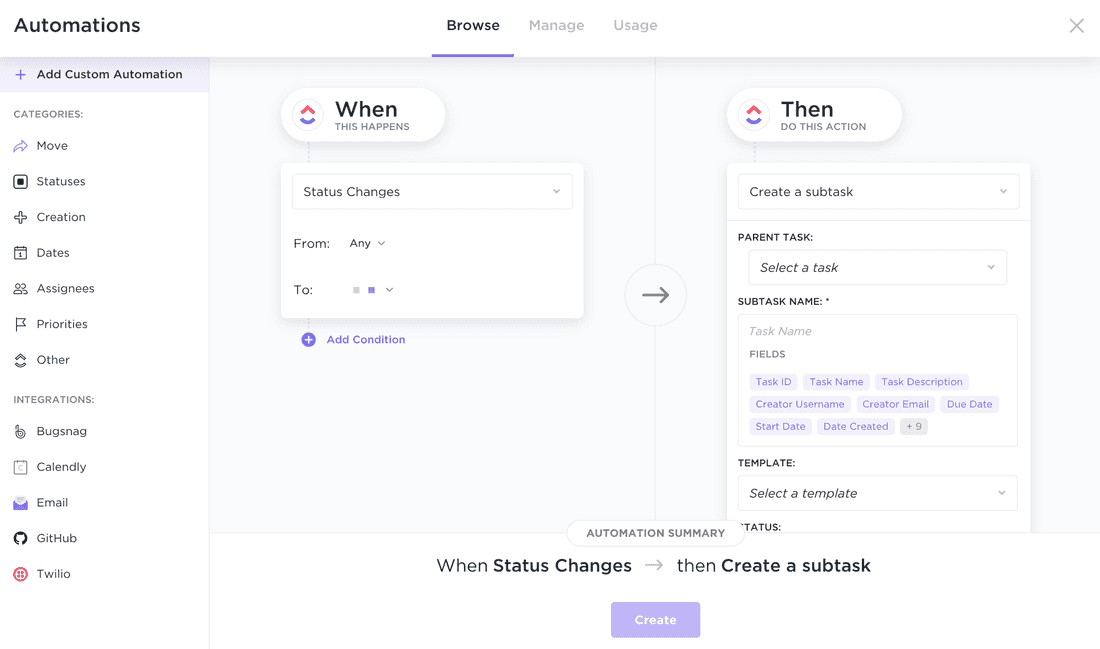 In Fibery you can automate things as well, by adding automatic rules for Type. Setup is very easy as well:
Action Buttons
💪 Fibery has Action Buttons, custom actions that you can execute manually whenever you see some entity. It might be handy if you want to do something, but there is no exact rule to describe when :) For example, here is the action that closes a User Story with all its Bugs and assign the User Story to logged user:
And here is how you can execute it from any User Story:
API & Integrations
ClickUp has two dozens integrations. I'd say all the most popular systems are there. Integrations are very different and there is no common pattern, ClickUp tries to support the most popular cases for every system.
💪 Fibery has a different approach to integrations. Fibery has a flexible domain. Fibery integration app replicates a domain of any external tool and fetches all required data. Then you can connect this data with Fibery entities and use it as usual Fibery data (Create charts, create Views, add formulas, etc.). It's a very powerful approach since it unfolds many useful cases:
Calculate real MRR for your Accounts (fetch Invoices from Braintree and link them to Accounts via relations)
Attach all feedback from Intercom to Features (fetch Intercom chats and use bi-directional links)
Attach all tasks from Jira to Features (fetch Jira tasks and link them to Features via relations)
🦐 However, data sync is one-way. You can't change the status of Jira tasks from Fibery, for example.
Both tools have a decent API, but Fibery has GraphQL API on top.
Public sharing
💪 Sharing is very flexible in ClickUp. You can share any View or any Task, and even select fields to be shared: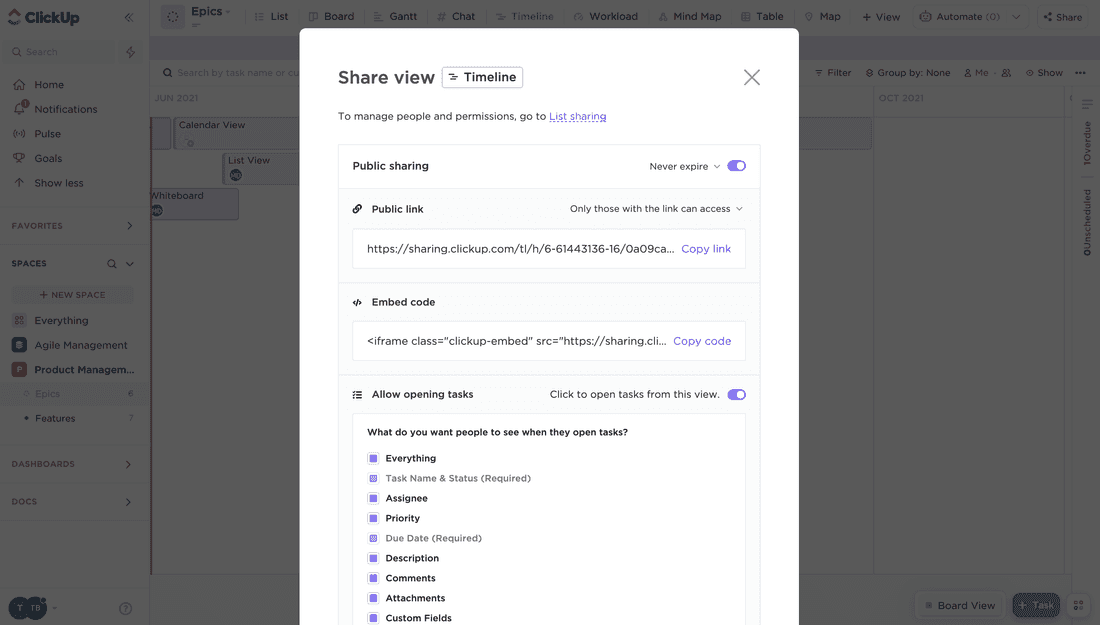 In Fibery you can share Documents, entities (like Task, Feature or Project) and Reports. It is not possible to share some Views (like Timeline, or Board).
Summary
Complicated vs. Complex
👆 Process management is a complex problem, it can't be solved successfully using complicated approaches. You have to embrace complexity and build a complex product.
A car is complicated while traffic is complex.
Here is the list of simple, complicated and complex systems properties: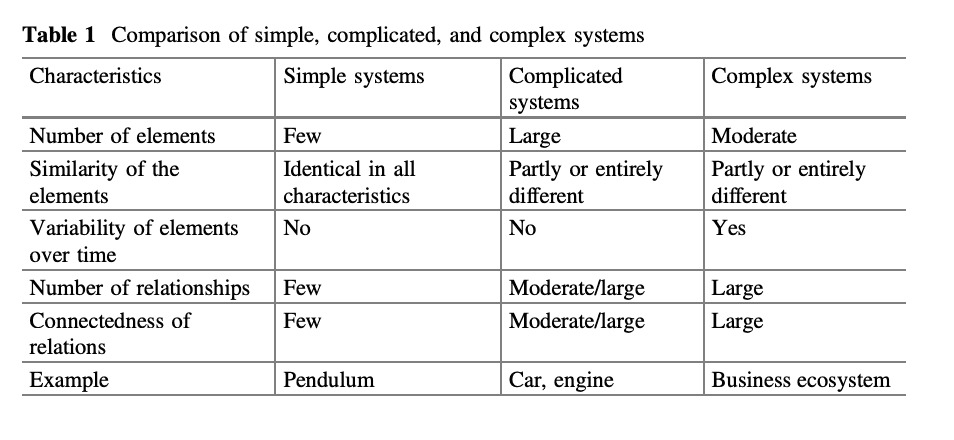 Three main properties of a complex system that we care about are:
Moderate number of elements
Elements variability over time is huge
Number of relations is large and connectedness is large
It means that a tool designed for complex process should have fewer building blocks (elements), it should be able to evolve and it should connects elements together and works with connections well.
ClickUp does not follow these rules. It has too many elements, it can evolve, but relations and connections are weak.
Fibery does follow these rules. It has fewer elements, it can evolve and relations are first-class citizens.
😈 ClickUp
ClickUp is a very powerful tool that can cover many processes. It's an all-in-one platform for the whole company indeed. However, it is a disconnected all-in-one platform. Lack of relations between Spaces makes it much weaker than it could be. ClickUp will have troubles scaling with the company's growth since Spaces/Folders and Tasks are not enough to represent the complexity of a medium/large organization.
Nevertheless, ClickUp will win the productivity space, in my opinion 💪. ClickUp has zero innovative features, all of them were seen in other tools. But ClickUp combined them nicely and created a complete productivity space for teams and small companies. Asana and Monday are older but less complete and much slower (already!). I'd say Monday is the closest vendor to ClickUp in terms of spirit and approach, but I think ClickUp will win the competition here.
ClickUp is designed as a complicated product. It adds all possible features into a single suite, but abstractions are not ideal in many cases (charts & dashboard widgets, integrations, tasks/sub-tasks, docs/rich-edit field, goals — all these things can be streamlined and collapsed into unified solutions). Relations and connections are very basic and can't support complex structures.
ClickUp looks quite easy to grasp and start working in. However, complicatedness will impede the company processes evolution and tool growth.
🐉 Fibery
Fibery lacks many features in comparison with ClickUp. However, it has the best long-term approach for information organization and can connect many processes due to powerful relations. In Fibery you can create deep hierarchies, connect processes, visualize cross-process data from different angles and reflect organization structure as precisely as possible in theory.
Fibery has a better basis to scale, but lack of features makes it an underdog in this space. It's hard to choose Fibery if you will compare it with ClickUp feature-wise. But if you believe in connected organizations, then Fibery will shine.
Fibery is designed as a complex product. It has fewer abstractions and tries to unify things. It has rich relations and back-links functionality. It leads to a slow start and a higher entry barrier. However, Fibery will help you create deep and powerful processes and support your organization's growth.
Fibery
---
🦐 Not so easy to start. Fibery demands patience.
💪 Flexible information organization
💪 Hierarchies are deep and easy
💪 Relations are powerful
🦐 Not so flexible permissions
🦐 Lack of some productivity features
💪 Whiteboard View
💪 Hierarchical List
💪 Powerful charts
💪 Custom Actions
💪 Powerful integrations that fetch all data
🦐 Integrations are one-way
🦐 No mobile apps
💪 GraphQL API
💪 Fibery is designed for complex problem


ClickUp
---
💪 Easy to start. Tasks and Lists are easy to grasp.
🦐 Limited information organization capabilities
🦐 Hierarchies are impossible to create
🦐 Relations are very basic and incomplete 
💪 Flexible permissions
💪 Many small productivity features
🦐 Limited formulas power
💪 Rich Edit is feature-rich 
💪 Gantt View
💪 Map View
💪 Dashboards
💪 Flexible sharing
💪 Mobile apps
🦐 ClickUp is designed for complicated problem