TLDR: Activation metric works 💪. Activation trend is not 🧘🏻‍♂️. Max joined the team 🇷🇺. Ilya is mixing things 🥦. MRR is growing ☀️. Outreach channel failed (again) 🌨. 770 bugs 🦐. Feed View 💂‍♀️. Experimental navigation you will enjoy 🍬.
Flashback: #39. Getting Started re-design in November 2021
Brief Overview
Life is still good 😎.
We have more good vibes around the product, more positive feedback, some people start to promote us on Twitter, and our Fibery community has 500 people already. It seems things are improving! ☀️
Activation metric results
We tried our best to find a good activation metric for Fibery, and we found it. It looks like 30 points in the first 3 days has a good correlation between purchases. Here is the list of the latest customers and most of them are activated.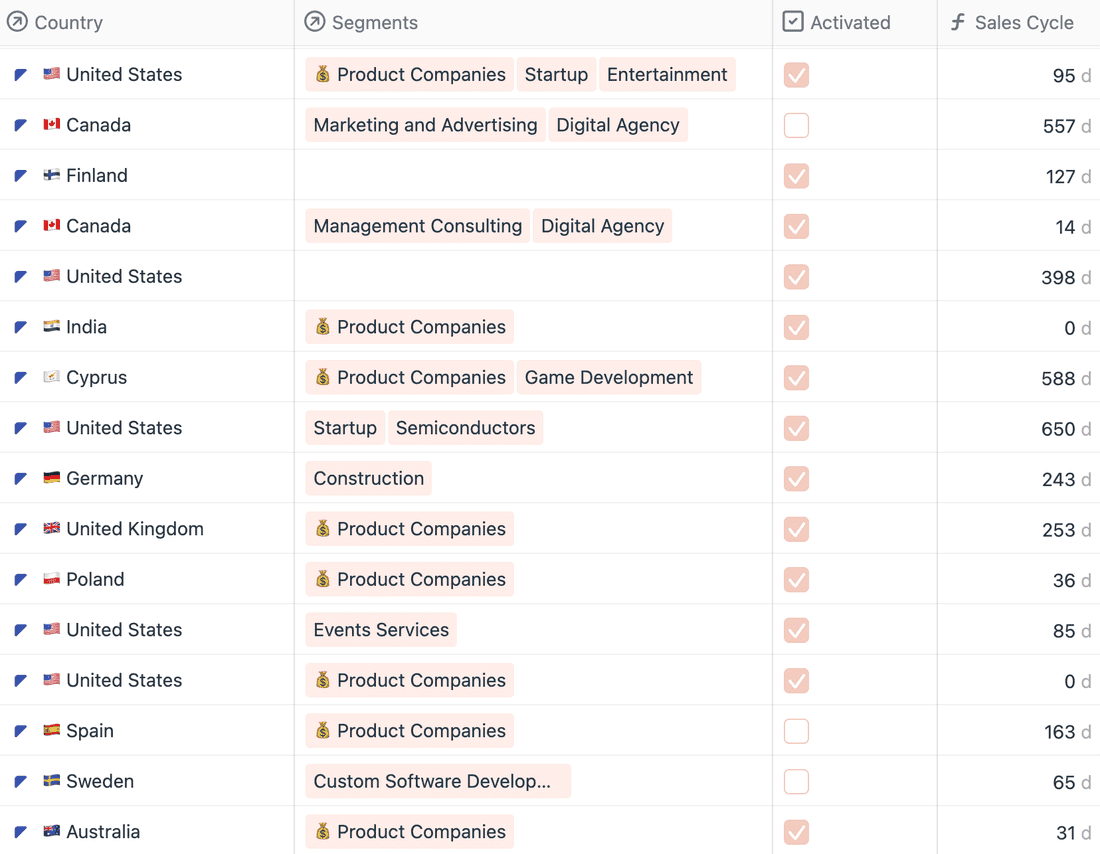 Unfortunately, our effort to increase the activation rate was not so successful. As you see below, in January activation is 12.5%. In the next few months we will not focus on better activation but pay more attention to new features, like Blocks and Permissions. And fix many bugs.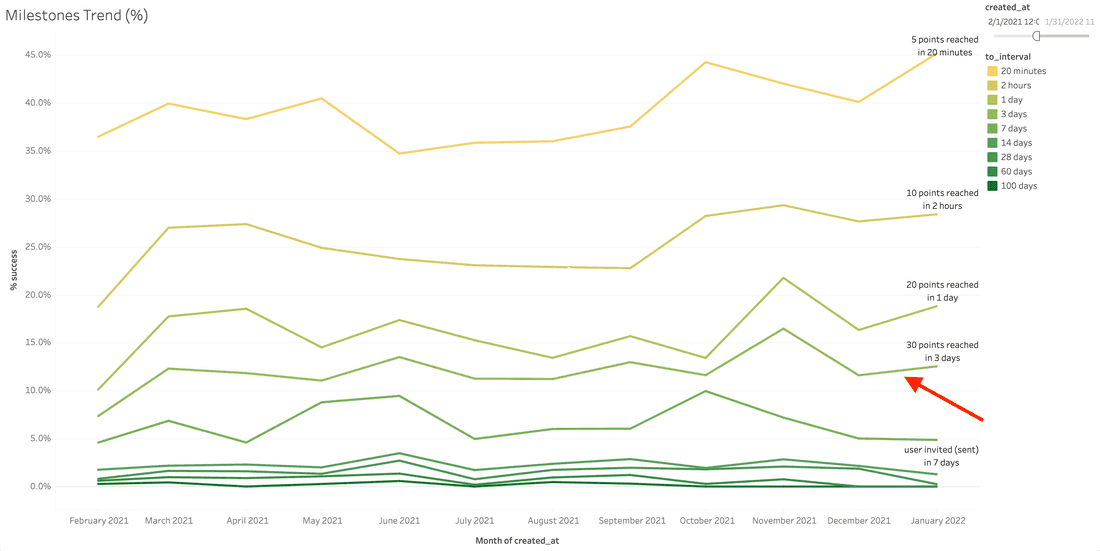 +1 Developer
Max Grebenshikov left Miro and joined Fibery last month. Max is a very experienced front-end developer. He lives in Perm, Russia 🇷🇺, so our remote team geography just extended! Max is very energetic and happily joined the complex Blocks initiative.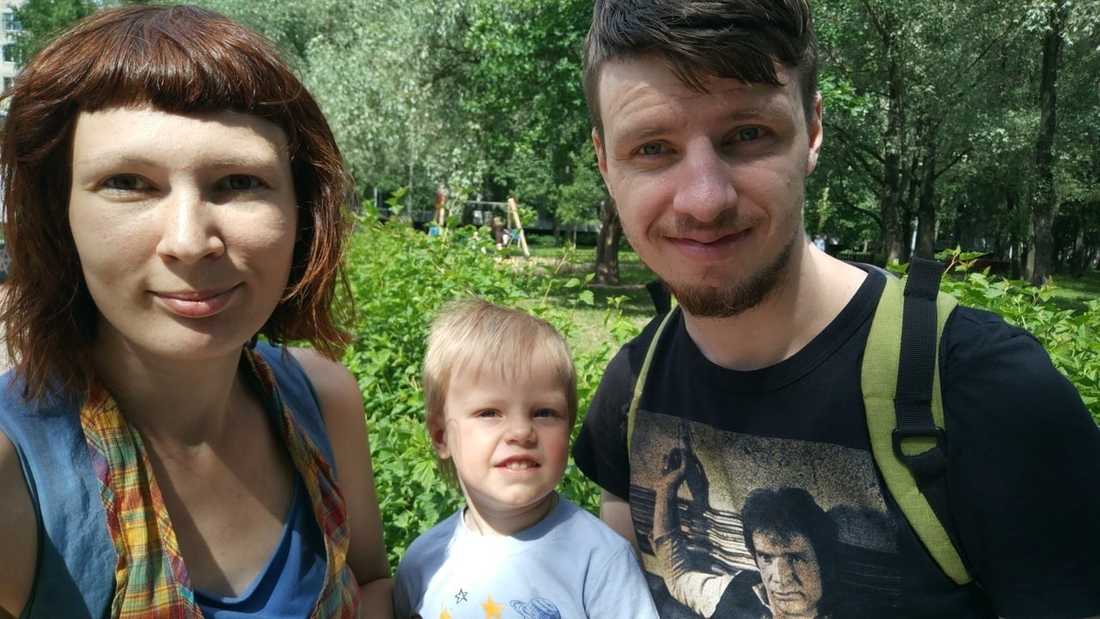 We are still looking for an Educator. If you can write and explain things, check the careers page.
Designers playground
Ilya got bored and tried to invent a new style for our website. He wants to mix photos of smiling people (to increase sales) with illustrations. Here is the first attempt: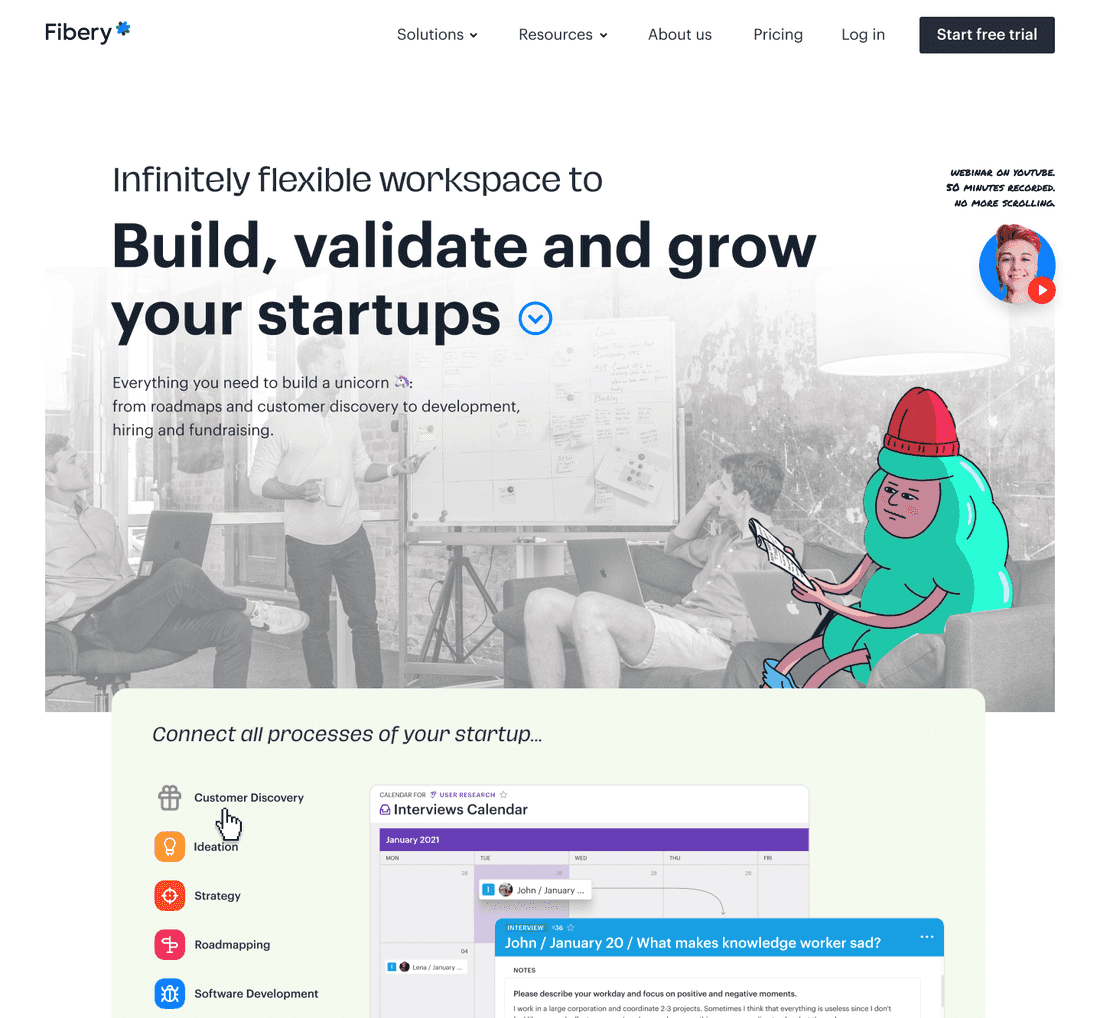 Internally it was met with mixed reactions. Most people liked the style, but few didn't. Now we don't know what to do (but Ilya does).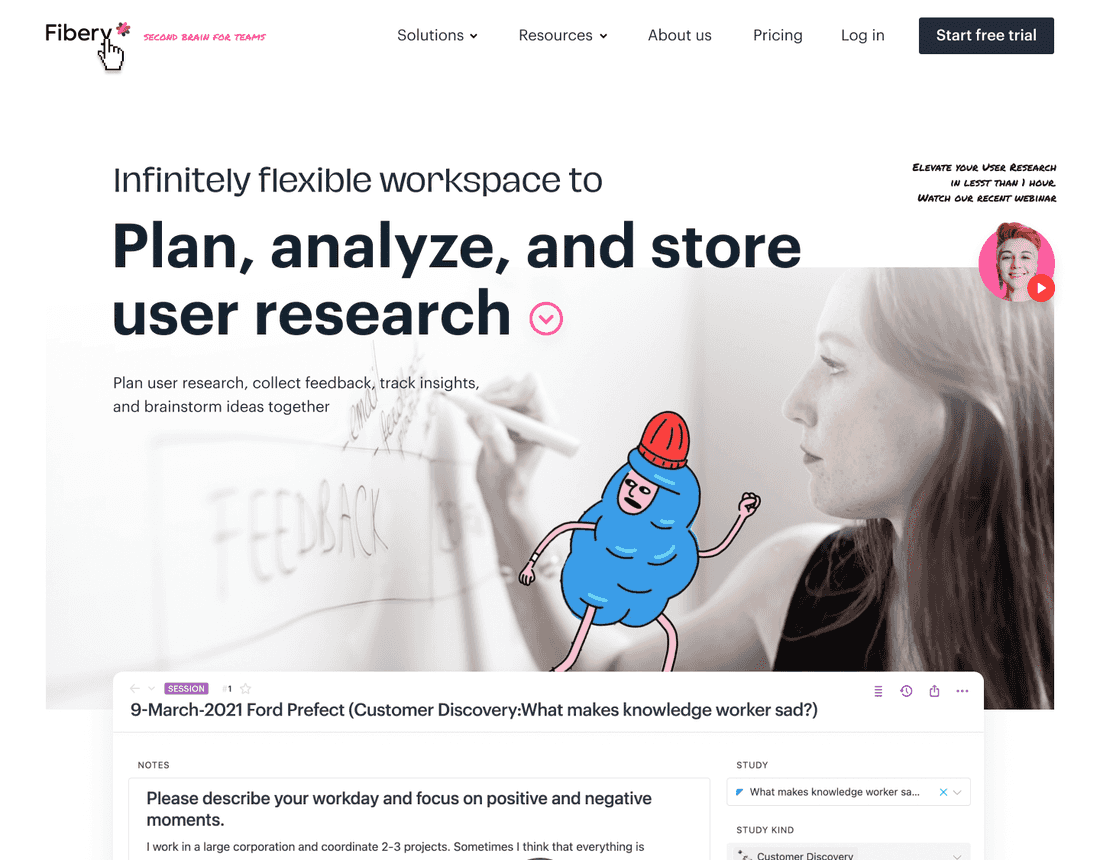 Experiment with another outreach agency. Failed.
As you know, we hired the second outreach agency to try the outreach channel. Communication was very good, but they struggled with the response rate. It was 2% initially, rose to 7%, but we only had like 4 demos in 2 months (and 1 conversion to a paid account 🌤).
With such numbers, we have low chances to continue the cooperation.
Metrics
We got our telemetry back. Here are the main numbers ( → sign shows the changes between September, October, November, and January):
Fibery. Build your company workspace with no code

Paid accounts:     155   → 150   → 155   → 160
Active accounts:   ?     → 350   → 380   → 420
Active users:      ?     → 2.5K  → 2.7K  → 3.2K
Team size:         23    → 24    → 24    → 25
Run rate:          $135K → $140K → $140K → $140/month  
MRR:               $20K  → $22K  → $22K  → $26K/month
MRR growth is stable but slower than we want. Our goal is to have +$5K MRR, but we have +$2K. Churn is still low, and even 2020 accounts have negative churn, as you see below.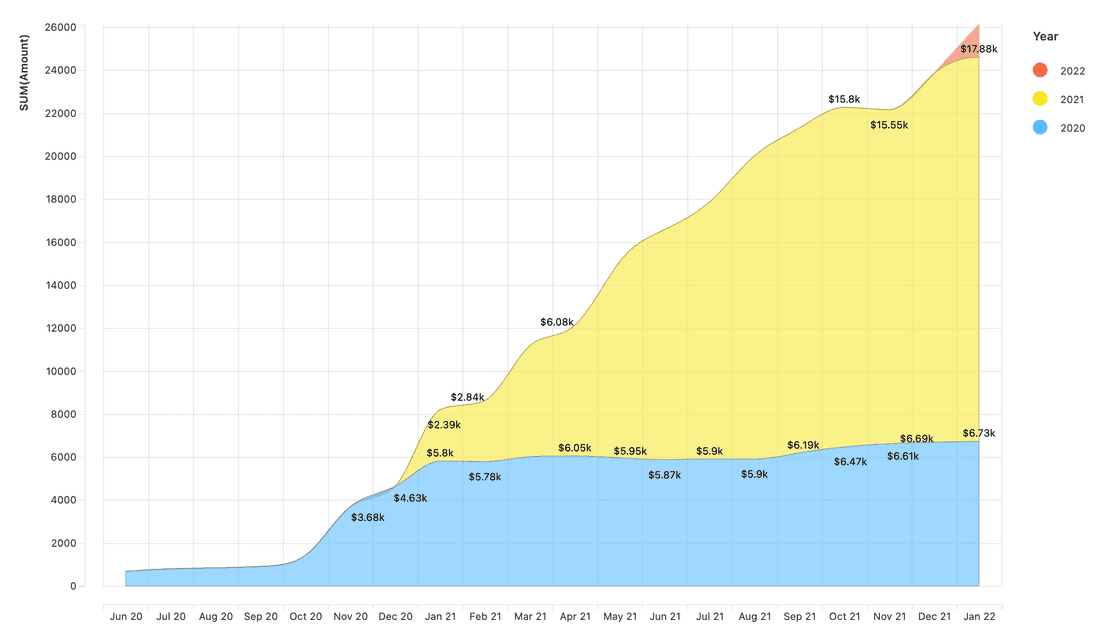 770 Bugs
This month I got mad and groomed 1000 bugs in our backlog. It appeared that 770 are still relevant. Now we have a good understanding of what product areas are the most buggy (Documents, Whiteboards, and Permissions):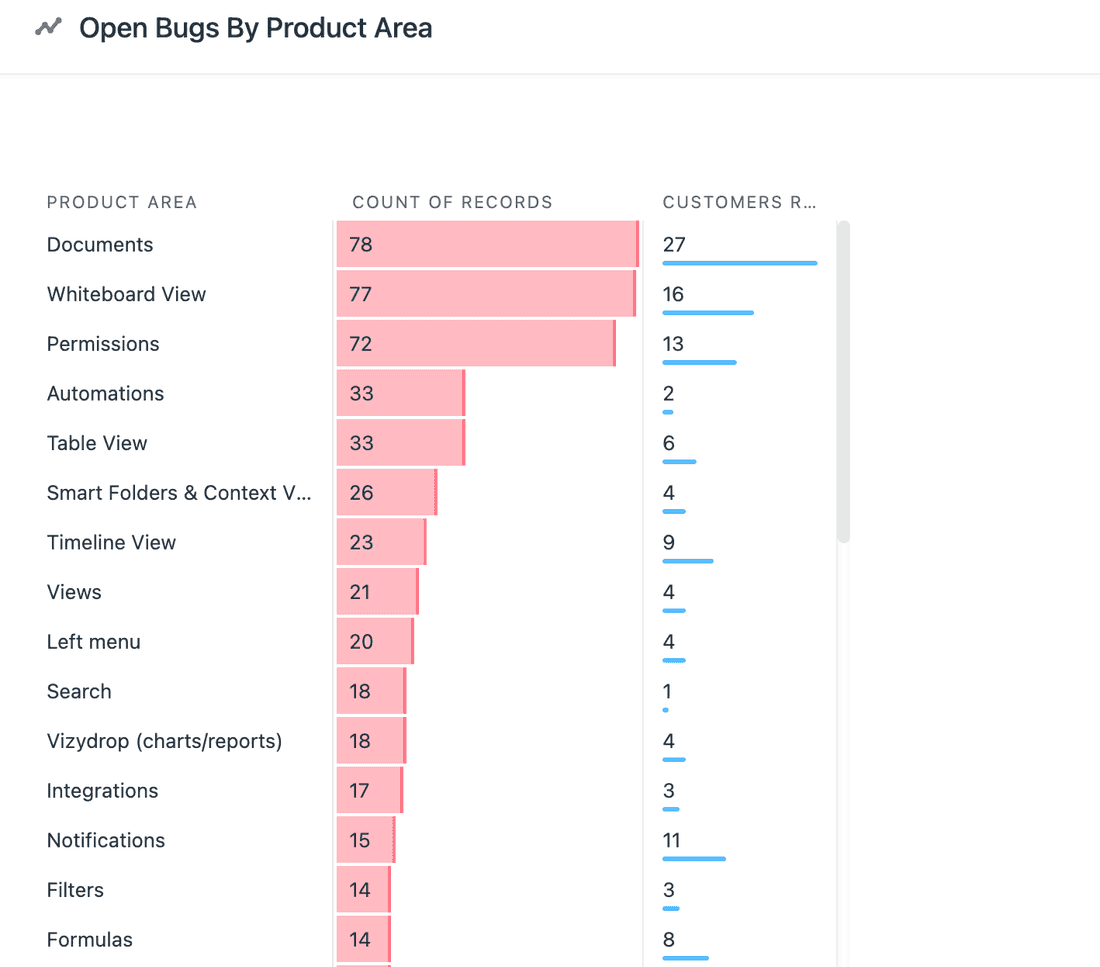 Now we want to reduce these numbers. Maybe we will have a Subbotnik (full week) to clean many of them. We don't have a good process to deal with bugs-debt, and now I feel we need it.
Product Updates
In January we had three new releases. Here are the highlights:
DONE
Feed View
Feed View is unique to Fibery, and it can be handy when you want to focus on the content of many entities, for example:
Read and tag a bunch of feedback related to a product/feature/customer
Read Daily Updates
Read Retrospectives results
We already use it to work with Use Cases and handle incoming feedback.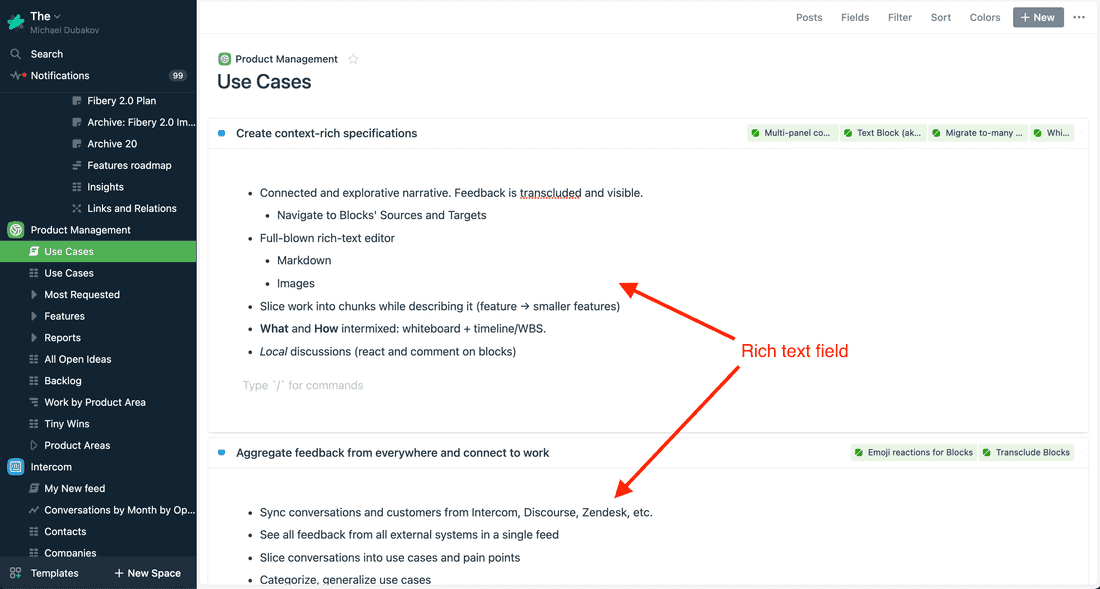 Export all the data
Now you can export all workspace data into Markdown and CSV files. It should reduce the fear level and help you feel safer or migrate to the other tool easier (not recommended).

Click to the top left menu, navigate to workspace settings and find the Export Workspace button. It will initiate exporting process and you will receive an email with a link to an archive. Note that export may take up to an hour if you have 100K entities.
Jira Server Integration
We know that people migrating to clouds, but many companies still use Jira Server. Now you can connect your Jira Server account to Fibery and export all the data (or sync all the data). Find Jira in the Templates → Integrations section and go ahead.
New multi-panel navigation (experimental)
You can already try the brand new multi-panel navigation. Find Experimental Features in the left menu and enable it. It makes Fibery much easier to work with: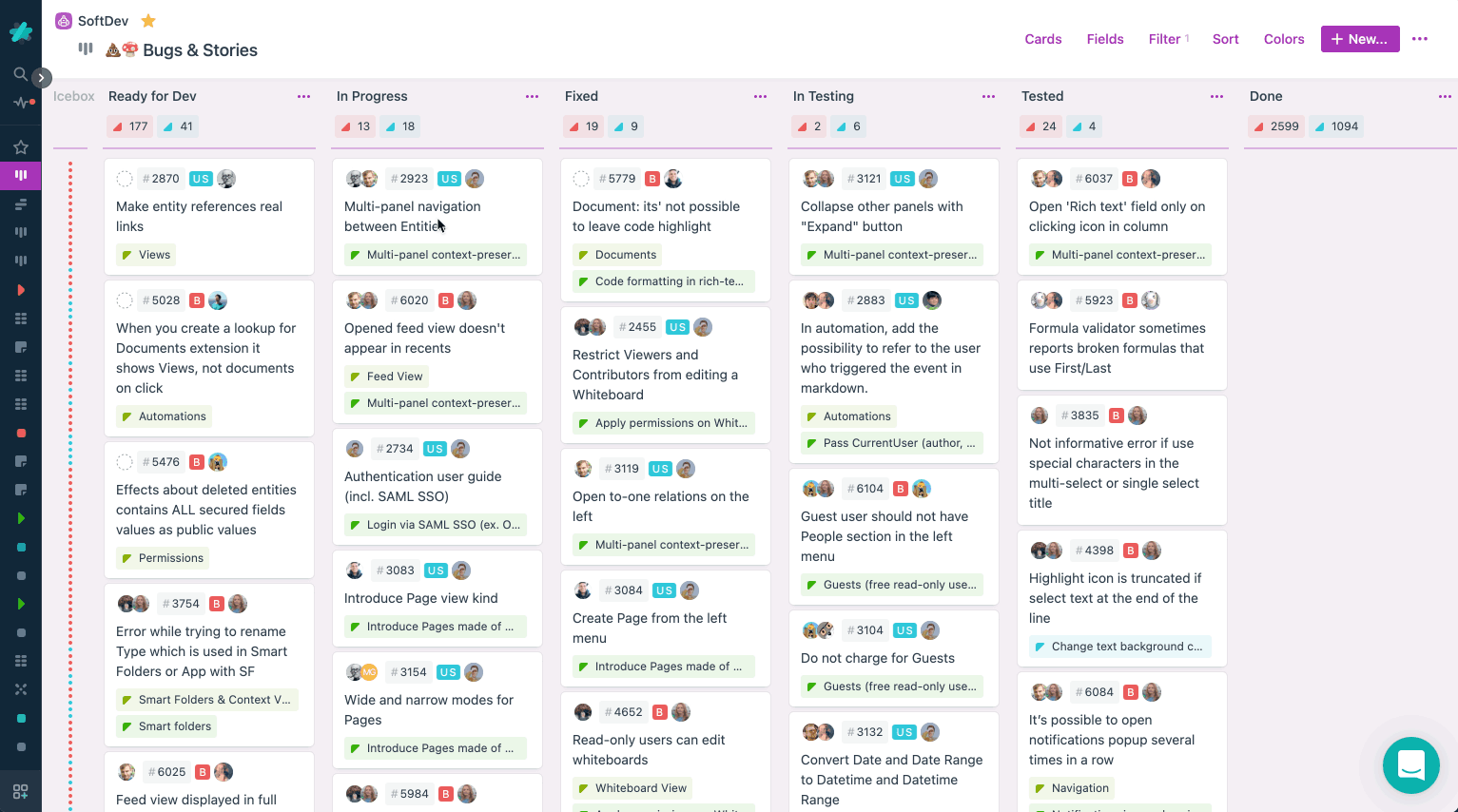 Here is some feedback:
The multi-panel is absolutely amazing and we can now work in fibery with 1 tab open instead of several! now if we could minimize tabs to get back to later, we'd have perfection. But even as is, it's an amazing improvement, love it!
Love the multi-panel navigation :smiling_face_with_three_hearts: It's much faster for me now to navigate into things, and it's especially useful with the snappy navigation back and forth between collapsed panels on left and right side!
IN PROGRESS
Blocks in Entity View and Page
Blocks are close to the first release. Most likely in a few weeks, we will enable them as an experimental feature. In the first release, it will be possible to add Pages with text and view blocks. We are building the infrastructure and will speed up with more blocks after that.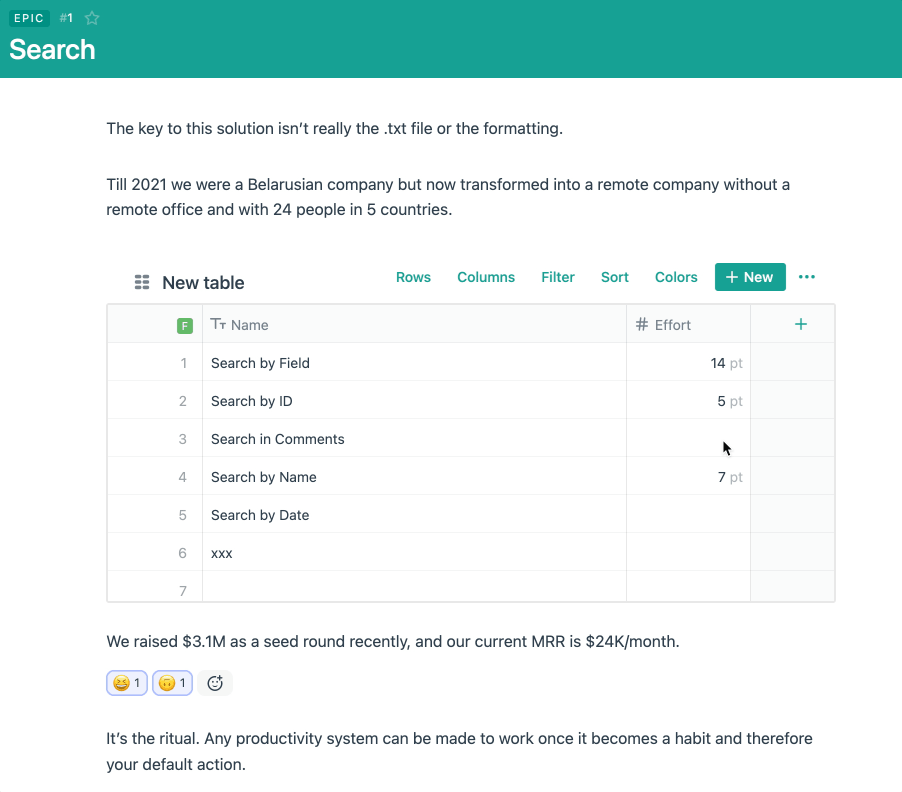 Release estimation: 1 month
Code formatting in rich-text
It will be possible to enjoy better Code formatting in rich-edit soon.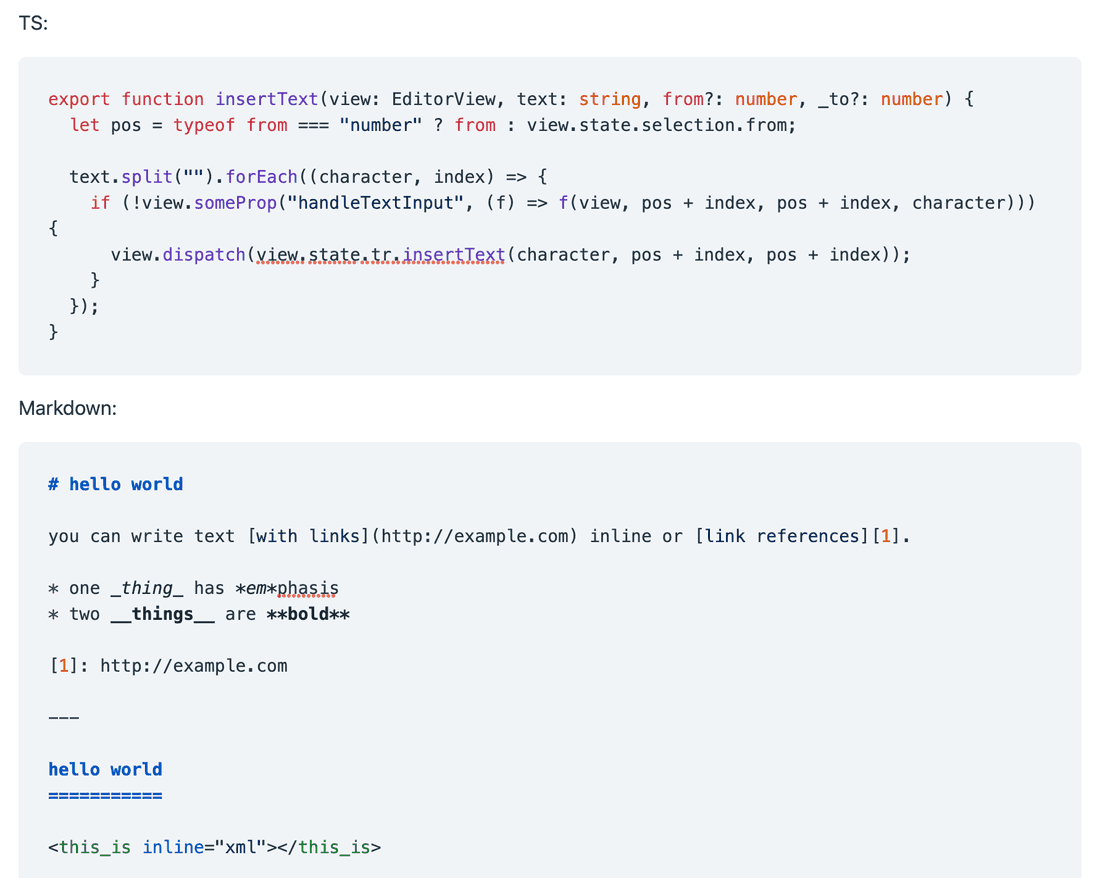 Release estimation: 24 hours
Free read-only users
Soon, really soon it will be possible to add free users into your Fibery workspace and give them read-only access to Spaces.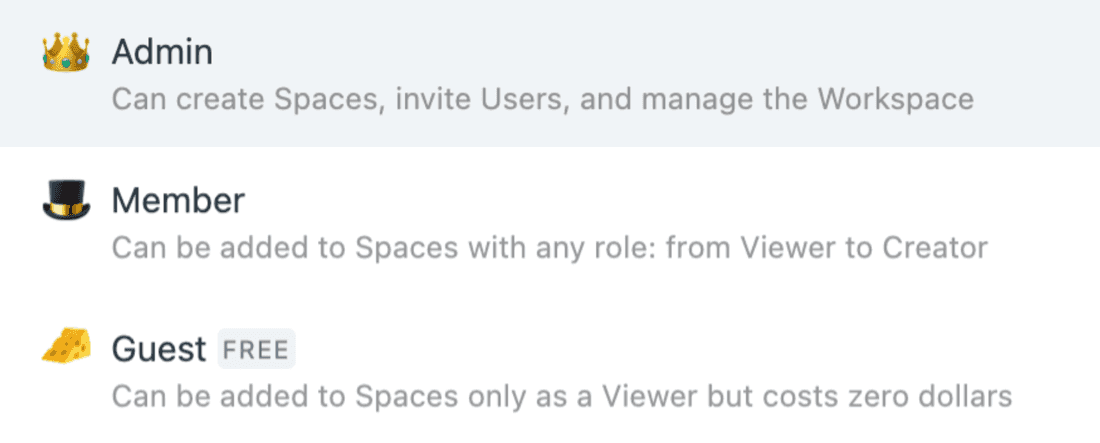 Release estimation: 2 weeks
One-liners
Some new things we've added in January:
Random from our Slack 🍩
Random tweet
4 hidden events in your calendar: pic.twitter.com/7gVX2uahYm

— Janis Ozolins (@OzolinsJanis) January 14, 2022
Random image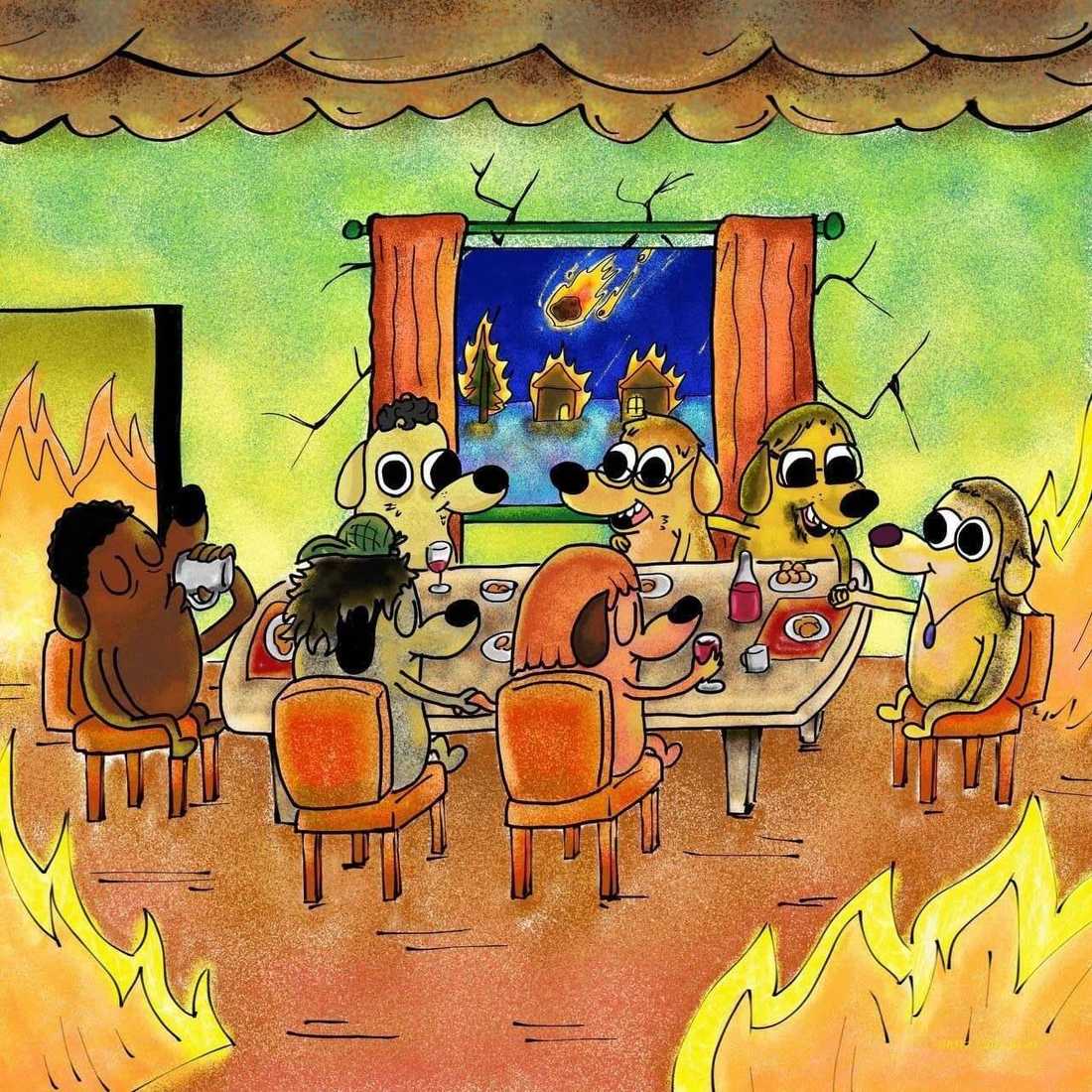 Random link
Making the web better. With blocks! I thought, wouldn't it be cool if blocks were interchangeable and reusable across the web?
Random quote
Richard Feynman was fond of giving the following advice on how to be a genius. You have to keep a dozen of your favorite problems constantly present in your mind, although by and large they will lay in a dormant state. Every time you hear or read a new trick or a new result, test it against each of your twelve problems to see whether it helps. Every once in a while there will be a hit, and people will say: "How did he do it? He must be a genius!"
Random dopamine 😍 feedback
Awesome tool by the way. I love it! I used Coda before but Fibery is way better. It's like Airtable + Coda + Miro in one
Random cortisol 😥 channel post
I think it is important that we continue to point out all of these "minor" UI/UX issues. There are so many of them that they add up to a real annoyance (for people like me anyway). Hopefully the louder we complain about it, the sooner the team will decide to regard this as a high-priority issue.
Have a nice day!