What is Slow December?
Last year was relatively difficult. Actually, almost all the recent years have been challenging. In 2020, we faced a major crisis in Belarus. In 2021, most of the team relocated to other countries. And in 2022, the war in Ukraine drained the remaining energy we had.
We did not stop, of course. We worked hard, raised the Series A, and released many cool features. However, towards the end of the year, we started to feel the toll. On December 12, I wrote an internal Slack message to the entire team and announced the Slow December (I wish I had done it on December 1st).
🐢 This week we decided to shift our company (Fibery) into Slow December mode till Jan 1, 2023.

Rules are simple:
- No mandatory meetings (no company meeting as well)
- No assigned tasks & deadlines
- You are free to do whatever you want: explore some ideas, improve something in Fibery, or fix something in Fibery that you wanted to fix for 23 months but couldn't find the time.
- It is desirable to produce artifacts of your activity: something done, something written in text, something visual, you name it.

FAQ
Q: Why are we doing it?
A: Last year generated a lot of pressure and we feel in a permanent rush. This is a time to take to slow down, reflect and do something without any pressure.

Q: I have a task that will take 1-2 more days to complete, should I?
A: Most likely yes, but it is up to you to decide.

Q: Will we have weekly releases? 
A: Yes, if we will have something to release and announce.

Q: I don't want to explore, I want to do assigned tasks
A: Ask Michael or Anton, they will be happy to assign something to you.

Q: Can I still have a meeting with some people?
A: Sure, you can form ad-hoc groups and chat about anything.

Q: Any ideas what I can dig into?
A: GPT-3, spacial interfaces: Whiteboard + Text + Flexible Domain linking, explore Tana or other tools and generate some ideas, dig into Documents and understand how Prosemirror works, write your first article about anything, …

Q: Fuck this shit, I just want to work as usual
A: Feel free to do it, but at least breathe out and do it slowly and deeply. 
What was the team's reaction? Well, you can guess it was not bad:

What did the team build?
Many people have decided to focus on small things, such as refactoring some parts of the system, fixing some bugs, improving our website, and exploring new technologies.
Some individuals have taken on features they have wanted to implement but were never prioritized by product managers. Here are some of the most notable examples.
Fibery AI Assistant
Vova decided to delve into the Fibery + GPT integration and implemented a quick prototype to demonstrate how it can interact with Fibery entities and documents. The prototype was capable of creating new comments based on prompts, which was enough to see the potential. We decided to proceed with the actual production implementation.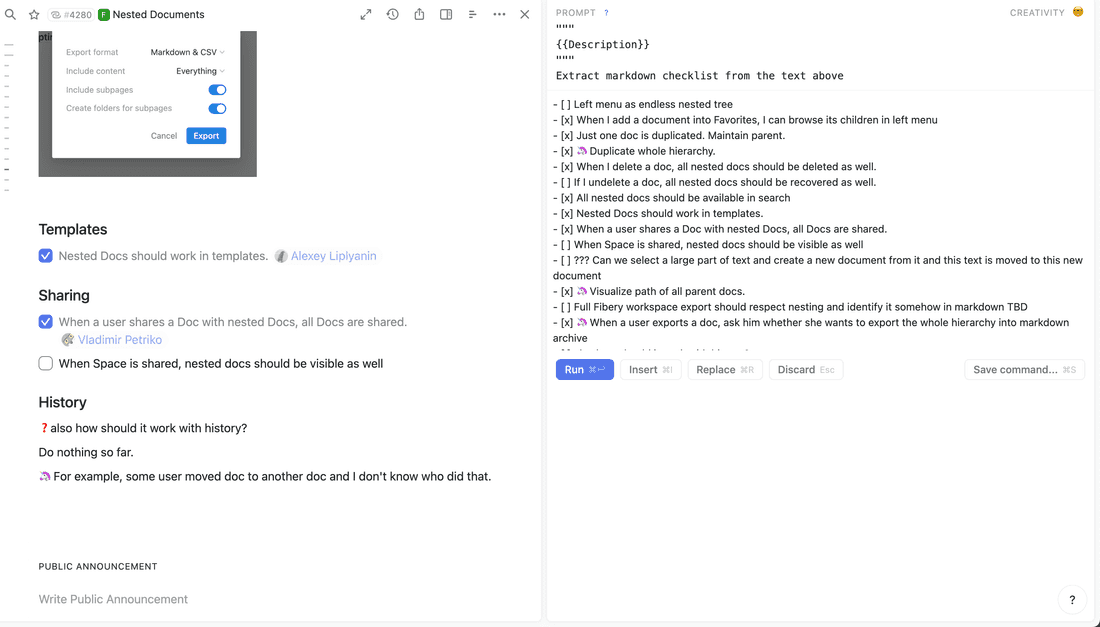 Now we have several people working on AI-related features in Fibery and moving forward at a good speed. It may have happened that without Vova's prototype, we would have delayed our AI-related things for two more months 😱. Now is not a good time to waste time.
Map View and Location Field
Dima created a prototype of Map View. It was so beautiful that we decided to put it into a product as well. However, it was not possible to store location information in Fibery in a good way, thus we decided to add a Location Field first and then add Map View. It took us 2.5 months to deliver, but the result is just perfect.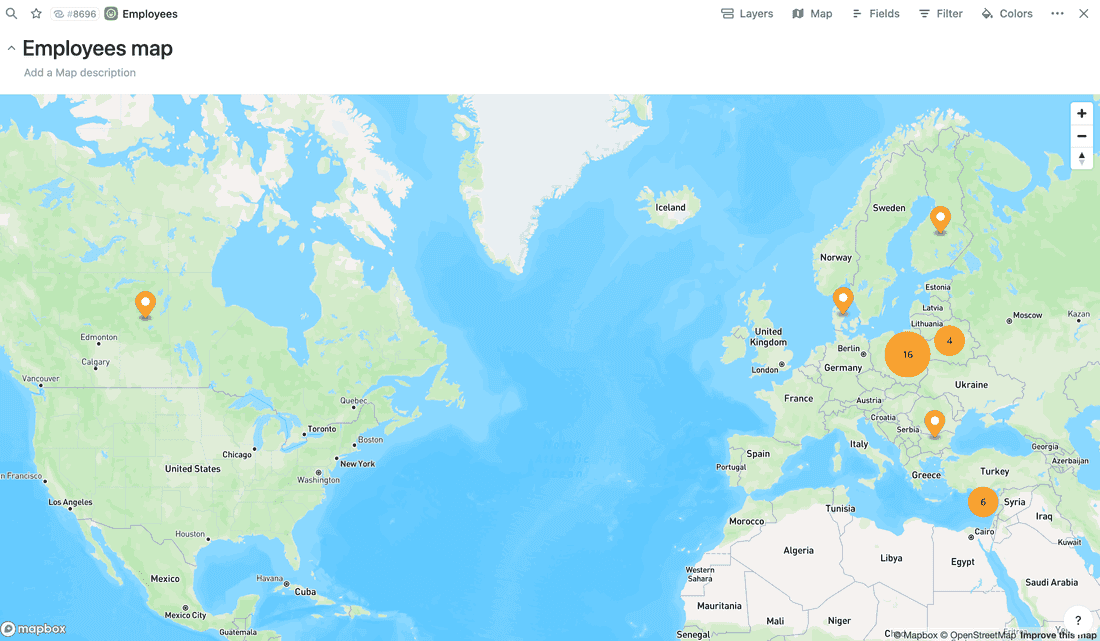 Workspace Map 2.0
From the very first versions of Fibery we had a Workspace Map that contained all Spaces, Databases, and Relations. However, we did not improve it and it had many problems, especially for large Workspaces. Ihar implemented it from scratch based on canvas technology. Now it is almost perfect.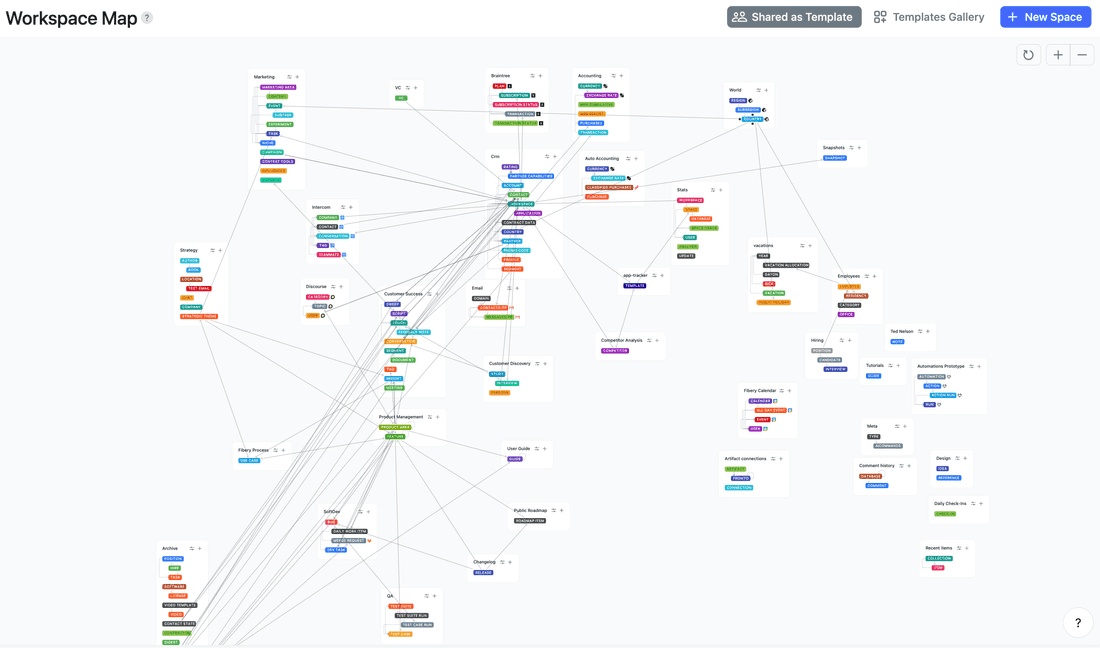 Slow December aftermath
What positive things people mentioned?
For the majority of the team, it was a very good experience. Some reported reduced anxiety and less stress 😌:
That was awesome! It really boosted my productivity and reduced my anxiety.
Some said that it restored the energy:
Very refreshing! It's cool to be able to finish some tech debt, test ideas and be inspired by the creativity of your colleagues
Some praised less pressure in the challenging period:
I had a huge relief when you have announced slow December, it was a perfect timing. I was pressured by other things a lot, pre-holiday plans and preparations, and this mode released a bit of work-related stress for me.
Did it work for all people?
No. For example, Polina is the only person on our customer success team and for her, it was nearly impossible to switch gears 🏃‍♀️.
In fact, it didn't work for me. Almost. I was overwhelmed with the current work with customers and had almost no time to pause (just because that doesn't fully depend on me). But on the other hand, I was extremely happy to see which unexpected things other are working on, and this was like having a present you wasn't waiting for
For a new hire, it was also a strange experience. Indeed, new hire demands more guidance and Slow December mode freedom can be weird:
I have mixed feelings about this period personally. I just got the rhythm right before slow December was announced but once kickstarts were frozen I spent that time hunting for product improvements. I felt a bit upset because in the first order, I measure my productivity with ready-for-dev features.
Next time we will think about how to handle it better. For example, we'll provide a set of tasks for new hires and try to un-load the customer success team with more help from the rest of the team members.
Will we repeat it again?
Yes, we will repeat it in December 2023, but we will start from the 1st of December this time and enjoy the full month together.
It seems the last-minute notice wasn't ideal, but now everyone will be ready for it and know exactly what we're getting into.