TLDR: Russo-Ukrainian War. Open Startup page. 100 posts about products. 100 Fixed Bugs.
Flashback: #40. Concentrating in January 2022
Russo-Ukrainian War 🤬
This horrible event will define our lives in the next few weeks for sure. I hope the war will be stopped, but so far I see no signs from Russia to stop the aggression. Make no mistakes, Russia is the aggressor here. Nothing can explain and justify this war. Russian propaganda uses 2-3 cliches over and over again, but the world understands what is happening.
Belarus is the aggressor as well. Russia uses its territory to make military strikes on Ukrainian cities 🤬. This can't be tolerated by any sane person. We are in deep, deep shock…
As you maybe know, Fibery was based in Belarus two years ago. Now we are a remote company, but several people still work from Belarus. These days we hope all our teammates will leave Belarus and find safer places in the world, but it is not so easy to do. Please, tolerate slower than usual reaction time and expect fewer releases in the next few weeks from us. We have to pass this turbulence to be able to concentrate on work again.
To have a glimpse of what we are feeling now, check out the post I wrote yesterday morning (Feb 28) to the team:
Company statement: 
- We understand that it is really hard to work these days. We decided to give everyone 3 additional day offs. Use this time to recover. Anton, please add these days to everyone.
- Work according to your mood. If you can't focus on serious tasks, try to do some smaller non-urgent not-so-important tasks (some bug fixing, some refactoring, some cleanup, some small post, etc). Maybe 4h workday is something you need this week. If you prefer to dig into work and it helps, do it.
- If you are still in Belarus, I strongly recommend you leave the country this week. Logistic might be very difficult, but it seems Georgia is still OK. I estimate risks this way:
 - SWIFT cut off - extremely likely.
 - Mobilisation - likely.
 - Freezing of foreign currency deposits - likely.
If you decide to stay in Belarus, my advice:
 - Have cash in $US
 - Don't have any deposits in BYN
 - Have food supplies (in any case you can use them anyway, so why not make them now?)
 - Prison is better than army service these days
Anyway, our troubles are not significant. Ukraine is suffering. Please, help Ukraine as you can 🙏. Here is the good list of all possible donations.
On the positive side, the world is united. We see unprecedented and speedy actions to isolate Russia and help Ukraine. This solidarity gives me hope for a better future. We make all Ukrainian accounts free till better times.
You may stop reading here since everything below is not so important and I'm writing it for the history mainly. The text is dry. I have no emotions to make it bright.
Open Startup page
We've launched Open Startup page with various reports and metrics. Check it out.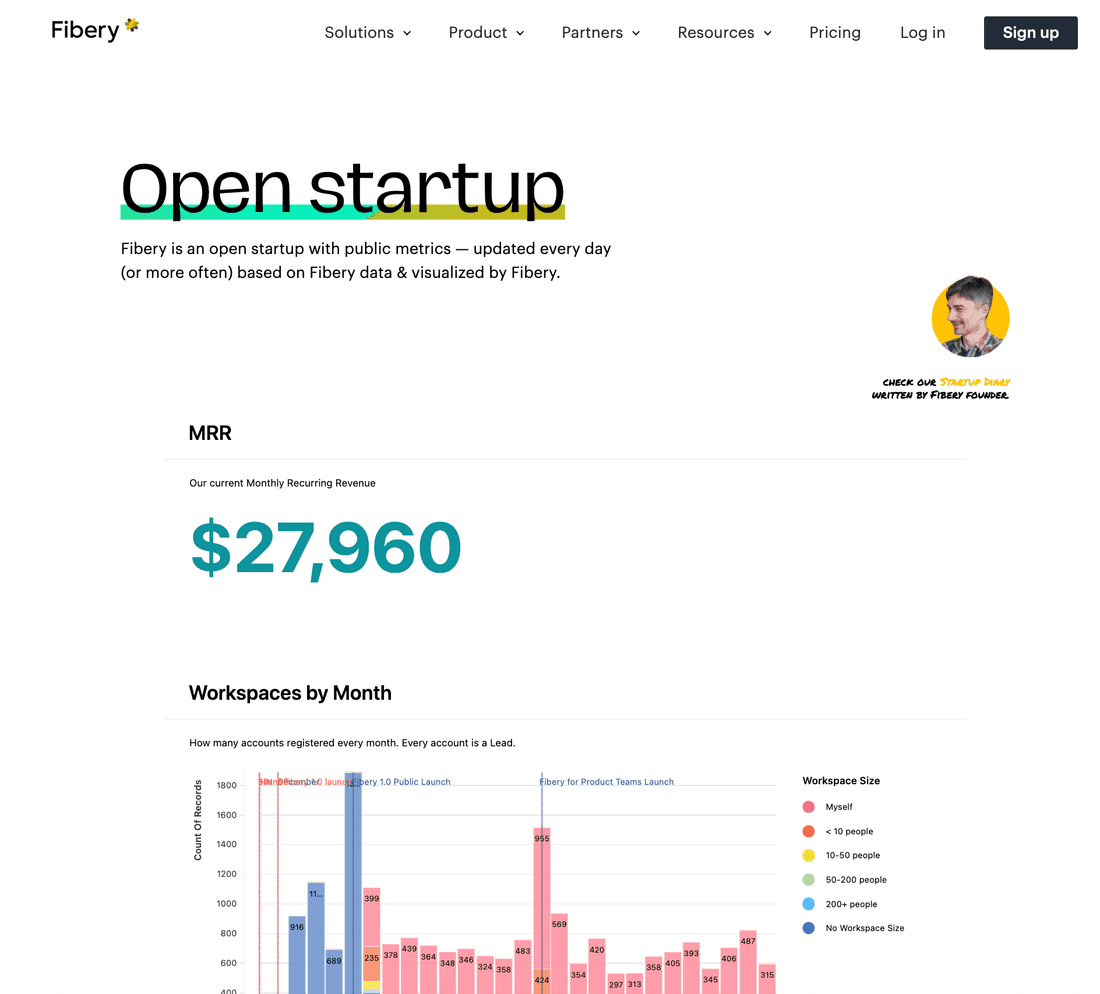 100 posts about products
I've set a challenge to write 100 posts about products. I write every week, and in February I wrote four posts. Check them out:
Metrics
Here are the main numbers ( → sign shows the changes between October, November, January, and February):
Fibery. Build your company workspace with no code

Paid accounts:     150   → 155   → 160   → 180
Active accounts:   350   → 380   → 420   → 450
Active users:      2.5K  → 2.7K  → 3.2K  → 3.3K
Team size:         24    → 24    → 25    → 25
Run rate:          $140K → $140K → $140K → $140K/month  
MRR:               $22K  → $22K  → $26K  → $28K/month
This was one of the best months for us, we've added 23 new paid accounts. Most of them are small, the largest have 35 paid users. Our churn is low. Logo churn (last 6 months) 4 / 65 = 6%. Revenue churn (last 6 months) $330/$8400 = 4%.
Product Updates
In February we had four releases. Here are the highlights:
🦐 ~100 Fixed Bugs
In February we decided to pay back some product debt and fixed almost 100 bugs. You can expect more bug fixes in March as well.
DONE
Feed View
Feed View is released in public (and removed from Experimental Features). You may use Fibery for Daily check-ins 8, for example.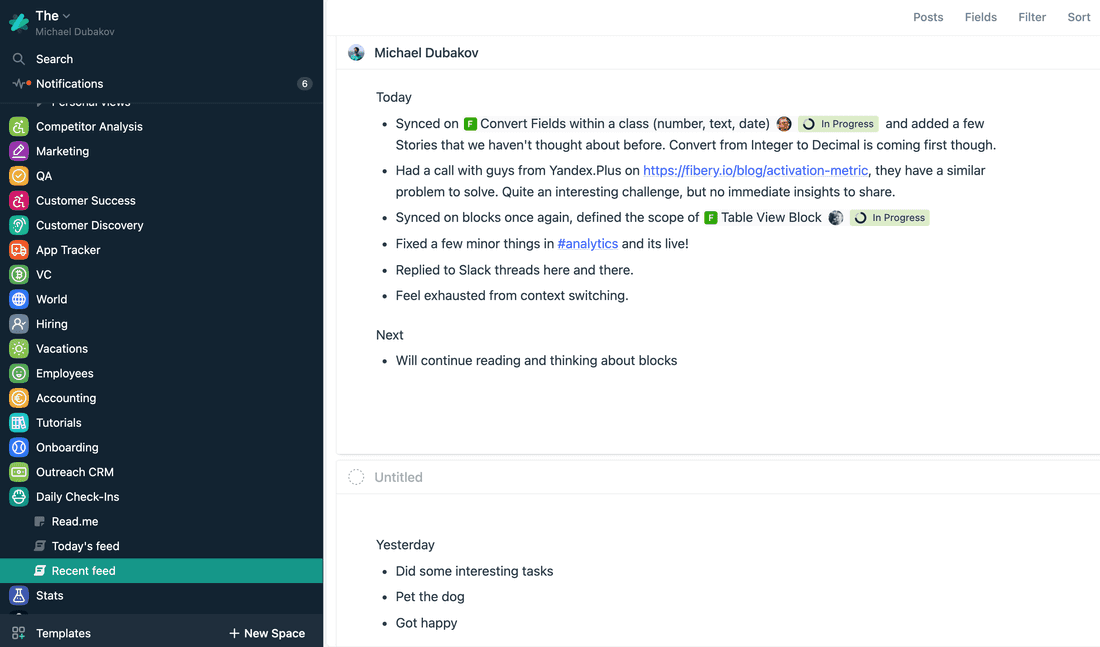 Bitbucket integration
Now you can sync Bitbucket data into Fibery, link PR to Features, etc. Navigate to any Space and click Integrations to find Bitbucket integration.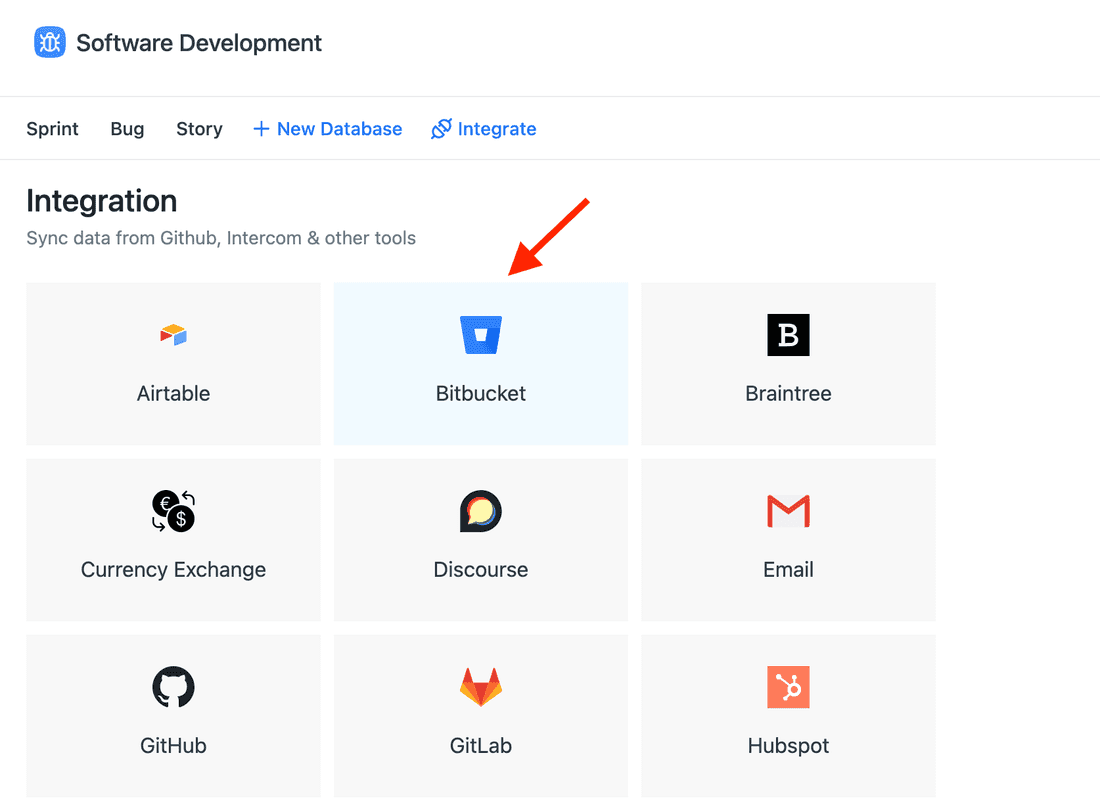 Code formatting in rich-text
Code block in rich edit field got some love, now you can select a language to highlight the syntax. Many bugs were fixed as well here.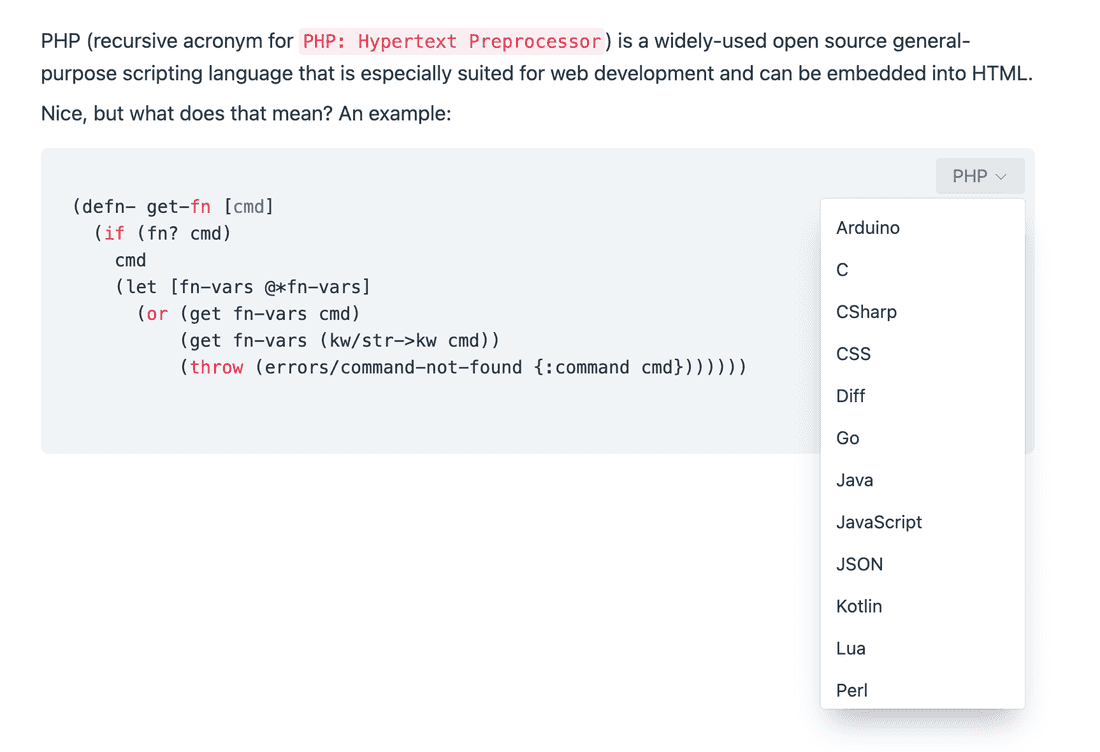 Free read-only users
Guests are no longer experimental and you can safely use them. Just invite a new user and select Guest option. Guests are free, but they only can see things and do nothing else.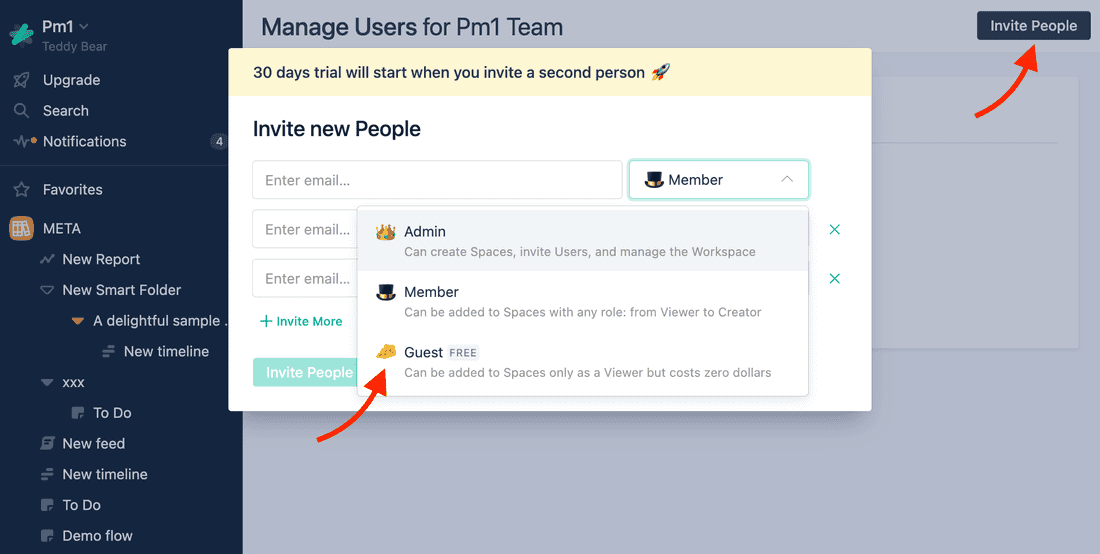 New multi-panel navigation
After three months of development, many implemented tasks, and 37 fixed bugs, we've released multi-panel navigation. It should simplify information exploration and works best with references.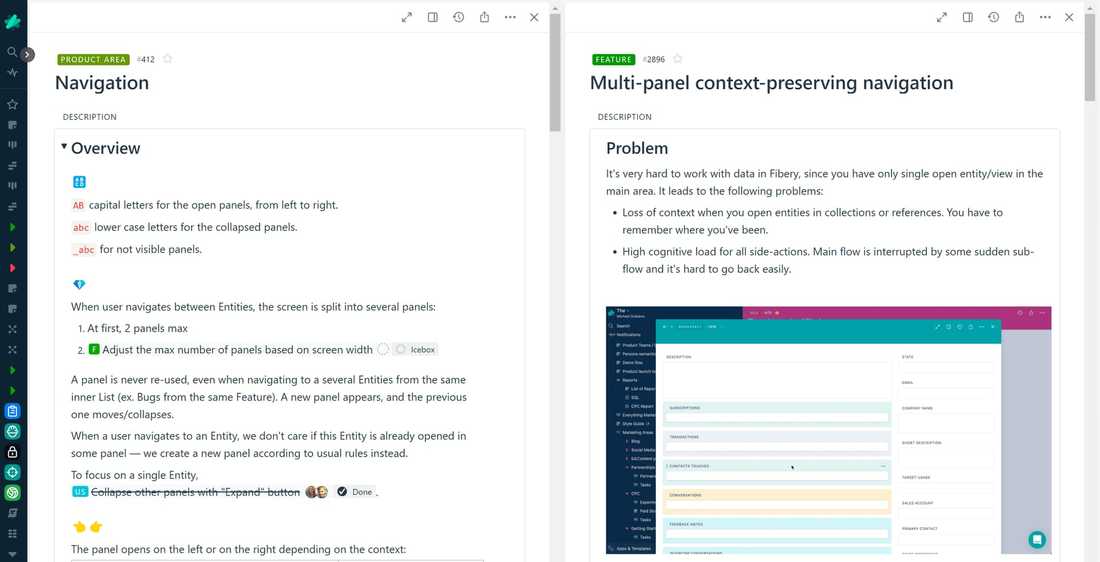 Here is some feedback:
Multi-Panel and Feed View are terrific additions.
Everything looks different, what's happened, I lost everything.
IN PROGRESS
Blocks in Entity View and Page
Blocks are close to the first release. Most likely in two weeks, we will enable them as an experimental feature. In the first release, it will be possible to add Pages with text and view blocks. We are still building the infrastructure and will speed up with more blocks after that.
Release estimation: 1 month
Share Space to the web
Spaces can be shared to the web (set as Public), it means they will be accessible by anyone and indexed (or not) by Google.
It will help to use Fibery for various content-related cases: publish user guide, knowledge base, etc.
Release estimation: 3 weeks
Support many-to-many relations in Lists and Smart Folders
Release estimation: 2 weeks
My Space
Personal space where any user can add Folders, Documents, Whiteboards, and Views. It will be possible for any user to create his own working space in Fibery with custom Views, Documents that are not ready for the rest of the team, etc.
Only logged user will have access to My Space.
Release estimation: 1 month
SOC 2 Certification
We've started SOC 2 Certification process. Not sure how much time it will take, probably a few months.
One-liners
Some new things we've added in January:
Not-so-random photo from Ukraine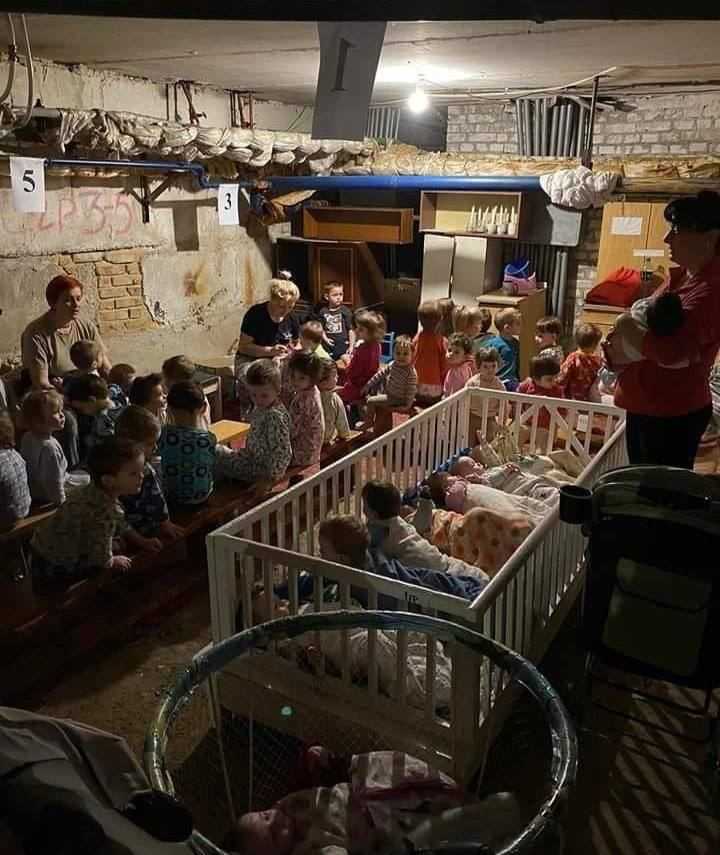 Stand with Ukraine ✊ Слава Україні! 🇺🇦