TLDR: Record growth with +$4K MRR 😅. 50% discount for nonprofit and educational 🏋️‍♀️. 100% discount for open-source projects 😎. Panels Navigation fun 🤪. Share Space to the web 🌍. Pinned fields 📍. Hierarchical checkboxes list 🌲.
Flashback: #43. Recovering in May 2022
Record growth 😅
We've added $4K+ MRR in June and this is our new record, our total MRR is $35K now. With 205 paid accounts our average MRR per account is $170.
However, there are no improvements in lead generation and activation, so this might be not a trend but just a lucky month. We will see. Anyway, we are relatively happy in June.
Fibery for free and some discounts
We've decided to unify Fibery discounts and free offerings, and here is the list:
Fibery provides a 50% discount for:
🏋️‍♀️ Nonprofit organizations.
👩‍🏫 Educational organizations.
🇺🇦 Ukrainian companies (from 2023 to 2030).
Fibery is completely free for:
🥹 Startups with ARR < ours (for 1 year).
😎 Open-source projects.
🇺🇦 Ukrainian companies (till 2023).
Go to Fibery pricing page to apply.
Panels navigation fun
Pannels navigation was released last month and we decided to forcefully move all users to it. It was a mistake. We immediately received a dozen messages in our chat like this:
I absolutely HATE it! I just want to browse and jump between items, and I end up having a trail of 5-6 tabs taking up part of my right screen that I then need to close

you could maybe make this optional or give an option to not open new tabs when clicking items? just a thought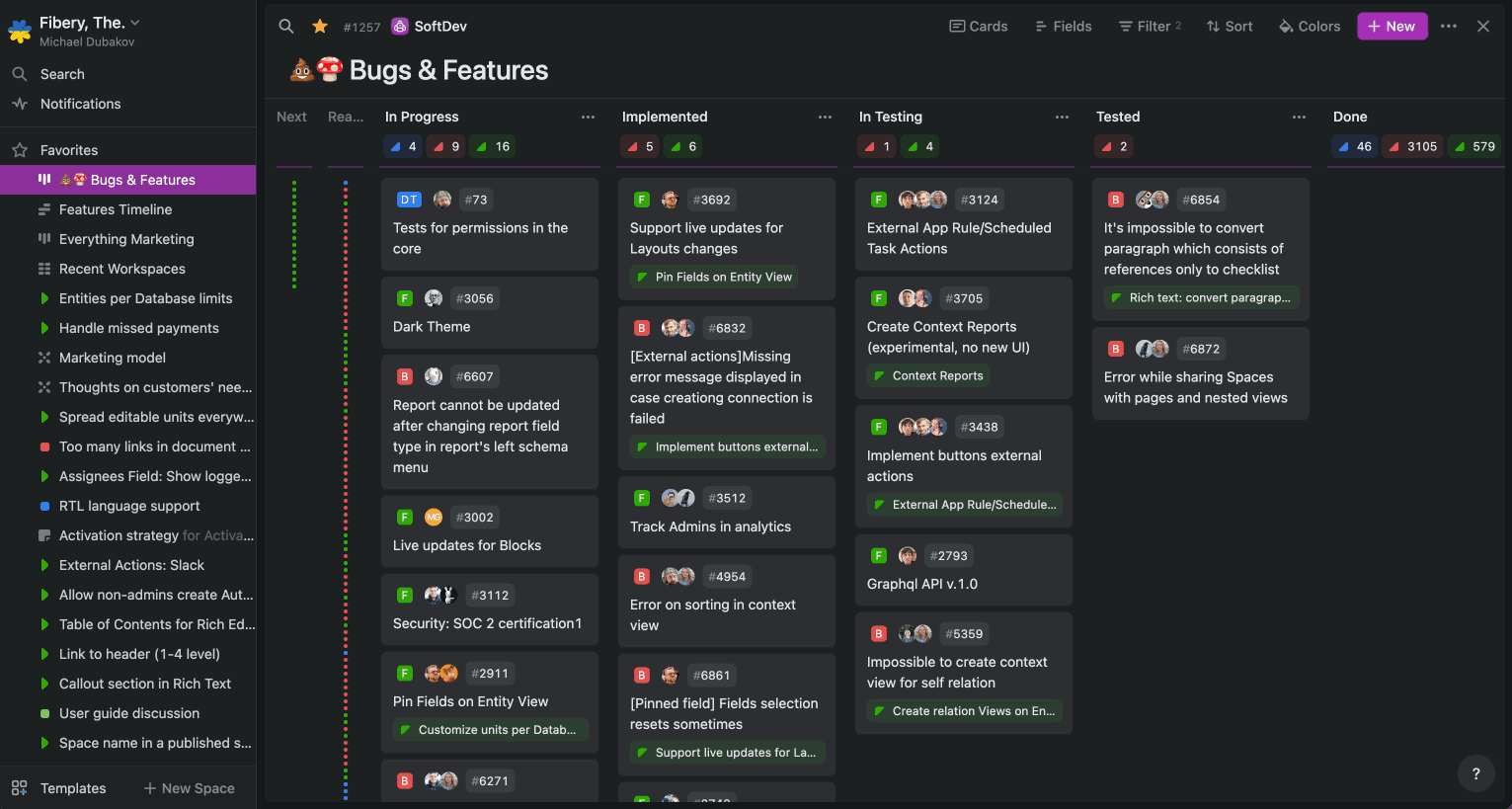 We wiped our tears 😿 and added an option to switch to the old navigation back. Then we started to collect more feedback since we really didn't want to preserve old navigation in the code. We did some improvements:
Added one-panel navigation option.
Sometimes panels opened on the left, now they always open on the right.
We will ask people in person to try one-panel navigation and collect feedback.
We have two more problems to solve:
Decide what to do with panels stacked on the right. Many people don't like them.
Minimize jumps in a current panel when you open new panels.
No painful and sudden transitions anymore, but gradual improvements.
Fibery User Guide in Fibery
I spent many hours moving our user guide from Intercom to Fibery. There were several goals for that move:
Have a showcase of a public Space.
Simplify user guide updates and sync, since updating in Intercom is much harder (not all people have access, and a text editor is not very good).
Have cross-links between user guide, changelog, and roadmap.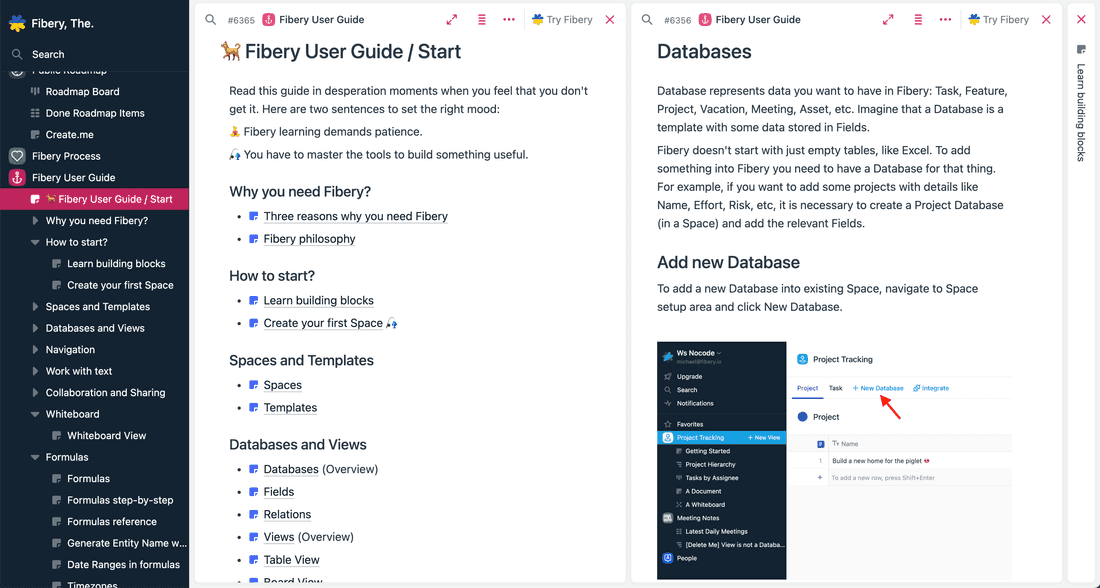 I used Documents and Folders to model the user guide structure, but now we are not sure it was a good idea since there are no back-references and there is no easy to way link user guide posts to our Product Areas. We will try to migrate to real databases and see how it will look.
Anyway, you can check the new Fibery user guide here so far and provide your feedback if any.
Metrics
Here are the main numbers ( → sign shows the changes between March, April, May, and June):
Paid accounts: 180 → 185 → 195 → 205 Active accounts: 420 → 470 → 490 → 520 Active users: 3.2K → 3.4K → 3.6K → 3.7K Team size: 25 → 25 → 25 → 25 Run rate: $140K → $140 → $135K → $135K/month
MRR: $28K → $30K → $31K → $35K/month
A chart that shows MRR growth. It also shows a low churn, since upsells compensate churn for annual cohorts.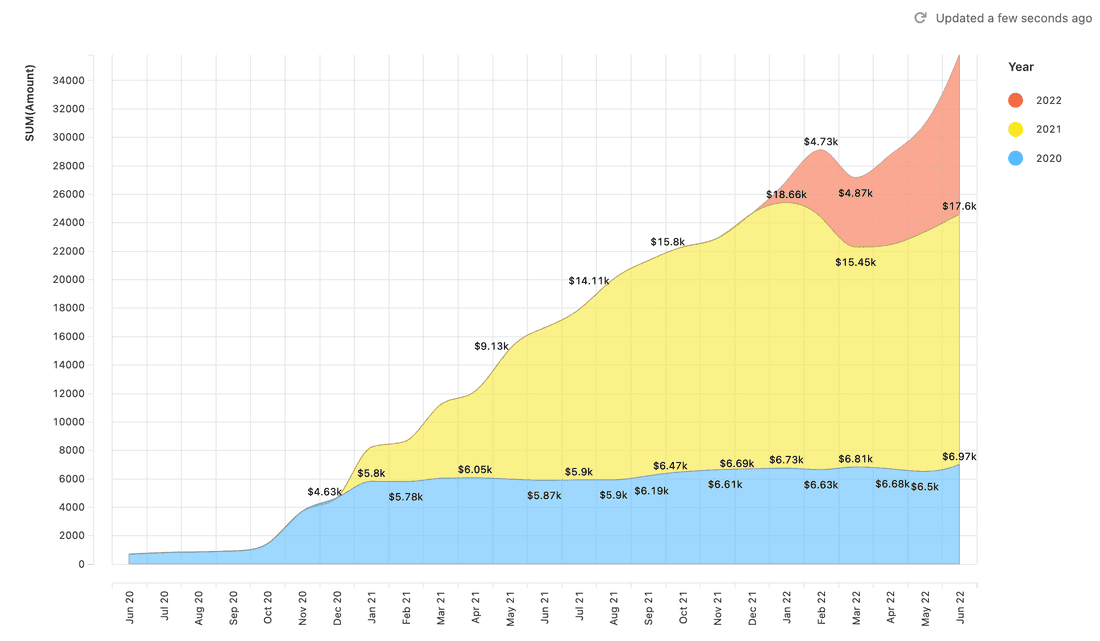 Product Updates
In June we had 3 releases. Here are the highlights:
DONE
Share Space to the web
Now you can publish the whole space to the world. Navigate to space settings, click Share and enable Share to the web option.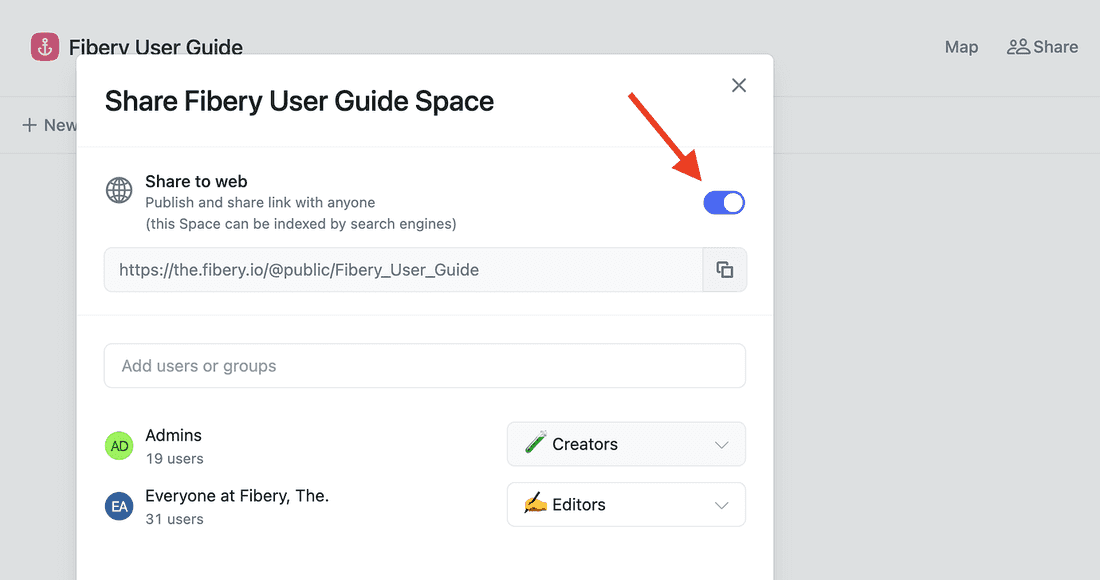 ⚠️ When you share a space, everything inside it will be shared (all documents, views, whiteboards, and databases with all entities).
Here are several shared spaces examples:
Pinned fields
You can configure what fields are visible on top of the panel for every database. These fields are fully editable!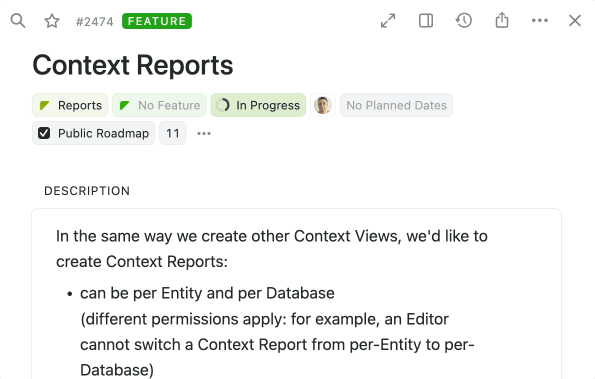 Hierarchical checkboxes list
Now it is possible to create hierarchical checkbox lists. Use Tabs to add more levels.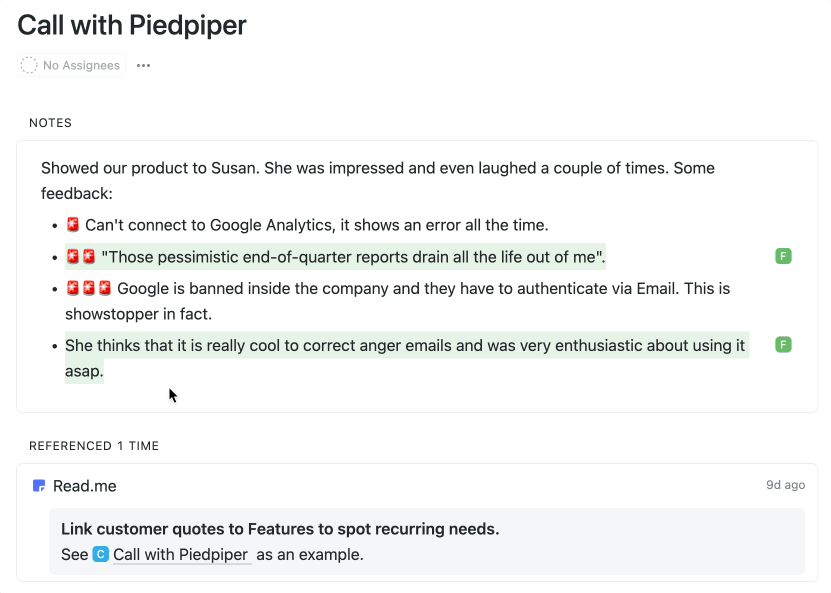 IN PROGRESS
Check Fibery Roadmap to get more details.
Replace Lists in Entity View with real Lists (Sort, Filter, etc.)
(paused) Blocks in Entity View and Page
Context Reports (you will be able to create reports in Smart Folders) → released as an experimental feature
SOC 2 Certification
Dark Theme
External Apps actions (Send Email, Send Slack Notification, etc).
One-liners
Some new things we've added in June:
🐯 Random
Random quote from our Slack
It is my firm belief that all successful languages are grown and not merely designed from first principles. — Bjarne Stroustrup, The Design and Evolution of C++
Random image from our Slack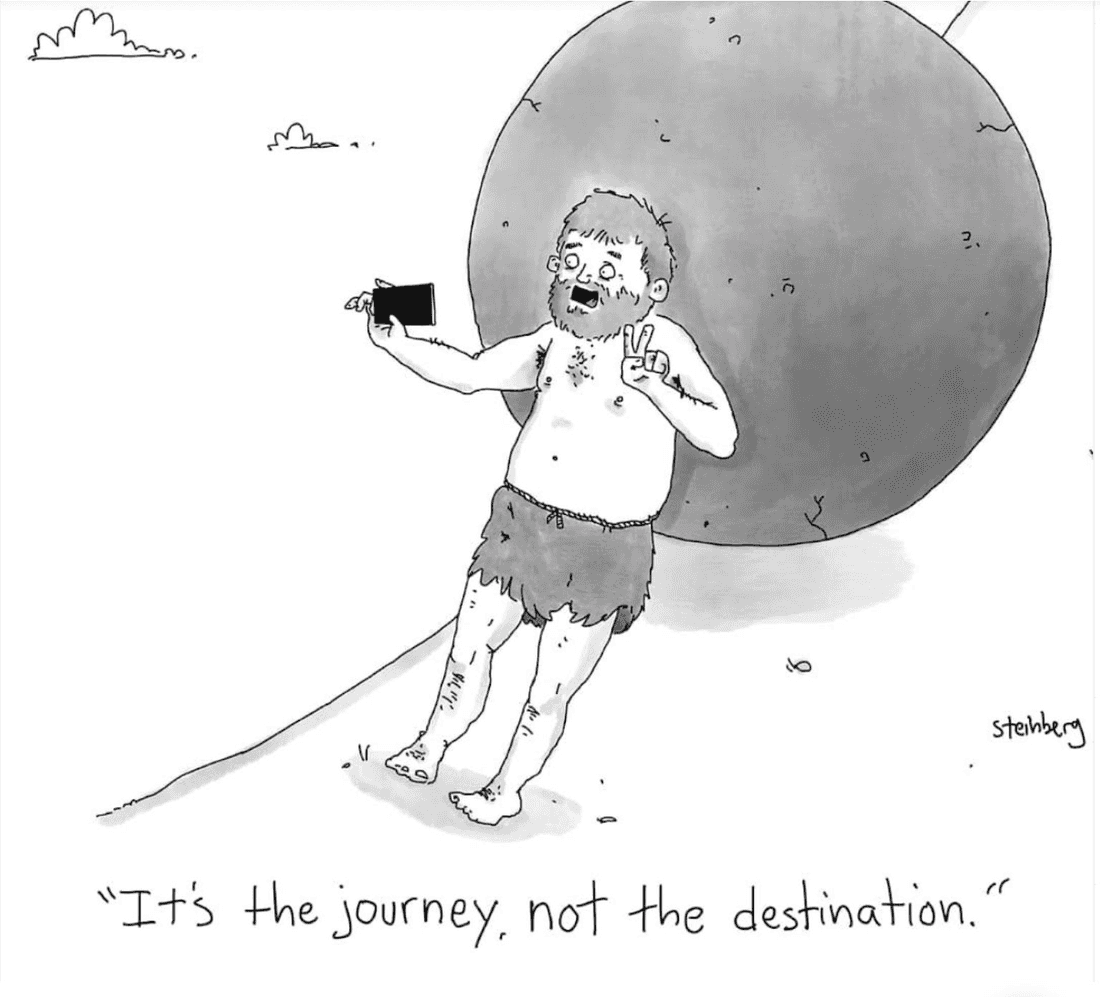 Random link from our Slack
Obsidian, Roam, and the rise of Integrated Thinking Environments—what they are, what they do, and what's next What do Obsidian, Roam, DEVONthink, and Notion have in common? No, it's not hype—these apps are all Integrated Thinking Environments.
Random video from our Slack
Random post in #cortisol 🥲 channel
Air conditioner broke down.
Random post in #dopamine 😍 channel
Just letting you know. In the past week two people from the company came to me and told me how good of decisions we did with moving to Fibery :) (I believe that there are more and just don't come and say it .)
P.S. Support Ukraine 🇺🇦